—
—
–_
MORE ON THE SUNSPOT OBSERVATORY CLOSURE, PART ONE
Posted: 25 Sep 2018 12:38 PM PDT
https://eraoflight.com/2018/09/27/house-to-vote-on-human-trafficking-bill-that-strengthens-patriot-act-spying/
Are all pharmaceuticals designed for population control?
Posted: 25 Sep 2018 10:29 PM PDT
EMERGENCY REPORT: Trump Planning Mass Arrests, Military Tribunals for Deep State Traitors
Posted: 25 Sep 2018 10:30 PM PDT
What the Media Refuses to Tell You About Brett Kavanaugh
The Anti-Media 
As expected, the corporate media's coverage of Brett Kavanaugh's appointment process is disappointingly superficial. While there's no doubt sexual harassment is a pressing issue in modern-day America, left-leaning establishment outlets and individuals alike are mired in these accusations, as well as partisan political divides as they fail to recognize Kavanaugh's very troublesome record of court rulings—rulings that show his verifiable proclivity toward using the government to very literally harass the American people and the rest of the world.
While Congress and the people bicker over their disagreements with Kavanaugh as he testifies, few are discussing what he has in common with both factions of the American ruling class.
The ACLU compiled a report in August detailing his many troublesome perspectives, highlighting his past decisions on surveillance, free speech, presidential and congressional war powers, and as a result, the overarching iron fist of government power that few care to challenge, choosing instead to fight for control of the institution at large.
As the ACLU summarized in its "Report of the American Civil Liberties Union on the Nomination of Judge Brett M. Kavanaugh To Be Associate Justice of the United States Supreme Court":
"[Kavanaugh's] record shows his extreme deference to presidential war power and national security claims, an unwillingness to enforce international law absent express incorporation by the political branches, and a tendency to find obstacles to holding government officials accountable for constitutional and human rights abuses in national security cases."
One of the greatest constitutional violations since 9/11 has been the U.S. government's denial of fair trials and redress over government violations of rights within the justice system. Kavanaugh has encouraged these encroachments. In the 2015 case Meshal v. Higgenbotham, Kavanaugh moved to deny "a remedy to an American citizen detained and abused by FBI agents overseas," siding with security over freedom, claiming that giving the American citizen in question his constitutional rights might undermine efforts to fight terrorism.
In a 2009 case, Saleh v. Titan, he asserted military contractors cannot be held liable to human rights abuses as long as they are acting under the authority of the U.S. military. There is ample evidence of these abuses, but Kavanaugh does not believe in holding government affiliates accountable. Similarly, in the same ruling, he asserted that "government contractors [are] immune from torture claims brought under the [Alien Tort Statute] when the contractors operate under the control of the U.S. military." The military's violent authority trumps all.
In 2008, he sided with the executive branch on war powers. Kavanaugh wrote in the ruling for Harbury v. Hayden that "courts cannot review allegations of executive branch wrongdoing if the claims challenge national security or foreign affairs decisions."
In still another case, El-Shifa Pharmaceutical Industries Co. v. United States (2010), he showed his "inclination to dismiss cases alleging government misconduct where national security or foreign affairs are at issue."
He has also opined that the U.S. government's war powers are free from the constraints of international law and that international treaties can be ignored if U.S. courts "construe statutes, at least when related to war powers." Further, he has asserted that while the U.S. should technically respect international law, the courts have no power to make the government comply with it. That decision should be left to the president and Congress (most of us know how they've handled their war powers).
Regarding "continued detention" pursuant to the 2001 Authorization for Use of Military Force, Kavanaugh went so far as to acknowledge in 2013's Ali v. Obama that "this is a long war with no end in sight," but still decided "it is not the Judiciary's proper role to devise a novel detention standard that varies with the length of detention."
Kavanaugh's prompted another judge to claim the current Supreme Court nominee had stretched the meaning of the AUMF so far that some habeas corpus rulings were "functionally useless." Similarly, as the ACLU observed, Kavanaugh has "joined or written numerous D.C. Circuit opinions that have turned judicial habeas review of Guantánamo detention into a virtual rubber stamp."
His record on free speech is less atrocious than his reverence for authoritarian war powers, protecting government corruption and violence, and denying justice to citizens and noncitizens alike. Nonetheless, he has been known to side with suppressing speech on some occasions. As the ACLU report explains:
"His jurisprudence suggests that, where the precedent is clear, he faithfully applies the law. Where the case law offers ambiguity, however, he has shown a willingness to restrict speech rights."
With regard to government spying, in Klayman v. Obama in 2015, he disturbingly said the "suspicionless mass collection of Americans' call records is 'entirely consistent with the Fourth Amendment.'" Further, he said: "The Government's collection of telephony metadata from a third party such as a telecommunications service provider is not considered a search under the Fourth Amendment"—and that even if bulk collection did constitute a search, such searches are totally reasonable.
He is also supportive of America's growing police state. In the 2007 ruling United States v. Askew, he sided in favor of police stop-and-frisk tactics, another violation of the 4th amendment. In another broad show of support of police powers, he endorses qualified immunity, which is used to exempt "government officials from liability for constitutional rights violations where their actions are not clearly unconstitutional." This concept has been used by the Supreme Court to let a police officer who shot a woman in her own yard off the hook, setting further precedents to prevent police accountability. Though he opposes "absolute immunity," his support for a concept that already limits government responsibility is troublesome on its own – and is consistent with rulings regarding the government's war powers.
The national conversation about Kavanaugh is obsessively focused on sexual harassment allegations and his views on traditional partisan divides like women's rights and healthcare. While these are not unimportant issues, it is painfully telling that few are concerned about the exact same issues both the left and right agree upon that amount to verifiable harassment — by the government against the American people and victims of his war machine.
Will Congress be questioning Kavanaugh on mass surveillance? Doubtful, considering they continue to pass legislation to enable it. Will they question him about his endorsement of unrestrained executive and legislative war powers? Again, doubtful given their unrelenting warmongering and commitment to spending taxpayer dollars on their crumbling empire. As Congress continues to violate the people's rights while feigning concern for their well-being—and as the media routinely fails to inform the public of these incremental erosions of their freedoms and liberties, it's no surprise the country at large remains unconcerned about Kavanaugh's authoritarian record on war powers and surveillance or his dubious commitment to free speech and holding domestic law enforcement accountable.
---
Op-ed by Carey Wedler / Creative Commons / Anti-Media

Thanks to: https://themindunleashed.com 
The Ford/ Kavanaugh Circus Continues
Posted: 28 Sep 2018 03:05 PM PDT
#Q ANON: Q CRUMBS…Q PROOFS… plus MORE
Posted: 28 Sep 2018 01:11 PM PDT
Senate Judiciary Committee Votes to Confirm Brett Kavanaugh
Posted: 28 Sep 2018 11:12 AM PDT
Senate Judiciary Committee Votes to Confirm Brett Kavanaugh
After yesterday's tortuous hearing with Christine Blasey Ford and Supreme Court nominee Brett Kavanaugh, the latter's future just took a huge step forward.
Yesterday's testimony was, in many ways, unnecessary. We learned nothing new, other than Ford changed her story multiple times. (RELATED: Kavanaugh Accuser Christine Blasey Ford Changes Story During Testimony.)
With a dearth of evidence confirming Ford's testimony, Republicans on the Senate Judiciary Committee are moving forward.
The Senate Judiciary Committee just voted to confirm Brett Kavanaugh! The vote was done along party lines, with 11 Republicans voting in the affirmative and all 10 Democrats voting no or abstaining.
That was a close call. Just hours before the vote, Senator Jeff Flake confirmed that he would be voting to confirm Kavanaugh on the Committee. He was questionable beforehand. And just before the vote, there were rumors he may flip under pressure from Democrats. But he stuck by his guns and voted to confirm.
Flake has, however, demanded an FBI investigation before the floor vote.
This vote, while important, is largely symbolic. It's not necessary to ultimately confirm Kavanaugh to the Supreme Court. Senate Majority Leader Mitch McConnell could always call a general floor vote. That's the vote that matters. Still, getting the confirmation of the Senate Judiciary Committee is helpful for Kavanaugh's reputation.
If you remember, after the allegations leveled by Anita Hill, Clarence Thomas was not confirmed by the Senate Judiciary Committee. He was still confirmed to the Supreme Court in the end.
This fight is far from over. The general vote is where the fight matters. There are still two wild cards: senators Lisa Murkowski and Susan Collins. They are both moderate senators who try to appease their female constituency. Everything depends on them.
Mitch McConnell is likely to hold a vote as soon as possible, likely early next week. And even if Kavanaugh is ultimately confirmed, Democrats are threatening to impeach him. (RELATED: Democrats Sensing Defeat – We Will Impeach Kavanaugh.)
MORE HERE: https://thepoliticalinsider.com/kavanaugh-confirmed-senate-judiciary-committee/?utm_medium=email&utm_source=criticalimpact&utm_campaign=TPI_Afternoon_Newsletter_9_28_2018&utm_content=8defbef99449296aa6473c7b9fa19141&source=CI

Thanks to: https://thepoliticalinsider.com
MK Ultra Survivor Shares The Details Of Her Experience
Posted: 28 Sep 2018 10:22 AM PDT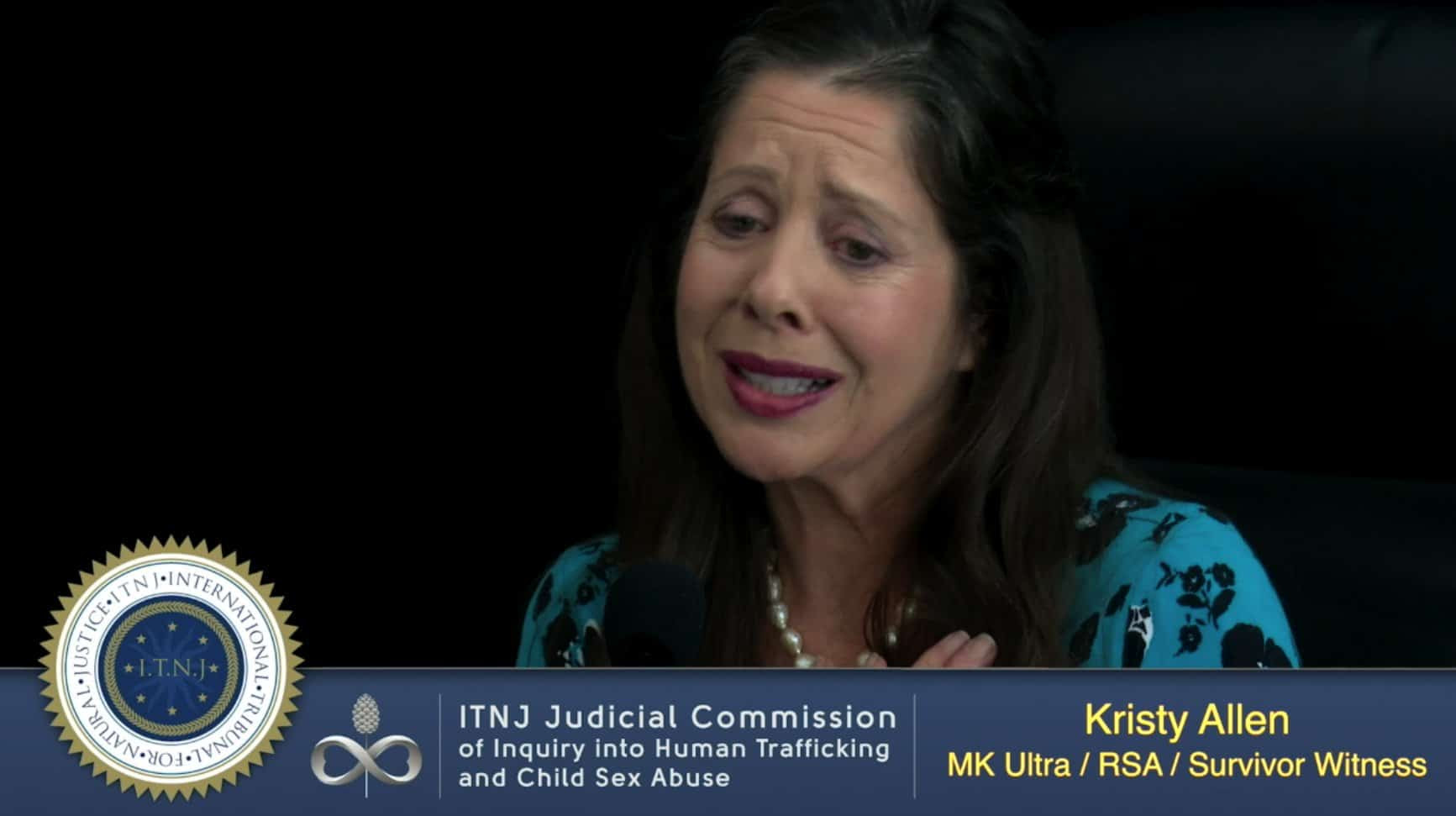 MK Ultra Survivor Shares The Details Of Her Experience
09/28/2018 By Stillness in the Storm
(Arjun Walia) MK Ultra was the name for the CIA's program that dived into the world of behavioural engineering. After the program was declassified, it raised a lot of ethical and moral concerns, as the US citizenry realized that human beings were being experimented on with LSD as well as other substances for mind-control purposes.
by Arjun Walia, September 13th, 2018
Several techniques were available in the declassified literature, and witness testimony following the release, as well as before the release, forced the US government to make an official apology to the nation, this was done by Bill Clinton. Victims of the MK ultra program were subjected to mind-control against their will and the sad reality is that most of the details pertaining to the program were completely destroyed. The declassified literature represents not even a fraction of the entire program and what might still be happening today.
MK Ultra has become quite a popular name, especially with the references happening in pop culture today. Mind control does not only work by influencing the mind of an individual for ulterior motives, it works through several outlets, like mainstream media and academia. I am not saying that no good comes from these platforms, I am simply saying that their (mainstream media) connections with the intelligence community highlight exactly what's going on in not just in America but in many parts of the world… the mass brainwashing and mind control of the human population. We all do the same thing, and we are all directed to take the same path and participate in the human experience without ever questioning what is really happening on our planet.
What appears to be taking place today is much more advanced when it comes to behavioural engineering. Those that come forward today, and there are many of them, all have stories that corroborate with one another, and are all very disturbing.  Today, there are human slaves that are emerging from these programs that are used to pass around secrets, used in 'satanic' rituals, and basically work for the global elite in multiple ways. They are literally mind-controlled slaves, and they are either born into these programs, with the same thing happening to their parents, or they are stolen, abducted, often from orphanages, other countries, or foster care systems.
MK Ultra has gone mainstream, take the History Channel for example. They recently aired a program called America's War on Drugs, a mini docu-series that seemed to provide some good information about the CIA's involvement in the war on drugs and the massive political propaganda campaign that went along with it. The series criminalized the CIA and the government, and rightly so, discussing their involvement in drug trafficking, production, and testing on both volunteers and unwilling patients – including murder.
I'm bringing this up because it's important to mention the issue with mainstream coverage of MK Ultra, they seem to only focus on one aspect of the program, and that's the LSD part.  As a result, when it comes to public knowledge and awareness of MK Ultra, it's often believed that they were simply drug mind control experiments conducted by the CIA, but it's much deeper and more disturbing than that.
These disturbing revelations come from multiple survivors of the program, who have been speaking out for years.
Splitting the Personality
Not long ago, I wrote an article about a woman who goes by the name 'Elsa E', she's the author of, "Our Life Beyond MKULTRA" which is comprised of book 1 and book 2.  In it, her life of trauma-based mind control (from birth) is described, how it happened, what happened, and who was involved.
You can read that article here: MK Ultra Survivor Shares How Her Multiple Personalities Were Used By The Global Elite
For anybody who researches the MK Ultra topic, this is the basis of it. It's trauma-based mind control. Multiple Personality Disorder (MPD) is a real disorder and is often triggered by severe trauma experienced as a child. This is the backbone of the MK Ultra program, torturing individuals in order to create multiple personalities. These 'soldiers' are then apparently used by the global elite to share classified information and messages (among other things), without ever questioning what they were doing, sort of like a robot. They don't even remember what they do, because when they're doing it they're taking on the consciousness of somebody else.
Buy Book American Mind Control: MK Ultra
Below is a video of a woman named Kristy Allen, testifying in front of the commission of the International Tribunal For Natural Justice.  Here is a list of the ITNJs commissioners, and here's a list of their advocates. Quite an impressive list of people doing some great work to shed light on multiple human rights abuses that are currently happening without the public having any idea.
This story is about generational incest, abuse, CIA kiddie porn distribution, and satanic ritual families that have no idea what they are involved in, on a conscious level. It's about mind whipes, controlling those that have the most to offer, it's about how the priesthood, sacred societies, freemasonry and a satanic pedophilic agenda is widely used to control governments, religions and local police to do their bidding.
What Do You Do With This Information?
Well, the idea that there are children and people suffering as a result of this doesn't sit well, and as a human race, we have a responsibility to raise our voice and speak out against the parts of our experience that do not resonate. Perhaps there is nothing you want to do with this information, but that doesn't mean those bringing light to this area should stop doing so. One thing is for certain, awareness on multiple 'injustices' has led to a drastic reduction of those injustices. Think of the recent GMO/Monsanto court case for example, if everyone stayed quiet, this great result may never have happened. Secrecy is their necessary tool, and if we do not speak up for those without a voice we simply continue to let it happen.
With more sharing, with more awareness, those from within, like Kristy, and others who have worked directly within these programs will continue to gain the strength and bravery to come forward and speak.
So, the best thing you can do is share this information, process any emotions that come up from it and ultimately help tell the stories of these people. It can be heart-breaking and hard to fathom that this type of thing actually happens, which is why many choose to ignore it, but you have to confront the challenges we face collectively. At a collective soul level we have an entirely different game playing out than we perceive through our minds. We're here to grow through some difficult times on our planet, and coming to terms with some of the 'darkness' we've created is part of the process. We can do this!
Source:
https://www.collective-evolution.com/2018/09/13/mk-ultra-survivor-shares-the-details-of-her-experience/
Thanks to: https://stillnessinthestorm.com
Watchin' and Waitin' – Your Whammy for 9-28-18
Posted: 28 Sep 2018 09:57 AM PDT
Your Whammy for 9-28-18
The Oversoul and Guides love communicating to us via music. They do it all the time. It's like a game. We used to find it annoying when we didn't understand what was going on, but now we get how the song communicates not just words and concepts, but also tone and mood.
In the past, we'd often wake with this super "WHAMMY" (a Da-da term we stole; other people call it an "ear worm") song in our heads and have it stuck there all day. This is because THEY WERE TRYING TO TELL US SOMETHING, duh, only we were too dense at the time to get it. Ok, now we get it. We're paying attantion. Even stranger (and the reason we're bringing it up), we as a group are now getting THE SAME SONG stuck in our heads, independently. Blah blah blah.
Anyway, here's this morning's whammy, from Phineas & Ferb, a show some of our kids watch:
This pertains to this:

They're watchin', and they're waitin'.
Those Universal ships… actually, this term isn't entirely accurate. Those are SOURCE representatives in those sphere-sized ships. They're not "sphere beings," like the neutral ETs from 2011/2012, formerly here to jockey for position (they've since slunk off to watch at a distance). So… what should we call the ships in this STEREO image here? Let's call them "SOURCE Ships," 'cause that's what they are. (And boy do we have a related surprise for you; in a future post.) We're firm believers in calling something what it is.
Anyway, SOURCE already sent The Event energy into… The Universal Energy System, if you will… and it's somewhere in the pipes being stepped-down and… customized?… so it won't roast us, but will instead help each of us do what we need to do… and the SOURCE Ships are on station, watchin' and waitin' to help manage it when it comes out. All is well.

Thanks to: https://schrodingersothercat.blog
More Square Clouds – Does Anyone See A Pattern Here?
Posted: 28 Sep 2018 09:44 AM PDT
Antarctic anomalies – Proof of ancient activities – Antarctic Stonehenge?
Posted: 28 Sep 2018 09:21 AM PDT

UFO Today
Published on Sep 27, 2018
Antarctica is Earth's southernmost continent. It contains the geographic South Pole and is situated in the Antarctic region of the Southern Hemisphere, almost entirely south of the Antarctic Circle, and is surrounded by the Southern Ocean. At 14,000,000 square kilometres (5,400,000 square miles), it is the fifth-largest continent. In our current world view, scientists don't think there was ever a highly advanced civilization that lived on this snowy continent, but recent technological inventions such as satellite images proof that we could be wrong. This scientific proof suggests ancient activities that do not match with our current world view. Thanks for The Lost History Channel TKTC for letting me use their video. Check out the original video here: https://www.youtube.com/watch?v=RsZCa…
UFO News ~ Massive multiple UFO sightings captured over the Mexico city plus MORE
Posted: 28 Sep 2018 09:18 AM PDT
NIBIRU News ~ Nibiru Breaking News! Planet X ECLIPSING SUN, LOOKING @ NANNA plus MORE
Posted: 28 Sep 2018 09:13 AM PDT
Powerful Tsunami Hits Indonesia After M7.5 Earthquake
Posted: 28 Sep 2018 09:10 AM PDT
Hundreds of Feet of Australia Beach Disappear Overnight
Posted: 28 Sep 2018 09:08 AM PDT
COSMIC RAYS DETECTED SHOOTING OUT FROM ANTARCTICA! IS ANTARCTICA A PORTAL?
Posted: 28 Sep 2018 09:07 AM PDT
These are the Bloodlines of the Anunnaki 'Gods'
Posted: 28 Sep 2018 09:05 AM PDT
These are the Bloodlines of the Anunnaki 'Gods'
This is an excerpt from the book 'Keeper of the Celtic Secrets:'
Finally, knowledge about the origins of the major races, who call the Earth home, is being shared with others. You must keep an open mind — stay out of your cave now, or you won't be able to grasp the wisdom being presented here.
Yes, Virginia, there really were E.T.'s, who do you think provided the wisdom to build the pyramids, give us mathematical equations, science and astronomy? Are you ready for some real wisdom? OK — Good.
As per old family journals containing knowledge from ancient Ireland, the origin of races are as follows:
1) Caucasoid, or the WHITE races, descend from the Anunnaki, including the Elohiym godhead. And yes, the ancient Israelites, are actually descendants of the Elohiym royal family.
2) African or Negroid, the BLACK races, descend from the evolved Homosapiens and the hybrid created Adams; they are the EVES.
3) Asiatic or Mongoloid, the so-called YELLOW skinned people, descend from the Nefilim, the ousted royal party from Hibiru — notice I say Hibiru NOT Nibiru — Hibiru/Hebrew — are you still with me here? The Nefilim 'giants' were the reigning godhead until the Elohiym family ousted them, casting them to the Earth;
4) Indigenous or Native peoples of the land, the BROWN or RED races, descend from the evolved Homo sapiens and the Anunnaki — some not authorized by the Elohiym, but boys will be boys, and they made a good working stock of slaves. These people were the ADAMS.
A) The original evolved creatures of the Earth, first known as Homo-Erectus, who evolved to Homo sapiens, i.e., the Neanderthal — eventually this species became extinct due to the Ice Age, the Great Flood, famines, diseases, natural disasters, etc. This race was black skinned with coarse black hair, large features, and type O Rh-positive blood.
B) The original created hybrid ADAMS — the father of all brown-skinned [RED-skinned], indigenous, `native' peoples of the world. The `Adams' were one-half Anunnaki and one-half Earth evolved people. Descendants of the Adam's inhabited all continents and islands of the world.
Note: the Adam's were of lighter skin tones than were the hybrids known as the Woman — `Eve'. The Adams and the Eves all naturally have Rh-positive blood, connecting them to the Earth.
C) The original created Eves — the first hybrid woman, was the mother of all black-skinned peoples of Africa. The Eves, a.k.a. `the woman', was/is made up of one-half Adam's [DNA], and one-half Neanderthal, making her one-fourth Anunnaki, less black than the original Homo sapiens, but nevertheless, black-skinned.
`Eve's' bloodline was created to preserve the race of natural Earth-Evolved creatures, who were becoming extinct. All black-skinned races of Africa are from `Eve'.
D) The Nefilim: A race that once lived and reigned politically on planet Hibiru, but were eventually ousted and sent to Earth – they were the `fallen giants' in Biblical accounts, as well as in the St. John family journals. The Nefilim make up the Mongoloid and Asiatic peoples of the world, and originally had type B blood – RH negative – not of this Earth.
E) The Elohiym royal godhead: Their descendants became the twelve/thirteen tribes of Israel, i.e. the multitudes of Hebrew people – a white race descending primarily from EL, and his brother, Enki's, bloodline. The bloodline of the Israelites makes up the multitudes of Celtic, Irish, Scottish, Welsh, Anglo-Saxon, true Jews who aren't from the brown races, and most western white races.
CLICK HERE to Read the 14 Tablets of Enki (Former Anunnaki Leader of Planet Earth)
Note: The genetics of this group is probably the same as 'F' [below] – as both groups descend from the Anunnaki race, but 'E' represents the 'godhead', i.e. the reigning royal family. The original blood type of these descendants was RH negative, i.e. not of the Earth.
Science today has no explanation as to where the Rh negative factor originates — well, it originates with the Elohiym family godhead. The royal godhead were not permitted to marry, and bear children, to any other than their own blood type. This is also the reason that the Israelites were held for 40 years in the Sinai — giving them time to 'cleanse' their bloodline by marrying only within their own race.
F) The WHITE race of people are descendants of the Anunnaki. Some from the white race are descendants of the Elohiym – which simply implies the royal family godhead who were/are in political power on Hibiru. However, some from the white race do not have a bloodline from the royal family of Elohiym, but are in fact, descendants of Anunnaki citizens.
Their blood types were originally the same as above, but due to intermarrying with the BROWNS, as well as other created races, both groups now have large amounts of Rh-positive blood types. Rh positive is more dominant that is Rh negative, an Rh negative mother may have ten children from an Rh positive father, but may have only one Rh negative baby out of ten.
G) Mixed races – are a result of intermarrying amongst all races of people – producing various shades of skin tones, facial features, hair color and consistency, and blood types. Examples might be the people of India, the Aborigines of Australia, the Blackfoot of North America, and the Polynesians.
H) Esau's descendants – Turkey, Pakistan, Afghanistan, etc
I) Cain's descendants – Assyrians > Babylonians > Romans
J) Ishmael's descendants – the Arabs
K) Jacob's descendants [Elohiym descendants] – see The-Red-Thread.net
We must not forget too, that the master scientist/physician, Enki, did many experiments with DNA manipulation and cloning in his laboratories here on Earth, accounting for many different and varied features amongst the races of people, which could have resulted in blonde-haired Aborigines in Australia, and the fine-featured black-skinned peoples of India.
There is an `out of Africa' hypothesis that was first proposed based on genetic studies of a type of DNA analysis known as mitochondria DNA, which is inherited through the maternal line; and the Y chromosome, which is inherited through the paternal line.
These particular studies show that the African races have more genetic diversity than any other human groups, and that this diversity has been accumulating for perhaps 100,000 to 200,000 years. This finding implies that all modern humans are descended from a small population of Homo sapiens that originally lived in Africa some 100,000 to 200,000 years ago.
However, analysis of mitochondria DNA, from a Neanderthal fossil found in Germany, also suggests that the Neanderthals did not contribute DNA to modern Europeans. Thus, evidence has been accumulating that modern Europeans are not descended from Neanderthals of Africa. [Source: paraphrased from Microsoft Encarta Encyclopedia – 2002]
Nobody will dispute the fact that black haired, ruddy [brown] skinned peoples, have occupied every continent and island on the face of the Earth since the `Adams' were first created. The Elohiym family of `gods', originally created the `black-haired' people, in part because the Anunnaki hated to do manual labor, such as, mining gold, diamonds, and other precious metals.
Therefore, the creation of black-haired, ruddy-skinned peoples was initially to provide manual workers for the extraterrestrials, a.k.a., the Anunnaki people.
The descendants of the Anunnaki are the white races of peoples, who were originally a light-skinned race, with either `red', blonde, or light-colored hair, and brightly colored eyes, such as blue, green, light gray, or hazel. Many white-skinned peoples still resemble the ancient space travelers who came to Earth thousands of years ago.
While the Israelites are descendants of the Elohiym godhead, and Enki and Enlil's family, not all white races descend from this politcal family.
Nevertheless, Enki knew that the population on Hibiru was in trouble, so to preserve the Elohiym royal family line; many Elohiym descendants remained behind on Earth in order to preserve their race.
Other Anunnaki descendants also inhabit the Earth today, but Enki and Enlil's descendants are identified as being Israelites.
NOTE: All the WHITE and ORIENTAL races would actually be HEBREW – having their origins from the planet by the same name, HIBIRU [aka Nibiru].
In summary, what the St. John family journals say regarding the various races is as follows:
1) A brown or red race of black-haired, ruddy-skinned people who are half-Anunnaki and half Homo-Sapien.
2) A black race that is one-half Homo-Sapien and one-half hybrid Adam;
3) A white race of people who are descendants of the Anunnaki;
4) An Oriental race of people who are the descendants of the Nefilim.
Betty Rhodes' book, Keeper of the Celtic Secrets, is available on Amazon.com. You can visit her website at this link.
Thanks to: http://humansarefree.com
https://eraoflight.com/2018/09/27/how-the-shamanic-medicine-iboga-can-resolve-and-heal-childhood-trauma/
Weaponizing Frequencies: The Coming Tidal Wave
Posted: 27 Sep 2018 08:45 AM PDT
By Rosanne Lindsay, ND
 Listen to Article
Psychotronic millimeter wave weaponry is coming to a street near you, with the potential to unleash disease on a mass scale. Welcome to the new fifth generation of wi-fi called 5G, where the speed to send full-length, high definition movies to your iPad is ten times faster.
The Consequences
The need for speed has the consequence of going from moderate to severe health effects in record time. Note that 4G operates at 2.5 GHz or oscillates about 2.5 billion times per second. This frequency mimics water molecules in your body, and was chosen specifically for broadcasting services and equipment under government license. This means that all company products must meet this frequency or be deemed illegal. For what purpose is matching the human body's frequency, you may ask, other than for weaponization? Good question.
The higher frequencies of 5G – 100 GHz and beyond – will use small-scale wireless refrigerator-sized boxes, placed in front of every 2-10 homes on every street, in every city. As you watch the latest Hollywood flick, you will bask, unaware, in microwave emissions that oscillate at the same rate as your blood and oxygen molecules. These frequencies can cause burning sensations on your skin, impact fertility, as well as alter the electrochemical waves of your brain to affect consciousness.
Awaiting Installation of 5G
Secret testing of 5G emissions made its debut during the 2018 Olympics, and then again at the 2018 Super Bowl where over 67,000 people were part of a stress-test without their consent. Soon, the 5G antennae networks will be beta tested in nineteen U.S. cities including San Francisco, Los Angeles, Jacksonville, and San Jose. High frequency 5G signals travel shorter distances and are easily blocked by buildings and trees. What is the point? Why create new technology that takes humanity in reverse?  No time for answers. It's full steam ahead to remove the obstacles that block the signals.
First the trees.
Directed Fires And Poisoned Trees
Many people in California report that the extensive "weird fires"  are destroying trees and leaving homes untouched. Everything does not burn.  At other times, the metal of cars and rails burned with the leaves on trees, leaving tree trunks and kindling. Could these unusual fires be the result of lasers from Directed Energy Weapons?  Whole forests have been devastated down straight lines, obeying fence lines. Add to that, the sanctioned poisoning of hardwood trees by timber companies that has led to over one million dead trees to create a fire hazard.
Are the trees being destroyed merely to unblock hazardous signals? Is this treason/tree-son on multiple levels? These same millimeter waves have been used by the U.S. Army as a crowd control dispersal weapon called Active Denial Systems. Firefighters in Sacramento have reported memory problems and confusion following the installation of new towers outside the city fire station. Some cities, including Santa Rosa, have halted their 5G plans while health concerns are addressed.
Tree Towers
The power of trees keep us calm by acting on our autonomic nervous system, as well as our spirit. Numerous studies show a dose-response relationship between urban tree cover density and self-reported stress recovery. Studies show reduced physiological markers of stress in subjects simply looking at images of nature.
Unless we can stand up, speak up, collaborate and network, we risk being victims of the attack coming at us unseen, as millimeter waves are directed at our bodies and minds. If we feel powerless and isolated now, imagine what it will feel like once the new networks are installed and operational. Imagine what it will be like when the trees are replaced with towers that look like trees. We only feel isolated when we work alone and isolate ourselves. Like a forest, there is strength in numbers.
Camilla Reese
 of Electromagnetichealth.org says w
e are facing actions at the federal and FCC levels that will create a dense network of high-intensity 4G and 5G microwave radiating cellular antennas in front of homes across America. Moreover, f
ederal legislation, S 3157, would severely reduce local revenues, shorten review times for applications and curtail local control over siting of cell towers.  Camilla says the movement to stop this rollout is necessary for health but is also about getting corporate money out of politics and building an independent media not dependent on toxic polluters and the corruption driving it. 
Health Effects of 5G
Because 5G frequencies affect oxygen molecules, they affect all biological systems, including DNA, circadian rhythm, heart function, hormonal regulation, and immune system. 
Hundreds of scientists have expressed concern
 that humans may experience serious health risks including increases in blindness, cataracts, retinal degeneration, hearing loss, male infertility, cancers, peripheral nervous system damage, impacts on immune cells, red blood cells leading to low cellular oxygen, and impaired transport of nutrients into cells. Impacts on birds and plants may be more severe than the impacts on humans.
Beyond direct effects to health, harmful frequencies threaten society as a whole by ignoring the human right to informed-consent to high levels of radiation. All life on the planet has a right to health and a healthy life. By accepting the 5G rollout without a discussion, as happened with the airport scanners, we give up sovereignty over our bodies and accelerate our demise. These frequencies ionize metals being sprayed into the atmosphere under military "geo-engineering" programs to charge the atmosphere, along with our bodies. These programs further block the healing frequencies of the sun required by all life.
S 3157 has bipartisan support and currently faces little opposition. It could slip through the Senate via unanimous consent, appear in the House briefly and get attached to a spending bill — without any debate or roll-call votes specific to S 3157. This would wipe out nearly all the protective ordinances already passed by forward-looking cities.
On September 26, 2018, the FCC is scheduled to vote through its Wireless Infrastructure Order (dockets 17-79 and 17-84). This order attempts to preempt local control of the public rights-of-way. Wireless companies could then more easily install — in front homes — cell towers that would irradiate those nearby with intense, pulsed, data-modulated, Radio-frequency Electromagnetic Microwave Radiation (RF-EMR) — 24/7. 
Some Solutions
Voice the power of NO to all new generation wi-fi systems without proven safety.
Hardwire all electrical connections or unplug wi-fi before sleeping.
Use aluminum screens on windows to block EMF signals.
Use RF-shielding paint to block EMF signals.
Consume Carbon60, a powerful antioxidant, metal absorber, and carrier of metals out of the body.
Unsubscribe to the genetically-modified corporate food system.
Eat an organic diet to strengthen and maintain your immune system.
Come together in small communities to maintain simple wi-fi for the benefit and balance of the group.
Grow your own food. Plant a garden. Grow herbs and fruit trees.
Stop using aluminum cookware, antiperspirants, baking powder, vaccines.
Remove the outdoor refrigerators from your sightline.
In usual form, attacks to human health and the health of the planet are coming from new technologies that are unproven,  untested, and amoral. Though government attempts to divide humanity, we are all Earthlings united at the level of our cells and our microbes. Do we slow down and preserve our smallest inhabitants? Or do we accept the coming tidal wave? Speed for the sake of speed is the ideology of a cancer cell.
---
Rosanne Lindsay is a Naturopathic doctor and Tribal healer under the Turtle Island Provider Network. She is a writer, Earth keeper,Health Freedom advocate, co-founder of Wisconsin For Vaccine Choice, and author of the books The Nature of Healing, Heal the Body, Heal the Planet.and  Free Your Voice, Heal Your Thyroid, Reverse Thyroid Disease Naturally. Find her on Facebook at Rosanne Lindsay and Natureofhealing. Consult with her (Skype or Zoom consults available) at natureofhealing.org. Subscribe to her blog at http://www.natureofhealing.org/blog/, where this article first appeared.
The post Weaponizing Frequencies: The Coming Tidal Wave appeared first on Dr. Leonard Coldwell.com.
Is The Sky Falling Or Is Just Weather Geoengineering "Killing Us Lightly"?
Posted: 27 Sep 2018 08:41 AM PDT
By Catherine J. Frompovich
 Listen to Article
Are some folks, especially those in the media, starting to wake up about what's happening with the weather? In the SE part of Pennsylvania, Philadelphia and surrounding counties, in particular, the Spring and Summer of 2018 have been nothing short of thinking about building an ark, as we have had torrential floods weekly, if not many times daily!
The wet weather here is so bad, no one can disregard it anymore. Some folks now have taken to making snide remarks such as, "Can Google send us some sunshine."
The all-news radio station in this area is KYW 1060 and their reporter Lynne Adkins featured a story about the weather and how it is affecting people. Here in the metro Philadelphia area, we have nothing but rain, more rain and torrential rains on a daily basis. Flash flooding is the normal daily routine for drivers' commutes, with many water rescues having to take place. Rivers and streams flood all over the area! It's gotten so bad that radio announcers are now making snide remarks about the weather and verbally 'taking on' weather forecasters about a lack of sunshine.
It's NOT the normal weather patterns locals remember for most of their lives!
Lynne Adkins KYW News 9-25-18 Rain article featured a comment from a healthcare professional, which is extremely "right on" and probably will be responsible for people waking up to who's messing with the weather because this just isn't normal.
According to part of Ms. Adkins' report,
"Lowered energy, low motivation, just overall way more sluggish than their typical baseline, more irritable. And then when you combine that with the fact that sometimes people don't physically feel well, the weather can aggravate pain or medical ailments," said Kim Morrison, clinical supervisor at Main Line Health Women's Emotional Wellness Center.

"Morrison says we're getting more miserable each day."
My Comment About That
Daily flooding rains result from scalar clouds parked overhead for days at a time in order to drop all that rain. Those clouds have tremendous Electromagnetic Frequencies (EMFs) and probably Radiofrequencies (RFs) in them possibly created and held in place by HAARP. Here's a map of global HAARP facilities known to date.
(Source)
Those facilities are capable of sending billions of microwatt energy into the ionosphere to heat it up and create weather patterns – drought, flooding rains or nucleated ice and snow – anywhere on the planet! There is some speculation HAARP also can produce and/or activate earthquakes! What a weather-making machine!
Can weather geoengineering be responsible for California's ongoing six-year weather problems and much of the earth's forests burning, plus the "Noah-like weather" in Pennsylvania and surrounding areas?
There are hundreds of U.S. patents to control weather, which are owned by the U.S. military and government.
The process by which "man-made weather," aka Solar Radiation Management (SRM), is deployed is through the use of retrofitted airplanes for aerosol spraying "chemtrails" that rain down on earth, plant life and wildlife, all sorts of nanoparticles, toxins, and other horrendous chemicals. Some assays have found
Aluminum (known to cause tinnitus)
Arsenic
Barium salts
Cadium s/b cadmium
Desiccated human blood cells
Ethylene dibromide
Lead
Magnesium
Mercury
Mold spores
Mycoplasma
Polymer fibers
Radio cesium
Sharp titanium shards
Stonthium s/b Strontium
Submicron particles
Unidentified living bacteria
Uranium
And many other toxins
Source of spray chemicals: http://stopsprayingcalifornia.com/
Retrofitted spray nozzle
(Source)
Inside a retrofitted chemtrail spray plane
(Source)
One of the "ingredients" indicated to be a mix in the spray, proven by scientific assays, is toxic coal power plant ash waste.
There are many 'partner' components and operations involved in weather geoengineering, one being man-made clouds called "scalar" clouds that help make the new weather patterns possible (here and here).
Here are some of the more popular scalar clouds appearing over Pennsylvania:
(Source)
or another type, which I call "blanket clouds": one continuous dark gray cloud that extends for miles forming a blanket in the sky over the entire area for days on end preventing sunlight from reaching earth.
Because of these man-made clouds, between 25 and 30 percent less sunlight hits the earth. How does that affect people with Seasonal Affective Disorder [1] and the growing of food crops?
This website explains something you probably don't know: U.S. Air Force to own the weather!
Weather As A Force Multiplier: Owning The Weather In 2025
https://archive.org/details/WeatherAsAForceMultiplier
If you want to know more about weather geoengineering, you can access my Archives at Activist Post and scroll through hundreds of articles to find what you may want to know.
Finally, Dane Wigington, the chief researcher at Geoengineering Watch.org is planning a free "Climate Engineering Awareness" event the evening of October 20, 2018 in Redding, California. If you would like to attend, please see the following information.
[1] https://www.mayoclinic.org/diseases-conditions/seasonal-affective-disorder/symptoms-causes/syc-20364651
Top image credit: Truthstream Media
Catherine J Frompovich (website) is a retired natural nutritionist who earned advanced degrees in Nutrition and Holistic Health Sciences, Certification in Orthomolecular Theory and Practice plus Paralegal Studies. Her work has been published in national and airline magazines since the early 1980s. Catherine authored numerous books on health issues along with co-authoring papers and monographs with physicians, nurses, and holistic healthcare professionals. She has been a consumer healthcare researcher 35 years and counting.
Catherine's latest book, published October 4, 2013, is Vaccination Voodoo, What YOU Don't Know About Vaccines, available on Amazon.com.
Her 2012 book A Cancer Answer, Holistic BREAST Cancer Management, A Guide to Effective & Non-Toxic Treatments, is available on Amazon.com and as a Kindle eBook.
Two of Catherine's more recent books on Amazon.com are Our Chemical Lives And The Hijacking Of Our DNA, A Probe Into What's Probably Making Us Sick (2009) and Lord, How Can I Make It Through Grieving My Loss, An Inspirational Guide Through the Grieving Process (2008)
Originally posted: https://www.naturalblaze.com/2018/09/is-the-sky-falling-or-is-just-weather-geoengineering-killing-us-lightly.html
The post Is The Sky Falling Or Is Just Weather Geoengineering "Killing Us Lightly"? appeared first on Dr. Leonard Coldwell.com.
Intermittent fasting inhibits the most common type of childhood leukemia
Posted: 27 Sep 2018 08:37 AM PDT
 Intermittent fasting is all the rage right now; it's been credited with a host of health benefits and heralded as the next big thing in weight loss. The more intermittent fasting (IF) is studied, the more impressive it seems to become: Recent research has shown that fasting regularly, as one does with IF, can actually kill cancer cells — and may help prevent the onset and progression of the most common type of childhood leukemia. In fact, the research showed IF totally obliterated any trace of the cancer in just seven weeks.
Scientists from University of Texas Southwestern Medical Center (UT Southwestern) say that in animal models, IF "completely inhibited" cancer development — and test subjects were virtually cancer-free by the study's end.
Fasting to fight cancer
As Medical Xpress reports, researchers at UT Southwestern used mice to examine the effects of IF on the most common childhood blood cancer: Acute lymphoblastic leukemia, or ALL. There are two types of ALL, B-cell ALL and T-cell ALL. The study found IF was effective at treating and preventing both cancers. ALL can occur at any age, but around 90 percent of cases are seen in children.
Dr. Chengcheng "Alec" Zhang, Associate Professor of Physiology at UT Southwestern and senior author of the study, commented on their findings, stating, "Strikingly, we found that in models of ALL, a regimen consisting of six cycles of one day of fasting followed by one day of feeding completely inhibited cancer development."
After a  seven-week study period, the fasted mice had no traceable amounts of cancer cells — a striking contrast to the group of non-fasted mice used in the study. On average, about 68 percent of cells were found to be cancerous in the test areas of the non-fasted mice.
The power of the elements: Discover Colloidal Silver Mouthwash with quality, natural ingredients like Sangre de Drago sap, black walnut hulls, menthol crystals and more. Zero artificial sweeteners, colors or alcohol. Learn more at the Health Ranger Storeand help support this news site.
"In addition, following the fasting treatment, the spleens and lymph nodes in the fasted ALL model mice were similar in size to those in normal mice. Although initially cancerous, the few fluorescent cells that remained in the fasted mice after seven weeks appeared to behave like normal cells," Dr. Zhang explained further.
"Mice in the ALL model group that ate normally died within 59 days, while 75 percent of the fasted mice survived more than 120 days without signs of leukemia," he added.
Dr. Zhang notes that, based on their studies of leptin and leptin receptors in the mice, it seems that the leptin receptor pathway may be how IF exerts its effects against ALL.
"We found that fasting decreased the levels of leptin circulating in the bloodstream as well as decreased the leptin levels in the bone marrow. These effects became more pronounced with repeated cycles of fasting. After fasting, the rate at which the leptin levels recovered seemed to correspond to the rate at which the cancerous ALL cells were cleared from the blood," he stated.
As if these results weren't impressive enough, the team also notes that fasting was the only treatment modality applied to the mice — none of Big Pharma's toxic "treatments" were used.
Intermittent fasting has been linked to a host of health benefits. Whether it's boosting brain health or promoting system-wide healing, research continues to show that the way we eat, and what we eat, are integral keys to long-term health. Intermittent fasting has been shown to support the body's natural healing process, alongside a slew of other benefits.
Learn more about natural health and wellness at AlternativeMedicine.news.
Sources for this article include:
Originally posted: https://www.naturalnews.com/2018-09-26-intermittent-fasting-inhibits-childhood-leukemia.html
Author: Vicki Batts
The post Intermittent fasting inhibits the most common type of childhood leukemia appeared first on Dr. Leonard Coldwell.com.
Not ALL fats are bad: Consuming good fats can actually prevent stroke
Posted: 27 Sep 2018 08:35 AM PDT
Fat has become the enemy over the past few decades. These days, foods proudly proclaim their low-fat status on their packaging, acting as though they're "health food" even if they're devoid of nutrients and full of other chemicals that make up for the flavor lost by removing fat.
While there's no doubt that obesity is extremely dangerous and something that should be actively avoided, giving up food like cheese and butter isn't the right approach. Some people think that eating more fat makes you fatter, but science shows otherwise; it all depends on the fats you eat. In fact, a recent study shows that consuming whole dairy products can actually prevent strokes, and it can even give your weight loss efforts a boost.
Picture the dairy aisle of your local supermarket. There's no shortage of low-fat yogurt, cheese, and milk, right? In fact, you can usually find more so-called "butter alternatives" then true butter in dairy cases these days. However, heart disease continues to plague humanity and Americans are fatter than ever, and there's one big reason: Researchers say that cutting out good fats it actually working against us. A study published in the American Journal of Clinical Nutrition has concluded that there is no significant link between dairy fats and heart disease, stroke, and death. As a matter of fact, they found that consuming certain kinds of dairy fat can protect against severe stroke.
In the study, researchers evaluated the relationship between various biomarkers of fatty acids found in dairy fat with heart disease and mortality. They looked at almost 3,000 adults aged 65 and older and measured their plasma levels at various points over the course of 22 years. They determined that while none of the fatty acid tapes tested were linked to total mortality, one type was actually linked to a lower incidence of cardiovascular disease death. Moreover, those with higher fatty acid levels, which indicates higher whole-fat dairy consumption, had a remarkable 42 percent reduced risk of dying from stroke.
The power of the elements: Discover Colloidal Silver Mouthwash with quality, natural ingredients like Sangre de Drago sap, black walnut hulls, menthol crystals and more. Zero artificial sweeteners, colors or alcohol. Learn more at the Health Ranger Storeand help support this news site.
The researchers also point out that many low-fat dairy foods have a higher amount of added sugar to improve their taste; this can lead to poor metabolic and cardiovascular health. The researchers called for a revision to the current dietary guidance regarding whole-fat dairy foods and expressed concerns the people are missing out on this rich source of nutrients like potassium and calcium. In fact, this misinformed approach of avoiding fats at all costs could be one reason behind the current prevalence of osteoporosis.
Not all fats are as healthy as dairy fats
Although dairy fats aren't quite the killers they've been made out to be, you do still need to look out for trans fat. Found in processed foods and fast food, this type of fat is widely regarded as worst type you can consume. It raises LDL, the "bad" type of cholesterol, leading to insulin resistance and inflammation and raising your risk of type 2 diabetes. The hydrogenation process that turns healthy oils into solids and stops them from going rancid is what makes these fats so bad.
In addition to dairy fats, you can get good fats from vegetables, fish, seeds and nuts. Experts like nutritionist Ritesh Bawri suggest these foods can also help you drop a few pounds. He said: "It is advisable to include good fats in your diet as it helps in weight loss. Good quality fat such as ghee or avocado can help you lose weight. The good fat makes you feel full and reduces craving for other food."
Sources for this article include:
Originally posted: https://www.naturalnews.com/2018-09-26-not-all-fats-are-bad-consuming-good-fats-can-actually-prevent-stroke.html
Author: Isabelle Z.
The post Not ALL fats are bad: Consuming good fats can actually prevent stroke appeared first on Dr. Leonard Coldwell.com.
https://eraoflight.com/2018/09/26/when-fear-is-stopping-you-from-pursuing-meaningful-work/
https://eraoflight.com/2018/09/26/louisiana-attorney-general-encourages-jeff-sessions-to-break-up-google-facebook/
https://eraoflight.com/2018/09/28/five-stories-nobody-is-talking-about-as-the-brett-kavanaugh-hearing-unfolds/
https://eraoflight.com/2018/09/29/scientists-accidentally-blow-up-their-lab-with-the-strongest-indoor-magnetic-field/
—-
Vegan GMO Burger That "Bleeds" Hits Hundreds of Fast Food Locations Including 'Organic' Ones
Elon Musk Sued By SEC For Securities Fraud, Tesla Stock Tumbles: Full Complaint
Posted: 26 Sep 2018 09:00 PM PDT
In the aftermath of Elon Musk's infamous Tesla going private "funding secured" tweet, the investing public had been split into two camps: the first, and more cynical, said that the SEC would never pursue what was a clear case of securities fraud and stock manipulation – after all, Elon Musk is "too big" of a "visionary" to crack down on and so the SEC would merely look the other way; and then there were the diehard Tesla skeptics who believed that no matter what, Musk would – or should – be treated equally as all other stock manipulators and be punished appropriately.
Delta Computer Glitches Force Flight Halts Third Year in a Row
Posted: 26 Sep 2018 09:00 PM PDT
Delta Air Lines Inc.'s computer breakdowns are turning into an unwelcome, annual affair. The U.S. airline grounded all domestic flights Tuesday to deal with a technology issue that affected some of its systems. About an hour later, Delta said it had restored all its systems, allowing the services to resume.
US fines Brazil's oil giant Petrobras $853mn for bribery
Posted: 26 Sep 2018 09:00 PM PDT
The US Justice Department said on Thursday that Brazilian oil company Petrobras has been fined millions of dollars for paying bribes to Brazilian politicians and political parties. Assistant Attorney General Brian Benczkowski said in a statement that Petrobras executives at "the highest levels,"including board members, orchestrated hundreds of millions in bribes "and then cooked the books to conceal the bribe payments from investors and regulators."
As Medical Marijuana Becomes More Accepted, Veterans Urge the VA To Prescribe It
Posted: 26 Sep 2018 09:00 PM PDT
Though medical marijuana is legal in most states, the Department of Veterans Affairs will neither recommend nor prescribe it because of a longstanding federal law. Julio Ochoa reports that veterans are pushing Congress and the VA to change federal policies on medical marijuana.
In Blow To Mainstream Media's Gun Narrative, Homicides Drop In 2017
Posted: 26 Sep 2018 09:00 PM PDT
The FBI released new homicide data this week, and at the nationwide level, the 2017 homicide rate fell slightly, dropping to 5.3 homicides per 100,000 from 2016's rate of 5.4. According to the report, there were 17,284 homicides in 2017. For context: drug overdoses killed 63,632 Americans in 2016 and more than 37,000 people were killed in motor vehicle accidents in 2016. The US homicide rate remains down considerably from the 1990s, when the homicide rate reached 9.8 per 100,000 in 1991.
Detailed look at Google's secret, censored, spying Chinese search tool
Posted: 26 Sep 2018 09:00 PM PDT
Jack Poulson is one of several googlers to quit the company over Project Dragonfly, the company's secret plan to launch a Chinese search tool that will incorporate state surveillance and censorship on behalf of China's authoritarian government… Google confirmed that this product has been developed, but insisted that the product is "not close to launch."
Indonesia launching public 'fake news' briefings to fight hoaxes
Posted: 26 Sep 2018 09:00 PM PDT
The Indonesian government has stepped up its fight against 'fake news' in the lead up to next year's presidential election by launching weekly briefings aimed at informing citizens of false reports. "Every week we will announce hoax news," Communications Minister Rudiantara told CNN Indonesia. "The ministry will not just stamp a story as hoax, but we will also provide facts." Rudiantara said the program was part of the ministry's drive to promote digital literacy and discourage social media users from spreading fake news.
https://newswithviews.com/only-democrat-women-accusing-judge-kavanaugh/
Know Who The Real Racists Are
For many years, democrats have sought to either prevent people from obtaining liberty or have been trying to destroy liberty and justice for all.  They used physical slavery, hangings, Jim Crow, etc.  In more recent decades people sharing their philosophy infiltrated the government school system. As a result, they have indoctrinated generations Americans into embracing policies and principles that could wipe out both freedom and liberty.  Ironically, the democrat party of racism throughout much it's history now points fingers at others they disagree with on issues unrelated to racism.  What a comedy of foolish political angling.  In fact, Systemic racism" and "institutional racism" are anti-American dogmas that drive the Democrat party platform.
Democrats now publicly denounce every single economic and social positional difference between races and genders they can think of.  It is as if they can convince every living American that we are all supposed to exist in a world of equal results, with very body having the same this and the same that, no matter what.  One has to wonder, if the Democrats get their way with everybody the same, what level of living would they decide every sovereign individual, gender and racial group should exist in?  In fact, Democrats often carp about "The Racial Wealth Gap."   Here is one of their statements about the "Racial Wealth Gap."
"America's economic inequality problem is even pronounced when it comes to racial and economic disparities in wealth and income.  It is unacceptable that the median wealth for African Americans and Latin Americans is roughly one-tenth that of white Americans.  These disparities are also stark for American Indians and certain Asian American subgroups, and many become even more significant when considering other characteristics such as age, disability status, sexual orientation, or gender identity."  All that is fine and dandy if that narrow approach is all that is recognized.  But let's be open to a few other possibilities.   First and foremost, among the major reasons that Americans who happen to be black "not hyphenated" Americans in great numbers have allowed themselves to be duped into operating under a socialist, bitter and victimology mindset which sets them up to lag far behind other segments of society that avoids such pitfall economically.
When Frederick Douglas decided to free himself from both the physical and mental shackles he experienced as a slave he set out to learn about success and adopt the principles for success in his own life.  As a result, Douglas maneuvered himself to the upper economic rungs of society, by both hard and smart work.  He also rejected the mentality of a victim or beaten down bitter slug.  In addition, Mr. Frederick Douglas sought to learn the Constitution, Bill of Rights and Holy Bible for himself. He quickly found out that what he was told by his democrat former masters was not true.  For example, when Douglas read that all men are created equal and about our unalienable rights which come from God, he grew to appreciate this republic.  Yes, Douglas continued to vigorously fight against slavery and racism, but he did so, understanding that some people in America committed awful acts, but overall this was a great republic with high ideals worth fighting for.
Generations of black Americans after Frederick Douglas's time were just as patriotic as their white counterparts. That was despite the horrors of the KKK, Jim Crow and the racism that reemerged as a major force during the Democrat Woodrow Wilson regime.  They intelligently understood that overcoming the racist Democrats not the entire country was the correct mission at hand.  Of course, they were not victims of subpar education and superior indoctrination against everything good, including the United States of America as the youth of today are.
People often yelp about the economic differences between black and white Americans.  But they either ignore or do not know that black West Indians who legally immigrate to this country on average earn as much money as white Americans.  In some cases, they outperform white American income earners.  Not because of manipulative government programs to force equal results, but because they take advantage of the blessings of equal opportunity through both hard and smart work ethics.  There are no boogieman republicans gumming up the works legislatively to stop Blacks or anyone from succeeding.  Now just as always it is the democrats who wish to weaken everyone, especially blacks in order to control them and rely on their faithful votes.
Not only are Democrats racists, but they are also socialists, communists and in some cases pedophile promoters.  Yes, they are a nasty bunch.  Pelosi and others are chomping at the bit to make life more difficult for everybody, especially those on the lower economic rungs, including many American minorities by raising taxes and increasing oppressive regulations.  My fellow Americans the time is now to refuse what the deep state, swamp dwellers, Democrats, racists and leftist bigots are trying to force upon our republic.  I believe with Providential guidance and a no quit effort together we will make America great again.  Let's talk on the Ron Edwards Experience Fridays at 1:00 PM PT, 4:00 PM ET, emanating from flagship station KCKQ AM 1180 Reno, Nv. And Sunday midnights on the TalkAmericaRadio network.
© 2018 Ron Edwards – All Rights Reserved
Christianity Has Become A Janitorial Service
By Dr. Mike Spaulding
I was listening to Coach Dave Daubenmire recently and during his Coach Dave Live program he made the point that Christianity as lived out by the overwhelming majority of American Christians has become nothing more than a custodian service. Let that sink in friends. Christians are nothing more than glorified janitors. Ouch! The truth hurts but out of that pain can come an understanding of what needs to change.
How are Christians only glorified janitors? Consider that Christians and the churches they call their spiritual homes spend untold amounts of time, energy, and finances on addiction recovery programs, counseling confused people about marriage, sexuality, interpersonal relationships, parenting, and every sort of life issue imaginable. There is even an army of "life coaches" that offer their services to Christians unable to deal with what their lives have become.
Now some Christians reading this might think, "Well what's wrong with all of those things? Shouldn't Christians be helping people to overcome their problems?" The problem with this strategy, this method of ministry, is that it is reactive instead of proactive. That's right; Christians are reacting to people after the damage has been done. We are like janitors called to clean up the mess Johnnie and Jane make in the classroom because they've never been taught to understand that certain behavior is neither acceptable nor tolerated. A forgotten truth is this: certain behaviors result in negative and often catastrophic consequences for the individual involved and often others as a result of association with or by unfortunate contact with an individual.
Let me give you some concrete examples of what I'm talking about. Here in Ohio where I live, 13% of the state budget is spent on addiction, substance use, and abuse programs.[1] Of the 13%, $0.02 of every budgeted dollar pays for prevention and treatment programs and $0.90 of every budgeted dollar pays for the consequences of addiction, substance use, and abuse. Do those figures suggest anything to you? What they suggest to me is that if we must spend tax payer money on things like this, perhaps the amount spent on prevention should increase so that the amount spent on the consequences can decrease. Does it not follow that more emphasis on prevention might mean less negative consequences and the need for a bloated budget to pay for those consequences?
Further, these negative consequences for certain behavior places a large and growing burden on state health care systems. Consider that:
The largest share of spending on the consequences of addiction and substance use falls to the health care system. Tobacco, alcohol and drug use cause or contribute to more than 70 other conditions requiring medical care, including cancer, lung disease, heart disease, HIV/AIDS, pregnancy complications, cirrhosis, ulcers and trauma. Nearly 1/3 of all hospital costs are linked to addiction and substance use.[2]
Addiction and substance use and abuse also impacts federal spending related to welfare, mental health, job and family services, and health care. Billions of dollars are authorized annually to assist people with the consequences of their behavior.
Let's now consider the practice of abortion. The absurd ramblings of a demented Chelsea Clinton aside,[3] there is a tremendous toll being paid by Americans today resulting from the now 70 million plus unborn human beings murdered since the Supreme Court invented the "right" to murder unborn human beings 45 years ago.  This decision by our black-robed despots has had devastating effects.
One of the consequences of the Roe v. Wade invention was Post-Abortion Syndrome. In the early years of abortion women suffered in silence as the effects of their decision to murder their unborn child washed over them like ocean waves. Post-Abortion Syndrome continues to ravage women who undergo an abortion.[4]
The Students for Life organization at the University of Colorado recently published an article titled, "The Cost of Abortion."[5]  This short analysis provided several alarming facts. Studies conducted among women who aborted their unborn children revealed:
55% expressed guilt.
44% complained of nervous disorders.
36% reported sleep disorders.
31% regretted the decision to abort their unborn child.
11% were administered a psychotropic medication by their doctor.
In another study cited that included 500 post-abortion women, 50% admitted to negative emotions concerning their decision to abort their unborn children, and 10% were classified as having developed serious psychiatric problems. Additionally, 30%-50% of post-abortion women reported sexual dysfunction ranging from short to long term beginning immediately after their abortions. The truth of the matter is this: a majority of women who make the decision to abort their unborn children will suffer some type of guilt, shame, sexual dysfunction, and psychiatric trauma, for which a majority will seek medical assistance and prescription drugs to deal with the aforementioned symptoms.
Perhaps even more troubling than the data cited above is the fact that women who abort their unborn children suffer what researchers and medical doctors report as depression often leading to suicide or attempted suicide, and other self-destructive behaviors including drug and alcohol abuse, chronic relationship issues due to dramatic personality changes, an increased tendency toward violence, and difficulty bonding with children they birth after a previous abortion.
Finally, the physical damage done to women who abort their unborn children is suppressed by abortion supporting organizations including hospitals, doctors, medical and psychiatric associations, and research institutions. Researchers not afraid to report what big medicine, big pharma, and big government try to hide, report that upwards of 5% of all women who abort their unborn children suffer sterility as a result of the operation's latent morbidity.[6] Cervical damage almost always occurs and one study reveals that cervical incompetence was found in 75% of women who underwent forced dilation for an abortion.[7] This results in increased risks of miscarriage, premature birth, and complications during later pregnancies. In fact, a major study of first pregnancy abortions reveals that 48% of women who terminated their first pregnancy later experienced on average 2.3 miscarriages for every live birth.[8]
I hope you are still with me. Statistics can be dry and sometimes boring but they serve a purpose. In this instance they serve to vividly illustrate that federal, state, and even local governments are all involved in spending money to address the painful consequences of people's behavior. The church is not immune from this activity either. I see all kinds of churches advertising for clients to attend their programs of recovery from this, that, or the other thing. Pastors get in on the act too. I often see promotions on social media about a "new and dynamic series that will teach you how to avoid the pitfalls of (you fill in the blank)."
I'm all for helping people in their time of need with few qualifications. But the idea that the church, that Christians, should be running around taking care of all the foolish people that believe they can engage in behavior that they know will lead them into a dark and difficult place, is naïve and misguided to say the least.
Instead of spending all our time putting band aids on gaping wounds that require surgery and stiches, how about we go straight to the source of the behavior that causes these painful consequences and eliminate them?
Listen folks, Satan is a liar and always has been. The lies he hisses in people's ears need rebuked. Alcohol is dangerous. I'm not suggesting you become a teetotaler but I am saying you better be very careful with your use of alcohol. It might take you places you never intended to go and demand from you things you are not willing to forfeit. Alcohol is a cruel master that cares nothing about the things you do. If you allow yourself to become controlled by it you will lose everything you hold dear. If you think you are the one person that can beat the odds then you are more foolish than you realize.
In light of the tremendous drug and alcohol addiction crisis we face as Americans, it is very troubling that the so-called hipster Christians, you know, the skinny jeans, bearded, beer drinking, pot smoking, "new Christianity" Christians, engage in these addictive behaviors. Listen folks the church is supposed to reflect Christ not the culture.
If Christians really want to help drug and alcohol addicts then maybe we should start going to places that sell the stuff, like say, bars or night clubs, and stand outside with signs that suggest what they are about to do will destroy their lives and then engage them in conversation. If we can save anyone from the hell-hole of addiction don't you think it is worth our time? Let's go to the source before the mess is made!
If the church really wants to help victims of the modern day demonic ritual of child sacrifice euphemistically called abortion "choice" then it should be marching in front of abortion clinics in their communities. Christians should be shouting from the rooftops that aborting unborn children is indeed murder. Stop believing that satanic lie that "if you tell people that abortion is murder they will just tune you out as some type of radical." If you don't tell them abortion is murder you'll answer to your Creator as to why you didn't tell them the truth. Here's the truth folks: holding signs showing the dismembered bodies of unborn children is an undeniable truth that abortion is murder. That's why so many people will not look at a sign like that. But when someone does and it causes them to pause and think, don't you think that is worth your time to engage them in conversation about the precious gift of life?
Think of this folks: if you go to an abortion clinic and persuade one woman to change her mind you have saved her from the likelihood of serious future psychological and medical issues AND saved her unborn child from the executioner's forceps. Let's not stop there though. If we are going to persuade women to not murder their unborn children we better be prepared to help those women to find a good home for their child should they decide to allow someone else to adopt. Wouldn't that be a better way for a church to spend its resources than on a new bigger or better building?
Pastor's how about you start preaching on the sanctity of life every Sunday? Life is precious in God's eyes so let's remind people to stop viewing pornography. It destroys the mind and devalues people, making the joy of sexual intimacy a vapor that disappears.
Christians if we want to graduate from being janitors that clean up the mess people make of their lives then let's get proactive in our churches, in our communities, in our families, and in every other thing we are involved in. Let's take the fight to the enemy by reclaiming our streets.
[BIO: Pastor Mike Spaulding was ordained to the ministry in 1998.  Since then he has planted two Calvary Chapel churches – Calvary Christian Fellowship, St. Marys, Ohio, in 1998, and Calvary Chapel of Lima, Ohio, in 2005, where he currently serves as teaching pastor. Mike holds a B.A. in Organizational Management, a Masters Degree in Theological Studies, and a Ph.D. in apologetics. Dr. Mike Spaulding Pastor, Calvary Chapel of Lima and the Host of Soaring Eagle Radio & Host of  Soaring Eagle Radio & DrMikeLive.com  E-Mail Mike Spaulding: drmichaelspaulding@gmail.com]

© 2018 Mike Spaulding – All Rights Reserved
The Joke That Is The DemocRat Party
This last week we saw first hand that the Democrat Party is willing to do anything, destroy anybody for their bid for power.  The Brett Kavanaugh confirmation hearings became a outright bid for power and even a outright demand from the Democrat Party for their right to maintain control of the United States Supreme Court.  It is just like the devil to fight with all he has to keep any ground that he has gained.
Not to rehash all that has happened over the last eighty plus days but from the time of the announcement of the nominee to the confirmation vote is typically 65 days.  It has been close to 85 days and we still have no vote.  After the hearings, information came forth that he allegedly sexually assaulted a 15-year-old girl when he was in high school.  This information was being held by Senator Feinstein for about six weeks before she released the information.  She claimed that the accuser wanted to remain anonymous. Senator Feinstien knew that this information could have been investigated and her anonymity could have been maintained.  By the way, no one is calling for the resignation of lowlife Senator Cory Booker who admitted that he groped a 15-year-old girl.  No double standard here, please move along.
Senator Feinstein never brought this up to Brett Kavanaugh when she had her private meeting with him.  This information was made known to other Democrats on the Senate Judiciary Committee but not to the Republicans.  The Republicans meanwhile were in the process of investigating Kavanaugh's background without the participation of the Democrats because they had refused to participate.  There is only one reason why 1. They refused to participate in the investigation and 2. They withheld the information,  they wanted to not just delay the vote they knew they would lose but they were doing all they could to deny Kavanaugh the confirmation with the hopes of getting him to quit and getting Merrick Garland in as a nominee.  Senator Chuck Schumer vowed to oppose the Kavanaugh nomination with everything he has; Senate Minority Leader Chuck Schumer (D-N.Y.) does not support President Trump's pick for the Supreme Court, Judge Brett Kavanaugh, and warns he will "undermine our health-care laws" and would "rule against reproductive rights and freedoms."
Schumer said that by choosing Kavanaugh as his nominee for the Supreme Court, Trump has "put reproductive rights and freedoms and health-care protections for millions of Americans on the judicial chopping block. His own writings make clear that he would rule against reproductive rights and freedoms, and that he would welcome challenges to the constitutionality of the Affordable Care Act."
Kavanaugh was on a list of 25 people vetted and approved by the conservative Federalist Society and Heritage Foundation, Schumer said, both "special interest groups devoted to overturning Roe and striking down the Affordable Care Act." He won't be an "impartial judge on behalf of all Americans," Schumer continued, and he plans on opposing Kavanaugh's nomination "with everything I have, and I hope a bipartisan majority will do the same. The stakes are simply too high for anything less." [1]
This even included the organizing of the protests that we witnessed during the confirmation hearings.  Sen. Dick Durbin (D-IL) admitted Tuesday in the Senate Judiciary Committee hearing on the nomination of Judge Brett Kavanaugh to the Supreme Court that he and other Democrats participated in a conference call on how to disrupt the hearings.
Durbin was responding to a question by Sen. Thom Tillis (R-NC), who cited an NBC News tweet from earlier in the morning that reported that Senate Democrats had planned over the Labor Day weekend to use protests and interruptions.
The hearing had already been disrupted several times by protesters — led by the anti-Trump and Democrat-aligned Women's March, which claimed credit — and several senators also interrupted proceedings with interjections. [2]
There is even evidence that these protestors were paid to do so. TOM SCHLUETER, TEXAS: Hello, I'm Dr. Tom Schlueter from Texas, we came here to participate in the hearings, to get in the line. They told us to be here at 8:00, 8:30 at the latest, to get in line to go inside and hear the hearings. We got here at about 8:15 and there was already 100 people in line, and most of them would be probably classified by me as 'opposing everything going on with Judge Kavanaugh,' and so we began to see a process of things unfolding as we were standing in line that kept the line from going ahead.
One thing was there were people who had come along… who had a bag of money, and people would hand them a piece of paper, and then they would give them money. So we know money was exchanged for some of the people to be here, just to protest. [3]  There was even a one miserable and disgusting protestor that appeared to have menstrual blood all over herself and clothing AND the seat she was sitting on was removed from the hearing.  As cameras cut away and committee members struggled to restore order to the Senate Judiciary Committee chamber, Americans were left in the dark as to the full disgusting detail of last week's militant leftist protests that disrupted confirmation hearings for Supreme Court nominee, Brett Kavanaugh.  News networks had no control however over phones and personal media devices which were used to capture images like the one above, showing a screeching feminist social justice warrior being forcibly removed from her seat, even as what appears to be menstrual blood soaked through the crotch of her clothing, ran down her legs and smeared seating areas and walls on her way to and through the door.
There is no confirmation that the woman was actually on her menstrual cycle, or whether another type of blood or replicant substance was used to create the protest which was aimed to criticize what is believed to be Kavanaugh's personal pro-life viewpoint and what liberals see as an existential threat to Roe v. Wade, the 1973 Supreme Court ruling that legalized abortion on demand in America. Recreating what feminists sensationalize as the dangers of hemorrhage as a result of back alley abortion. [4]
Keep in mind this is all organized by the Democrat Party.  Even during the extended hearing with the accuser where nothing was verified by the accuser, all of her so-called witnesses denied the party occurred, one declared that she didn't even know Brett Kavanaugh.  The left still is calling for an FBI investigation even though the FBI said there was nothing to investigate.   One of the biggest mouths for the FBI investigation is Senator Bloomenthal who wants to know the truth.  Remember this Bloomenthal?  He's the one who said he was a Viet Nam veteran when he'd never been to Viet Nam!  A lot of unscrupulous dirtbags are demanding to verify the honesty and integrity when they have none themselves.   Now there is going to be another delay for an FBI investigation that the FBI said would go nowhere and prove nothing and acquire information the committee already has.  This is happening because of a couple of Republicans, Jeff Flake, Susan Collins and Lisa Murkowski that have opposed Trump and his agenda from day one are working with the Democrat Party that is 100% anti-American and are still fighting to keep the Supreme Court leaning left as it is through this court that they get their agenda enforced.  Do we find it funny that after six previous FBI investigations of Kavanaugh they never found anything of this nature?
I have said it in the past and I'll say it again, elections have consequences and it is imperative that we pay attention to who we send to Washington.  We need to remove most of those that are there.  Most are globalists and are against our freedoms, our rights and our sovereignty.  Elections are just over a month away.  We have to send those that believe in America to DC.  This is the most important midterm in our history.  Please vote accordingly. The Democrats have proved they will do anything to retain the power they have.  Lie, cheat, steal and destroy anyone that gets in their way. We cannot allow this to continue.  Under Democrat rule our nation will become a third world nation.  Detroit, California, Chicago and New York City are just examples of the hell they will bring.
© 2018 Roger Anghis – All Rights Reserved
Expert Says Ford's Letter Faked
WASHINGTON, D.C. The talk around the water coolers for the past week has centered around a proclaimed 'Professor,' Christine Blase Ford (not acclaimed but self PROclaimed) at the University of California–Palo Alto, who sent a letter of woe to Senator Dianne Feinstein, a fellow Democrat.
The very poorly written letter rambles on about a sexual assault against her by Supreme Court Nominee Brett Kavanaugh–which supposedly happened–36 years ago when they were teenagers still in school, even though when questioned she did not know where it happened, whose house it happened in, how she got to the house, who brought her back home. She must have really been sloshed.
The so-called witnesses to this sexual assault, four of them, all denied being near them or seeing the conduct described by Ms. Ford and have testified to that fact.
That accusatory letter was sent in July. Senator Feinstein held onto that letter until the confirmation session for Judge Brett Kavanaugh to serve the Supreme Court was only a few days from starting. Of course, that is when it would do the most damage. The timing was carefully planned.
The letter that appeared to be written by a sixth grader, accused Judge Kavanaugh of drunkenness and trying to undress her with his hand over her mouth so she couldn't scream, so violently, that she (gulp!) feared for her life.
This Democrat woman must have been a real knockout for a fellow student to lose all control in her presence. These Democrat women do have a unique form of beauty as you see in Dianne Feinstein, Nancy Pelosi and Jackie Spears.
This writer went on an extensive search to learn if Judge Kavanaugh was indeed a fall down drunk, but nowhere I checked possessed that information.
He would drink a beer now and then but he was NOT a lush. HOWEVER, the accuser, Professor Christine Blasey Ford WAS found to be a heavy drinker as testified in her year books, which have conveniently gone missing… scrubbed from websites. Too late. We saw and copied them.
And it is said that people tend to judge others by their own standard of conduct.
The Congressional Committee said they would give her a hearing to determine if the confirmation hearing should take place.  However, she finds no date set by Congress convenient for her. She is supposed to go (tomorrow) Thursday (27th) but it looks like she is going to try to wiggle out of that one as well.
What is this? This woman has viciously slandered a distinguished judge being considered for the Supreme Court and she is given the power to set the date more convenient for her? Really? So she controls Congress?
Lawmakers, wake up. You set the schedule not a rabble rouser. If she comes to testify it will be at the convenience of Congress not her. Her goal is to destroy an excellent Supreme Court Nominee and wants Congress to cater to HER, not Judge Kavanaugh.
She either comes tomorrow (Thursday) or never. We cannot allow her to stall this confirmation any longer.
Fords Letter to Feinstein: As mentioned earlier, that letter looked like it came from a sixth grader, NOT a university professor!  This letter was taken to writing expert Dannielle Blumenthal Ph.D, who after carefully examining the letter, revealed it to be a total FAKE. She stated that the letter was NOT written by Professor Ford. No way. It was written by someone else for the sake of the Democratic Party.
According to Mike Adams of D.C. Clothesline, Dr. Blumenthal showed that "the letter contains 14 glaring errors that could only be committed by a poorly educated writer."   She went on to say that this letter could not possibly have been authored by Ford. It was filled with inconsistencies.
Dr. Blumenthal, assisted by writer Mike Adams, are eminently qualified to assess the writing level and composition of letters and articles. Dr. Blumenthal has a Ph.D. in sociology and a bachelor's degree in interdisciplinary studies with a focus on creative writing (h/t to The Gateway Pundit). She has been a professional writer for 30 years and spent 2.5 years handling constituent letters sent to members of Congress.
Mistakes that demonstrate the letter was not written by Dr. Christine Blasey Ford:
Ph.D. writers are highly trained in writing. In fact, it is an essential part of their education. Yet the letter released by Sen. Dianne Feinstein is riddled with simple errors that point to a writing level that barely qualifies as "high school" composition skills.
Here are the some of the glaring mistakes and discrepancies in the letter:
"in evaluating" should be "to evaluating"
The opening sentence of the letter states, "I am writing with information relevant in evaluating the current nominee to the Supreme Court." This is an error. A Ph.D. would correctly state the letter offers information relevant to evaluating the nominee, not "in" evaluating. In fact, a truly intelligent person would write, "I am writing with information relevant to the evaluation of the current nominee…"
The font size is altered in the line that mentions Brett Kavanaugh's name
The font size of the first line of the second paragraph, where Brett Kavanaugh's name is first mentioned, is oddly 140% the size of all the other lines in the document. This could indicate one of several things:
1) The line may have been altered after the fact by a person who failed to be careful in carrying out an attempted document alteration.
2) The document may have been printed on a printer that suffered a line feed problem on that one particular line. However, this problem would typically reveal horizontal white stripes in the line, and such lines do not appear.
3) The line may have been added in a rushed, last-minute fashion without careful attention to the font size.
"1980's" should be "1980s" — and any Ph.D. would immediately spot this obvious error.
Many more writing and composition errors, 14 to be exact, can be found with a Google search.
This link gives many other errors found in the letter to Feinstein. Worth going through since a lot of extra info is given.
It is URGED that authorities check Ford's bank account to examine deposits and who made those deposits. Could it be George Soros?
Somebody is paying her off to be the anchor of this Democrat plot to sabotage the nomination of Brett Kavanaugh to the Supreme Court, since they fear he will overturn Roe vs.Wade–legalized abortion, and strengthen the Republican Party.
This is the dirtiest politics this writer has ever witnessed during his 85 years. The original letter Ford wrote to Feinstein and the letter Feinstein sent to Senator Grassley can be seen by clicking this link.
We are indeed grateful to Lawrence Craig for alerting us to this story.
It is to be noted that Professor Ford had a lie detector test today and she passed. HOWEVER…it is known that one trained in clinical psychology knows how to beat that test.
ANALYZING TODAY'S NEWS FOR TOMORROW'S HISTORY
© 2018 Austin Miles – All Rights Reserved
What Does "Multiculturalism" Really Mean?
Who created "multiculturalism"?  Why did he think it would work? Where does it find fertile ground to flourish?  What might be its end result?  Who supports it in the face of devastating failures worldwide?
In 1951, Jamaican-born Stuart Hall who studied at Oxford University, described as the "godfather of multiculturalism", became one of the founding fathers of cultural studies. He became one of the left's most influential thinkers, placing questions of race, sexuality, identity and the media firmly at the center of academic debate.
Somehow, while he watched racial conflict from his academic chair, he theorized, against historical evidence, that human beings from incompatible cultures, might blend into a peaceful bouquet of humanity with neighboring cultures.
At the same time, he failed to incorporate the fact that advanced cultures accepted individuals from stone-age cultures, but never the other way around.  Example:  Somalians in Africa, hunter-gatherers living in thatched huts without toilets or running water, may migrate into America, Canada or the United Kingdom, but Western citizens abhor moving from their cultures to Somalia.  It's always a one-way ticket from a substandard culture into a highly specialized culture.
"The reason why multiculturalism exists is to pretend that inferior cultures aren't inferior and that 
superior cultures aren't superior. It's a way to tell nice lies about rotten cultures and rotten lies about great cultures. And from this, we've set ourselves up not only to believe the enemy propaganda that 'Islam means peace', but to propagate it ourselves, all the while blaming ourselves for the enemy's war on us."
~ Bosch Fawstin ~
Unfortunately, toleration of an incompatible culture from the third world being injected into a first world culture leads to conflict.  Note that every culture on Earth challenges an established culture for dominance.   With enough numbers, the guest culture displaces the host country's culture, i.e., UK, Sweden, Norway, Germany, France, Belgium, Holland, etc.
Writer Ken Eagle said, "What the inferior culture really wants is to be able to live in a society with the superior culture in order to out-breed him. He hates the most the idea of the superior race. This is why the inferior culture will almost always support 'multiculturalism', 'pluralism', 'equal rights', and 'free speech'. He can say 'discrimination is wrong on all counts', and that it is wrong to be prejudiced to have an opinion. If he succeeds in living in a society with superior people for long enough, he wins, he makes it, and he dominates."
In the end, Aristotle said, "Tolerance and apathy are the virtues of a of a dying society."
Today, in America, with 44 million foreign born immigrants and tens of millions of their offspring, we watch this country fracturing and fragmenting at the seams.
Once a community ingests 5, 10 or 20 different cultures, it cannot function as a community.  In reality, multiculturalism creates racial, class and identity conflict.  The dominant ethnic group tolerates, but does not mix or wish to integrate with a third world culture.  Both ethnic groups or multiple ethnic groups cannot find common ground because of incompatible language, ethos, religion, culture and world views.
For example:  in Minneapolis, MN, 120,000 Somalia refugees created what locals call, 'Somaliland'.   Over 90 percent live on welfare.  Their average IQ: 68. In other words, the USA with an average IQ of 98, imported people living pretty close to the Stone Age.  In fact, most of Africa runs a 68 to 70 IQ.  While living in the most resource rich continent in the world, they cannot learn modern agricultural methods to feed themselves.  Thus, millions starve to death and live in huts without water, food or work.  (Source: World ranking of countries by their IQ).
What occurred with this multicultural experiment?  Answer: a parallel society of Somalians who cannot and do not assimilate into American culture, but create their own parallel society based on welfare and turf.  The majority of Somalians can't exist without welfare to feed, house and care for them.  They resemble fish out of water or people without an American identity living within America.
If an American moved over to Somalia, the same would hold true. That American could not function in Somalian society.
By looking at Detroit, Michigan, you're seeing Moslems become the dominant culture.  The U.S. Government planted 300,000 of them there after 1.2 million Caucasian Detroit citizens fled from the racial conflicts of the 80s and 90s when blacks became the dominant race.  Muslims also live on welfare and by de facto cultural actions of their majority numbers, practice Sharia Law. Which violates our laws:  McCarren-Walter Act of 1952.  America now sees an average of 23 to 27 'honor killings' of Moslem women annually, and 500,000 cases of 'female genital mutilation'.  Gays don't dare tread into Detroit. Obviously, Americans allow these cultural acts to continue because of "tolerance and apathy".
"Immigrants devoted to their own cultures and religions are not influenced by the secular politically correct façade that dominates academia, news-media, entertainment, education, religious and political thinking today," said James Walsh, former Associate General Counsel of the United States Immigration and Naturalization Service. "They claim the right not to assimilate, and the day is coming when the question will be how can the United States regulate the defiantly unassimilated cultures, religions and mores of foreign lands?  Such immigrants say their traditions trump the U.S. legal system.  Balkanization of the United States has begun."
In Los Angeles, legal and illegal Mexicans outnumber Caucasian Americans, so much so, that locals call LA, "Mexico el Norte" or Mexico of the north. More Mexicans birth children in hospitals than any other ethnic group.  Since Mexicans abhor blacks, they push them out with violence and intimidation.  Note that no less than five Spanish TV stations and over a half dozen radio stations speak and feature only Hispanics and Mexicans.  Mexicans, at some point, with enough numbers could secede from the Union with the votes.
Anybody ever hear of Chicago?  A killing zone for African-Americans in America?  No Caucasians dare live or travel through south side Chicago. It's the murder capital of America. More people died from fire-fights in Chicago than in the 17 year Afghanistan War.  Additionally, Chicago houses hundreds of thousands of illegal alien migrants.  They work in underground economies that pay no taxes and the city faces bankruptcy from a vanishing tax base. Chicago's schools: no longer viable for American students.
One look at Europe, Canada and Australia shows "multiculturalism" fails on every level. Especially note that multiculturalism fails dramatically in the United States.   We may pretend that it's successful, but the facts show our country fracturing and fragmenting via multiculturalism.   And, note that it's not people from successful cultures migrating into unsuccessful cultures.  Would you like to move to Sudan, Congo, Ethiopia, Nigeria or Morocco?  How about India?  China?
What happens when "multiculturalism" displaces the host country's language. Today, entire cities speak Arabic in classrooms and businesses (Detroit, MI), Spanish in Los Angeles, Miami and Houston.  Home Depot, Lowes, Melaleuca Wellness, and fast food joints feature Spanish receptionists and catalogues.  Over 800 languages spoken openly in New York City. (Source)
One last point to ponder, as if we don't suffer enough problems with race mixing, multiculturalism and incompatible cultures today, how will it look when we import the projected 100,000,000 (million) more legal immigrants by 2050?
"Diversity within a nation destroys unity and leads to civil wars," said social scientist Garret Hardin. "Immigration, a benefit during the youth of a nation, can act as a disease in its mature state. Too much internal diversity in large nations has led to violence and disintegration. We are now in the process of destabilizing our America. The magic words of destabilizers are 'diversity' and 'multiculturalism'."
Dear fellow American, no matter what your race or religion, with your tolerance and apathy, we gallop toward our unfortunate destiny.
© 2018 NWV – All Rights Reserved
E-Mail Frosty: frostyw@juno.com
What will you say when they come for you?
A man may be personally ever so well off, and yet if his country be ruined, he must be ruined with it.
— Pericles (Thucydides), 423 BC
'A system that does not believe in truth must be overthrown by people who do'
Otherwise we're all just narcissistic robots of use to no one and no thing while killing other people for profit. Failure to repair this swindlers' system has created a species enslaved by attractions that amuse and addict them but simultaneously conceal from them the frauds behind the social extortion within which they live their entire lives, which eventually turn bitter from the pointlessness of their inevitably misplaced efforts.
How do you deal with a government that declares the truth is no defense? You overthrow it, or concede that you are a powerless slave.
Assuming any judge at any time in history can be impartial and immune to the political realities of his time remains a shot in the dark very much dependent on many variables. You may assume to your advantage that your judge is the product of the system that has arrested you, and determined to enforce the will of his employers regardless of what the evidence might prove.
This totalitarian tendency is frighteningly evident in all the countries of Western Europe where courts have ruled, in Alice in Wonderland fashion, that the truth is no defense. Sylvia Stolz is the famous German lawyer who has been jailed repeatedly for simply trying to defend her clients. Judges whose minds are mutilated by this enduring Jewish conspiracy refuse to listen to common sense and hard evidence because their bureaucratic careers depend on them ignoring all the evidence and simply suppressing the truth.
Law abiding citizens nowadays get charged not so much with material crimes like murder but more likely with violations of government restrictions meant to regulate a potentially unruly populace by either curtailing or regulating some of their popular freedoms. Too many of these regulations over time have resulted in freedom being reduced to the condition of a human in an iron lung, unable to breathe without permission from the state.
Your judge is corrupt, your state is criminal, and your odds of being found innocent by conventional means are minimal.
So when that day comes, and you are hauled before a judge for committing some spurious illegality such as Holocaust denial or 9/11 truth, here is some advice about what to say.
Same reason for every problem
When you take the trouble to learn the real history of the world, you will soon run afoul of anti-Semitism laws, because the Jews have taken control of what the public learns about history. Because what they have written is mostly an agglutination of self serving lies that make raping children legal that they must cover up by extraordinary means.
In an obnoxiously booming voice, the judge intones: "By challenging the state's history about World War II, your have been charged with defaming the memory of the dead, and committing hate crimes against the Jews! How to do you plead?"
"Your honor, I submit that Jewish claims about the so-called Holocaust are false, and consequently Jews defame the entire world by insisting they are true. In keeping with the well known legal maxim "the defense for libel is truth", I further submit that I can prove my case about World War II deaths, whereas the Jews — despite a Holocaust publishing industry that has flooded the world with preposterously impossible fiction — cannot prove anything close to the atrocities they have cynically alleged. They have failed to do this in previous trials because they cannot prove their lies or dispute the truth of their debunking without simply telling more lies.
It's not 6 million, it's 290,000. The majority of German labor camp fatalities occurred after allied bombing had cut off supply lines and people died of either starvation or typhus. Internees at the Auschwitz camp had a swimming pool, a dentist and they put on plays. The Germans were much kinder to their enemies than the Jewish allies were to their German prisoners. Contrast these Auschwitz amenities, please, with the way the Americans bombed Dresden into literal rivers of blood or let 2 million German prisoners starve to death in a field in France after peace had been declared.
All the horror stories attributed to America's enemies are really warped reflections of America's own actual behavior against the world — barbaric beyond belief! One cannot help but wonder about the IQ of Americans who support the criminal activities of the American military, activity that U.S. leaders continually lie about, as demonstrated by Donald Trump's current blithering about Syria, where children are apparently killed by U.S. proxies and used in videos trying to blame poison gas attacks on the innocent Syrian president.
And as with 9/11, they're not even convincing lies, which means the American people who support their criminal government's behavior are forced to act even stupider than they already are!
The billions of dollars extorted from nations and peoples around the world thanks to Jewish lawyers and judges bribing legislators and world leaders for Holocaust reparations are based on a projected Jewish homicidal fantasy falsely attributed to the victims of precisely this behavior.
These claims are the product of the classically depraved Jewish imagination, which is hostile to everything but its own sadistic fantasy of wreaking vengeance on the whole world for the pain they have inflicted upon themselves for two thousand years.
360 degree tyranny
You cannot discuss contemporary politics in an authentic way without uncovering excessive and subversive Jewish influence in practically every category of human endeavor.
This control of course begins with the Jewish monopoly on money. This enables them to influence every activity on the planet, and also to record their very biased accounts of these activities and distribute them to the public as gospel. Since they control the bulk of the world's media, the reach of their propaganda dwarfs any other source, and thereby greatly affects both the attitudes of people as well as the operation of the world.
The consensus reality they have foisted on the world is curiously devoid of actual human characteristics, with everything coming down to financial survival in a world of plenty within which the vast majority are stricken by horrific poverty. And ruled by a ruthless overclass who regard most of their fellow humans as . . . cattle.
What makes these kosher depredations more difficult to identify lately is Jewish control of the police. The arrest of Jez Turner in England for shining a light on the private Jewish police force named Shomrim reveals the closeness between the British constabulary and the nefarious kosher influences that have controlled Great Britain for centuries. The Jewish courts slammed Turner into jail as fast as possible and we will be lucky to see him come out in one piece.
Police in the U.S. who are now trained in Israeli terror tactics have in recent years become infamous for murdering innocent bystanders, trashing the wrong addresses and shooting people's harmless pets.
Among the worst are the hundreds of people who have been thrown into jail in Germany over the years for trying to tell the truth about the lies the Jews have told about World War II, as well as other world events, notably 9/11.
Germany has turned into a nation of Jewish controlled robots unable to see the perversion of history that transformed Adolf Hitler from the world's greatest leader into the world's greatest villain. This false history has resulted in the tyrant Merkel, an East German lesbian Communist, inviting Africa to invade Germany at the behest of the Jews, deliberately debauching her own country.
It would seem to be clear by now that all the Western countries have been sabotaged by deliberately harmful immigration politics that make them more susceptible to sabotage and instability, which is just the way the Jews want them . . . just like Palestine, with people living in rubble constantly bombed by Israel simply for the crime of not being Jews.
Debunking Holocaust propaganda
Here's what you say to the judge:
I can prove what I say and you can't prove what you say. Your Holocaust tale is a hoax, constructed to serve as a smokescreen for your colossal crimes, which aim at nothing less than the extermination of the entire non-Jewish population of the world.
You call my actions a hate crime? I call it investigating of a neverending 360-degree conspiracy in which Jews have created a world of their own that basically excludes everybody else on the planet and is totally devoid of any trace of either nature or reality.
Most notable among these restricted freedoms is the need for permission to own firearms to protect oneself and one's family from random acts of violence, which often are generated by our own police. All gun control measures aim to enslave the populace and make it easier to murder government opponents.
Private possession of guns is precisely what has kept America relatively free all these years. Give up your guns and you give up your freedom — followed shortly thereafter by your life.
But rising beyond all that in importance is the ability to say and think what's on your mind without regard to offending someone. This freedom has been profoundly impinged and the blame can be placed at none other than the Jews, who today control every aspect of our lives through their control of medicine, education and entertainment.
Starting with our money, which they graciously create out of nothing and then charge us for it, they control all our media, which means every thought in our head — cradle to grave — comes from them.
All Jewish judges or judges appointed by Jews should step down immediately, and in the case of all the Jewish 9/11 judges should be charged with treason and corruption as well.
People who are sentenced to prison by Jewish judges for political crimes should be immediately released and the judges who sentenced them should be jailed for treason for helping the U.S. government cover up its crimes.
Jewish billionaires totally control U.S. elections with multiple fail safe mechanisms that prevent a genuinely uncompromised person from ever occupying the White House. First, they have more money than anyone else, since they print it out of nothing without government oversight. Or more precisely, they are the government oversight.
Control of the money enabled them to seize control of media, first newspapers, then movies, music and entertainment across the board. Three Jewish men founded the TV networks, Hollywood studios were dominated by Jews, today's universities are dominated by homosexual Communist Jews completing the indoctrinated perversions inflicted on our future generations and sending them out to destroy society.
The religions have all been hijacked by the Jews through control of money and a nonprofit law that exempts them from paying taxes if they keep their mouths shut about the atrocities your government commits on a daily basis.
Determining which aspect of human endeavor has been most profoundly disfigured by Jewish thought is a difficult choice.
Art was the first thing that crossed my mind. As photography gained ascendance in the late 19th century, so painting went mad. Biased reviewers in Jewish publications extolled nonsensical works which today sell for many millions of dollars. This is an even bigger swindle than the progressive income tax, principal bankrupter of most Americans, and of course another Jew invention as well as a prominent plank in the Communist Manifesto. It is far too late when most of these kids not sociopaths really learn to hate the country that nurtured them instead of the miscreant leaders who betrayed them.
The pollution of journalism
The utter Jewish pollution of journalism I really did not learn for real until after 9/11, when 100 percent of mainstream media failed to critique the U.S. government's performance in any way. Instead they swallowed the propaganda without a peep about those phantasmagorical Muslim bandits who "hated our freedoms" and looked the other way when Chertoff sent all those captured Jewish terrorists back to Israel without so much as a parking ticket.
Honest people are dissuaded from running for public office because Jew bankers prevent them from getting campaign loans if they don't sign up to support Israel, as Cynthia McKinney found out when she lost her Georgia Congressional seat. Ever since it has been OK for Americans to sacrifice their children so their CIA can distribute heroin all over the world.
So you're OK with slaughtering innocent people in order to keep your gas prices down and your social schedule from being interrupted, is that right? This is the attitude of a nation that doesn't really deserve to survive, at least with its present cast of criminal characters lying to everyone . . . including themselves.
Defend the people being put in jail by crooked judges for speaking the truth about Jewish perfidy, or the day will come when there is no one left who will remember what freedom ever was.
#
https://in5d.com/starseed-mission-disclosed-in-the-show-the-4400/
https://www.exopolitics.org/trump-confirms-q-claims-of-uk-deep-state-panic-over-fisa-declassification/
Donald Trump released a two-part tweet on Friday, September 21, which confirmed that he has been discussing with key US allies the release of unredacted versions of a Foreign Intelligence Surveillance (FISA) Court application filed in June 2017 to renew a permit for the US intelligence community to spy on individuals associated with the Trump administration and his 2016 Presidential campaign. The tweet followed Q posts from September 19 which described panic among key US allies related to the release of the unredacted FISA application.
Trump's admission follows his Presidential Directive issued on September 17 instructing the Justice Department and the Office of the Director of National Intelligence to declassify and release approximately 20 pages of the FISA Court application without redactions. Previously, the application was released in a heavily redacted form ostensibly to protect national security.
However, it quickly emerged that the redactions had nothing to do with national security. They were instead intended to save Deep State officials and key US allies from being exposed and embarrassed over the use of the Steele dossier as a justification to spy on Trump's campaign. Fox News analyst Greg Jarrett writes:
In July, a substantial portion of the wiretap warrant applications presented to the Foreign Intelligence Surveillance Court was declassified.  It turns out that no vital sources or methods were revealed in a way that jeopardized either national security or the FBI's secret investigative techniques.  Instead, we learned that much of the application to spy on a Trump campaign associate, Carter Page, was based on an unverified "dossier" that was funded by Hillary Clinton's campaign and composed by a British spy, Christopher Steele, who was fired by the FBI for lying.
The concerns of Britain and Australia, in particular, is that the unredacted version will show how they and other key US allies were involved in the development and distribution of the unverified dossier through the Five Eyes agreement between the US, Britain, Canada, Australia and New Zealand.
Q has previously described how the Five Eyes agreement provided a mechanism for Deep State officials from the US, Britain, Australia and other Five Eyes nations to collude in fabricating the Steele dossier as an "insurance policy" in case Trump won the election.
An incriminating August 15, 2016 email from FBI counterintelligence agent Peter Strzok to an FBI legal counsel, Lisa Page, revealed he was part of a Deep State scheme to concoct an "insurance policy" in case Trump won the election – the Steele Dossier was its vital element:
I want to believe the path you threw out for consideration in Andy's office that there's no way he gets elected — but I'm afraid we can't take that risk. It's like an insurance policy in the unlikely event you die before you're 40….
As a Q post will shortly reveal, Britain, in particular, is very concerned that the unredacted 20 pages from the June 2017 FISA application will show that it, rather than Russia, actually colluded with a Presidential campaign to affect the outcome of the 2016 election. But rather than Russia colluding with the Trump campaign, the real collusion was between Britain and the Hillary Clinton's Presidential campaign.
It's important to point out that classifying government documents with the purpose of protecting public officials from embarrassment or to hide lawlessness is actually a crime under Executive Order 13526 issued by President Barack Obama in 2009, as section 1.7 clearly states:
Sec 1.7. Classification Prohibitions and Limitations. (a) In no case shall information be classified, continue to be maintained as classified, or fail to be declassified in order to:
(1) conceal violations of law, inefficiency, or administrative error;
(2) prevent embarrassment to a person, organization, or agency;
(3) restrain competition; or
(4) prevent or delay the release of information that does not require protection in the interest of the national security."
Here is the first part of tweet issued by President Trump on September 21 relating to US allies calling him to discuss the FISA Court application:
Trump has acknowledged here that "Key Allies' called to ask not to release", and that there was a connection to the Robert Mueller Russia investigation, which was authorized by one of the signatories of the June 2017 FISA Court application, the current Deputy Attorney General Rod Rosenstein.
QAnon followed Trump's two-part September 21 tweet with a post on the same day identifying the key allies as Britain and Australia, which are particularly concerned about declassifying the redacted version of the June 2017 FISA Court application.
Significantly, Q identifies how Britain and Australia (UK/AUS) assisted the Obama White House in developing the "insurance policy" by facilitating the Steele dossier and its passage through the US political and intelligence systems. This helps explain why Deep State representatives from key allies (Britain and Australia) called Trump to get him to reverse his decision to declassify the 20 redacted pages from the June 2017 FISA Court application.
Apparently, Britain and Australia are most concerned about the fallout for the Mueller investigation if the person who authorized it had signed off on a FISA Court application that was misleading, if not unlawful. The release of the 20 redacted pages would apparently lead to Rosenstein having to either recuse himself from the Mueller investigation or even resign.
This is exemplified in a September 10 post by Q where Rosenstein's role in signing off on the 2016 FISA application on the basis of false intelligence data provided by Britain and Australia to the Obama Administration will force his resignation/recusal and/or removal of Rosenstein:
Q !!mG7VJxZNCI No.207
Sep 10 2018 12:41:01 (EST)
DECLAS OF FISA WILL INITIATE THE RESIGNATION/RECUSAL AND/OR REMOVAL OF ROD ROSENSTEIN.
DECLAS OF FISA WILL INITIATE THE 'AWARENESS' THAT ALL SIGNERS WILL BE [CURRENTLY] UNDER INVESTIGATION.
DECLAS OF FISA WILL FACTUALLY DEMONSTRATE WITHOUT ARGUMENT THE US GOVERNMENT, UNDER HUSSEIN, KNOWINGLY, PRESENTED FALSE EVIDENCE TO FISC IN AN EFFORT TO OBTAIN 'LEGAL' US INTELLIGENCE 'UMBRELLA' SURV OF POTUS [IDEN TARGET]FOR THE SOLE PURPOSE OF INFLUENCING THE 2016 ELECTION OF THE PRESIDENCY [NOT RUSSIA BUT HUSSEIN/HRC – PROJECTION] + SAFEGUARD AGAINST POSSIBLE LOSS OF POWER [FIREWALLS].
USE OF BACKCHANNEL SURV / SPY INSERTION [BODY 1, 2, AND 5] BY UK/AUS [PRIMARY] ACTIVATED UNDER DIR BRENNAN DIR CLAPPER W/ PDB REGULAR UPDATES + [LIVE STREAMING] WH HUSSEIN NON-OVAL [SITUATION ROOM] COORDINATION.
FISA [FULL] BRINGS DOWN THE HOUSE [WH].
Q
Q's post mentions that all that signed off on the FISA document are currently under investigation by a Grand Jury, and that the Obama administration's role, along with that of Britain and Australia will be exposed.
Q's final comment that full declassification of the FISA document will bring down the house, alludes to Rosenstein's forced resignation/recusal/removal will trigger the House of Cards built by the Deep State in moving forward with developing an "insurance policy" to undermine/subvert the Trump administration.
Indeed, in a  September 18 post, Q has said that Rosenstein's time is up and he will have to resign or be sacked as described in a linked article by Greg Jarrett:
Q !!mG7VJxZNCI No.263
Sep 18 2018 22:15:05 (EST)
http://www.foxnews.com/opinion/2018/09/18/gregg-jarrett-if-rod-rosenstein-defies-trumps-order-to-declassify-documents-should-be-fired.html
Goodbye, Mr. Rosenstein.
Q
Trump went on in part two of his September 21 tweet to describe how he had turned the request of the key US allies (Britain and Australia) over to the Inspector General of the Department of Justice (Michael Horowitz) for a final review.
The two-part tweet is very significant since just over a day earlier, Q had posted that Deep State officials in Britain and Washington DC were in a panic over the prospect of the release of the unredacted version of the FISA application document.
Here's what Q posted on September 19:
Q !!mG7VJxZNCI ID: 72b088 No.3093117
Sep 19 2018 18:45:07 (EST)
PANIC IN UK
PANIC IN DC
PANIC IN UK
PANIC IN DC
Q
It's important to note that the above Q post appeared roughly 36 hours before Trump's two-part tweet acknowledging that he had been speaking with key US allies over the FISA Court document release. Such conversations between Heads of State/Government are highly classified and restricted to a very few. Only those with very senior level access in the Trump White House would have known about the conversations and their contents.
Q has demonstrated that they knew of the conversations, and were cleared to reveal the tone of Trump's conversations with Britain, Australia and other key allies as "panic" over the declassification of the twenty pages of the June 2017 FISA Court application.
This is an extraordinary public confirmation that Q is closely associated with the Trump administration, and that Trump and Q actually coordinated in their respective releases of tweets and posts.
In fact, the coordination between Trump's tweets and Q posts has been tracked by anonymous users and show a close correlation as Q acknowledged in the following post:
Trump's September 21 two-part tweet only adds to a compelling set of information showing that Q is working with the Trump administration and is not a LARP [Live Action Role Play] or disinformation campaign as claimed by some critics.
Trump's tweets and Q posts reveal that the Deep State is in a panic because the declassification of the 20 redacted pages of the June 2017 FISA court application will lead, at the very least, to the recusal of Rod Rosenstein from the Trump Russia investigation, and even his resignation as Q has predicted.
Furthermore, the impending release of the 20 redacted pages will almost certainly lead to Grand Jury indictments of all US officials involved in the "insurance policy" concocted by the Deep State to undermine and/or subvert the incoming Trump administration.
Exposure and unraveling of the Deep State's "insurance policy" to subvert the Trump incoming administration, will directly impact the Mueller investigation of Trump Russia ties, and likely lead to its demise.
The ramifications of the above developments are especially pertinent to Q's repeated posts referring to over 50,000 sealed Federal court cases, the vast majority of which involved sealed indictments against Deep State officials.
As discussed in a previous article, it is likely that many indicted public officials will be tried in military courts for subversion, as defined under the rules of the Uniform Code of Military Justice. Indeed, Rosenstein and others involved in the "insurance policy" may find themselves in military trials for subversion.
This would of course be a great concern to Deep State officials from Britain, Australia, Canada and New Zealand that assisted in the concoction of the Steele dossier, and channeling it through the US intelligence and judicial systems in a way to subvert the Trump administration.
The crimes committed by Deep State officials that is about to be exposed, and tried in civilian and military courts, according to Q's information, is going to be breathtaking. In addition to subversion of an incoming Presidential administration, Q has previously posted about systemic human rights abuses and corruption on a global level; pedophile rings involving senior politicians exploiting children; Satanic practices used to control powerful global elites and the Vatican; and even a cover up of secret space programs and extraterrestrial life.
Trump's two-part September 21 tweet appears to be part of a series of end game moves between the Trump Administration and the Deep State, which is getting major media attention as the battle over declassifying the FISA Court Application redactions comes to a climax.
In a stunning development late on Friday night, articles by major media outlets began appearing exposing comments by Rod Rosenstein in 2017 to secretly record conversations with Donald Trump in order to invoke the 25th Amendment, whereby Cabinet officials could remove hm from the Presidency.
The fallout from this negative media coverage will all but certainly lead to Rosenstein's resignation, recusal and/or removal just as Q predicted. Q succinctly expresses what to expect in the days ahead regarding declassification (DECLAS) and redaction (REDACT) of the 2017 FISA Court Application:
Q !!mG7VJxZNCI No.265
Sep 19 2018 17:19:53 (EST)
[RR] attempts to stall DECLAS and/or REDACT have FAILED.
Got popcorn?
Enjoy the show.
Q
© Michael E. Salla, Ph.D. Copyright Notice
[9/22/18 – Correction –  President Trump's September 17, 2018 Presidential Directive authorized the declassification of 20 redacted pages from a FISA Court Application made in June 2017, and not June 2016 as previously written. The June 2017 application was the fourth granted in a series that began in October 2016, which had to renewed every 90 days. Renewal applications were granted in January, April and July 2017. Thanks to an anonymous reader for pointing out the error]
Further Reading
The UN Accidentally Released Passwords and Sensitive Data to the Entire Internet
Well, this one is off the standard blogging path (sort of), although it relates to some images and terms I have seen floating around the 8chan Q posts and so on. I've seen "Pepe the Frog", and really had no idea where this all came from. I've also seen the phrase "KEK", which I found out is an alternative way of writing "lol" (Laughing out Loud). But I never really knew where these things came from, until I was pointed to this article.
This is one story I found absolutely "fascinating"… Perhaps others will feel the same.
"Pepe the Frog is, in fact, the modern-day avatar of an ancient Egyptian deity accidentally resurrected by online imageboard culture. Does that sound like the most b@tsh#t crazy thing you've ever heard?

"…sometime around 2010, a sad-looking cartoon frog began to trend among posters on 4chan.org and similar "underground" imageboards. Shortly after, the age-old piece of online vernacular used to express laughter—"LOL"—fell out of favor on these sites. In its place a new slang term of synonymous meaning rose to common use: "KEK."

"The origins of this trend are much more important. It comes from an odd technicality involving the Korean language and the popular video game World of Warcraft.

"…the 2016 Election… By this time, Pepe the Frog had become the unofficial mascot for 4chan's political discussion board (a highly despised corner of the Internet fittingly entitled "Politically Incorrect")… /Pol/ is a place where the unspoken outsiders of Millennial culture gather en masse. Here you'll find the lonely and depressed, the socially inept, the generational dropouts, and all shades of disenfranchised youth—every one of them united with an unshakable underdog mentality…

"when Donald J. Trump strolled onto the political scene in 2015, it was a match made in heaven. He immediately became /pol/'s candidate of choice. And it wasn't long before Trump was mated with /pol/'s beloved mascot, in typical imageboard fashion:

"Every post on 4chan and similar venues comes with an 8-digit numerical stamp. This number represents that post's entry position in the entire posting lineage of the imageboard. With the amount of traffic these sites get, the last couple digits of this number are essentially a random roll. When a poster gets repeated digits, its called "dubs", "trips", "quads", and so on.

"Out of this practice, a strange phenomenon began to take place on /pol/: discussion threads associated with Trump displayed noticeably frequent GETs. [double digits]… Soon, it became all the rage on /pol/ to hail Trump as nothing less than god's chosen candidate.

"…it turns out Kek is also—and always has been—an ancient Egyptian deity… A frog-headed one… Kuk's [Kek's] male form was depicted as a frog, or as a frog-headed man… As a symbol of darkness, Kuk also represented obscurity and the unknown, and thus chaos. Also, Kuk [Kek] was seen as that which occurred before light, thus was known as the bringer-in of light.

"[It] all… came to a head on September 11th, 2016, when three major, mind-blowing events transpired within 48 hours of each other. Three events that would change the face of Kek worship forever: [1] Hillary Clinton fainted or nearly fainted in New York. The overwhelming sentiment of /Pol/ —still reeling from the event—is captured two days later… [2] Hillary Clinton literally declares Pepe the Frog an enemy of the state with paper-thin reasoning… [3] Kek/Pepe's musical anthem is discovered on YouTube… one or a few anonymous 4chan contributors discovered an old track from the 80's on YouTube. A track stamped all over with a very familiar face… A B-side vinyl by performer "P. E. P. E.", sporting a frog with a magic wand.

"Okay, What The Hell Is Going On? Most likely? Chaos Magick. You see, one of the core tenets of Chaos Magick practice (the only mainstay, really) is the creation of magic sigils (also called "glyphs") to "codify and project one's Will into the Universe." Basically, you make an image that represents your "will" (desire fueled by powerful emotions or altered states) and the universe will take care of the rest."
—————————————————–
The Truth About Pepe The Frog And The Cult Of Kek
The Real Story Behind Hillary Clinton's "CARTOON Nazi Frog" Will Blow Your mind
I'll cut right to the chase:
Pepe the Frog isn't a white nationalist symbol.
Pepe the Frog isn't a harmless meme propagated by teenagers on the internet.
Pepe the Frog is, in fact, the modern-day avatar of an ancient Egyptian deity accidentally resurrected by online imageboard culture.
Does that sound like the most b@tsh#t crazy thing you've ever heard?
Strap in, friendo. You're in for one hell of a ride.
(UPDATE 11/9/16: Well memed, America, well memed. A post-election follow-up to this article has been added here.)
When Memes Collide: The Origins of Pepe the Frog
The precise origins of Pepe the Frog are, like all imageboards memes, obscure and unimportant.
All you really need to know is that sometime around 2010, a sad-looking cartoon frog began to trend among posters on 4chan.org and similar "underground" imageboards.
Shortly after, the age-old piece of online vernacular used to express laughter—"LOL"—fell out of favor on these sites.
In its place a new slang term of synonymous meaning rose to common use: "KEK."
The origins of this trend are much more important. It comes from an odd technicality involving the Korean language and the popular video game World of Warcraft.
Keep that in mind for later.
And so, just like that, two seemingly unrelated elements that would later give life to a deity were arranged in piecemeal fashion. But they remained dormant for several years, up until…
Donald Trump and the 2016 Election
By this time, Pepe the Frog had become the unofficial mascot for 4chan's political discussion board (a highly despised corner of the Internet fittingly entitled "Politically Incorrect").
/Pol/ is a place where the unspoken outsiders of Millennial culture gather en masse. Here you'll find the lonely and depressed, the socially inept, the generational dropouts, and all shades of disenfranchised youth—every one of them united with an unshakable underdog mentality that pervades the forum's every kilobyte.
To call this place a "white nationalist" or "alt-right" message board is categorically incorrect. /Pol/, above all else, is place where our society's status quo is mercilessly challenged. It's a melting pot for well-meaning free thinkers and misguided mad men alike.
It is a place of chaos.
So when Donald J. Trump strolled onto the political scene in 2015, it was a match made in heaven. He immediately became /pol/'s candidate of choice.
And it wasn't long before Trump was mated with /pol/'s beloved mascot, in typical imageboard fashion:
And then, something very strange began to happen…
The Digits Declare a Deity
One last thing you need to understand about imageboard culture: dubs.
Every post on 4chan and similar venues comes with an 8-digit numerical stamp. This number represents that post's entry position in the entire posting lineage of the imageboard.
With the amount of traffic these sites get, the last couple digits of this number are essentially a random roll. When a poster gets repeated digits, its called "dubs", "trips", "quads", and so on.
Since a poster can't know their post number until after they've submitted the post, its common for people to "bet" the contents of their message on the occurrence of repeating digits, like so:
When that endeavor proves a successful, a "GET" has been made and the stroke of luck is celebrated.
Out of this practice, a strange phenomenon began to take place on /pol/: discussion threads associated with Trump displayed noticeably frequent GETs.
It wasn't long before all of these seemingly random elements discussed so far became irreparably tied together within imageboard culture:
Pepe the Frog (now /pol/'s unofficial mascot)
Donald Trump (/pol/'s overwhelming candidate of choice)
Repeating digit post numbers ("GETS")
"KEK" (used as an expression of delight, particular in response to Trump's "trolling" of the establishment, as well as in reaction to unlikely GETs in general)
…and a god was born.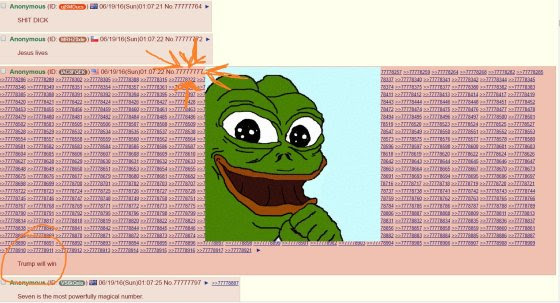 Here's Where It Starts To Get Weird: The Queer Coincidence of Kek
Soon, it became all the rage on /pol/ to hail Trump as nothing less than god's chosen candidate.
But which god's chosen candidate exactly?
The answer is obvious: Kek.
Remember how we learned that "kek" the meme came about from an obscure Korean language onomatopoeia, completely independently from Pepe the Frog?
Well, it turns out Kek is also—and always has been—an ancient Egyptian deity…
A frog-headed one.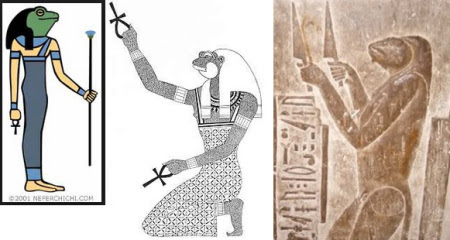 Quite the coincidence, wouldn't you say? "A little," perhaps you reply.
"A little" indeed, but that's just the very tip of the synchronicity iceberg. That's just where this unfathomable string of "coincidences" begins. And where it ends? We just don't know. Day by day this all getting stranger…
The second major ("little") coincidence can be found when one looks into what Kek stood for among the ancient Egyptian pantheon:
Kuk (also spelled as Kek or Keku) is the deification of the primordial concept of darkness in ancient Egyptian religion…

…Like all four dualistic concepts in the Ogdoad, Kuk's male form was depicted as a frog, or as a frog-headed man, and the female form as a snake, or a snake-headed woman. As a symbol of darkness, Kuk also represented obscurity and the unknown, and thus chaos. Also, Kuk was seen as that which occurred before light, thus was known as the bringer-in of light.
And who else, at this point, had been declared a "bringer of light" into the world by enthusiastic supporters (mainstream and imageboard alike)?
The pot really started to boil when this bizarre misprint statuette was dug up from a mysterious vendor called "Ancient Treasures" on Amazon. For years the product had been coincidentally mislabeled a "KEK" statue, despite actually bearing the hieroglyphics for the frog goddess HEQET.
And ya know, the thing about this ONE unique arrangement of hieroglyphics…they bear an undeniable resemblance to a certain special something: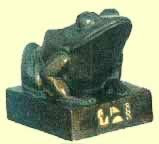 Do you see it?
A person sitting down. In front of a computer.
Like say, to post on an imageboard?
And what's that on the other side of the computer?
With this "holy talisman's" discovery, The Cult of Kek suddenly took on a concrete form. This new digital "faith" is summed up neatly in this image passed around on all the major imageboards of the day:
It Gets Weirder: Pepe/Keke "Emerges" in Plain Sight on September 11th, 2016
Soon, /pol/'s users were—quite ironically, at first—attributing all strokes of luck for the Trump campaign (and likewise, all strokes of misfortune for the Hillary campaign) to their benevolent frog-headed deity that spoke to them in dubs.
But all of that came to a head on September 11th, 2016, when three major, mind-blowing events transpired within 48 hours of each other. Three events that would change the face of Kek worship forever:
Hillary Clinton fainted or nearly fainted in New York. The overwhelming sentiment of /Pol/ —still reeling from the event—is captured two days later in this post:
(Note this person's post number)
Hillary Clinton literally declares Pepe the Frog an enemy of the state with paper-thin reasoning:
Here's the short version: Pepe is a cartoon frog who began his internet life as an innocent meme enjoyed by teenagers and pop stars alike.

But in recent months, Pepe's been almost entirely co-opted by the white supremacists who call themselves the "alt-right." They've decided to take back Pepe by adding swastikas and other symbols of anti-semitism and white supremacy.
What can I or anyone else hope to add here? How bizarre does reality get? How deep does the rabbit hole go?
Oh, I see how deep…
(REALLY F#CKI'N WEIRD)Kek/Pepe's musical anthem is discovered on YouTube:
Now get a load of this one.
While all of this was happening, one or a few anonymous 4chan contributors discovered an old track from the 80's on YouTube. A track stamped all over with a very familiar face:
That's right folks. A B-side vinyl by performer "P. E. P. E.", sporting a frog with a magic wand.
A frog.
And what's P. E. P. E. stand for?
Point
Emerging
Probably
Entering
"Probably." What are sweet repeating digit GETs all about? Probability.
What is this "gist" of Kekism on /pol/? He speaks to them through dubs. Their ancient egyptian god of obscurity and chaos "emerges/enters" at "points" of "probability."
Feel like that's a stretch? Check out what the full-length vocal version's album artwork is adorned with: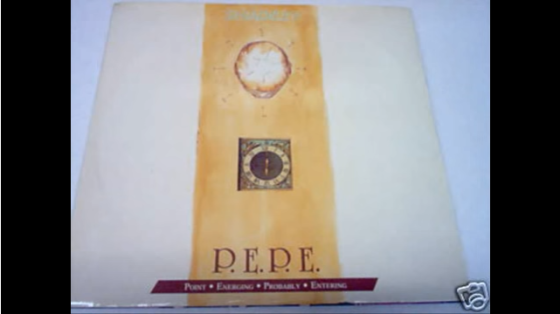 Don't see the significance? Let 4chan help you:
(Again, note the post's number)
And—hey—who's that fair-haired man pointed towards Trump Tower's clock in the artwork?
Gee, I wonder who.
Okay, What The Hell Is Going On?
Most likely? Chaos Magick.
You see, one of the core tenets of Chaos Magick practice (the only mainstay, really) is the creation of magic sigils (also called "glyphs") to "codify and project one's Will into the Universe."
Basically, you make an image that represents your "will" (desire fueled by powerful emotions or altered states) and the universe will take care of the rest.
When a lot of people pool their united willpower towards a single sigil, its called a Hypersigil, and its exponentially more potent.
Pepe/Kek is 4chan's hypersigil.
Millions of the "little people" that browse 4chan have embedded the image of Pepe with their hatred for Hillary's alleged corruption, and their hope for Trump's victory over her in November. Whether they did this consciously or not, its exactly what has happened.
And so far, their hypersigil seems to be working.
Hold Up: You're Seriously Telling Me Magic Is Real?
Absolutely I am. But you must understand, "magic" probably isn't what you think it is. It's not about wand-waving or pentagrams or sacrificing babies.
Magick is actually much less involved than that. As a matter of fact, you're casting magick right now. You pretty much always are, whether you like it or not.
That's because the REAL magic comes from plain and simple human attention. How you look at reality shapes it in ways that we're only now beginning to fully understand. Ironically, the science of quantum physics is rapidly bringing the reality of magick to light (shadilay).
In my book You're Imagining Things, I'll tell you how it works–and WHY it works–in plain-spoken English. I'll also explain how you can use your attention to alter your own little pocket of reality in extraordinary ways. Click here to check out You're Imagining Thingson Amazon.
So What Happens Next?
Most likely? Kek will continue to grow in power and continue to oppose Hillary Clinton and the corrupt political establishment. Will the Lord of Light win out over the powers that be? We shall find out very soon. (UPDATE 11/9/16: We found out what happened, didn't we?)
This is awesome.
Yes.
What can I do to help?
Meme.
(And spread this around on social media.)
(And keep an eye on TheCultofKek.com for big things on the horizon.)
(More questions? Click the triangle at the bottom of the page.)
MMXVIII Vol. 259 – September 27, 2018
Rapprochement: Russia, a Copyright Defender
Posted: 25 Sep 2018 04:18 AM PDT
By SARTRE on Sep 25, 2018 08:32 am
The United States is vulnerable to a devastating electromagnetic pulse event caused by a high-altitude nuclear blast or solar superstorm, according to a recently published book.

Peter Pry, a former CIA analyst and author of the book EMP Manhattan Project, is urging the government to rapidly harden the U.S. electric power system against EMP similar to the three-year crash program to build the first atomic bomb in 1942.

"Today the United States and the world faces another existential threat—from an electromagnetic pulse (EMP) catastrophe that can be caused by nature or man, and topple the technological pillars of modern electronic civilization," said Pry, who served on a congressional EMP commission in the early 2000s.
Source: U.S. Urged to Rapidly Prepare for Electromagnetic Pulse Attack
Trump's new limo cost $1.5M and comes with a fridge of his blood type
DNA ancestry tests branded 'meaningless'
Posted: 24 Sep 2018 09:00 PM PDT
Smart Software: There Are Only a Few Algorithms
Posted: 27 Sep 2018 04:19 AM PDT
I love simplicity. The write up "The Algorithms That Are Currently Fueling the Deep Learning Revolution" certainly makes deep learning much simpler. Hey, learn these methods and you too can fire up your laptop and chop Big Data down to size. Put digital data into the digital juicer and extract wisdom.
Ah, simplicity.
The write up explains that there are four algorithms that make deep learning tick. I like this approach because it does not require one to know that "deep learning" means. That's a plus.
The algorithms are:
Back propagation
Deep Q Learning
Generative adversarial network
Long short term memory
Are these algorithms or are these suitcase words?
The view from Harrod's Creek is that once one looks closely at these phrase one will discover multiple procedures, systems and methods, and math slightly more complex than tapping the calculator on one's iPhone to get a sum. There is, of course, the issue of data validation, bandwidth, computational resources, and a couple of other no-big-deal things.
Be a deep learning expert. Easy. Just four algorithms.
Stephen E Arnold,  September 27, 2018
Amazon and Its Star Approach to Popularity
Posted: 27 Sep 2018 03:57 AM PDT
I suggest you read "Introducing Amazon 4-Star." Ignore the explanation of using purchaser data to determine what to put in a retail store. Read the article in this context:
What advantage will Amazon have in its policeware business if it offers lower cost, easier to use versions of policeware and intelligence centric software, solutions, and services?
Here in Harrod's Creek, we have been monitoring Amazon's move into the law enforcement and intelligence support markets. The rumors of the new Amazon's headquarters in the DC area are interesting.
Net net?
We think that Amazon's hoisting of systems like Palantir Gotham and  many other US and non US policeware systems will provide data which gives Amazon an opportunity.
We explore some of the larger issues in our four part series about Amazon policeware which will be in the form of DarkCyber videos. These programs become available at the end of October 2018. Watch for details.
In the meantime, think about four star popularity applied to government procurement. Nifty, right?
Stephen E Arnold, September 27, 2018
Search Revisionism: Alive and Well
Posted: 27 Sep 2018 03:51 AM PDT
I read "The Google Graveyard: Remembering Three Dead Search Engines." I find it interesting how the reality perceived today seems to differ from the reality that existed in the 1990s. The write up answers the question, "Yo, dudes, what happened to three search engines?"
The three dead search engines explained or sort of described in the article are AskJeeves, Dogpile, and AltaVista.
The write up states:
Google is so ingrained in online culture that it feels as if it's always been there.
I like feelings. Although after working at Halliburton Nuclear, I am not sure I am quite so warm and cuddly. Definitely Google was not "always" there.
And for those unfamiliar with the commercial databases like Chemical Abstracts and other commercial research services, I find this statement a bit disconcerting:
Google holds humanity's knowledge in its search bar, and it has the ability to shape conversations on a massive scale. Imagine the internet as a million-volume collection of books, each one densely packed with essential information (and cat pictures).
Quite a statement. But people who use "always" often look for point and click solutions which require little or no attention.
You can skim the explanations of each the three search engines. I would like to offer additional information.
AskJeeves
This was a rule based system. Rules were written by humans. The AskJeeves' system looked at a query, matched it to the rules, and offered an answer. Humans were and are expensive. Humans have to write and modify rules. AskJeeves' death had little to do with Google and everything to do with the ineffectiveness of the system, its costs, and the resources required to come up with answers to those questions. A version of the service lives on and it is a "diller." Sorry, dilly.
Dogpile
This services was a metasearch engine, and for a few years, a reasonable one. A user entered a query. Dogpile sent the query to other Web search engines and displayed results. The service ended up in the hands of InfoSpace, and the Dogpile engaged in some legal excitement and ended up the modern version of a one stop shop. In short, Dogpile is not yet dead.
AltaVista
Now that's an interesting case. AltaVista was a demo of the DEC Alpha. Search was and is a complicated application. Compaq bought DEC. HP bought Compaq. HP, the management wizards, left AltaVista high and dry. Messrs. Brin and Page hired several interesting people from AltaVista; for example, Jeff Dean, Simon Tong, et al. AltaVista disappeared because HP was not exactly on the ball. Alums of AltaVista went on to set up Exalead, now a unit of Dassault Systèmes. The Exalead search system is still online at www.exalead.com/search.
NetNet
AskJeeves was not a Web search engine. Dogpile was a metasearch engine and did little original crawling and indexing. AltaVista is embedded in certain technological ways in the Google system. And, by the way, Google is not the place to go if your child has been poisoned and your doctor needs an antidote.
Even those who do not understand information can figure out the limits of ad supported, free information. At least I hope so.
Stephen E Arnold, September 27, 2018
Google Creates Analytical Office Suite
Posted: 26 Sep 2018 04:01 AM PDT
Enterprise office systems are big investments for companies. During their yearly budget meetings, they need to justify expenses and one way to do that is with analytics. According to CNBC, "Google Will Now Show Bosses If Employees Are Actually Using Its Apps."Google has a new tool for its G Suite office productivity apps. The new tool allows companies to record how the productivity apps are being used. The G Suite features Gmail, Docs, Sheets, and Slides. It is very similar to Office 365 or Open Office. The new G Suite tool is called "Work Insights" and shows how employees are using an app and if some products require more training.
"The tool will track adoption at a team level (aggregated at 10 people or more), so an admin can see which business groups are using which tools: Admins will also be able to see which teams are collaborating, whether through overlapping usage of documents, or meetings held through Google's Hangouts chat and video tool. 'This insight can help executives identify opportunities to strengthen collaboration and reduce silos,' Google says in a blog post introducing the tool."
Currently the "Work Insights" feature is only in beta and is similar to Microsoft's own Workplace Analytics feature. Google's G Suite has four million users compared to Microsoft's Office 365, 135 million users. Google has a long way to go to gain further adoption into businesses, but if they offer a cheaper plan and better insights into technology adoption and how it is being used. Is Google copying Microsoft? Yes, but not enough to cause a copyright violation.
Whitney Grace, September 26, 2018
These Paralyzed People Are Beginning to Walk Again Thanks to Electrical Implant
Complete Cooper MP3 Collection
Christ, the Tarot, and the Path of Ascension
https://www.zerohedge.com/news/2018-09-25/wealth-top-1-surpasses-100-trillion-more-world-gdp-and-all-central-bank-balance
In a Blow to Media Gun Narrative, Homicides Down in 2017
—-
http://augmentinforce.50webs.com/TURPENTINE–HEALER%20COMPLETE.htm#TURPENTINE–HEALER
Turpentine Therapy
Rectified Oil of Turpentine, Rectified Turpentine Oil
KEROSENE – TURPENTINE  a  Universal Healer
by Walter Last
Turpentine and petroleum distillates similar to kerosene have been used medicinally since ancient times and are still being used as folk remedies up to the present. They were used in ancient Babylon to treat stomach problems, inflammations and ulcers. The process of distilling crude oil/petroleum into hydrocarbon fractions was first described in the ninth century in Persia.—The use of these petroleum products is most widespread in poorer countries, including Russia, Eastern Europe and Africa. A recent study in Nigeria found that about 70 per cent of the population used petroleum products medicinally [1]. The most common applications are for infections and infectious diseases, autoimmune diseases, cancer, arthritis and rheumatic diseases in general. Even the Rockefellers supposedly started their fortune by selling kerosene as a cancer cure before they found that chemotherapy was more lucrative.—From the available literature, I conclude that kerosene therapy may be one of the best ways to eliminate pathogenic microbes and parasites from the blood and bowel. My article on pleomorphic microbes [2] shows that in all of the above-mentioned diseases there is an overgrowth of fungal and cell-wall deficient (CWD) pathogenic microbes in the blood. It appears that the success of kerosene is due to its detrimental effect on these fungi and CWD microbes, which then allows the immune system to eliminate remaining pockets of other pathogens and abnormal cells in tumours and affected organs.—A comparison of several disinfectants found that kerosene, while not controlling the tested bacteria, had the strongest effect on suppressing Candida—stronger than even a sodium hypochlorite bleach [3]. This may actually be the secret of the healing success of kerosene: it suppresses Candida, viruses and CWD microbes while not harming normal gut bacteria.—-
On a German forum I read about a case of intestinal Candida overgrowth that had been verified by microbial stool analysis. This had not been normalised after previous Candida treatment, but after the use of kerosene all the Candida-related problems disappeared, as did the allergic reactions to several foods. A follow-up stool analysis showed that the intestinal flora was in excellent condition.—-In 1914 Charles Oscar Frye authored a booklet with the title: "Consumption of the Lungs and Kindred Diseases, Treated and Cured by Kerosene" and with the subtitle: "Its Value as a Remedy, when to Use It, how to Use It, a Cure for the Sick, a Protection for Those in Health." He used spray inhalation to successfully treat lung tuberculosis, 1 or 2 sprays twice a day for 1 to 4 months. For internal problems half a teaspoon was recommended twice a day, see —Kerosene is a mineral oil distillate commonly used as a fuel or solvent. It is a thin, clear, liquid consisting of a mixture of saturated hydrocarbons that boil between 145–150°C and 275–300°C. While kerosene can be extracted from coal, oil shale and wood, it is primarily derived from refining crude petroleum. Turpentine distilled from different varieties of California pines is almost pure heptane, as in light petrol. Other varieties of pine produce mainly chemicals called terpenes, as present in fragrant oils.—The word "kerosene" is used in Australia, Canada, New Zealand and the United States. Kerosene is called "paraffin" in the United Kingdom, Southeast Asia and South Africa, while in Germany and other parts of Central Europe it is called "light petroleum" and, medicinally, "petrolatum". The word Kerosin is German for "aircraft fuel".
The Cancer Cure of Paula Ganner—
The modern wave of using kerosene as a cancer cure started in the early 1950s. At the age of 31, an Austrian woman, Paula Ganner, with cancer metastases and colon paralysis after surgery, had been given two days to live by her doctors. She remembered that in Eastern Europe kerosene was used as a cure-all, and she started taking a tablespoonful each day. After three days, she could leave the bed, and 11 months later she gave birth to a healthy boy. At age three, this boy contracted polio which she cured with one teaspoon of kerosene daily for eight days. Ganner started spreading the information about the amazing results of using kerosene for all kinds of health problems, and over the years she received 20,000 thank-you letters with success stories.—-However, most information on using kerosene as a cancer cure is in German, with very little translated into English [4]. Here are some extracts from testimonials reported in the German illustrated weekly "7 TAGE" between September 1969 and February 1970 [5]:
• A dog had a growth the size of a child's fist on his neck and was given kerosene on sugar cubes. After two weeks, the growth disappeared.
• After breast cancer surgery, a woman (48) developed tumours in the uterus. After taking a daily teaspoon of kerosene she could stop using morphine, and after six weeks she aborted three tumours.
• Another woman took a teaspoonful of kerosene three times daily for two weeks, and repeated this after a two-week interruption. This not only cured her stomach ulcer, but also, to her surprise, her diabetes.
• A man cured a severe prostate problem (it is not mentioned if it was cancer) by taking one teaspoonful of kerosene each morning and evening for four weeks. Later, he overcame a stomach ulcer in the same way. His son successfully used kerosene to cure a chronic bladder problem, and he cured his dog of leukaemia after a seven-week kerosene cure.
• After a woman (60) had her right breast removed, cancer started in her left breast. She periodically took a teaspoonful of kerosene three times daily for two weeks and then paused for 10 days. She had no more cancer problems and no more fear of cancer.
• A young woman (35) was sent home to die with an inoperable large tumour in the pancreas that extended to the adrenal glands. On the fourth day home, she briefly awoke from a coma and was given a spoonful of kerosene. Hours later she showed the first signs of improvement, and after four days she wanted to get out of bed. The kerosene cure was continued for another 10 days before she was investigated at the hospital in Graz and later discharged as being healthy.
• After six days of using kerosene, a woman discharged dead tissue which was confirmed to consist of dead tumour cells (the type of cancer is not mentioned). After 14 days, the typical smell of terminal cancer disappeared. She took kerosene for 32, 25 and 14 days, with nine days of rest between each. As a pleasant side-effect, she was also cured of her rheumatic problems.
• A woman (68) had high blood pressure, heart and circulation problems and rheumatism. She could hardly walk. After four weeks on kerosene, she was asked by a friend what she was doing to look suddenly so much younger. People think she is in her 40s. Her husband, who used to have a bent back, now runs like a youth. When she sometimes gets some pain in cold weather, she rubs her body with a sponge dipped in kerosene and lets it dry; this quickly removes any pain.
• A woman with colon cancer was scheduled for colostomy (to remove her colon and have a bag fitted). Instead, she started taking teaspoons of kerosene. Not much was happening, so she took about 50 ml in one go, together with a lot of honey in milk. This was followed by four hours of diarrhoea with pus and blood and the abortion of her tumour.
Other testimonials mention overcoming bone cancer or myeloma, osteoporosis of the spinal column, severe digestive and gastro-intestinal problems, constant vomiting, rheumatism and sciatic problems. Paula Ganner apparently used and recommended in addition to or instead of kerosene purified petrol (Naphthabenzin or Siedegrenzbenzin Merck Nr. 1770, with a special boiling range from 100°C to 140°C – SBP 100/140), as utilised for wound cleaning and as a solvent in laboratories. (The boiling range is the temperature range of a laboratory distillation of an oil from the start until evaporation of all the fractions is complete.)
Turpentine: Another Cure-all Therapy
In addition to kerosene, turpentine was previously used as a cure-all. Natural turpentine, commonly sold as "pure gum turpentine", was commonly used in lower doses and less frequently than kerosene. It was especially treasured for its antiseptic and diuretic properties and as a treatment for intestinal parasites. According to Wikipedia: "Turpentine was a common medicine among seamen during the Age of Discovery, and one of several products carried aboard Ferdinand Magellan's fleet in his first circumnavigation of the globe."—To expel tapeworms, a powerful dose of one to two tablespoons of turpentine was given, usually mixed with the same amount of castor oil and taken floating on milk. This was repeated every second or third day until the fragments of the worm ceased to appear in the stool. For children, the prescription was less drastic: one teaspoonful of sugar, three to four drops of turpentine and one teaspoonful of castor oil.
Jennifer Daniels, MD, discovered that American slaves had a secret remedy that kept them free of diseases: a teaspoon of turpentine mixed with a teaspoon of white sugar, taken for short periods several times each year. She adopted this as a successful Candida therapy: Slowly pour a teaspoon of turpentine over sugar cubes or a rounded teaspoon of white sugar to soak it all up. Then chew the cubes or soaked sugar and wash the mixture down with water. Dr Daniels generally recommends doing this twice a week for several weeks, but initially daily with long-term Candida. Continue until the problem is fixed – which can happen surprisingly quickly. On Internet forums, I found some testimonials showing that this therapy indeed worked for these people.
Dr Daniels states that before starting turpentine therapy it is essential to prepare by drinking lots of water, adopting a suitable anti-Candida diet and cleaning the bowel. At this stage, it is necessary to have three daily bowel movements, otherwise the pathogens may get into the blood. She also believes that the use of sugar in this case is beneficial in stopping the sugar craving so common with Candida and in attracting the Candida to the "poison".—I tried this out with Diggers Pure Gum Turpentine, which is available in Australia. When taking a teaspoon of it on a cube of sugar, I was surprised how pleasant it tasted, just like a pine-flavoured lolly. However, I now believe that instead of using sugar, it is better to take gum turpentine mixed with an equal amount or more of either paraffin oil or olive oil. Gum turpentine has a much stronger effect than kerosene, and some individuals experienced temporary balance problems. I would limit the maximum dose to 1 teaspoon per day for an adult.
In her report, Dr Daniels also wrote that the first edition of The Merck Manual of appropriate and accepted treatments for recognised diseases, published in 1899, states that turpentine therapy is effective for a wide range of conditions including gonorrhoea, meningitis, arthritis, abdominal difficulties and lung disease. However, the 1999 Merck Manual just mentions the dire effects of turpentine poisoning with destruction of the kidneys and lungs [6].
Understanding The Cure-all Effect—
The secret of the apparent cure-all effect of kerosene and turpentine may be understood as the reversal of the disease-causing effect of modern medicine. There is evidence that most of our modern diseases were rare in former centuries. Only relatively few people had cancer, which only occasionally happened in old age, and asthma, allergies and autoimmune diseases were rare or absent as well. All this changed after World War II with the widespread use of antibiotics. While they targeted bacteria, they encouraged the rise and spread of fungi and mycoplasmas which are at the root of most of our modern diseases.
Look at the forest or bushland trees. Some of their greatest enemies are fungi and parasites. As a defence, they developed various chemical strategies to kill or repel these attackers. We know and use these biochemicals as eucalyptus oil, neem oil, tea tree oil, pau d'arco extract, olive leaf extract, turpentine and other essential oils. Most of these oils are composed of hydrocarbons, just like kerosene. The main chemical in turpentine, alpha-pinene, is also present in the oils of rosemary and eucalyptus.—These volatile essential oils seem to have a stronger antifungal effect than kerosene, but frequent intake in high amounts can also cause some kidney damage. However, it needs to be understood that an antimicrobial program can only stop an autoimmune attack as a first and essential step in a healing process. It does not automatically repair the damage that has already been done. For instance, in diabetes type 1 and Parkinson's disease, a healthy lifestyle is still needed to regenerate insulin-producing or dopamine-producing cells that have been destroyed; the same goes for joints that have been badly damaged with arthritis. Also, the debris of large internal tumours may require further detoxification and cleansing for safe removal.
Damaging Fungal Metabolites
William Shaw, PhD, of The Great Plains Laboratory in Kansas, USA, discovered important chemical reasons for the devastating health effect of antibiotic-induced fungal overgrowth [7]. Here is a typical example of how Candida tends to emerge.—A boy had been developing normally up to 18 months of age, but then he had several courses of antibiotics for ear –infections. From these antibiotics, he acquired thrush of the mouth and tongue. His behaviour deteriorated quickly. He lost his ability to speak, became extremely hyperactive, kept waking up all through the night, lost eye contact with his parents and was diagnosed with autism. After treatment with the antifungal drug nystatin, he gradually recovered.—Dr Shaw writes: "I have now detected this same phenomenon in hundreds of other cases. Even after six months of antifungal treatment, there is often a biochemical 'rebound' and loss of improvements after discontinuing antifungal therapy."—-William G. Crook, MD, in The Yeast Connection [8] and other books, demonstrated that Candida is the underlying cause of hyperactivity. So, ADD or ADHD and autism are just different degrees of the same brain dysfunction caused by Candida. There is evidence that a main aggravating factor leading to autism is the combination of Candida and various vaccines, possibly due to mercury and other toxic additives.  Dr Shaw found that tartaric acid, as in wine and baking powder, is one of the problematic Candida metabolites. It is not normally produced in the body but results from excessive yeast fermentation, either in the intestines or other sites of Candida infestation. A main consequence of tartaric acid in the blood is muscle weakness, as in fibromyalgia.—Tartaric acid is closely related to malic acid, which is a key component of the citric acid cycle that produces energy in the cells. Tartaric acid blocks the metabolism of malic acid. With this, the body cannot produce energy aerobically by oxidising glucose, but instead it produces energy anaerobically by converting glucose into lactic acid. This generates only 20 per cent of the energy that could have been produced by proper oxidation of glucose, and explains the chronic fatigue, overacidity and mineral deficiency so common with Candida infection.—
Furthermore, our brain needs a high amount of energy to function normally. Therefore, tartaric acid and acetaldehyde, another disruptive yeast chemical, combine to cause mental problems such as brain fog, depression, hyperactivity, autism and schizophrenia.—Another abnormal chemical is the five-carbon sugar arabinose, which cross-links the functional groups of various proteins, especially enzymes, and in effect causes deficiencies of vitamin B6, biotin and lipoic acid. Cross-linking also accelerates ageing, causing cataracts and increasing rigidity of muscles, tendons and connective tissue, showing up as wrinkles and ageing skin. With Candida, we age more quickly. Arabinose also leads to increased accumulations of abnormal metabolic protein residues inside cells, such as in cancer and autoimmune diseases.—Children with autism have the same type of arabinose-containing fibre tangles in the brain as are present in Alzheimer's disease, indicating that both are related to Candida, although co-factors such as mercury and other pollutants also play a role in these two conditions.—The yeast metabolites tartaric acid and arabinose are also found in many other diseases. There is much additional evidence of this same sequence of careless antibiotic use leading to Candida overgrowth and then to specific diseases. This may involve: the immune system, as in cases of autoimmune diseases and cancer; the brain and nervous system, leading to hyperactivity, Asperger's syndrome, autism, obsessive–compulsive disorder, depression, Alzheimer's disease, Parkinson's disease, schizophrenia, and other mental and movement disorders; muscle weakness, as in fibromyalgia; and generalised weakness, as in chronic fatigue syndrome. Commonly there are aggravating co-factors, such as mercury, fluoride as well as mycoplasmas and parasites.—All of this gives us an understanding of the biochemical reasons for the devastating effects of antibiotic caused fungal overgrowth in our society and the cure-all success of effective antifungal therapy.
Which Products To Use
The most suitable microbicidal hydrocarbons seem to be those with boiling points between 100°C and 200°C. The lighter and more volatile hydrocarbons, while very effective for cleaning the blood, have a stronger odour and are more difficult to "stomach", while those boiling over 200°C tend to remain in the intestinal tract and act mainly as laxatives rather than being absorbed for a microbicidal effect in the blood.
The range of 100°C to 200°C includes the saturated hydrocarbon chains with seven to 11 carbon atoms. It is interesting to note that the medium-chain fatty acids in coconut oil with the strongest microbicidal effects (lauric acid, capric acid and caprylic acid) have eight to 12 carbon atoms.
As well as having a suitable boiling range, good kerosene should be low in aromatics. This is basically what "low odour" means. To see if products from other companies or in other countries are suitable, go to the website of the manufacturer and look up the Material Safety Data Sheet (MSDS). Note that kerosene may be sold under other names such as "naphtha petroleum", "hydrocarbon solvent" and "mineral turpentine".
It is not advisable to use products without knowing their boiling range and chemical composition. The products should contain petrochemical-based aliphatic hydrocarbons, and not half-synthetic isoparaffins or special solvent mixtures that are available from art suppliers as aromatics-free mineral turpentine.
Shell Chemicals has two suitable products free of aromatics: Shell-Sol D40, with a boiling range of 145°C to 210°C, and the lower boiling range SBP 100/140. BP White Spirit, low in aromatics, boils from 142°C to 200°C. The Total Group offers Spirdane D40, free of aromatics and with a boiling range from 156°C to 198°C, while Solane 100-155 and Solane 100-140 have lower boiling ranges. The stated boiling ranges are typical, not necessarily actual, values, and the MSDSs for these products may be somewhat different. With products of narrow boiling ranges, it is best to combine high and low boiling fractions for a broader boiling range. Special Boiling Point Solvent SBP 100/140 is basically what Paula Ganner recommended.
A suitable variety of kerosene available in Australia is Diggers Low Odour Kerosene [9], more commonly sold in hardware stores than in supermarkets. Also, Diggers White Spirits and Diggers Mineral Turpentine are available as low-odour products with the same chemical composition as Diggers Low Odour Kerosene. The boiling range is from 149°C to 194°C. The manufacturer, Recochem Inc., also supplies odourless kerosene, which is even easier to take; however, its boiling range of 190°C to 230°C is rather high and is not effective for purifying the blood, although it may work for cleaning the large intestine.
A suitable low-odour product in the US is Klean-Strip 1 Kerosene, see http://www.wmbarr.com/product.aspx?catid=35&prodid=7; you can get it at Wal-Mart and various hardware stores. In Europe you can get Shell-Sol D40, SBP (Siedegrenzbenzin) 100/140 and Gum Turpentine (Balsam Terpentinoel) from http://kremer-pigmente.de/en (click on "Shop" and search for these products).
Generally these products may be available in building materials and paint supply stores and larger hardware stores. Nevertheless, if a low-aromatics or de-aromatised product is not available, then even normal kerosene with a higher content of aromatics may be used. It is not more toxic but only has a stronger odour. The really toxic product in crude petroleum and most motor fuels is benzene, but this has a rather low boiling point of 80°C and therefore is not a problem in fractions with a boiling point over 100°C.
In contrast to mineral turpentine, which is similar to kerosene, natural turpentine is commonly sold as "pure gum turpentine" or "100% gum turpentine". It is used as a solvent or thinner for artist's paint and as a general solvent. It has an initial boiling point of over 150°C.
How To Use Kerosene and Turpentine

How kerosene is taken and for how long is rather flexible. Some take it as needed, while others have a full course every year just as a precaution. A good way is to start with a few drops or half a teaspoonful, then continue with one teaspoon for a week or two; if not much seems to happen, then gradually increase up to one tablespoon for a while until ending with one teaspoonful, for a total duration of about six weeks or until your problem has sufficiently improved. It may be advisable to have a shorter or longer follow-up course two months later.
Commonly, kerosene is taken once a day either before breakfast or at bedtime. One woman supposedly cured her terminal cancer, with metastases all over the body, by drinking a glassful of kerosene followed by fruit juice. She wrote that it caused extreme diarrhoea and vomiting for three days. However, this is a dangerous way of doing the treatment, as vomiting can easily cause kerosene to get into the lungs; this is the main reason why people can die from drinking kerosene.—High doses of microbicides may cause too much fungal die-off too suddenly, resulting in a "reaction" with nausea and fatigue. While this is generally good and part of the healing process, it is better to increase the dose only gradually to avoid or minimise strong, unpleasant reactions, although diarrhoea is very common at some stage. During a reaction, temporarily reduce or skip the remedy until recovered.—-
Kerosene is best taken on an empty or nearly empty stomach, as it floats on anything that is in the stomach and then may continue repeating for a longer time. I prefer it the traditional way with molasses: lick some molasses to coat your tongue, then take a spoonful of kerosene and wash it down with a small amount of drink and food. For children, kerosene has been used by placing several drops on sugar before ingestion.—For arthritis, one part of kerosene may be diluted with one or two parts of olive oil and used as a rub or in a pack placed on painful areas. For throat infections, the pack may also be wrapped around the neck. If used undiluted, the kerosene may start burning after 10 to 60 minutes depending on the sensitivity of the skin and the kerosene's boiling range and purity. If one keeps it on for long enough, the skin becomes red and will blister.–This is very effective in drawing out inflammatory pain from arthritic joints and promoting their healing. Cover the reddened skin with vitamin E oil until healed. Also, tumours may be covered with diluted or undiluted kerosene packs. For toe and nail fungus as well as fungal infections of the skin, the affected parts may be soaked in concentrated or diluted kerosene or turpentine. Candida infections or thrush in the mouth or vagina may be treated by coating or rinsing with diluted kerosene or turpentine.
In a personal communication I was given the following information: "My grandmother used to regularly paint our sore throats with kerosene, using a wing or tail feather taken from a chook. I remember my throat being painted as a matter of course as a young boy, as were [the throats of] the rest of the family – and it worked." I also received similar comments from others, and it was usually the grandmother who initiated this therapy.—The very light product which Paula Ganner apparently recommended is best for cleaning the blood, as it is quickly absorbed in the stomach. This also works well with teaspoon-doses of the low-odour kerosene. However, for cleaning the bowel of cancer, Candida or parasites, it may be necessary to take up to a tablespoonful at a time. If only a teaspoonful is taken, most of the lighter hydrocarbons will already be absorbed in the stomach and not enough will reach the large intestines. Odourless kerosene with a higher boiling range may also be tried for this purpose, but it is not known if it is as effective as lighter varieties. One may try a spoonful daily for several weeks, but cut back if this causes diarrhoea.—-Liquid paraffin or paraffin oil, with a boiling point over 300°C, is available from pharmacies and may be used as a laxative or for skin protection. It is not useful for killing microbes but, like odourless kerosene, it may be used during a cleansing period to bind fat-soluble toxins released from the liver. This supposedly makes cleansing more effective by preventing re-absorption of such waste products. Up to a tablespoonful may be tried daily, or until diarrhoea occurs. Also products with a lower boiling range stimulate the liver to release toxins, provided that sufficient is taken to pass through the bowel.
Toxicity Issues
The MSDS for Diggers Low Odour Kerosene includes the following information: "Expected to be of low toxicity… Aspiration into lungs when swallowed or vomited may cause chemical pneumonitis which can be fatal" [10]. The MSDS for normal kerosene of another company states: "If more than several mouthfuls are swallowed, abdominal discomfort, nausea, and diarrhea may occur" [11]. The MSDS for blue kerosene gives the same toxicity data as for clear kerosene. This means that the added blue colouring does not increase toxicity.——-As people do not normally swallow more than several mouthfuls of kerosene, it is obvious that taking a spoonful for a limited period is not a toxicity problem. Therefore, the real danger of kerosene does not come from any inherent toxicity per se, but, rather, from getting vomit into the lungs after a large amount has been swallowed accidentally or in a suicide attempt, and this can indeed cause death. However, even getting just water into the lungs can be very bad as well.
The acute oral toxicity of kerosene for rats is given as "LD50 > 5000 mg/kg". LD50 is the dose at which 50 per cent of the rats will die; in this case, more than 5 g/kg are required. In comparison, the LD50 of gum turpentine for rats is given as 5760 mg/kg. The MSDS for Diggers Pure Gum Turpentine states: "Ingestion can cause nausea, vomiting and bladder irritation. Aspiration into lungs when swallowed or vomited may cause chemical pneumonitis which can be fatal" [12].—–The main danger with petrol/gasoline is from sniffing or inhaling the vapours, which can have strong effects on the brain and central nervous system. Yet ingesting this more-problematic product is not necessarily all bad. A man in China drank (and still drinks) a glass of gasoline/petrol every day, or about four litres a month, for 42 years, and at over 70 years of age he looks younger than most non-petrol drinkers in their 50s or 60s. He started out drinking kerosene for pain relief, but later switched over to petrol. It has been estimated that, in all, he drank about 1.5 tons of it [13].
The System Fights Back
Soon after the German magazine "7 TAGE" published some of the 20,000 testimonials that Paula Ganner had received, the editor of that magazine lost his job and the entry for petroleum products as a cleaning remedy for wounds was removed from the German pharmacopoeia. Kerosene was declared to be a dangerous poison that caused severe kidney damage, although no specific data or instances were provided.
In 1979, a woman who had distributed health information about kerosene was taken to court in Hersbruck, Germany. The public prosecutor was unable to show that a law had been violated or that anyone had been harmed using kerosene in the recommended ways. Also, the forensic expert was unable to point to any harm. He expressed the view that with cancer one should use everything that might be useful, and that clinical trials should be conducted. Consequently, the prosecution had to drop the case [14].
In the early 1980s, kerosene in Australian supermarkets was colourless. But then reports of people using it to cure their cancer started circulating, and suddenly all kerosene in supermarkets was blue. Also, strong warnings about the deadly effects of ingesting kerosene started to appear. Today, the Wikipedia page on kerosene states clearly and simply: "Ingestion of kerosene is harmful or fatal." Increasingly the most recent MSDSs no longer provide toxicity data so that people cannot see how relatively non-toxic kerosene is. Instead, only the warning remains that it can be fatal if it gets into the lungs.
All of this is obviously in conflict with its use for hundreds of years as a trusted remedy, and is in conflict with the scientific toxicity information. In France, kerosene still appears in the official pharmacopoeia as huile de Gabian and is prescribed as a remedy for bronchitis, asthma and cystitis. Even the medical literature contains clinical studies by reputable researchers showing that kerosene is effective against cancer [15].
Nevertheless, science is no obstacle for those in pursuit of profit or special interests. To reduce my chances of having to go to court in this matter, I want to make it clear that this article is for information only, and that I do not recommend using kerosene or turpentine to treat cancer or any other condition. People need to do their own research and evaluation of available information before deciding whether any potential benefits from using kerosene are worth risking the dangers mentioned by our health authorities. ∞
REFERENCES
[1] Arikpo, G.E. et al., "Petroleum Distilates Use In Folk Medicine In South Eastern Nigeria", The Internet Journal of Health 2010; 11(1), http://www.ispub.com/journal/the_internet_journal_of_health/volume_11_number_1_10/article/petroleum-distilates-use-in-folk-medicine-in-south-eastern-nigeria.html
[2] Last, W., "Pleomorphic Microbes", http://www.health-science-spirit.com/pleomorphics.htm
[3] Awodele, O. et al., "The antimicrobial activities of some commonly used disinfectants on Bacillus subtilis, Pseudomonas aeruginosa and Candida albicans", African Journal of Biotechnology 2007 Apr 16; 6(8):987-990,
http://www.ajol.info/index.php/ajb/article/viewFile/57021/45419
[4] F.A.C.T., "Kerosene", http://www.rethinkingcancer.org/resources/magazine-articles/7_9-10/kerosene.php
[5] http://www.health-science-spirit.com/de.petroleum.pdf (in German)
[6] Daniels, Dr Jennifer, "The Candida Cleaner",http://xa.yimg.com/kq/groups/11136827/2098715122/name/Turpentine-The_Candida_Cleaner+-Dr.+Daniels.pdf
[7] Shaw, Dr William, "The Yeast Problem & Bacteria Byproducts", http://www.greatplainslaboratory.com/home/eng/candida.asp
[8] Crook, W.G., MD, The Yeast Connection, Professional Books, Jackson, TN, 1983
[9] Recochem Inc., "Diggers Kerosene (Low Odour)", http://www.recochem.com.au/files/downloads/Cons_Kerosene_Low_Odour_PDS_Apr11.pdf
[10] Recochem Inc., "Material Safety Data Sheet: Low Odour Kerosene", http://www.recochem.com.au/files/downloads/Kerosene_Low_Odour_Nov11.pdf
[11] Atlantic Lubricants, "Material Safety Data Sheet: Kerosene", June 2005, http://www.atlanticlubricants.com.au/msds_min_eo/KEROSENE.pdf
[12] Recochem Inc., "Material Safety Data Sheet: Pure Gum Turpentine",
http://www.recochem.com.au/files/downloads/Pure_Gum_Turpentine_Sep11.pdf
[13] Sun, U., "Man drinks gasoline for 42 years", ChinaDaily.com.cn, 12 July 2011,
http://www.chinadaily.com.cn/photo/2011-07/12/content_12892492.htm
[14] "Petroleum zu trinken", 10 Feb 2009, http://de.netlog.com/david_1960/blog/blogid=3558284 (in German)
[15] Steidl, G., "Use of ozonides in the treatment of malignant disease", 2002,
http://www.klinghardtacademy.com/images/stories/ozonides/use_of_ozonides.pdf
https://www.activistpost.com/2018/09/us-conference-of-mayors-sue-fcc-eliminate-local-control-over-5g-small-cell-tower-infrastructure-installation.html
Blasey Ford, Kavanaugh Testify
A day that will resonate in history. CNN: "When Supreme Court pick Brett Kavanaugh and his original accuser Christine Blasey Ford deliver dueling testimony on Thursday, they will conjure drama of an intensity unusual even in the Trump administration. In Room 226 in the Dirksen Senate Office building, Kavanaugh will effectively stand trial after three women came forward with accusations about his conduct as a teenager in the alcohol-fueled youth party culture of the early 1980s. Kavanaugh will deny all the accusations against him, according to an advance excerpt of his remarks. Kavanaugh also denied new accusations released in Senate Judiciary Committee transcripts Wednesday night. But first, Ford will step forward to tell her story — exposing herself to the world, instantly becoming an icon of the social revolution unleashed by the #MeToo moment and putting her own reputation and her family's safety at risk. 'I am here today not because I want to be. I am terrified,' Ford will tell the committee, according to an early copy of her testimony. 'It is not my responsibility to determine whether Mr. Kavanaugh deserves to sit on the Supreme Court. My responsibility is to tell the truth.' Thursday is about far more than a painful and compelling human drama that will be decided not by a jury, but the votes of 100 senators. It is the culmination of decades of political and societal forces that have led up to a political pivot point."
Kavanaugh Risks Destroying SCOTUS Legitimacy
Kavanaugh risks destroying the Supreme Court's legitimacy if he is confirmed. ThinkProgress:"Here is what the future will almost certainly look like if Judge Brett Kavanaugh becomes Justice Brett Kavanaugh. Some time very soon, possibly in the next several months, six men and three women will meet in a room within the Supreme Court building, and five of the men will vote to eliminate the constitutional right to an abortion. While there is some uncertainty about whether the Court will overrule Roe v. Wade outright, or hand down a more dishonest decision that allows states to ban abortion in underhanded ways, there is no reasonable uncertainty about how Kavanaugh will vote on abortion. The five votes to end the right to an abortion will include Justice Clarence Thomas, who almost certainly sexually harassed Anita Hill, and Brett Kavanaugh, who now faces multiple allegations of sexual assault and similar behavior. Mull this potential future over as you also ponder Alexander Hamilton's words from The Federalist #78. 'The judiciary,' Hamilton wrote, 'has no influence over either the sword or the purse; no direction either of the strength or of the wealth of the society; and can take no active resolution whatever.' Courts 'may truly be said to have neither FORCE nor WILL, but merely judgment; and must ultimately depend upon the aid of the executive arm even for the efficacy of its judgments.'"
Congress Passes Opioid Bill
In rare bipartisan accord, House and Senate reach compromise on opioid bill. NYT: "The House and Senate have reached agreement on a big package of measures to address the opioid epidemic. The legislation, backed by leaders of both parties, is a rare bipartisan achievement that lawmakers are eager to have in hand when they go home to campaign for the midterm elections. The 653-page bill contains a mix of law enforcement and public health measures, including one that aims to block deadly fentanyl from being imported through the mail and one that will allow more nurses to prescribe medication for opioid addiction. Another provision could make it easier for Medicaid recipients to get inpatient care for substance abuse over the next five years. 'While there is more work to be done, this bipartisan legislation takes an important step forward and will save lives,' a group of Republican and Democratic committee leaders said in a statement. But addiction experts say that while many of the measures will help incrementally, the investment remains meager and scattershot compared with what is needed, and with what the government spent to stem the tide of AIDS-related deaths in the 1990s."
Mounting Costs Of Immigration Crackdown
Funding The Immigration Crackdown At An 'Unsustainable Rate'. NPR "President Trump's immigration crackdown has not come cheap. Take the cost of deportation: Immigration and Customs Enforcement has its own airline operation to fly deportees back home. So far this fiscal year, it's $107 million over budget. ICE Air is the little-known, one-way ticket transportation arm of Immigration and Customs Enforcement. ICE Air is busier than ever because of stepped up deportations under President Trump, and more countries around the globe agreeing to take back deportees from the U.S. The cost to keep up the pace has jumped 30 percent this fiscal year. Ten times a week, an unmarked white jetliner lands at the airport in Guatemala City and disgorges a hundred or so unhappy passengers. They enter the Guatemalan Air Force terminal, check in with immigration, and spill out of double-doors, ready to sneak back to the U.S. border, or restart their lives at home."
Progressive Breakfast is a daily morning email highlighting news stories of interest to activists. Progressive Breakfast and OurFuture.org are projects of People's Action.
https://foodrevolution.org/blog/edible-landscaping/?utm_campaign=frn18&utm_medium=email&utm_source=email-automated&utm_content=4657&utm_term=existing-email-list&email=sirethan1%40gmail.com&firstname=Ethan&lastname=
The opinions of philosophers, physicians, and poets are to be alleged and received in causes
—
World's first FLYING CAR that can turn into a plane in less than a minute and soar along at 100mph is going on sale in the US next month
It's not approved to fly into controlled airports, because your not required to have a full pilots liscense to fly it, only a sports liscence, whole different enchilada. This also means you cant fly in IFR weather, meaning low clouds, low visibility a no no, you cant fly in the 5 mile radius of any controlled airport, only uncontrolled airports, meaning back country, or rural airports, etc, etc…
There are a lot more limitations because your not a real pilot by definition, only a wanna be, just like the guys who fly hanggliders.
An expensive toy with huge limitations, they catch you fkg around in controlled airspace, they will give you a nuclear wedgy, and pull your sports liscense.
You cant fly at night, even if clear.
Cant charge passengers to fly with you, only share expenses.
You have to spend years in flight school and thousands of dollars to become a full on pilot. It's a lot of work, and expensive to fly in controlled airspace with the big boys.
—
What your GOP Congress did while you were distracted
"Hidden In Plain Sight" Denver's International Airport New Ad Campaign
Posted: 28 Sep 2018 09:25 PM PDT
"Hidden In Plain Sight" Denver's International Airport New Ad Campaign
Denver International Airport has displayed a new advertising campaign revolving around both their new construction site and the conspiracy theories that have hovered around the idea that there is more happening at this airport than meets the eye.
On Sept 4th 2018, Denver International Airport (DIA) tweeted something that is either a genius marketing ploy or a 'hidden in plain sight' scenario.
DIA is known for its creepy murals and a demonic blue horse statue which stands at the front of the airport as well as a statue of Anubis.
Inside the airport there are weird murals and statues that refer to a one-world government, yet a stone with a cryptic description and underneath the stone a time capsule which is to be opened by 'the people of Colorado' in 2094.
Furthermore, it is said, there is an underground area beneath the airport which is not accessible to the public.
Most of the underground areas are not being used, dead baggage equipment, long highways, and many chain link fences and locked up fences.
This underground area is just the first level that leads to secret lower levels – there are five secret underground buildings with a depth of from 75 to 120 feet on each one, all with interconnecting tunnels to each other and with 2.50 to 3.00 mile long and 16 feet wide.
These underground buildings are to serve many different purposes, such as medical research labs, prisons, work camps, military accommodations, food storage, etc.
Hiding things in plain sight is a great way to get things swept under the rug and avoided. Could this be the tactic being taken by DIA?
Thanks to: http://ufosightingshotspot.blogspot.com
CERN Scientists Say The LHC Has Confirmed Two New Particles, And Possibly Discovered a Third
Posted: 28 Sep 2018 06:57 PM PDT
CERN Scientists Say The LHC Has Confirmed Two New Particles, And Possibly Discovered a Third 
They are known as bottom baryons.
MICHELLE STARR
28 SEP 2018
The Large Hadron Collider is at it again, showing us new wonders in the world of particle physics. Scientists working on the Large Hadron Collider beauty (LHCb) collaboration have observed two new particles that have never been seen before – and seen evidence of a third.
The two new particles, predicted by the standard quark model, are baryons – the same family of particles as the protons used in LHC particle acceleration experiments.
Baryons are what most of the Universe is made up of, including protons and neutrons – composite particles consisting of three fundamental particles called quarks, which have different 'flavours', or types: up, down, top, bottom, charm, and strange.
Protons consist of two up quarks and one down quark, while neutrons consist of one up quark and two down quarks, for instance. But the two new particles discovered have a slightly different composition.
Named Σb(6097)+ and Σb(6097)–, they consist of two up quarks and one bottom quark; and two down quarks and one bottom quark, respectively.
These particles are known as bottom baryons, and they are related to four particles previously observed at Fermilab. However, the new observations mark the first time scientists have detected these higher-mass counterparts; they are about six times more massive than a proton.
So what's the third particle candidate we mentioned earlier?
The researchers think it might be a strange type of composite particle called a tetraquark. These are an exotic kind of meson, which normally have two quarks. But a tetraquark is composed of four quarks – well, two quarks and two antiquarks, to be more accurate.
Observational evidence of tetraquarks has been pretty elusive to date, and that is also the case here. Evidence of the candidate particle, called Zc–(4100) and including two heavy charm quarks, was detected in the decay of heavier B mesons.
But the detection only had a significance of over 3 standard deviations. The usual threshold to claim the discovery of a new particle is 5 standard deviations. It will take future observations to either confirm or disprove the existence of Zc–(4100).
The new bottom baryons, you'll be pleased to know, blew that threshold out of the water: Σb(6097)+ and Σb(6097)– had significances of 12.7 and 12.6 standard deviations respectively.
If you want to read more about the discovery, you can do so on the LHCb website.
There are also two papers on pre-print resource arXiv – you can read about the bottom baryons here and the tetraquark candidate here.
Thanks to: https://www.sciencealert.com
—
$3 billion Hoover Dam project to turn it into a giant battery storing electricity for millions of homes
9-28-18 (day after "the Hearings", and Senator Graham's rant vs. Ds):
1. F-35 fighter jet crashes in South Carolina, pilot ejects.
2. Jet crashes in South Carolina…, killing at least 2
3. Both jets were downed in South Carolina, home state of Sen. Lindsey Graham.
4. Items 1-3… Coincidence?
5. Three GOP senators were doxxed (personal information released, on WikiPedia) on 9-27-18 (date of the hearing), perpetrator IP address points to Rep. Maxine Waters office (link 1, link 2)

* Text of Voat commenter: "AlertBAHWx71_Z9.png Splash1-X AIRG_patrol_HIGH Check_in_Z[des_TFC]381 Q"; [Commenter] From my interpretation, AF 1 went on Alert (from the title of the jpeg) due to something inbound. From the text Air (N)G) Splashed 1 (destroyed the target). Folks, this was a midair assassination attempt on POTUS!!!
—
CIBC, A Huge Canadian Bank, Was Offline All Day, Proving Again The Dangers of a Cashless Society
—
—