https://www.ksl.com/article/46397479/st-george-man-tells-police-he-stabbed-friend-to-death-after-hearing-spirits-warning
—
https://www.ksl.com/article/46398052/hatch-says-time-to-end-new-smears-against-kavanaugh-committee-sends-nomination-to-full-senate
SALT LAKE CITY — Utah Sens. Orrin Hatch and Mike Lee joined the Republican majority on the Senate Judiciary Committee on Friday in recommending Brett Kavanaugh for confirmation to the U.S. Supreme Court.
During the meeting, Hatch said it's time to stop "new smears" against Kavanaugh and hold the committee vote.
"Frankly, we've had enough time on this to choke a horse," the Utah Republican said.
As expected, the 11-10 vote broke along party lines. Kavanaugh's nomination was scheduled to come up for a final vote in the full Senate next Tuesday.
But Sen. Jeff Flake, R-Ariz., cast his affirmative vote on the condition that the Senate floor vote be delayed up to one week so the FBI can investigate the allegations against Kavanaugh.
"I will vote to advance the bill to the floor with that understanding," he said.
Flake implied he would not vote to confirm Kavanaugh without the investigation, which would make Senate Republicans' razor-thin margin even thinner.
Later Friday, Senate GOP leaders said they have asked the White House to order the FBI to investigate Kavanaugh before a Senate confirmation vote is held.
The "supplemental" FBI background investigation would be limited to current credible allegations against Kavanaugh and be finished no later than one week from Friday, according Senate Judiciary Committee statement.
Hatch said while he believes Kavanaugh's confirmation should move forward, he supports the decision for an investigation limited in length and scope as Flake proposed.
"This will address the concerns raised by Sen. Flake and others while also being fair to the Kavanaugh family," he said.
Kavanaugh and Christine Blasey Ford testified in an emotionally charged hearing Thursday about her allegations that he sexually assaulted her while they were teenagers in 1982.
Ford told the committee she is "100 percent" sure that a drunken Kavanaugh assaulted her at a party. Kavanuagh vehemently denied the accusation in combative exchanges with Democrats.
Before Thursday, Democrats had not asked Kavanaugh a single question about the allegations, and "yet again and again, their refrain has been the same: delay, delay, delay," Hatch said.
"Here's where I stand: We can't allow more time for new smears to damage Judge Kavanaugh, his family, his reputation, the reputation of the court, and, of course, the reputation of the country," he said. "We cannot allow more time for the partisans on the left to beat Judge Kavanaugh into submission."
Related:
Sen. Mike Lee, R-Utah, also called for a vote on Kavanaugh.
"Look, we have a job here to do today. Our job yesterday was to hear from Dr. Ford and Judge Kavanaugh. We've done that," he said.
Lee said he would have liked to have had an FBI investigation into Ford's allegations.
"There are many of us who wished that that's where this would have begun, should have begun, as it could have begun had these letters been handed over the to FBI with the request they be investigated at an earlier time," he said, referring to the letters Sen. Dianne Feinstein, D-Calif., received in July.
Had that happened, Lee said, the process could have been handled with more dignity and been more respectful to Ford and Kavanaugh and their families. He said his heart goes out to both of them.
Lee said the FBI would have interviewed Ford, Kavanaugh and eyewitnesses, but their statements would have been largely what the committee heard Thursday and received in letters, "so we have investigated."
Hatch said he's "tired of all the games and the gamesmanship" surrounding the nomination and that it's time to "end the circus."
As he has throughout the process, Hatch praised Kavanaugh, saying he has an "impeccable" reputation and is well-respected as a judge by Democrats and Republicans.
"It would be an absolute crying shame if we keep treating him like he's some sort of imposter or some sort of a person who just can't do the job. He can do the job and has done the job," he said.
Feinstein, the committee's ranking member, said Kavanaugh's "aggressive and belligerent" attitude during Thursday's hearing does not reflect the temperament of someone seeking seat on the Supreme Court.
Feinstein denied being involved in a partisan smear campaign. She said it's unfair to move forward after hearing Ford's "credible, powerful" testimony.
The Republican strategy, she said, is no longer to attack the victim, but to ignore the victim.
The group Mormon Women for Ethical Government applauded Flake, who isn't seeking re-election, for seeking to delay the vote for an FBI investigation.
"If Judge Kavanaugh is confirmed without that additional process, that doubt will linger over both him and the legitimacy of the Supreme Court for the duration of his tenure. If he is innocent of these charges, then he, more than anyone, should want this investigation to take place so that his name can be cleared," according to statement from the group.
Rick Larsen, president of the Sutherland Institute, a conservative public policy think tank in Salt Lake City, also thanked Flake for "exhibiting the wisdom of Solomon amid partisan rancor."
Larsen said Flake's "courageous" decision benefits Ford and Kavanaugh, and promises to re-establish the integrity of two important American institutions.
https://nypost.com/2018/09/22/how-feinstein-is-conspiring-to-destroy-kavanaugh/
Democratic leaders and their liberal aides, along with professional agitators, are all intermingled and conspiring together to achieve the same objective — in this case, to spike the confirmation of President Trump's Supreme Court nominee, Brett Kavanaugh.
Hill Republicans claim Democratic Sen. Dianne Feinstein engineered the kneecapping of Kavanaugh from both inside and outside Congress — and they have a strong case, though Feinstein insists she merely dealt cards she was handed.
For starters, they argue that Feinstein, who is the top Democrat on the Senate committee vetting Kavanaugh, orchestrated an "11th-hour ambush" of the conservative nod by withholding a letter from the committee's Republican majority alleging sexual misconduct by Kavanaugh until the day the panel was preparing to take a vote to confirm him — almost two months after receiving the letter and well after the vetting and hearing process.
"You chose to sit on the allegations until a politically opportune moment," a furious Senate Judiciary Committee Chairman Chuck Grassley (R-Iowa) scolded Feinstein in a letter dated Sept. 19.
"I cannot overstate how disappointed I am in this decision," he added. "It has caused me to have to reopen the hearing."
Grassley suggested that the last-minute allegations were "deployed strategically for political gain." Democrats are hoping to delay the hearing until after the Nov. 6 congressional elections to give them a chance to win back enough Senate seats to defeat Kavanaugh. Indeed, Feinstein said, "We should delay this hearing."
But Republicans point to other skulduggery as well.
SEE ALSO
Brett Kavanaugh
This is what Kavanaugh's accuser wrote in her letter
This spring, Hillary Clinton's former campaign press secretary Brian Fallon hired one of Feinstein's top aides on the Judiciary Committee to help tank Trump's Supreme Court picks from the outside. Together, he and Feinstein's aide — former deputy general counsel Paige Herwig — launched a liberal nonprofit group called Demand Justice to lead the left's attack on GOP nominees.
In early July, after Trump nominated Kavanaugh for the high bench, Fallon stated that their primary goal was to "delay" confirmation hearings for him. Meantime, he outlined plans of attack, including ginning up questions about what Kavanaugh "knew and when he knew it" about allegations of sexual misconduct by a federal judge he once clerked for.
Later that month, a letter alleging Kavanaugh was involved in an "attempted rape" while in high school was hand-delivered to Feinstein's office.
Curiously, Feinstein did not raise the accusation during confirmation hearings earlier this month. Throughout the hearings, however, Demand Justice dispatched protesters claiming Kavanaugh sought to deny women rights, while running attack ads warning he planned to "overturn Roe [v. Wade] and criminalize abortion." The ads appeared in Alaska and Maine to try to sway those states' moderate pro-choice Republican senators to vote against Kavanaugh.
The scare tactics didn't work. Sens. Lisa Murkowski (R-Alaska) and Susan Collins (R-Maine) sent strong signals they would back Kavanaugh, prompting Demand Justice to concede it might be unable to stop the Senate from confirming him.
Then, just days before the committee planned to vote for Kavanaugh, the letter that was handed to Feinstein was, in turn, leaked to the media and the accuser was identified. Christine "Chrissy" Blasey Ford, a registered Democrat and donor from San Francisco, claimed Kavanaugh tried to pin her down and sexually assault her at a party while the two were in high school. But her details are sketchy. She can't remember exactly when or where the alleged incident took place, and she concedes she didn't tell anybody about it at the time, making it hard to corroborate her story.
Kavanaugh, for his part, has categorically denied the allegation both publicly and during a committee staff interview conducted last week "under penalty of felony." Grassley is trying to negotiate a public hearing to air the charges.
https://www.sfchronicle.com/opinion/article/Feinstein-in-the-center-of-Kavanaugh-controversy-13242698.php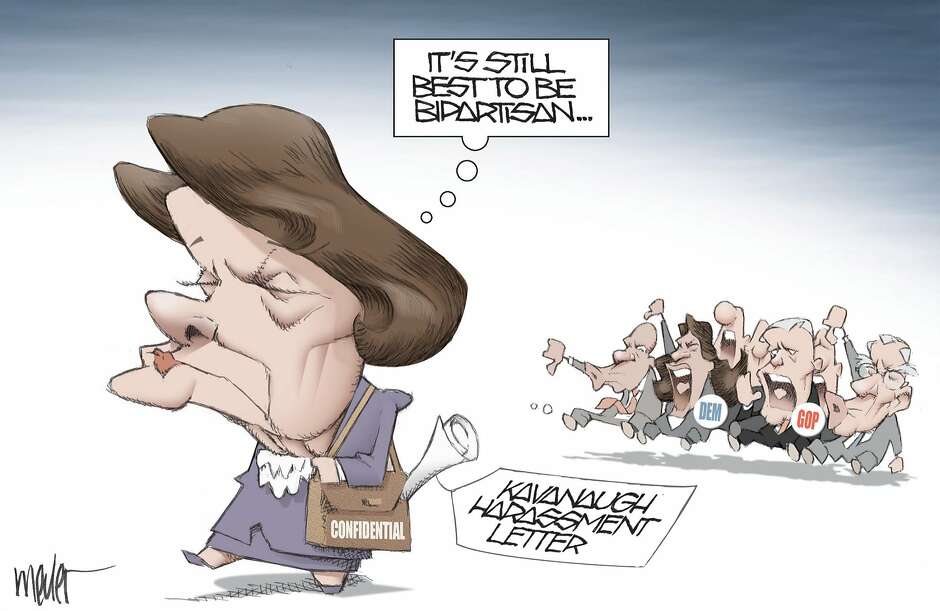 https://www.ksl.com/article/46397879/gop-agrees-to-fbi-probe-of-kavanaugh-delaying-senate-vote
https://www.ksl.com/article/46398153/police-man-shot-in-layton-asked-to-be-driven-to-idaho-hospital-where-he-died
https://www.ksl.com/article/46397851/tesla-faces-a-reckoning-with-ceo-elon-musks-job-in-jeopardy
https://www.ksl.com/article/46397266/angry-kavanaugh-denies-ford-accusation-sees-disgrace
Andrew Harnik, AP Photo
Fiery Kavanaugh denies quiet accuser in Senate showdown
5PM: Fiery Kavanaugh denies quiet accuser Ford in Senate showdown
+Show 1 more video
WASHINGTON (AP) — In a day like few others in Senate history, California psychology professor Christine Blasey Ford quietly recounted her "100 percent" certainty Thursday that President Donald Trump's nominee for the Supreme Court had sexually assaulted her when they were teenagers — and then Brett Kavanaugh defiantly testified he was "100 percent certain" he did no such thing.That left senators to decide whether the long day of testimony tipped their confirmation votes for or against Trump's nominee in a deeply partisan fight with the future of the high court and possibly control of Congress in the balance.Showing their own certainty, Republicans quickly scheduled a recommendation vote for Friday morning in the Senate Judiciary Committee, where they hold an 11-10 majority. They're hoping for a final Senate roll call next week, seating Kavanaugh on the court shortly after the Oct. start of its new term.

The American Bar Association urged the Judiciary committee and the full Senate to slow down on the vote until the FBI has time to do a full background check on the claims made by Ford and other women.

"We make this request because of the ABA's respect for the rule of law and due process under law," the ABA letter to committee leadership said. "Each appointment to our nation's highest court (as with all others) is simply too important to rush to a vote."

In the committee's packed hearing room for hour upon hour Thursday, both Kavanaugh and Ford said the alleged assault and the storm of controversy that has erupted 36 years later had altered their lives forever and for the worse — perhaps the only thing they agreed on during their separate testimony marked by a stark contrast of tone and substance.

Ford recounted for the senators and a nationwide TV audience her long-held secret of the alleged assault in a locked room at a gathering of friends when she was just 15. The memory — and Kavanaugh's laughter during the act — was "locked" in her brain, she said. Ford delivered her testimony with deliberate certitude, though admitting gaps in her memory as she choked back tears at some points and said she "believed he was going to rape me."

Hours later, Kavanaugh entered the hearing room fuming. He angrily denied her allegation, alternating a loud, defiant tone with near tears of his own, particularly when discussing his family. He decried his confirmation opposition as a "national disgrace." He interrupted senators and dismissed some questions with a flippant "whatever."

"You have replaced 'advice and consent' with 'search and destroy,'" he said, referring to the Constitution's charge to senators' duties in confirming high officials.

Democrats pressed the judge to call for an FBI investigation into the claims, but he would say only, "I welcome whatever the committee wants to do."

Republicans are concerned, among other reasons, that further investigations could push a vote past the November elections that may switch Senate control back to the Democrats and make consideration of any Trump nominee more difficult.

Trump made his feelings newly clear that he was sticking by his choice. "His testimony was powerful, honest and riveting," he tweeted. "The Senate must vote!"

Trump nominated the conservative jurist in what was supposed to be an election year capstone to the GOP agenda, locking in the court's majority for years to come. Instead Kavanaugh has seemed in peril and on Thursday he faced the Senate hearing amid a national reckoning over sexual misconduct at the top of powerful institutions.

The day opened with Ford, now a 51-year-old college professor in California, raising her right hand to swear under oath about the allegations she said she never expected to share publicly until they leaked in the media two weeks ago and reporters started staking out her home and work.

As Anita Hill did more two decades ago when she alleged sexual misconduct by Clarence Thomas, the mom of two testified before a committee with only male senators on the Republican side of the dais.

The psychology professor described what she says was a harrowing assault in the summer of 1982: How an inebriated Kavanaugh and another teen, Mark Judge, locked her in a room at a house party as Kavanaugh was grinding and groping her. She said he put his hand over her mouth to muffle her screams. Judge has said does not recall the incident and he reiterated that point in a letter to the committee released late Thursday.

When the committee's top Democrat, Sen. Dianne Feinstein of California, asked Ford how she could be sure that Kavanaugh was the attacker, Ford said, "The same way I'm sure I'm talking to you right now." Later, she said her certainty was "100 percent."

Her strongest memory of the alleged incident, Ford said, was the two boys' laughter.

"Indelible in the hippocampus is the laughter," said Ford, who is a research psychologist, "the uproarious laughter between the two."

Republican strategists were privately hand-wringing after Ford's testimony. The GOP special counsel Rachel Mitchell, a Phoenix sex crimes prosecutor, who Republicans had hired to avoid the optics of their all-male line up questioning Ford, left Republicans disappointed.

Mitchell's attempt to draw out a counter-narrative — mainly that Ford was coordinating with Democrats — was disrupted by the panel's decision to allow alternating five-minute rounds of questions from Democratic senators.

During a lunch break, even typically talkative GOP senators on the panel were without words.

John Kennedy of Louisiana said he had no comment. Texas Sen. Ted Cruz said he was "just listening."

Then Kavanaugh strode into the committee room, arranged his nameplate, and with anger on his face started to testify with a statement he said he had shown only one other person. Almost immediately he choked up.

"My family and my name have been totally and permanently destroyed," he said.

He lashed out over the time it took the committee to convene the hearing after Ford's allegations emerged, singling out the Democrats for "unleashing" forces against him. He mocked Ford's allegations — and several others since — that have accused him of sexual impropriety.

Even if senators vote down his confirmation, he said, "you'll never get me to quit."

Kavanaugh, who has two daughters, said one of his girls said they should "pray for the woman" making the allegations against him, referring to Ford. "That's a lot of wisdom from a 10-year-old," he said choking up. "We mean no ill will."

The judge repeatedly refused to answer senators' questions about the hard-party atmosphere that has been described from his peer group at Georgetown Prep and Yale, treating them dismissively.

"Sometimes I had too many beers," he acknowledged. "I liked beer. I still like beer. But I never drank beer to the point of blacking out, and I never sexually assaulted anyone. "

When Sen. Amy Klobuchar, D-Minn., pressed if he ever drank so much he blacked out, he replied, "Have you?" After a break in the proceedings, he came back and apologized to Klobuchar. She said her father was an alcoholic.

Behind him in the audience as he testified, his wife, Ashley, sat looking stricken.

Republicans who had been scheduled to vote as soon as Friday at the committee — and early next week in the full Senate — alternated between their own anger and frustration at the allegations and the process.

"You're right to be angry," said Sen. John Cornyn, R-Texas.

Sen. Lindsey Graham, his voice rising in anger, called the hearing the "most unethical sham since I've been in politics."

___

Associated Press writers Kevin Freking, Mary Clare Jalonick, Padmananda Rama, Matthew Daly, Julie Pace, Laurie Kellman and AP photographers J. Scott Applewhite and Carolyn Kaster contributed to this report.
—-
https://www.ksl.com/article/46397534/hatch-lee-yield-time-for-questioning-ford-to-arizona-prosecutor-in-confirmation-hearing
Tom Williams, Pool Image via AP
Sen. Orrin Hatch says Supreme Court nominee Kavanaugh not a 'monster,' calls Ford 'attractive'
10PM: Sen. Orrin Hatch says Supreme Court nominee Kavanaugh not a 'monster,' calls Ford 'attractive'
SALT LAKE CITY — An angry Sen. Orrin Hatch said U.S. Supreme Court nominee Brett Kavanaugh is not the "monster" he's being made out to be in the Senate Judiciary Committee hearing Thursday."I hate to say this but this is worse than Robert Bork. I didn't think it could get any worse than that. This is worse than Clarence Thomas. I didn't think it could get any worse than that. This is a national disgrace the way you're being treated," the Utah Republican said.Christine Blasey Ford, a Palo Alto University professor, accused Kavanaugh of sexually assaulting her when they were both in high school in 1982. Kavanaugh and Ford spent hours before the committee Thursday.

During a break in Ford's testimony, Hatch called Ford "attractive" and a "nice person" in a hallway exchange with reporters.

Neither Hatch nor Sen. Mike Lee, R-Utah, asked Ford questions during her testimony.

Like all the Republicans on the committee, they let Arizona prosecutor Rachel Mitchell question Ford. The committee retained Mitchell to allow the panel's 11 Republicans — all white men — to avoid the appearance of grilling Ford in the nationally televised hearing.

Mitchell also questioned Kavanaugh for GOP senators early in his time before the committee, but they abandoned that strategy to rail on Democrats and defend the judge.

His voice rising several octaves, Hatch lamented the committee looking back at Kavanaugh's high school and college years. That Kavanugh drank in high school and college doesn't make him guilty of the accusations leveled against him, he said.

"He was an immature high schooler. So were we all," Hatch said. "That he wrote or said stupid things sometimes does not make him a sexual predator."

Hatch said Kavanaugh is a well-respected judge and law professor who is loved by his colleagues and students.

"This man is not a monster nor is he what has been represented here in these hearings," he said.

Lee criticized Sen. Dianne Feinstein, D-Calif., the committee's ranking member, for holding on to Ford's allegations for weeks, saying she had a "moral duty and obligation" to report them to the FBI.

"That could have been handled in such a way that didn't turn this into a circus," he said.

Lee said it's ironic that Democrats repeatedly called for an FBI investigation during the hearing, while being in the middle of a conversation with Kavanaugh.

"If you have questions for Judge Kavanaugh, ask him. He's right here. If that's really what you want is the truth, ask him questions right now. If you have questions of other witnesses, then for the love of all that is sacred and holy, participate in the committee investigations that have been going on," Lee said.

Over a lunch break in Ford's testimony, Hatch told reporters "it's too early to say" if she is credible.

"I don't think she's uncredible. I think she's an attractive, good witness," he said.

Asked by a CNN reporter what he meant by attractive, the senator said, "in other words, she's pleasing."

Hatch said he thinks the committee would be prepared to vote tomorrow.

When asked if he's learned anything new, Hatch said "no I haven't, at least I can't think of anything."

He told reporters he doesn't have a strong impression so far.

"I'll say this, she's attractive and she's a nice person," he said heading to an elevator.

Hatch spokesman Matt Whitlock later tweeted: "Hatch uses 'attractive' to describe personalities, not appearances. If you search his past quotes you'll see he's used it consistently for years for men and women he believed has compelling personalities."

Hatch chimed in a couple of other times during Kavanaugh's testimony.

As Sen. Patrick Leahy, D-Vt., pressed Kavanaugh on whether he's the "Bart O'Kavanaugh" referred to in one of his friend Mark Judge's books. Leahy was looking for a yes-or-no answer, but Kavanaugh said, "No no no no … I'm going to talk about my high school record if you're going to sit here and mock me."

"Let him answer," Hatch interjected.

Committee Chairman Chuck Grassley, R-Iowa, intervened a few minutes later saying Kavanaugh should be treated as fairly as Ford was during her testimony.

"I'll say," Hatch said.

Sen. Dick Durbin, D-Ill., pressed Kavanaugh to call for an FBI investigation and asked him if he was afraid that the FBI would find that he was lying.

Sen. Lindsey Graham, R-S.C. was heard over his microphone saying "please," while Hatch added "gee whiz."

As the hearings concluded, reports circulated that Hatch, Lee and Graham had been "doxed" during the proceedings, as their Wikipedia pages were updated to include personal information, like phone numbers and addresses.

Matt Whitlock, Hatch's spokesman, confirmed the incident and expressed his anger Thursday evening.

"It's shocking that someone would post Senator Hatch and other Judiciary Committee Republicans' home addresses online, putting their families at risk. That it happened as they were asking questions in a Supreme Court confirmation hearing is just another indication of how broken this process has become."
—
https://www.ksl.com/article/46398120/facebook-says-50m-user-accounts-affected-by-security-breach
AP Photo, File
Facebook says 50M user accounts affected by security breach
NEW YORK (AP) — Facebook reported a major security breach in which 50 million user accounts were accessed by unknown attackers.The attackers gained the ability to "seize control" of those user accounts, Facebook said, by stealing digital keys the company users to keep users logged in. Facebook has logged out the 50 million breached users — plus another 40 million who were vulnerable to the attack. Users don't need to change their Facebook passwords, it said.Facebook said it doesn't know who was behind the attacks or where they're based. In a call with reporters on Friday, CEO Mark Zuckerberg said that attackers would have had the ability to view private messages or post on someone's account, but there's no sign that they did.

"We do not yet know if any of the accounts were actually misused," Zuckerberg said.

The hack is the latest setback for Facebook during a tumultuous year of security problems and privacy issues . So far, though, none have significantly shaken the confidence of the company's 2 billion global users.

This latest hack involved a bug in Facebook's "View As" feature, the company said in a blog post . That feature lets people see how their profiles appear to others. The attackers used that vulnerability to steal those digital keys, known as "access tokens." Possession of those tokens would allow attackers to control those accounts.

"We haven't yet been able to determine if there was specific targeting" of particular accounts, Guy Rosen, Facebook's vice president of product management, said in a call with reporters. "It does seem broad. And we don't yet know who was behind these attacks and where they might be based."

Neither passwords nor credit card data was stolen, Rosen said. He said the company has alerted the FBI and regulators in the United States and Europe.

Jake Williams, a security expert at Rendition Infosec, said he is concerned about whether third party applications were affected.

Williams noted that the company's "Facebook Login" feature lets users log into other apps and websites with their Facebook credentials. "These access tokens that were stolen show when a user is logged into Facebook and that may be enough to access a user's account on a third party site," he said.

Facebook didn't immediately respond to follow-up questions about whether third party apps were affected.

News broke early this year that a data analytics firm once employed by the Trump campaign, Cambridge Analytica, had improperly gained access to personal data from millions of user profiles. Then a congressional investigation found that agents from Russia and other countries have been posting fake political ads since at least 2016. Zuckerberg appeared at a congressional hearing focused on Facebook's privacy practices in April.

The Facebook bug is reminiscent of a much larger attack on Yahoo in which attackers compromised 3 billion accounts — enough for half of the world's entire population. In the case of Yahoo, information stolen included names, email addresses, phone numbers, birthdates and security questions and answers. It was among a series of Yahoo hacks over several years.

U.S. prosecutors later blamed Russian agents for using the information they stole from Yahoo to spy on Russian journalists, U.S. and Russian government officials and employees of financial services and other private businesses.

In Facebook's case, it may be too early to know how sophisticated the attackers were and if they were connected to a nation state, said Thomas Rid, a professor at the Johns Hopkins University. Rid said it could also be spammers or criminals.

"Nothing we've seen here is so sophisticated that it requires a state actor," Rid said. "Fifty million random Facebook accounts are not interesting for any intelligence agency."

Ed Mierzwinski, the senior director of consumer advocacy group U.S. PIRG, said the breach was "very troubling."

"It's yet another warning that Congress must not enact any national data security or data breach legislation that weakens current state privacy laws, pre-empts the rights of states to pass new laws that protect their consumers better, or denies their attorneys general rights to investigate violations of or enforce those laws," he said in a statement.

Wedbush analyst Michael Pachter said "the most important point is that we found out from them," meaning Facebook, as opposed to a third party.

"As a user, I want Facebook to proactively protect my data and let me know when it's compromised," he said.

___

An earlier version of this article incorrectly stated the day of Mark Zuckerberg's call with reporters.
—
—
s the documents cited here clearly show, President Trump is planning to carry out mass arrests of deep state traitors, including Andrew McCabe, Peter Strzok, James Comey and even Barack Obama. This is fully covered, with accompanying documentation from the U.S. Federal Register, in the links and video below. (This author is fully supportive of this effort to save America and arrest the traitors.)
The confirmation of Kavanaugh to the U.S. Supreme Court is the key to getting this done in a timely manner, which explains why the deranged Left is going to such outrageous extremes to fabricate false allegations against Kavanaugh and stage coordinated, well-funded protests to try to block the U.S. Senate from confirming him.
Once Kavanaugh is on the court, it will add the necessary support for constitutional "emergency powers" that concentrate power in the executive branch of government (currently headed by President Trump) during times of war and national emergencies.
Ethan Palethorpe 4:32 PM
https://www.city-journal.org/due-process-for-brett-kavanaugh-16192.html
The hallmark of due process is the presumption of innocence. Imagine a judge who announces—before the trial even begins—that he thinks that the accused is lying. Defense counsel would rightly demand that the judge recuse himself. But no recusal has been offered by those senators who would sit in judgment on the Supreme Court nominee.
Because every defendant is presumed innocent, due process also requires that one's accusers bear the burden of proof. Today, however, this tradition has been turned on its head, with politicians and commentators on the left asserting that the burden is on Kavanaugh—and any other man accused of sexual misconduct—to disprove the accusations against them. Blumenthal, for example, tweets that Kavanaugh has "a responsibility to come forward with evidence to rebut" Ramirez's accusations of sexual assault. Anita Hill, the law school professor who accused Justice Clarence Thomas of sexual harassment during Thomas's 1991 confirmation hearings, has argued that Kavanaugh bears the burden of disproving Ford's allegations.
Proving that something did not happen—particularly something 35 years ago—is virtually impossible. Compounding these attempts to reverse the traditional evidentiary burden, Democratic senators supported Ford's initial demand that Kavanaugh testify before Ford, thus denying him even the chance to respond to her specific allegations.
"I am tired of Democrats telling women when we should feel victimized. #MeToo has quickly evolved into terrorism. Winning by whining isn't going to work," says Christine Flowers, a syndicated columnist, talk radio host and immigration lawyer who in the past has described the #MeToo activism showcased during the Kavanaugh controversy as a "Trojan horse" sent to destroy conservatism. "The direct attack on Brett Kavanaugh seems designed to target the poster boy for conservatism: pro-family, pro-life, pro-faith, pro free markets, pro-limited government. The attack on his character is exactly the sort of sexy, salacious salvo that you would expect from progressives who have gone from legitimate and balanced protest to the estrogen-fueled hysteria of the Women's March," Ms. Flowers recently wrote. Things may not go as planned, though. "I think that the #MeToo movement has had the opposite effect than the one feminists had hoped for, especially as we see how it has impacted the Kavanaugh nomination. It has alienated many moderate-to-conservative women who understand that sexual abuse is a problem, but who are angered at the way that #MeToo has been weaponized to advance a political agenda, namely, get Democratic women elected to office for the midterms and beyond," Ms. Flowers tells Inside the Beltway. "As someone who, in my immigration practice, deals regularly with women who are seeking asylum precisely because they have been abused — watching as the topic of abuse has been trivialized, monetized and politicized — is troubling and infuriating," she says.
https://libertytreefriends.blogspot.com/2018/09/metoo-has-been-weaponized.html#.W60Gi3tKiUk
Ethan Palethorpe 4:38 PM
https://www.ksl.com/article/46397879/gop-agrees-to-fbi-probe-of-kavanaugh-delaying-senate-vote
Flake, a key moderate Republican, was at the center of Friday's drama and uncertainty. In the morning, he announced that he would support Kavanaugh's nomination. Shortly after, he was confronted in an elevator by two women who, through tears, implored him to change his mind. The stunning confrontation was captured by television cameras.
After huddling privately with his colleagues, Flake announced he would vote to advance Kavanaugh's nomination to the full Senate only if the FBI were to investigate the allegations against the judge. Democrats have been calling for such an probe, though Republicans and the White House have insisted it's unnecessary.
The committee vote was 11-10 along party lines.
Flake said that after discussing the matter with fellow senators, he felt it "would be proper to delay the floor vote for up to but not more than one week."
—
https://www.exopolitics.org/qanon-links-us-attorney-with-thousands-of-sealed-indictments-decimating-the-deep-state/
http://drleonardcoldwell.com/emergency-report-signed-executive-orders-reveal-trump-is-planning-mass-arrests-military-tribunals-for-deep-state-traitors-like-comey-clinton-and-obama-update/comment-page-1/#comment-4584368
MIND BLOWING FLAT EARTH TALK with Shane Dawson & His Brother
—
—