https://www.ksl.com/article/46397710/netflix-adding-101-dropping-42-titles-in-october
https://www.amazon.com/Carbon-Milligram-Milliliter-Solvent-Free-Lipofullerene/product-reviews/B01B1WZJEW
https://deusnexus.wordpress.com/2018/07/05/c60-life-extender/
C60 (Carbon 60) is the newest health sensation in the natural health and longevity worlds. So what is C60? It is simply a special geometrical arrangement of 60 carbon atoms into a single molecule that looks like a soccer ball, made up of inter-locking pentagonal and hexagonal structures. C60 molecules are also called fullerenes or buckyballs after Buckminster Fuller, the man who discovered them.
—

—
http://www.dailymail.co.uk/news/article-6134833/Emirates-says-10-passengers-removed-quarantined-flight-reports-100-falling-ill.html
http://allnewspipeline.com/Airplanes_Sick_Passengers_Not_Just_NY.php
September 6, 2018
Remember! Terrorists Said They'd Use Human Guinea Pigs To Start A Pandemic – Would The Globalists, Too? And Was New York Airplane Incident A Bioterror Attack Upon America?
http://allnewspipeline.com/DIA_New_Construction_In_Our_Faces.php

http://allnewspipeline.com/Fall_Of_NATO_And_The_EU.php
With Global War Drums Beating, The Perfect Storm Is Brewing As Radical Islamic Cleric Calls For The Overthrow Of America
– How Many Globalist Leaders Have Converted To Islam And Thrown Their Countries Populations To The Wolves?
https://phibetaiota.net/wp-content/uploads/2018/07/911-POTUS-FINAL-PDF.pdf   101
https://operationdisclosure.blogspot.com/2018/09/the-alliance-is-tightening-noose-on.html
—
Tuesday, September 25, 2018
Backwash — Initial Emergency Alert
Source: Paul Stramer | By Anna Von Reitz
The people of North and South Carolina are facing a far more serious disaster than has been reported in the so-called National News and it is coming from a source most of us haven't even considered.
We all braced for the impact of the tropical storms and survived that.
What is proving more deadly is inter-tidal flooding of coastal rivers and estuaries overwhelmed as rainwater from the storms that fell in the mountainous areas finds its way back down the local rivers and into low-lying delta and estuary areas all along the coast.
For people in those areas, the real disaster and result of the storms last week is just arriving.
We don't have full details yet, but ask you to be aware and to keep these folks in your thoughts and prayers.
As many of you know, I lived through a "National Disaster" here in Alaska — a fire, not a flood — but you can count on some things being the same.
One of the things you can count on is that FEMA won't respond for at least three weeks. And when it does, the kinds of help it offers won't be what you expect.
What FEMA did here was hand out checks of $13,000 to each landowner (to limit their own liability claims) — renters and apartment dwellers got nothing, though they were just as devastated as everyone else.
And FEMA also gave our names to the "US SMALL BUSINESS ADMINISTRATION" —- another deliberately mis-named corporation actually owned by Lehman Brothers Bank — and they offered us "Disaster Assistance Loans" at a lower rate than market interest to "help us rebuild".
Only catch with that is that a couple years later, they sold off all those loans to one of their own subdivisions that appeared to be a different company, and that company contacted everyone with a "New Deal" — 12% and new terms and deadlines and balloon payments and only the Devil Knows what else.
And if people weren't sharp enough to say, "Hell no, no contract, non-assumpsit!" — all those disaster victims got bilked and wound up paying far more than any normal loan. Most of them lost their shirts and Lehman Brother's got all the new houses that these disaster victims labored so hard to build, plus their land.
I notified the Alaska Congressional Delegation about the scam and [Territorial United States] House Representative Don Young stomped hard enough on Lehman Brothers so they backed off and honored the initial contract "for those that complained".
Everyone else took it in the shorts.
So much for "Disaster Relief" from FEMA.
And the "US SMALL BUSINESS ADMINISTRATION".
The only groups that mobilized and actually arrived timely and did help us were the Salvation Army, the LDS Church, and the Mennonite Church.
Those guys came prepared to launch, knew what they were doing, and they just flat-out did it.
So to those reading this, who have contacts with the Salvation Army, LDS, and Mennonite Churches, please let them know that their neighbors along the coast in North and South Carolina are hurting and will be facing a mammoth task of rescue and rebuilding.
People can only expect help from other people — certainly not from the bankrupt and self-interested "US Government". Any expectation of help from "federal agencies" or thought on our part that these people and their communities "will be taken care of" and some of their tax dollars paid back—- give those naive suppositions up right now.
The Queen has already spent all that money on war planes in Iraq.
—————————-
See this article and over 1200 others on Anna's website here:www.annavonreitz.com
—
—
https://deusnexus.wordpress.com/2018/07/27/do-wealthy-elite-fear-the-event/
Do Wealthy Elites Fear "The Event"?
Survival of the Richest: The wealthy are plotting to leave us behind
Last year, I got invited to a super-deluxe private resort to deliver a keynote speech to what I assumed would be a hundred or so investment bankers. It was by far the largest fee I had ever been offered for a talk — about half my annual professor's salary — all to deliver some insight on the subject of "the future of technology."
I've never liked talking about the future. The Q&A sessions always end up more like parlor games, where I'm asked to opine on the latest technology buzzwords as if they were ticker symbols for potential investments: blockchain, 3D printing, CRISPR. The audiences are rarely interested in learning about these technologies or their potential impacts beyond the binary choice of whether or not to invest in them. But money talks, so I took the gig.
After I arrived, I was ushered into what I thought was the green room. But instead of being wired with a microphone or taken to a stage, I just sat there at a plain round table as my audience was brought to me: five super-wealthy guys — yes, all men — from the upper echelon of the hedge fund world. After a bit of small talk, I realized they had no interest in the information I had prepared about the future of technology. They had come with questions of their own.
They started out innocuously enough. Ethereum or bitcoin? Is quantum computing a real thing? Slowly but surely, however, they edged into their real topics of concern.
Which region will be less impacted by the coming climate crisis: New Zealand or Alaska? Is Google really building Ray Kurzweil a home for his brain, and will his consciousness live through the transition, or will it die and be reborn as a whole new one? Finally, the CEO of a brokerage house explained that he had nearly completed building his own underground bunker system and asked, "How do I maintain authority over my security force after the event?"
The Event. That was their euphemism for the environmental collapse, social unrest, nuclear explosion, unstoppable virus, or Mr. Robot hack that takes everything down.
This single question occupied us for the rest of the hour. They knew armed guards would be required to protect their compounds from the angry mobs. But how would they pay the guards once money was worthless? What would stop the guards from choosing their own leader? The billionaires considered using special combination locks on the food supply that only they knew. Or making guards wear disciplinary collars of some kind in return for their survival. Or maybe building robots to serve as guards and workers — if that technology could be developed in time.
That's when it hit me: At least as far as these gentlemen were concerned, this was a talk about the future of technology. Taking their cue from Elon Musk colonizing Mars, Peter Thiel reversing the aging process, or Sam Altman and Ray Kurzweil uploading their minds into supercomputers, they were preparing for a digital future that had a whole lot less to do with making the world a better place than it did with transcending the human condition altogether and insulating themselves from a very real and present danger of climate change, rising sea levels, mass migrations, global pandemics, nativist panic, and resource depletion. For them, the future of technology is really about just one thing: escape.
There's nothing wrong with madly optimistic appraisals of how technology might benefit human society. But the current drive for a post-human utopia is something else. It's less a vision for the wholesale migration of humanity to a new a state of being than a quest to transcend all that is human: the body, interdependence, compassion, vulnerability, and complexity. As technology philosophers have been pointing out for years, now, the transhumanist vision too easily reduces all of reality to data, concluding that "humans are nothing but information-processing objects."
It's a reduction of human evolution to a video game that someone wins by finding the escape hatch and then letting a few of his BFFs come along for the ride. Will it be Musk, Bezos, Thiel…Zuckerberg? These billionaires are the presumptive winners of the digital economy — the same survival-of-the-fittest business landscape that's fueling most of this speculation to begin with.
Of course, it wasn't always this way. There was a brief moment, in the early 1990s, when the digital future felt open-ended and up for our invention. Technology was becoming a playground for the counterculture, who saw in it the opportunity to create a more inclusive, distributed, and pro-human future. But established business interests only saw new potentials for the same old extraction, and too many technologists were seduced by unicorn IPOs. Digital futures became understood more like stock futures or cotton futures — something to predict and make bets on. So nearly every speech, article, study, documentary, or white paper was seen as relevant only insofar as it pointed to a ticker symbol. The future became less a thing we create through our present-day choices or hopes for humankind than a predestined scenario we bet on with our venture capital but arrive at passively.
This freed everyone from the moral implications of their activities. Technology development became less a story of collective flourishing than personal survival. Worse, as I learned, to call attention to any of this was to unintentionally cast oneself as an enemy of the market or an anti-technology curmudgeon.
So instead of considering the practical ethics of impoverishing and exploiting the many in the name of the few, most academics, journalists, and science-fiction writers instead considered much more abstract and fanciful conundrums: Is it fair for a stock trader to use smart drugs? Should children get implants for foreign languages? Do we want autonomous vehicles to prioritize the lives of pedestrians over those of its passengers? Should the first Mars colonies be run as democracies? Does changing my DNA undermine my identity? Should robots have rights?
Asking these sorts of questions, while philosophically entertaining, is a poor substitute for wrestling with the real moral quandaries associated with unbridled technological development in the name of corporate capitalism. Digital platforms have turned an already exploitative and extractive marketplace (think Walmart) into an even more dehumanizing successor (think Amazon). Most of us became aware of these downsides in the form of automated jobs, the gig economy, and the demise of local retail.
The future became less a thing we create through our present-day choices or hopes for humankind than a predestined scenario we bet on with our venture capital but arrive at passively.
But the more devastating impacts of pedal-to-the-metal digital capitalism fall on the environment and global poor. The manufacture of some of our computers and smartphones still uses networks of slave labor. These practices are so deeply entrenched that a company called Fairphone, founded from the ground up to make and market ethical phones, learned it was impossible. (The company's founder now sadly refers to their products as "fairer" phones.)
Meanwhile, the mining of rare earth metals and disposal of our highly digital technologies destroys human habitats, replacing them with toxic waste dumps, which are then picked over by peasant children and their families, who sell usable materials back to the manufacturers.
This "out of sight, out of mind" externalization of poverty and poison doesn't go away just because we've covered our eyes with VR goggles and immersed ourselves in an alternate reality. If anything, the longer we ignore the social, economic, and environmental repercussions, the more of a problem they become. This, in turn, motivates even more withdrawal, more isolationism and apocalyptic fantasy — and more desperately concocted technologies and business plans. The cycle feeds itself.
The more committed we are to this view of the world, the more we come to see human beings as the problem and technology as the solution. The very essence of what it means to be human is treated less as a feature than bug. No matter their embedded biases, technologies are declared neutral. Any bad behaviors they induce in us are just a reflection of our own corrupted core. It's as if some innate human savagery is to blame for our troubles. Just as the inefficiency of a local taxi market can be "solved" with an app that bankrupts human drivers, the vexing inconsistencies of the human psyche can be corrected with a digital or genetic upgrade.
Ultimately, according to the technosolutionist orthodoxy, the human future climaxes by uploading our consciousness to a computer or, perhaps better, accepting that technology itself is our evolutionary successor. Like members of a gnostic cult, we long to enter the next transcendent phase of our development, shedding our bodies and leaving them behind, along with our sins and troubles.
Our movies and television shows play out these fantasies for us. Zombie shows depict a post-apocalypse where people are no better than the undead — and seem to know it. Worse, these shows invite viewers to imagine the future as a zero-sum battle between the remaining humans, where one group's survival is dependent on another one's demise. Even Westworld — based on a science-fiction novel where robots run amok — ended its second season with the ultimate reveal: Human beings are simpler and more predictable than the artificial intelligences we create. The robots learn that each of us can be reduced to just a few lines of code, and that we're incapable of making any willful choices. Heck, even the robots in that show want to escape the confines of their bodies and spend their rest of their lives in a computer simulation.
The very essence of what it means to be human is treated less as a feature than bug.
The mental gymnastics required for such a profound role reversal between humans and machines all depend on the underlying assumption that humans suck. Let's either change them or get away from them, forever.
Thus, we get tech billionaires launching electric cars into space — as if this symbolizes something more than one billionaire's capacity for corporate promotion. And if a few people do reach escape velocity and somehow survive in a bubble on Mars — despite our inability to maintain such a bubble even here on Earth in either of two multibillion-dollar Biosphere trials — the result will be less a continuation of the human diaspora than a lifeboat for the elite.
When the hedge funders asked me the best way to maintain authority over their security forces after "the event," I suggested that their best bet would be to treat those people really well, right now. They should be engaging with their security staffs as if they were members of their own family. And the more they can expand this ethos of inclusivity to the rest of their business practices, supply chain management, sustainability efforts, and wealth distribution, the less chance there will be of an "event" in the first place. All this technological wizardry could be applied toward less romantic but entirely more collective interests right now.
They were amused by my optimism, but they didn't really buy it. They were not interested in how to avoid a calamity; they're convinced we are too far gone. For all their wealth and power, they don't believe they can affect the future. They are simply accepting the darkest of all scenarios and then bringing whatever money and technology they can employ to insulate themselves — especially if they can't get a seat on the rocket to Mars.
Luckily, those of us without the funding to consider disowning our own humanity have much better options available to us. We don't have to use technology in such antisocial, atomizing ways. We can become the individual consumers and profiles that our devices and platforms want us to be, or we can remember that the truly evolved human doesn't go it alone.
Being human is not about individual survival or escape. It's a team sport. Whatever future humans have, it will be together.
---
About the Author
Douglas Rushkoff is the author of the upcoming book Team Human (W.W. Norton, January 2019) and host of the TeamHuman.fm podcast.
–
https://www.real.video/5838929768001    Signed Executive Orders reveal Trump is planning mass arrests, military tribunals for deep state traitors
https://www.federalregister.gov/documents/2017/12/26/2017-27925/blocking-the-property-of-persons-involved-in-serious-human-rights-abuse-or-corruption
Blocking the Property of Persons Involved in Serious Human Rights Abuse or Corruption
https://www.federalregister.gov/documents/2012/07/11/2012-17022/assignment-of-national-security-and-emergency-preparedness-communications-functions
https://operationdisclosure.blogspot.com/2018/09/video-x22-report-episode-1674.html
https://www.dailymail.co.uk/sciencetech/article-2044260/Better-connected-Huge-cosmic-filament-link-galaxy-rest-Universe.html
https://www.fema.gov/emergency-alert-test
The IPAWS National Test
https://operationdisclosure.blogspot.com/2018/09/video-william-mount-cia-director-puts.html
http://www.discerningthemystery.com/2018/09/did-hundreds-of-ufos-just-portal-into.html
Valerian: A Multidimensional Film Analysis
https://deusnexus.wordpress.com/2017/07/26/valerian-film-analysis/
–
Enslaving Consciousness in HBO's Westworld
https://deusnexus.wordpress.com/2017/12/14/enslaving-consciousness-westworld/
–
https://deusnexus.wordpress.com/2018/08/26/full-disclosure-humanity/
Why Full Disclosure is in the Best Interest of Humanity
—-
https://deusnexus.wordpress.com/2018/09/21/lost-in-space/
"Lost In Space" Redeems The American Television Family
—-
https://deusnexus.wordpress.com/2018/09/26/chinas-social-credit-score/
Here's How China's 'Social Credit Score' Punish And Reward Citizens, And It's Terrifying
https://www.ksl.com/article/46396377/have-you-seen-this-entire-beach-covered-in-spiderwebs
https://www.ksl.com/article/46397221/anita-hill-says-integrity-of-us-supreme-court-at-stake-as-senate-considers-kavanaugh
The integrity of the Democratic Party is at stake. If any of the accusations are true, they waited until the 11th hour to bring anything to light. If any of the accusations are false, then the Democrats used them as political weapons and are degrading to women. Either way, America and her women lose.
–
https://operationdisclosure.blogspot.com/2018/09/the-portal-cobras-situation-update.html
—
https://www.ksl.com/article/46397057/apnewsbreak-80000-people-died-of-flu-last-winter-in-us
Making a bad year worse, the flu vaccine didn't work very well. Experts nevertheless say vaccination is still worth it because it makes illnesses less severe and save lives.
https://www.ksl.com/article/46397230/orem-family-doing-whatever-necessary-to-stay-in-business
https://www.ksl.com/article/46397195/program-challenges-people-to-ditch-their-cars-for-30-days
https://www.ksl.com/article/46396722/does-microwaving-food-cause-nutrient-loss
http://www.rumormillnews.com/cgi-bin/forum.cgi?read=108150
Christine Blasey Ford – Kavanaugh's Accuser Proudly Posing with Soros 'Photo' & Ford's High School Yearbook Scrubbed from Internet (Video)
Posted By: Mr.Ed [Send E-Mail]
Date: Wednesday, 26-Sep-2018 02:03:39
Christine Blasey Ford – Kavanaugh's Accuser Proudly Posing with Soros 'Photo' & Ford's High School Yearbook Scrubbed from Internet – Damning Pics Surface (Video)

"A LIE IS A LIE…EVEN IF EVERYONE BELIEVES IT".

TODAY NEWS
Published on Sep 20, 2018

On Monday, Christine Blasey Ford's high school yearbooks were mysteriously scrubbed from the internet. As it turns out, those yearbooks allegedly contain some alarming evidence against the woman who has accused Supreme Court nominee Judge Brett Kavanaugh of trying to rape her three and a half decades ago.

Palo Alto University professor Christine Blasey Ford claims that Judge Brett Kavanaugh "physically and sexually assaulted" her during a party in the early 80's when she was 15 and Kavanaugh was 17, although two other people Ford claims were present when the alleged assault took place have denied that it ever happened.

According to Infowars, cached images reportedly from Ford's yearbooks, which cover her sophomore, junior, and senior years, the exact time frame when she claims the assault happened, portray a debauched environment of constant binge drinking and partying.

"Lastly one cannot fail to mention the climax of the junior social scene, the party," reads one passage believed to be from her yearbook. "Striving to extend our educational experience beyond the confines of the classroom, we played such intellectually stimulating games as Quarters, Mexican Dice and everyone's favorite, Pass-Out, which usually resulted from the aforementioned two."

Another passage emphasizes how "loss of consciousness" at such parties meant that attendees only retained hazy memories of them. "And there were always parties to celebrate any occasion," it reads. "Although these parties are no doubt unforgettable, they are only a memory lapse for most, since loss of consciousness is often an integral part of the party scene."

One page from "Chrissy" Blasey's senior yearbook also describes how the girls would act like sexual predators towards younger boys. "Other seniors preferred to expand their horizons and date younger men, usually sophomores, who could bring the vitality and freshness of innocence to a relationship," the yearbook reads.

Another passage discusses a girl named Martha repeatedly throwing parties, one of which was attended by a male erotic dancer in gold g-string. "Cast parties, prom parties, post-game parties, pool parties, slumber parties, senior only parties, junior only parties – wherever you looked there were parties," reads a passage from the yearbook dated 1982.

The Cult of the First Amendment blog claimed to have saved copies of the yearbooks before they were scrubbed from the internet:

On Monday Sept. 17th, Christine Blasey Ford's high school yearbooks suddenly disappeared from the web. I read them days before, knew they would be scrubbed, and saved them. Why did I know they would be scrubbed? Because if roles were reversed, and Christine Blasey Ford had been nominated for the Supreme Court by President Trump, the headline by the resistance would be this:

CHRISTINE BLASEY FORD AND THE DRUNKEN WHITE PRIVILEGED RACIST PLAYGIRLS OF HOLTON-ARMS.

And it would be an accurate headline. That's why the yearbooks have been scrubbed. They are a testament to the incredible power these girls had over their teachers, parents and the boys of Georgetown Prep, Landon and other schools in the area. In the pages below, you will see multiple photos and references to binge drinking and the accompanying joy of not being able to remember any of it.

These yearbooks are, therefore, relevant to the national investigation now being conducted in the media, in homes, and in the halls of Congress. And they should not have been scrubbed. If Brett Kavanaugh's yearbooks are fair game, so are these.

These yearbooks allow us to glean a clearer picture of the girl Christine Blasey Ford was in high school, and after looking them over, it's easy to see why she can't recall key details of the night Brett Kavanaugh allegedly tried to rape her — it appears there is much about Ford's high school years she cannot recall because of binge drinking.

This is the character of the woman we are dealing with. Meanwhile, the man she has accused of rape some 35-years-ago has a much different reputation. He has been lauded by friends, colleagues, and ex-girlfriends as a perfect gentleman.

Republicans have demanded that Blasey Ford testifies before Monday or the confirmation of Brett Kavanaugh will move forward, but the judge's accuser has refused. Now, with the credibility of her story rapidly falling apart, it is looking less and less likely that she will do so.

Video:

+
https://www.breitbart.com/big-government/2018/09/25/report-kavanaugh-accuser-ramirez-refuses-to-cooperate-with-senate-committee/
Report: Kavanaugh Accuser Ramirez Refuses to Cooperate with Senate Committee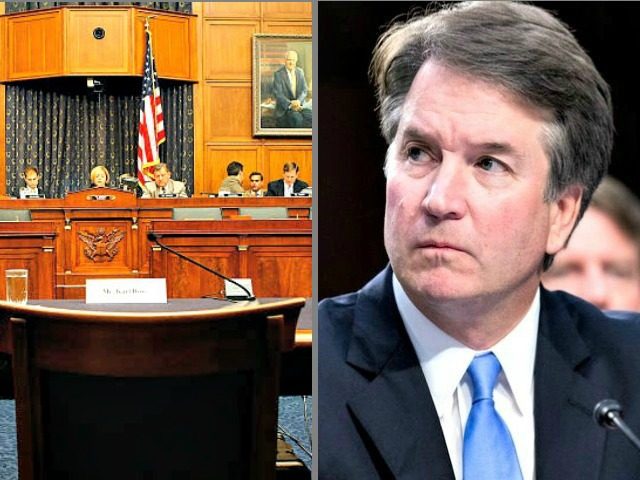 Another shoe drops every day
I was taken off guard by Accuser Christine Ford's preference for Senators to directly question her. I thought she thought they were 'biased'. Her new position, I hate Senate Majority Leader, though he is not on the Committee. Don't have a Cow, Christinee
http://www.foxnews.com/politics/2018/09/25/kavanaugh-hearing-once-again-in-doubt-as-christine-ford-raises-new-concerns.html
–
https://observernew.blogspot.com/2018/09/the-enemy-within.html#more
Tuesday, September 25, 2018
–
https://observernew.blogspot.com/2018/09/advisor-to-kavanaughs-accuser-was.html#.W60FyntKiUk
Monday, September 24, 2018
https://observernew.blogspot.com/2018/08/us-senator-now-steps-out-of-most-deadly.html#.W60GVXtKiUk
—
https://libertytreefriends.blogspot.com/2018/04/criminal-in-chief.html#.W60GdXtKiUk
Sunday, April 8, 2018
—
https://libertytreefriends.blogspot.com/2018/08/doj-sends-boeing-757-to-little-rock.html#.W60GentKiUk
DOJ Sends Boeing 757 To Little Rock, Federal Agents Load Boxes Of Documents
 A local radio station in Little Rock, Arkansas, reported a Boeing 757-223 with tail number N119NA had been spotted with Department of Justice employees loading boxes of documents onto the plane on Wednesday.
—
https://libertytreefriends.blogspot.com/2018/09/metoo-has-been-weaponized.html#.W60Gi3tKiUk
Wednesday, September 26, 2018
—
https://www.ksl.com/article/46397266/voice-shaking-ford-accuses-kavanaugh-of-assaulting-her
Voice shaking, Ford accuses Kavanaugh of assaulting her
–
https://deusnexus.wordpress.com/2017/12/21/last-jedi-weakness/
The Last Jedi: A Meditation on Human Weakness
–
https://deusnexus.wordpress.com/2015/11/09/new-star-wars-posters/
The New 'Star Wars' Posters Are All About The One-Eye Sign
—
https://deusnexus.wordpress.com/2018/09/17/focus-sessions-observatory/
Focus Sessions: Sunspot, NM Observatory Closing
—
https://deusnexus.wordpress.com/2018/08/03/trapped-negative-emotions/
The Detrimental Effects of Trapped Emotions
Trapped negative emotions are the root cause of, or a significant contributing factor in, almost everything that goes wrong with your physical body.  Including dysfunction, disease, and pain.  They also contribute to creating dysfunction in your relationships, career, and in many other areas of your life.
And trapped negative emotions often contribute to maintaining the undesirable circumstances that spawned them in the first place.  And worse yet, they can even attract (via the Law of Attraction) similar adversity in the future.  Trapped emotions are a potent force that is ever present and silently blocking you from manifesting health, happiness, and success.
And last but not least, if we don't clear our trapped negative emotions we will not be able to continue to participate in the ongoing ascension that is taking place here on Earth.  If you are unaware of this, there is something profound underway on our planet.  The long heralded great spiritual transformation of Humanity is underway.  The energetic frequency of everything on Earth is rising, including the frequency of our bodies and consciousness.  More and more people all over the planet are awakening and remembering their higher selves and the greater reality.  More and more people's level of consciousness is shifting upwards as well.  This shift in consciousness will ultimately (over the next 20 to 80 years or so) completely transform ourselves and our world.
One of the things that can hold us back from this process is our trapped negative emotions.  They are literally like an anchor that will hold us down, not allowing us to ascend with everyone else if we don't clear them from our bodies.  As the frequency of everything rises the detrimental effects of having trapped emotions will be amplified and those holding them will experience increasing health issues and adversity.  So more than ever, it is extremely important to clear one's emotional baggage.
With all the detrimental effects that Trapped Emotions cause I think you can appreciate why releasing them could be very helpful.  Before we get into that let's explore what Trapped Emotions really are and how they form in a bit more detail.
https://deusnexus.wordpress.com/2018/08/31/parasitic-emotional-manipulators/
Lisa Renee: "Parasitic Emotional Manipulators"
—-
Moby – Why Does My Heart Feel So Bad?
Kiasmos – Looped
—
https://www.thecut.com/2018/09/kavanaugh-hearing-most-important-moments.html
https://www.ksl.com/article/46397641/they-were-laughing-ford-says-her-attacker-was-kavanaugh
15 year old who drinks and parties?! I question her memory and credibility! She continued to attend the parties after it happened.
It's just strange to me that after 30 years she remembered something happened but not who did it. Then another 5 years goes by and she (Ford) being a anti Trump anti anything he is for suddenly remembers his ( Brett's name) as he is chosen by Trump for the Supreme Court. ? A little odd from the beginning let alone not remembering what Month or where the party was and who was there?At that what kind of High School part only had 4 people show up ? That is not a party that's a get together with a few friends. She has a fear of flying to testify but goes on all kinds of trips where it's OK that she flew?
https://www.ksl.com/article/46397266/angry-kavanaugh-denies-ford-accusation-sees-disgrace
Angry Kavanaugh denies Ford accusation, sees 'disgrace'
–
—
http://nymag.com/daily/intelligencer/2018/09/christine-blasey-ford-is-a-class-traitor.html#comments
Christine Blasey Ford Is a Class Traitor
Christine Blasey Ford testifying. Photo: Saul Loeb/AFP/Getty Images
We've seen a lot of Brett Kavanaugh's blinking face in the last few weeks, but today is the first day we actually saw and heard Christine Blasey Ford, who has dared challenge the carpool dad and Supreme Court nominee. In the two blurry photos that circulated online before today, her eyes had been guarded behind sunglasses; what she sounds like, we finally are learning during this afternoon's televised Senate hearing. I don't know if it's intentional, but our clearest image of her face had previously been of Blasey as the girl she was when, as she just testified, she was locked in that room with Kavanaugh and his friend Mark Judge: baby-faced, Farrah haircut, mouth slightly ajar.
What came across, listening to Ford testify, was her initial faith that the Republicans choosing Kennedy's successor would want to hear from her, that she tried to figure out how to get the information to them before it was too late. Even after her own world failed to keep her safe, she expected to be heard. Maybe that's because she comes from Kavanaugh's world. And that's why today is the day Republicans never wanted to come. (Only hours ago, they emptied out the trash can of their anonymous tips in the hope of muddying up the essential clarity of Christine Blasey Ford's voice.)
It strikes me that Republicans are scared of Ford because she is essentially a class traitor. Two of the accusers whose names we know, Deborah Ramirez and Julie Swetnick, were immediately marked as outsiders by the circle of old school friends and Republican operatives that closed around Brett Kavanaugh from the start. Deborah was, the Times reported, "the daughter of a telephone company lineman and a medical technician" — nearly a townie, half Puerto Rican, doing her time scrubbing dorm toilets and serving her classmates food while Kavanaugh was, according to his roommate, coating his dorm bathroom in vomit. Julie Swetnick was worse, by the lights of Kavanaugh's Georgetown Prep defenders: "Never heard of her. I don't remember anyone from Prep hanging out with public school girls, especially from Gaithersburg." Talk about incriminating yourself.
It's a lie, of course, but a telling one. I've been corresponding this week with a woman who went to nearby Walter Johnson High School and socialized with Kavanaugh at the time. She says that in the summer of 1983, when she went to Beach Week parties with the boys of Georgetown Prep, she rarely saw private school girls. "I think they kept us separated," she said. "Like sheep."
Christine Blasey Ford cannot be dismissed as a pretender to privilege, which I suspect is what scares Republicans so much. But for her decision to come out about Brett Kavanaugh and to remake herself as a California surfing mom, she is the archetypal Republican voter: A wealthy, white suburban woman, married, with children. Her parents are Republicans. Her father plays golf with Brett Kavanaugh's dad at Burning Tree. Her parents have been noticeably silent — stonily so, with no letter of support, only the most begrudging words. It chilled me to read what her father, Ralph Blasey, wrung from himself to offer the Washington Post, in the conditional tense: "I think all of the Blasey family would support her. I think her record stands for itself. Her schooling, her jobs, and so on." Then he hung up. A second call yielded this hypothetical: "I think any father would have love for his daughter."
Women like Ford are the ones who have mostly raced to protect Brett Kavanaugh — not to mention Donald Trump — because admitting that there was something rotten in their culture would implicate them, too. What makes Ford different, it seems, is that she is ready to tell the truth that even the white woman on the pedestal is ultimately doomed to subordination, and if she gets in the way of the plan or breaks the code — well, she's on her own.
—
https://www.breitbart.com/big-government/2018/09/27/rachel-mitchell-demolishes-christine-blasey-fords-claim-she-fears-flying/
Rachel Mitchell Demolishes Christine Blasey Ford's Claim She Fears Flying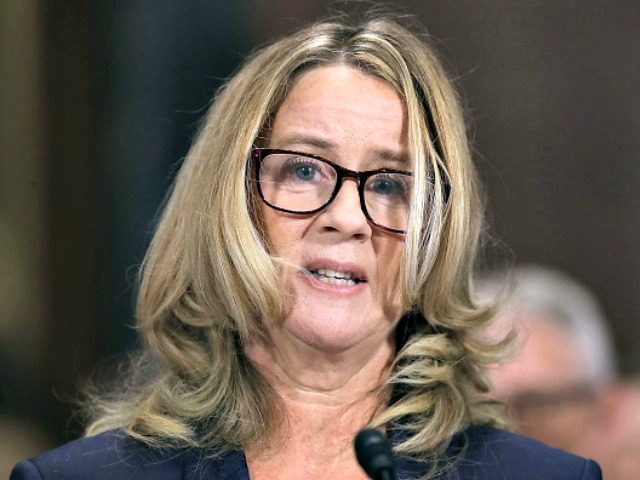 —
—
EDEN – drugs
—
—