—
https://in5d.com/starseed-mission-disclosed-in-the-show-the-4400/
BOOM! Trump's DOJ Criminally Charges 76 Doctors, 23 Pharmacists, 19 Nurses Raking in Billions in Medical Fraud to Push Toxic Drugs
Posted: 29 Jun 2018 09:23 PM PDT
Posted on June 29, 2018 by cindyloucbp


Thanks you Starship Earth for this excellent report, don't go to the doctor unless you absolutely have to, and…
InJoy!
________________________________________________________________________________
La, la, la, la, la… music to my ears. Is it any wonder Donald Trump is arch-enemy No. 1? 
Forget the money; look at the people they've hurt—and killed; the families they've bankrupted; telling people they have cancer when they don't. Lock 'em up and throw away they key.  ~ BP
---
BOOM! Trump's DOJ criminally charges 76 doctors, 23 pharmacists, 19 nurses raking in billions in medical fraud to push toxic drugs
June 29, 2018
(Natural News) President Trump is draining the "medical swamp." The U.S. health care system is plagued by rampant fraud, abuse and profiteering carried out by dishonest doctors and pharmacists. In working to combat the rampant fraud, the DOJ has announced an unprecedented crackdown on medical fraud, charging over 600 people with criminal activities that involved over $2 billion medical fraud.
U.S. Attorney General Jeff Sessions delivered prepared remarks, saying, "This year we are charging 601 people, including 76 doctors, 23 pharmacists, 19 nurses, and other medical personnel with more than $2 billion in medical fraud. In this latest operation, with the help of our fabulous partners at HHS, we have charged another 162 people—including 32 doctors—with the illegal distribution of opioids. This is the most doctors, the most medical personnel, and the most fraud that the Department of Justice has ever taken on in any single law enforcement action.  This is the most defendants we've ever charged with health care fraud.  It's also the most opioid-related fraud defendants we've ever charged in a single enforcement action."
One doctor, explained Sessions, defrauded Medicare of over $112 million, "distributing 2.2 million unnecessary doses of drugs like oxycodone and fentanyl." (See Opioids.news for more coverage of opioid drugs. Another site launching soon is BadDoctors.news.)
Yet more proof that the failed pharma-central health care system is a massive criminal drug racket
This massive sweep of criminal charges shows that, in many ways, the U.S. health care system is a massive criminal drug racket run by criminal doctors and drug companieswho all profit from the mass poisoning of the American people. The fact that 76 doctors and 23 pharmacists are named in these indictments is further proof that many so-called "health care" professionals are nothing but glorified drug dealers.
"We are sending a clear message to criminals across the country," added Sessions. "[W]e will find you. We will bring you to justice.  And you will pay a very high price for what you have done."
#MAGA has arrived on the health care scene, and the DOJ is mean as a wolverine when it comes to healthcare fraud.
Now, if we could only get Sessions to issue 600+ indictments for the Clinton Foundation racketeering fraud and other deep state swamp creatures, then we'd really be making progress in this country.
It's also time for Sessions to join the 21st century and de-list cannabis from being a Schedule I drug.
Source
Thanks to: https://roserambles.org
Strange and mysterious sky phenomena
Posted: 29 Jun 2018 09:41 PM PDT
Strange and mysterious sky phenomena: Rare twinned rainbow, Strange RED midnight rainbow and noctilucent 'tornado' clouds with auroras
By
Strange Sounds
–
Jun 29, 2018
Strange and mysterious sky phenomena illuminated the sky around the world. Here a compilation of the most impressive. Here you go:
MYSTERIOUS TWINNED DOUBLE RAINBOW
Scientists have been studying rainbows for hundreds of years, since the 17th century when Isaac Newton first explained the colorful arcs. Yet after all these years, there is one rainbow scientists do not fully understand: the "twinned bow." Jan Curtis photographed this specimen on June 21st from Cheyenne, Wyoming:

Rare Twinning Rainbow. Taken by Jan Curtis on June 21, 2018 @ Cheyenne, Wyoming
This rare 'twinned rainbow' followed on the tails of a extremely severe thunderstorm.
Several twinned bows have been imaged, mostly during heavy showers, but currently there is no agreed explanation for them. They might form from a mixture of water drops and ice spheres.

Rare Twinning Rainbow. Taken by Jan Curtis on June 21, 2018 @ Cheyenne, Wyoming
Another explanation is that non-spherical raindrops produce one or both bows. Surface tension forces keep small raindrops fiercely spherical but as they fall large drops are flattened by air resistance or might even oscillate between flattened and elongated spheroids.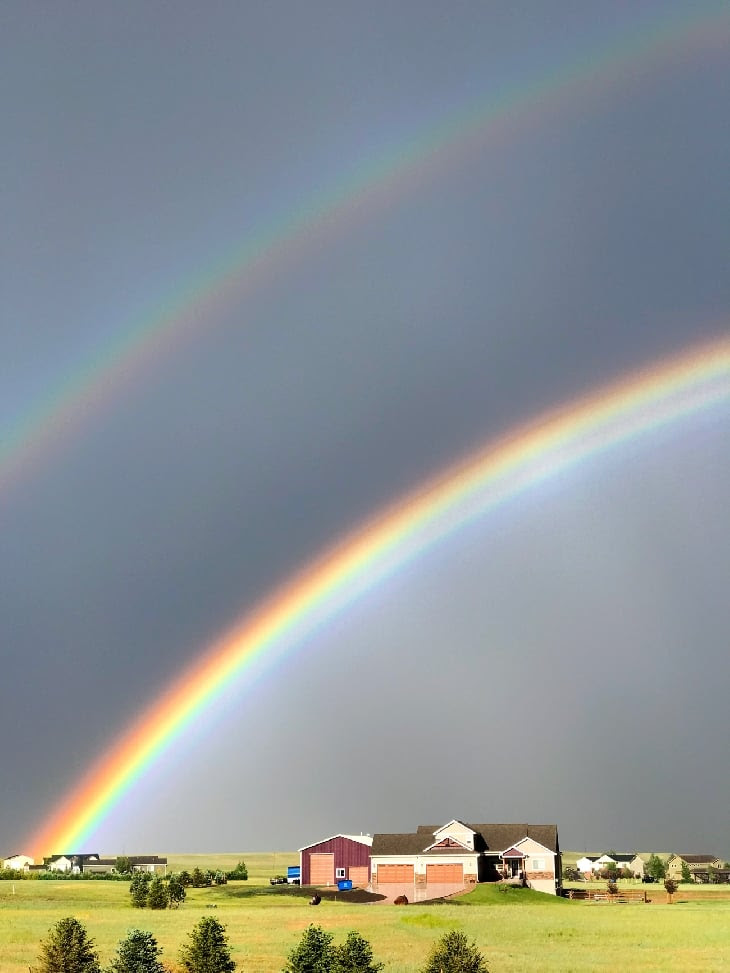 Rare Twinning Rainbow. Taken by Jan Curtis on June 21, 2018 @ Cheyenne, Wyoming
Another striking aspect of Curtis's image is the overall double structure of the rainbow – one rainbow on the inside, another on the outside. Such double rainbows are often seen and well understood. The splitting of the inner bow into twins added a dash of mystery to this otherwise common occurance.
AMAZING GLOWING TORNADO OVER NORTHERN IRELAND
In recent nights, noctilucent clouds (NLCs) have rippled across Europe from Scandinavia to the south of France. "We have been observing NLCs every night here in N. Ireland," reports Martin McKenna of Maghera in Co. Derry. "Their brightness and complexity have been getting more advanced since the solstice, with whirls and knots glowing electric blue above a yellow midnight sunset horizon." He observed this 'noctilucent tornado' on June 25th: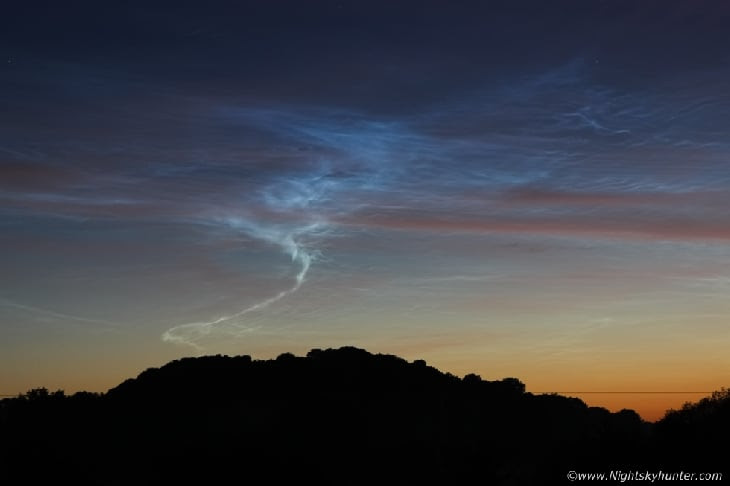 Taken by Martin McKenna on June 25, 2018 @ Maghera, Co. Derry, N. Ireland via Nightskyhunter.com
This area then morphed into an succession of dynamic shapes–a wedge, a funnel, angel wings, an electrified smoke ring, then a long rope tornado which reached towards the horizon.
What creates these forms? The answer is "gravity waves."
Gravity waves are, essentially, waves of pressure and temperature spawned by powerful storm systems. Gravity does not vary inside the waves; they get their name from the fact that gravity acts as a restoring force that tries to restore equilibrium to up-and-down moving air. Gravity waves can propagate all the way from Earth's surface up to the mesosphere, where they imprint themselves on the the forms of noctilucent clouds. When a sufficient number of gravity waves meet, they can interfere to produce all of the structures McKenna saw–plus many more.
MIDNIGHT RAINBOW
A rainbow at midnight? Believe it. On June 25th, red rays from the midnight sun in Nome, Alaska, lanced into a bank of rain clouds, producing this strange red arc:

Rare RED midnight rainbow Rainbow. Taken by John Dean on June 26, 2018 @ Nome, AK
The rainbow developed, then disappeared and reappeared, slowly growing into a full arc around 1:30am there in Alaska.
At the time, the sun was hugging the horizon, barely half a degree high. This explains why the rainbow was red. Normal rainbows are red, yellow, green and blue. In this case, however, red was the only color available. All of the other colors had been scattered away by air molecules and dust particles in front of the low-hanging sun.
Red rainbows are more common than you might think. They appear with frequency at sunrise or sunset, all around the world.
NOCTILUCENT CLOUDS VS. AURORAS
The cockpit of an airplane can be a good place to see space weather in action. On June 20th a rare coincidence of two space weather apparitions was witnessed by pilot Ulrich C. Beinert on his way from Los Angeles to Munich, passing over Canada, when a rippling band of noctilucent clouds (NLCs) appeared. Soon they were joined by Northern Lights:

Noctilucent clouds with auroras over Canada. Taken by Ulrich C. Beinert on June 20, 2018 @ Northeastern Canada
Beinert's photo captures an unusual meeting of green auroras and electric-blue NLCs. The auroras were caused by solar wind gently buffeting Earth's magnetic field, sparking a verdant glow 100 to 200 km above Earth's surface. Noctilucent clouds are completely different. They are formed when summertime wisps of water vapor rise to the top of the atmosphere and crystallize around specks of meteor smoke. NLCs float about 80 km high, just below the aurora zone.

Noctilucent clouds with auroras over Canada. Taken by Ulrich C. Beinert on June 20, 2018 @ Northeastern Canada
NLCs are our planet's highest clouds. They form when summertime wisps of water vapor rise to the top of Earth's atmosphere and crystalize around specks of meteor smoke. Rippling mesospheric winds gather the resulting ice crystals into swarms floating ~80 km above the ground.
When noctilucent clouds first appeared in the 19th century, you had to travel to the Arctic to see them. In recent years, however, NLCs have intensified and spread with summer sightings as far south as Utah and Colorado. Observing tips: Look west 30 to 60 minutes after sunset when the sun has dipped well below the horizon. If you see luminous blue-white tendrils spreading across the sky, you may have spotted a noctilucent cloud.
Indeed, some really strange and surprising sky phenomena.
Thanks to: http://strangesounds.org
'I'm sorry, Dave': Talking AI companion robot CIMON heads to ISS
Posted: 29 Jun 2018 09:44 PM PDT
'I'm sorry, Dave': Talking AI companion robot CIMON heads to ISS
By
zIKY
–
June 29, 2018
© Airbus
An experimental robotic 'head' called CIMON (Crew Interactive MObile CompanioN) has been sent to the International Space Station (ISS). The machine is designed to assist the crew and create a "feeling of talking to a crew mate."
The ball-like bot, designed by Airbus, embarked on its journey on Friday on board a Space X Falcon 9 rocket, carrying supplies to the ISS. The robot's 'brain' was developed by the chip maker IBM. The Falcon 9 is scheduled to reach the station on Monday.
"CIMON is a free flyer fueled with Artificial Intelligence, enhancing human expertise," CIMON's description from the Airbus reads. "AI-based technology is about constantly understanding, reasoning and learning, so CIMON is designed to assist and to create a feeling of talking to a crew mate."
Despite its positive image, CIMON sounds eerily similar to the sinister HAL 9000 bot from Stanley Kubrick's classic – 2001: A Space Odyssey. It can also communicate verbally with the crew members, but unlike the anti-hero robot penned by Arthur C. Clarke, CIMON features a cartoonish "screen face," which would help astronauts to "make friends" with the machine, according to developers.
"What we're trying to do with CIMON is to increase the efficiency of the astronaut," an engineer IBM Matthias Biniok told Reuters. "Right now our main mission is to support the astronauts with their daily tasks to save time, because time is the most valuable and most expensive thing on the ISS."
The bot will get involved in several experiments, namely helping to grow crystals and trying to solve a Rubik's Cube puzzle together with German astronaut Alexander Gerst.
Today's #SpaceX payload includes Cimon the robot. Apparently, he'll float at the astronaut's side & help. However, he won't be annoying or turn rogue or turn into a HAL! No! Robot astronaut Cimon joins space station http://time.com/5326103/spacex-robot-artificial-intelligence-space/ … #robotics #artificialintelligence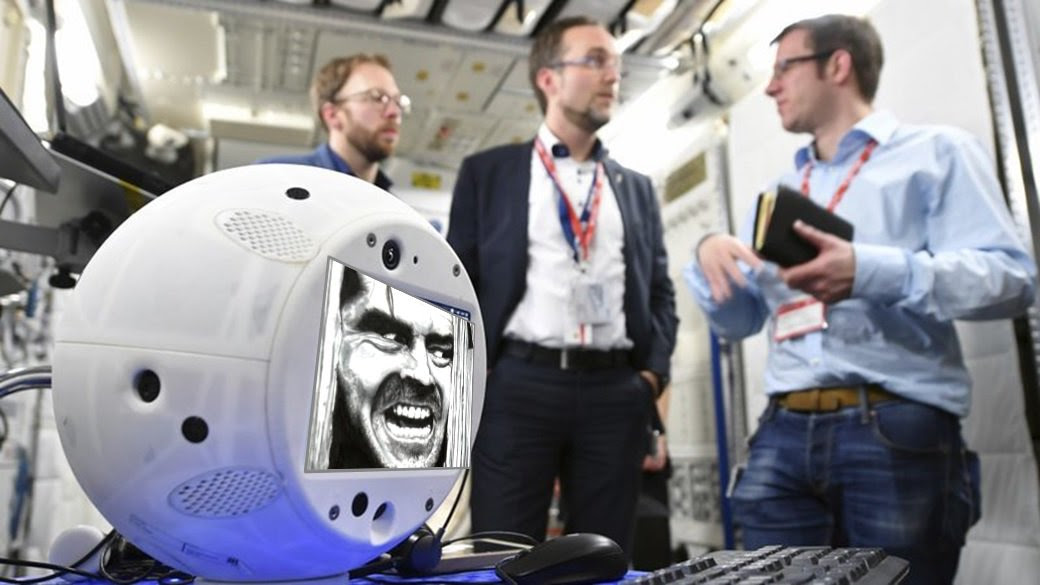 11:58 PM – 28 Jun 2018
CIMON will also take on the role of an "intelligent" flying camera during several other experiments. One can only hope these activities will end better than the Odyssey with HAL 9000 – it's a long way to the ISS to help open the pod bay doors.
Source: https://www.rt.com
Wake The Sheeple!
Thanks to zIKY at: http://awakeandaware.ca
The Hyperloop: The Future of Travel
Posted: 30 Jun 2018 07:49 AM PDT
The Hyperloop: The Future of Travel
This is a little Brave New World-ish but it's better than Hope Porn. This is about solutions to an increasing need for affordable, faster mass transit and safer automobiles and it's a glorious nerdfest.
This documentary, produced by the German broadcaster, DW charts the work of international teams at a SpaceX competition in Los Angeles to engineer the ultimate design for Elon Musk's idea of the Hyperloop, a vacuum-tube "train" that would travel 1,200 kilometers per hour, reducing the journey from LA to San Francisco to just 36 minutes. It's not every day that those of us not in Germany get to see German TV, so the show is interesting on this level, aside from the interesting topics covered.
We discover that the basic concept for the Hyperloop was originally proposed in the 19th century for the New York subway but that a conventional train model was approved, instead. The piece also covers the early 1960s sabotage of public transport in Los Angeles by the big automakers, oil barons and tire companies. We see early tests of the Transrapide magnetic levitation monorail in the 1980s, which almost gained traction until there was a hideous accident.
In addition, the show explores the latest developments in self-driving cars, such as "platooning" and I guess what one might call the upside of AI/Internet of Things-type developments, to network cars with everything in their environments to make them safer.
We've been hearing that your data is the new money and in one proposed business model called the "Naked Passenger", riders would pay with their data, instead of with money and this wouldn't be even applied to the trip but would pay for the media that the rider would be subjected to. It would require that one fork over all of one's details, including biometric.
Behold, the Internet of Things, where this kind of digitization is inevitable for all forms of transport and virtually everything else.
Thanks to: https://forbiddenknowledgetv.net
SpaceX Launches Used Dragon Cargo Ship to Space Station, Flexing Reusability Muscles
Posted: 29 Jun 2018 10:13 AM PDT
SpaceX Launches Used Dragon Cargo Ship to Space Station, Flexing Reusability Muscles
By Mike Wall, Space.com Senior Writer |  June 29, 2018 11:15am ET
SpaceX sent a cargo spacecraft skyward early Friday (June 29) during a dazzling predawn liftoff that showcased the company's considerable reusability chops.
A two-stage SpaceX Falcon 9 rocket lit up the early-morning Florida sky as it launched the company's robotic Dragon capsule toward the International Space Station (ISS) on a delivery mission for NASA at 5:42 a.m. EDT (0942 GMT) from Cape Canaveral Air Force Station. The Dragon will arrive at the space station early Monday (July 2).
"We had a beautiful morning," Kirk Shireman, NASA's space station program manager, said in a post-launch briefing. "I was going to say breathtaking, but maybe 'awakening' might be a better word." [In Photos: SpaceX's Dazzling Dragon Launch to Space Station]
"I like to refer to it as the space jellyfish that's coming down after us," added Jessica Jensen, SpaceX's director of Dragon mission management. "These are the best."
The liftoff was the second for both the Dragon and the Falcon 9's first stage; the capsule previously visited the ISS in July 2016, and the booster helped launch NASA's Transiting Exoplanet Survey Satellite this past April. The 10-week turnaround was the shortest ever for a landed and relaunched SpaceX first stage, company representatives said.
SpaceX did not attempt today to land the booster for a second time. The booster is a "Block 4" Falcon 9 variant, which SpaceX is phasing out in favor of the recently debuted "Block 5." So, the company surrendered the first stage to the ocean. In fact, today marked the last-ever flight of a Block 4 Falcon 9, SpaceX representatives said.
A SpaceX Falcon 9 rocket lights up the night sky over Florida as it launches a Dragon cargo ship toward the International Space Station from Cape Canaveral Air Force Station before dawn on June 29, 2018.
Credit: Kim Shiflett/NASA
To date, SpaceX has pulled off 25 first-stage touchdowns and reflown 14 such landed boosters. These activities are in service of the company's ambitious long-term vision.
"From the get-go, SpaceX has set out to make spaceflight more like commercial air travel — we want to make it safe [and] affordable and [to do it] utilizing vehicles that can be reflown repeatedly," Jensen said in a prelaunch news conference yesterday (June 28).
"This the key to the future of a civilization where we have thousands to millions of people exploring the stars and living out on other planets," she added.
SpaceX also pulled off a reuse double play in December 2017, sending a used Dragon toward the ISS atop a Falcon 9 with a flight-proven first stage.
Lots of science on board
SpaceX's predawn launch of a used Falcon 9 rocket and Dragon on June 29, 2018 created dazzling views from the ground like this one, captured during stage separation.
Credit: NASA TV
If all goes according to plan, the Dragon will arrive at the orbiting lab early Monday morning. ISS crewmembers will then begin off-loading the 5,900 lbs. (2,700 kilograms) of supplies packed aboard the capsule.
More than half of that stuff — 3,874 lbs. (1,757 kg), to be exact — is scientific gear, NASA officials said during yesterday's press conference.
One prominent piece of that research equipment is NASA's Ecosystem Spaceborne Thermal Radiometer Experiment on Space Station (ECOSTRESS) instrument, which will measure the temperature of vegetation around Earth with a precision of just a few tenths of a degree. ECOSTRESS' observations will help scientists understand how plants respond to heat stress and lack of water, NASA officials said. The sharp-eyed instrument will also help keep tabs on urban heat waves, volcanic activity and wildfires.
"We'll be able to see a bonfire on a beach," ECOSTRESS principal investigator Simon Hook, of NASA's Jet Propulsion Laboratory in Pasadena, California, said in a statement.
Also aboard Dragon is an experiment designed to determine if microgravity-cultured cells can serve as a model system to assess the effectiveness of certain cancer-treatment drugs. Another investigation aims to engineer algae for growth in microgravity. [How SpaceX's Dragon Space Capsule Works (Infographic)]
"The cultivation of algae offers potential as a system for recycling carbon dioxide, which is one of the things we need in our life-support systems," David Brady, NASA's assistant program scientist for ISS, said during yesterday's news conference. "And it also potentially could provide food for crewmembers on long space voyages."
Then there's the Crew Interactive Mobile Companion (CIMON), a joint effort of the German space agency (known by its German acronym, DLR) and Netherlands-based aerospace company Airbus. The nearly spherical, 11-lb. (5 kg) CIMON is an astronaut assistant endowed with artificial intelligence (IBM's Watson system) that can see, hear and talk. Its main mission aboard the ISS involves demonstrating "cooperation between humans and intelligent machines in the form of a technology experiment," DLR officials wrote in a description of the project.
A one-month stay
Dragon will stay attached to the ISS for a month, eventually returning to Earth for an ocean splashdown (and subsequent recovery by ship) on Aug. 2. Dragon — the only currently operational ISS cargo craft designed to survive the fiery voyage through Earth's atmosphere — will haul 2,860 lbs. (1,297 kg) of science gear during its return trip, Brady said. [See the Evolution of SpaceX's Rockets in Pictures]
Today's launch kicked off SpaceX's 15th ISS resupply mission, known as CRS-15, under its multibillion-dollar deal with NASA. ("CRS" stands for "commercial resupply services.")
Northrop Grumman Innovation Systems holds a similar deal with NASA; the company makes its cargo runs using robotic Cygnus spacecraft and United Launch Alliance Atlas V rockets. (NASA signed that resupply contract with the Virginia-based company Orbital ATK, which Northrop Grumman recently acquired.)
SpaceX's Dragon cargo ship separates from its Falcon 9 upper stage after a successful launch from Cape Canaveral Air Force Station, Florida on June 29, 2018. It is Dragon's cargo delivery flight to the International Space Station.
Credit: NASA TV
SpaceX plans to fly used first-generation Dragon capsules through the CRS-20 mission, Jensen said. After that, the company will switch to its "Dragon 2" spacecraft, the variant SpaceX is developing to make crewed flights to and from the ISS under a different NASA contract. (Aerospace giant Boeing also holds a commercial-crew contract with the space agency.)
But Dragon 2's resupply flights will still be robotic, Jensen said.
"What we'll basically be doing is changing out seats and consoles for cargo accommodation," she said.
Before today's launch, Shireman took a moment to reflect on Thursday's fatal shooting in the offices of the newspaper "Capital Gazette" in Annapolis, Maryland. Five people were killed and two others injured in the shooting, according to the New York Times. Police have a suspect in custody.
"We're saddened by the events of yesterday and I wanted to take just a minute to thank the members of the press, of the nation's journalism committee that works so diligently to cover everything, and including this nation's space program," Shireman said. "So, thank you for the hard work and the important work that you do."
Editor's note: This story has been updated to include new commetns from NASA and SpaceX from a post-launch press conference. SpaceX's Dragon cargo ship is scheduled to arrive at the International Space Station Monday, July2, at 7 a.m. EDT (1100 GMT). You can watch its arrival live here, courtesy of NASA TV, beginning at 5:30 a.m. EDT (0930 GMT).
Follow Mike Wall on Twitter @michaeldwall and Google+. Follow us @Spacedotcom, Facebook or Google+. Originally published on Space.com.
Thanks to: https://www.space.com 
https://phibetaiota.net/2018/09/robert-steele-mormon-church-pedophilia-exposed/
Flash floods wash away streets in Lake Linden, Michigan
Posted: 19 Jun 2018 07:59 AM PDT
Apocalyptic scenery: Flash floods wash away streets in Lake Linden, Michigan in pictures and videos
That is apocalyptic! Strong floods washed away streets in Lake Linden, MI in Houghton County on June 17, 2018. These aftermath pictures by Steve Haagen are just amazing! 

Apocalyptic scenery after flash floods destroy streets in Lake Linden, Michigan on June 17, 2018. By Steve Haagen 
The street looks like a rocky river. By Steve Haagen 
The stronf flash flooding also transported large boulders. By Steve Haagen 
Everything got washed away by the torrential floods in Lake Linden, Michigan on June 17, 2018. By Steve Haagen
One road in Lake Linden is gone! By Steve Haagen 
MORE HERE: http://strangesounds.org/2018/06/apocalyptic-scenery-flash-floods-wash-away-streets-in-lake-linden-michigan-in-pictures-and-videos.html
Thanks to: http://strangesounds.org
https://eraoflight.com/2018/09/14/the-new-science-of-consciousness-toward-the-next-great-scientific-revolution/
Trump's "Space Farce" and The Secret Space Programs
Posted: 05 Jul 2018 12:00 PM PDT
Trump's "Space Force" and The Secret Space Programs
Posted on July 5, 2018 by David Nova
What Does Trumps Space Force Mean For The Secret Space Force? What's Going On In Space?
Source: Collective Evolution | By Arjun Walia

An unclassified Department of Defense document, one of many, shows high interest from the United States to weaponize space, as well as detonate weapons in outer space. It's from the 1950's, and for those who've looked into space matters over the years, it comes as no surprise at all that Donald Trump is announcing a new branch of the military, a United States Space Force.
But there is also something confusing, a secret space force in existence long beforeTrump came into office. Whoever they are, they must really not like that Trump would bring attention to these efforts… But who knows, politics has become nothing but a tool used by the Deep State so it's hard to tell what's really going on. Ultimately, the human race can evolve past the need for such a system, one that's corrupt and serves the human race no purpose or platform to move forward.
To complement that, we have testimony from a number of high ranking military whistle-blowers who have said some pretty unbelievable things, like Colonel Ross Dedrickson, a man who had a long stint with the US Atomic Energy Commission, saying that the US actually tried to detonate a nuclear weapon on the moon for testing, and that this was "not acceptable to the extraterrestrials." We'll get to that later…
The point is, there is a good chance we've been in outer space, and the militarization of it has been in the works or, to some extent, has probably already been accomplished. This is the stuff black budgets are made of, special access programs (SAPs) that have no oversight from Congress. Some today refer to them as 'unacknowledged special access programs.'
This idea gained even more traction several years ago when the largest (publicly disclosed) military computer hack of all time took place. What type of information is hidden from the public? You will have to ask Gary Mckinnon. In 2002 the U.S. government charged and arrested Gary for the hack.  So what did Gary find? He found a list of non-terrestrial off-world officers of rank. He was unable to tell if they represented the Air Force, Navy, or Army. He also found multiple pictures of UFOs and lists of fleet-to-fleet transfers of materials from ship to ship… Whatever that means.
You can watch an interview with Gary in this article we published years ago, it's where the quotes above come from.
Even comments made not long ago from the recently retired Aerospace Director at Lockheed Martin, Steven Justice, have raised some eye-brows of what kind of technology is out there.
Prior to Trump speaking out, The House Armed Services Committee voted to split the US Air Force, which will lead to the creation of the US Space Corps. This would make America the only nation with a branch of military dedicated to space, as far as we know. Let's not forget about the already existing United Air Force Space Command. This would, therefore, be the first new military branch created in the U.S. since 1947.
"This is an issue the subcommittee has studied for months and I can't even tell you how many meetings with space experts and leaders [Democratic Rep.] Jim [Cooper] and I have had on this subject," Rep. Mike Rogers (R-AL), Chairman of the House Armed Services Subcommittee on Strategic Forces stated.
According to IFL Science, "The subcommittee believes this move will help the US maintain their strategic advantage in space. But not all members of the committee were equally pleased with this as the mark-up (proposed legislation before it is passed) was only discussed in a couple of meetings."
Why The Plans To Weaponize Space?
Remember the big Wikileaks release of emails? One in particular to John Podesta by astronaut Dr. Edgar Mitchel stated,
Dear John. Because the War in Space race is heating up, I felt you should be aware of several factors as you and I schedule our Skype talk. Remember, our nonviolent ETI from the contiguous universe are helping us bring zero point energy to Earth. They will not tolerate any forms of military violence on Earth or in space. The following information in italics was shared with me by my colleague Carol Rosin, who worked closely for several years with Wernher von Braun before his death. Carol and I have worked on the Treaty on the Prevention of the Placement of Weapons in Outer Space, attached for your convenience.
You can read the rest of the email straight from Wikileaks here, and also download the documents attached on the website.
It's interesting because he mentions Carol Rosin, the first female corporate manager of Fairchild Industries. A space and missile defense consultant who has worked with various corporations, government departments, and intelligence communities, she worked closely with Wernher Von Braun shortly before his death, specifically on the subject of space-based weapons.
According to her,
I met the late Dr Wernher Von Braun in early 74, at that time Von Braun was dying of cancer, but he assured me that he would live a few more years in order to tell me about the game that was being played, that game being the effort to weaponize space, to control Earth from space and space itself.
He asked me to be his spokesperson, to appear on occasions when he was to ill to speak, and I did. And what he asked me to do was to educate decision makers and the public about why we shouldn't be putting weapons into space . . . and what the alternatives are, how we could be building a cooperative space system.
What was most interesting to me, was a repetitive sentence that he said to me over and over again. . . . And that was the strategy that was being used to educate the public and decision makers, and the scare tactics, the spin that was being put on the weapons system. And that was how we identify an enemy.
The enemy at first he said, the enemy against whom we're going to build a space based weapons system . . . First the Russians are going to be considered the enemy . . . then terrorists would be identified and that was soon to follow . . . then we were going to identify third world crazies, we now call them nations of concern. . . . The next enemy was asteroids . . . [and] against asteroids we're going to build space based weapons.
And the funniest one of all, was against what he called aliens, extraterrestrials, that would be the final card. And over, and over, and over during the four years that I knew him and was giving his speeches for him, he would bring up that last card.
'And remember Carol, the last card is the alien card. We're going to have to build space based weapons against aliens,' and all of it, he said, is a lie.
You can read more about the idea of a false flag alien threat we published that goes into more detail, here.
This wouldn't come as a surprise, terrorism, and the entire war on terror has been a fabrication in a large sense, a script, events created to justify the infiltration of other countries.
"I spent 33 years and four months in active military service and during that period I spent most of my time as a high class muscle man for Big Business, for Wall Street and the bankers. In short, I was a racketeer, a gangster for capitalism. I helped make Mexico and especially Tampico safe for American oil interests in 1914. I helped make Haiti and Cuba a decent place for the National City Bank boys to collect revenues in. I helped in the raping of half a dozen Central American republics for the benefit of Wall Street. I helped purify Nicaragua for the International Banking House of Brown Brothers in 1902-1912. I brought light to the Dominican Republic for the American sugar interests in 1916. I helped make Honduras right for the American fruit companies in 1903. In China in 1927 I helped see to it that Standard Oil went on its way unmolested. Looking back on it, I might have given Al Capone a few hints. The best he could do was to operate his racket in three districts. I operated on three continents." ― Smedley D. Butler, War is a Racket: The Antiwar Classic by One of America's Most Decorated Soldier
Are we going to see the same thing with space?
Why do we have to militarize everything? The truth is, we don't, our consciousness is simply used to allowing those with that type of intention to do so.
If there already exists a secret space program, run by "a shadowy government with its own Air Force, its own Navy, its own fundraising mechanism" that has "the ability to pursue its own ideas of the national interest, free from all checks and balances, and free from the law itself," words expressed by Senator Daniel Inouye (source)
See more comments about the secret government here.
The recently unclassified but secretive Advanced Aerospace Threat Identification Program was funded $22 million from 2008 to 2011, with the vast majority of the funding going to Bigelow Airspace. That's a company conveniently owned by one of Reid's friends and donors, Robert Bigelow, though the program was also approved by since-deceased Senators Ted Stevens and Daniel Inouye. That $22 million enabled contractors to build a low-key Nevada warehouse for what they claimed was unidentified artifacts obtained from UFOs, as well as compile witness accounts.
I also covered this story in more detail in this article titled, The US Government Just Admitted To Recovering Materials From UFOs – Here Are The Details
Recently Robert stated that he knows we are not alone, and that intelligent extraterrestrials are visiting us.
If there is already a secret government and a secret space force operating in space, what is Trump doing here? Is he disrupting this force?
---
Trump's Plan for US Space Force challenges Deep State Secrecy
By DR MICHAEL SALLA
On June 18, President Donald Trump gave a speech where he called for the development of a United States Space Force that takes over current space functions of the U.S. Air Force. The proposed Space Force would become the sixth branch of the U.S. military, and would have equal authority to the USAF.
There are multiple questions that arise from Trump's initiative. Why is he going forward on a plan that is opposed by his senior military advisors? How does the proposed Space Force mesh with whistleblower/insider claims that the Air Force already has a secret space program? Finally, what of additional claims that the U.S. Navy has a much more advanced Deep Space programwith kilometers long space carriers that uses Space Marines as a fighting force?
In finding answers to such questions, it is important to understand that by ordering the creation of a Space Force, Trump is shaking the bureaucratic and corporate tree that hides the Secret Space Program that the Air Force runs along with the National Reconnaissance Office, the Defense Intelligence Agency and the National Security Agency.
READ MORE HERE
---
UFOs, Breakaway Civilizations, U.S. Black Budgets, and Trump's 'Space Force' (Video)
Source: STILLNESS IN THE STORM
Thanks to: https://deusnexus.wordpress.com
"I've Never Seen Anything Like This": Meteorologists Expect Florence To Stall And Hammer The East Coast "For Days"
Posted: 13 Sep 2018 01:40 PM PDT
"I've Never Seen Anything Like This": Meteorologists Expect Florence To Stall And Hammer The East Coast "For Days"
The bizarre story of Hurricane Florence just keeps becoming even more strange.  The good news is that meteorologists are telling us that the storm is expected to lose intensity as it approaches the east coast, but the really, really bad news is that it is now being projected that Florence will slow down and finally stall just off the coastline.  In a worst-case scenario, the Carolinas and Georgia could be pounded with wind and rain "for days", and some areas of North Carolina could end up being buried under nine feet of water.  And even though the peak wind speed of Florence has diminished some, the storm just continues to expand in size.  That means that it will ultimately hit a larger portion of the east coast than originally anticipated, and the overall economic cost will also ultimately be worse than the experts were forecasting.
The word "unprecedented" is being used a lot in conjunction with this storm.  It is behaving in ways that it shouldn't be, and this "strange stall" along the east coast is absolutely baffling the experts.
While discussing this "stall", Weather Channel meteorologist Greg Postel stated that he had "never seen anything like this"…
The weird saga of 

Hurricane Florence

, which has already carved an unprecedented path across the Atlantic, is forecast to persist with a strange stall and trek along the Southeast coast.

Instead of roaring ashore and quickly heading inland and weakening, as most storms do, Hurricane Florence should instead "stall near the coast and then parallel southwestward toward Georgia," Weather Channel meteorologist Greg Postel said. 

"I've never seen anything like this."
And don't let the fact that Hurricane Florence has been downgraded from a Category 4 storm fool you.  The wind speed may be down a bit, but the storm just keeps getting larger, and on Wednesday it was producing waves that were up to 83 feet tall.
If this storm really does stall off of the Carolina coastline, the devastation will be off the charts.  The following comes from CNN…
Florence's predicted slow southward turn on Friday would mean some coastal areas could get damaging hurricane-force winds for more than 24 hours. "If this blows at 120 mph for four hours, … you lose a shingle every two minutes, and all of the sudden, you've lost your whole roof after four hours," CNN meteorologist Chad Myers said.
In addition to extreme wind damage, we could also see unprecedented rainfall totals and flooding…
While it sits and spins, the heavy rain Florence unleashes will lead to "catastrophic" and "life-threatening" flooding in the Carolinas. Widespread reports of 20 to 30 inches of rain are likely, and some spots could see 40 inches.
As if that weren't enough "isolated tornadoes will become a threat Thursday along the North Carolina coast," the National Weather Service in Wilmington said.
Could you imagine getting 40 inches of rain in a 24 hour period?
And what will things look like if Hurricane Florence decides to stall for an extended period of time and stay roughly in one place for several days?
We don't know exactly what the storm will do following the "stall", but what we do know is that the damage from this storm will be immense.
In fact, one FEMA official is warning that power could be knocked out for many people in the danger area for "weeks"…
"This one really scares me," National Hurricane Center Director Ken Graham told CBS.
"This storm is going to knock out power days into weeks. It's going to destroy infrastructure. It's going to destroy homes," said Jeff Byard, an official at the Federal Emergency Management Agency.
If you live in the path of this storm, hopefully you have evacuated already.
If you haven't evacuated, hopefully you have stocked up on supplies, because most of the stores have already been completely cleaned out.  At this point, even gasoline is in very short supply…
Michelle Stober loaded up valuables on Tuesday at her home on Wrightsville Beach to drive back to her primary residence in Cary, North Carolina. Finding fuel for the journey was tough.
"This morning I drove around for an hour looking for gas in Cary. Everyone was sold out," she said.
And remember, this is just a temporary emergency.  Eventually this storm will pass and the region will begin to recover.
In the event of an even worse emergency that is more long-term in nature, what will you do when all of the supplies are gone and the stores aren't going to get anything else for the foreseeable future?
On another note, many have found it very interesting that federal officials held a major exercise in which they simulated a Category 4 hurricane slamming into the Mid-Atlantic region back in late April and early May.  Representatives from 91 different federal departments and agencies took part in this exercise, and the results of the exercise were quite alarming…
Just months ago, disaster planners simulated a Category 4 hurricane strike alarmingly similar to the real-world scenario now unfolding on a dangerously vulnerable stretch of the East Coast.
A fictional 'Hurricane Cora' barreled into southeast Virginia and up the Chesapeake Bay to strike Washington, D.C., in the narrative created by the Federal Emergency Management Agency and Argonne National Laboratory.
The result was catastrophic damage, which has some experts concerned that Hurricane Florence could produce a disaster comparable to 2005's Hurricane Katrina and in a part of the country that is famously difficult to evacuate.
It is important to remember that Hurricane Katrina was only a Category 3 hurricane when it finally made landfall.  But it was such a massive storm that it absolutely overwhelmed New Orleans.
We could be facing a similar scenario this time around.  Hurricane Florence may only be a Category 2 or a Category 3 hurricane when it finally makes landfall, but it looks like it is going to do an unprecedented amount of damage.
So please be in prayer for those living along the Mid-Atlantic coast, because this may end up being the worst storm that they have ever experienced.
This article originally appeared on The Economic Collapse Blog.  About the author: Michael Snyder is a nationally syndicated writer, media personality and political activist. He is publisher of The Most Important News and the author of four books including The Beginning Of The End and Living A Life That Really Matters.
Thanks to: http://theeconomiccollapseblog.com
https://eraoflight.com/2018/08/27/tell-president-trump-congress-the-1986-vaccine-law-must-be-repealed/
https://eraoflight.com/2018/08/27/yeshua-in-forgiving-yourselves-you-find-it-much-easier-to-forgive-others/
https://eraoflight.com/2018/08/27/soros-role-in-social-media-censorship-revealed-in-leaked-document/
1111 Books of Information
Source: Rooak.com | by Tricia Wegs
Q has used 11 TripCodes, and 1100 UserID's. EVERY one of them points to a book when you search them in Google Books. Some are even pointing to specific pages within that book.
There's 1111 COMPLETE BOOKS of information here.
TripCodes alone have a treasure trove:
There's 1100 UserID's that ALSO have correlating books that they link to.
I've finished the first 200. Here's the highlights:
Unusually strong hailstorm in Jalisco, Mexico
Posted: 29 Jul 2018 04:16 PM PDT
Unusually strong hailstorm kills three-month-old baby and injures 40 in Jalisco, Mexico – People screaming for their lives (pictures and videos)
An unusual hailstorm hit Ixtlahuacán de los Membrillos, Jalisco on Saturday morning, July 28, 2018. The hail, with a size of up to five centimeters in diameter, fell furiously from the sky, destroying cars, killing a three-month-old baby, and injuring more than 40 people.
Residents waiting for a concert on the main square of Ixtlahuacán de los Membrillos, Jalisco, were left baffled when large hail stones started suddenly dropping from the sky in such a fury that at least 40 were left injured, a baby was killed, houses and cars were heavily damaged.
These videos show people screaming for their lives as the terrifying hailstorm just hit:
Reports say at least 30 vehicles suffered damage along with Ixtlahuacán City Hall building.

Intense hailstorm during concert in Jalisco, Mexico. 
Some of the hailstones were more than 5 cm large during this deadly storm in Jalisco. 
Many cars and houses have been heavily damaged by the sudden hailstorm in Jalisco.
Many rooftops were also hit hard by the hail, while water damage was also reported from rain entering through broken windows and drenching computers. Other residential areas of Los Sabinos, Los Olivos and Real del Lago experienced flooding through broken windows.
MORE HERE: http://strangesounds.org/2018/07/unusual-hailstorm-kills-1-and-injures-40-in-jalisco-mexico-pictures-and-videos.html
Thanks to: http://strangesounds.org
https://www.dailymail.co.uk/news/article-6121913/New-technique-humans-live-150-regrow-organs-price-coffee-day.html
https://eraoflight.com/2018/09/13/benjamin-fulford-full-report-cabal-faces-doom/
Planned Parenthood Admits: 'We Are Not In The Business of Adoptions. We Are Paid To Do Abortions'
Posted: 12 Sep 2018 09:00 PM PDT
An abortion factory that has been masquerading as a "women's health clinic" openly admitted to what most already knew, according to a new book.
Strange Series of Anomalies Stretching Across Pacific Ocean
Posted: 17 Sep 2018 09:04 PM PDT
Strange Series of Anomalies Stretching Across Pacific Ocean
Weather modification transmitter dish site at MIMIC beam source and prove of ionospheric heaters in Antarctica?
We have another set of mystery anomalies on MIMMIC Map. This time the patterns cross the entire Pacific Ocean. They stretch from the West Coast of the USA, All the way over Hong Kong to China
Hong Kong is full in the path of the anomalies and.. a giant typhoon Cat 5!
Image left: Siple Station Antarctica – Image right: Lake on Island Annobon
Once again beams are coming from a location in Antarctica but also from a remote island Annobon. On top of the island is a drained lake with a diameter of 700 meters. This lake has been turned into an "Arrecibo-Sized" Weather Modification Site according to Florida Marquis who found the location, see video Island Annobon here.
Coordinates Island Annobon: 1°25'36.42″S 5°37'59.36″E
About the location in Antarctica it is suggested that the beams are coming from the Siple Station, maybe a coincidence but the station is not visible on Google Earth.
Thanks to: http://ufosightingshotspot.blogspot.com
https://www.blacklistednews.com/article/68015/russia-attached-12-flamethrowers-to%C2%A0a-battle-bot-and-set-it-loose-in.html
https://eraoflight.com/2018/09/04/benjamin-fulford-full-report-good-side-of-rothschild-family-says-trump-will-stage-financial-reset/
44 Percent of Americans 18-27 Have Deleted the Facebook App This Year, Poll Finds
Posted: 04 Sep 2018 09:00 PM PDT
Many Americans have responded to Facebook's ongoing privacy and disinformation controversies by reducing their usage of the social media platform. Others have responded by deleting the Facebook app entirely, a new study insists.
Hurricane Florence – South Carolina, North Carolina, Mid-Atlantic Region Pay Close Attention….
Posted: 09 Sep 2018 09:20 AM PDT
Posted on September 9, 2018 by sundance
As of the 11:00am advisory Florence has become a category one hurricane with rapid strengthening anticipated over the next 36 hours.  The forecast track is still uncertain; however residents of South and North Carolina and the Mid-Atlantic region should pay close attention. There is a reasonable possibility Florence could be a multi-day event for the east coast – hovering for several days next weekend – SEE HERE (hit play)
Coastal residents of the Southeast and Mid-Atlantic should pay close attention; and begin carrying out the beginning of a proactive hurricane plan.  Florence will likely approach the coast sometime on Thursday; residents have four full days for preparation. This specific storm has the signature forecast for of a major multi-day power outage.


[National Hurricane Center] At 1100 AM AST (1500 UTC), the center of Hurricane Florence was located by a NOAA Hurricane Hunter aircraft near latitude 24.4 North, longitude 56.3 West. Florence is moving toward the west near 6 mph (9 km/h), and this general motion is expected to continue today. A west-northwestward motion with an increase in forward speed is expected by Monday, and that motion is forecast to continue through mid-week.
On the forecast track, the center of Florence will move over the southwestern Atlantic Ocean between Bermuda and the Bahamas Tuesday and Wednesday, and approach the southeastern U.S. coast on Thursday.


Aircraft data indicate that maximum sustained winds have increased to near 75 mph (120 km/h) with higher gusts. Florence is forecast to rapidly strengthen to a major hurricane by Monday, and is expected to remain an extremely dangerous major hurricane through Thursday. (link)
The concerning aspect to this storm is the possibility it may make landfall and hover, wobble and position in place, on the eastern seaboard; very similar to Hurricane Harvey in Houston Texas last year.  –SEE HERE (hit play)  Under this scenario major flooding and massive 'prolonged' (week +) power outages would be anticipated.
For those in the southeast and mid-atlantic; remember, planning and proactive measures taken now can significantly reduce stress in the days ahead.  Plan when to make the best decision on any evacuation (if needed) consider Tuesday night the decision time-frame. As a general rule: take cover from wind – but evacuate away from water.
DAY ONE (Today)
Determine Your Risk
Make a Written Plan
Develop and Evacuation Plan
DAY TWO (Monday)
Get Storm Update
Assemble and Purchase Hurricane Supplies
Contact Insurance Company – Updates
Secure Important Papers.
DAY THREE (Tuesday)
Get Storm Update
Strengthen and Secure Your Home
Make Evacuation Decision for your Family.
DAY FOUR (Wednesday)
Get Storm Update
Re-Evaluate your Supplies based on storm update
Flex Time
DAY FIVE (Thursday)
Get Storm Update
Assist Your Neighbors
Re-Evaluate w/ Storm Update
If Needed – Evacuate Your Family
Communication is important.  Update your contact list. Stay in touch with family and friends, let them know your plans. Select a single point of contact for communication from you that all others can then contact for updates if needed.  Today/tomorrow are good days to organize your important papers, insurance forms, personal papers and place them in one 'ready-to-go' location.
Evaluate your personal hurricane and storm supplies; update and replace anything you might have used. Assess, modify and/or update any possible evacuation plans based on your location, and/or any changes to your family status.
Check your shutters and window coverings; test your generator; re-organize and familiarize yourself with all of your supplies and hardware. Check batteries in portable tools; locate tools you might need; walk your property to consider what you may need to do based on the storms path. All decisions are yours. You are in control.
Due to coastal populations, a southeast storm means adding almost a day to any movement plans based on roads and traffic density. Being proactive now helps to keep any future stress level low. You are in control. If you have pets, additional plans may be needed.
One possible proactive measure is to make a list of hotels further inland that you would consider evacuating to.  Make that list today/tomorrow and follow updates of the storms' progress.
Depending on later information you might call in advance and make a reservation; you can always cancel if not needed.  It is better to have a secondary evacuation place established in advance.  Being proactive reduces stress.  Even if you wait until much later to cancel, it is better to pay a cancellation fee (usually one night charge) than to not have a plan on where to go.   Trust me, it's worth it.  Protect your family. Make the list of possibilities today, make the booking decision in the next 48 hrs.
Look over the National Hurricane Center resources for planning assistance.

Thanks to: https://theconservativetreehouse.com
John McCain tried and executed under Military Law / NDAA?
Posted: 09 Sep 2018 09:04 AM PDT
John McCain tried and executed under Military Law / NDAA?
September 10, 2018
SURE LOOKS LIKE IT!

By Capt. Dave Bertrand, Ret.
The plot thickens and while many pieces of the puzzle are still missing the overall picture of what is happening [behind the scenes] is growing. We're finally reaching that dangerous point in time when [all will be revealed] according to "Q" Anon.
"Q" analysts agree that McCain was Tried for Treason, before a Military Tribunal, and we suspect it happened around December 2017 when unusual activity began to surface with commercial chartered flights into GITMO. It was also around December when McCain and Hillary Clinton were hobbling around (on crutches) with a foot boot on their right leg, often used to cover a GPS tracking ankle monitor.
Then we saw McCain switch the boot to the left foot, "to give his right foot a break" (????). I might be wrong but didn't Hillary do the same thing?
Not long after, McCain [supposedly] had eye surgery and "cancer was discovered."
Now here's the strange part about his "brain cancer." One day before he died, the media announced that "McCain decided to stop Chemo." My first impression was that by stopping Chemo and then his sudden death one day later, he either wanted to die, or by stopping the Chemo [immediately] would be his death sentence, but reality says no way in hell a person would die overnight because they stopped Chemo.
Then "Q" analysts began to put the dots together and by reviewing past posts by "Q," we learned that McCain's [EXACT] day and time of death [to the minute] was posted [30] days prior to his death. On top of that "Q" added "every dog has his day," which McCain died within hours of "Dog Day." (See Videos)
"Whoever, owing allegiance to the United States, levies war against them or adheres to their enemies, giving them aid and comfort within the United States or elsewhere, is guilty of TREASON and shall suffer death, or shall be imprisoned not less than five years and fined under this title but not less than $10,000; and shall be incapable of holding any office under the United States."
(June 25, 1948, ch. 645, 62 Stat. 807; Pub. L. 103–322, title XXXIII, § 330016(2)(J), Sept. 13, 1994, 108 Stat. 2148.)
What is NOW apparent McCain was TRIED in a Military Court proceeding at GITMO, concurrent with the "Deep State's" own National Defense Authorization Act (NDAA), and the ONLY plea bargain offered, was for McCain (and his family) to "keep his [hero] legacy" and accept a death sentence by (maybe) cyanide pill, or go to prison for life at GITMO. We somewhat conclude that McCain was NOT dying from brain cancer.
"The Fakestream Media's massive support for a man that armed ISIS, helped create ISIS, and systematically destroyed the Middle East under Obama and Hillary Clinton's direction, is an indication the funeral was planned to be used as the sounding stage for Trump hatred and division within the Republican Party. Clever? Or just another attempt to ignore the true facts about McCain?"
https://beforeitsnews.com/v3/opinion-conservative/2018/3399409.html
I (personally) cannot recount a time when a Senator received such an over-blown funeral, which WE ALL KNOW was all about Trump, an opportunity for the family and "Deep State" cronies to express their extreme hatred for a president that put McCain to death.
The resulting panic among those that fear the same treatment soon, have changed their tune about Trump, i.e., Lindsey Graham, a staunch supporter of McCain now supports Trump.
Knowing that McCain's Treasonous Acts under direction of Hussein Obama and Hillary Clinton, during Benghazi, and later as the envoy to Syria (secretly) to coordinate with al Qaida leaders to create an ISIS uprising against Syria (with $5 million dollars) while arming them with smuggled shoulder missile launchers (planned during the Benghazi CIA / Ambassador Stevens and al Qaida event) was (basically) aiding and abetting with the enemy as McCain was notoriously accused of while being imprisoned at the Hanoi Hilton during the Vietnam War of which Lindsey Graham and many others want to distant themselves from.
McCain also hand carried the Fake Russian Dossier to the FBI which started the Mueller "Witch Hunt." That alone is a Treasonous Act to take-down a president. We also know that McCain was a globalist with intent and conspiracy (along with the rogue elements in the CIA, Obama and Hillary Clinton et al) to provide China with Top Secret (revealed) documents for the eventual war against the United States for the specific purpose of destroying America, our Constitution, level the playing field for world trade, and allow the United Nations to take control of America.
"The Chinese firm obtained Clinton's emails in real time as she sent and received communications and documents through her personal server, according to the sources, who said the hacking was conducted as part of an intelligence operation."
https://caucus99percent.com/content/well-well-well-doesnt-bode-well-hillary
They in-turn would become multi-billionaires, Pedophilia protected, Open Borders, One World Government under the United Nations, total Gun Confiscation, nullification of Free Speech, and American Sovereignty would go down the drain under Communism. That WAS the plan.
We do not know if McCain has been the first execution, and we have no idea what happened to the Podesta brothers, but what WE DO know, the next shoe to fall is when the "Deep State" cronies begin to see others facing Military Tribunals (or it's revealed) that THEY are about to be rounded-up by the U.S. Military (under the NDAA).
It is believed that after Kavanagh is elected to the SCOTUS on or by September 20th, all hell could break loose in America and the "Deep State" will (then) create a massive diversion by [either] widespread blackouts, shutting down commerce, economic collapse, or a false flag biological attack, cyber attack … blame it on Russia and Trump in-order to save the midterm elections from falling into the hands of the Republicans.
Desperation and Panic is on the horizon.
12.28.17 Podesta Brothers Arrested, Tony Podesta Is in Gitmo +Video
https://beforeitsnews.com/v3/crime-all-stars/2017/2462151.html
"If and when Hillary and Obama face many felony charges, as a result of their conspiracy with the FBI and DoJ to spy on Trump and their plans before and after Trump was elected to destroy Trump and take back the White House, the country will go into a tail-spin like no other time in our history."
https://beforeitsnews.com/v3/opinion-conservative/2018/3398876.html
You ask "If McCain was executed for Treason (while he was under direction of the CIA / Obama and Hillary) why haven't we seen Hillary being tried under military law?" Who is to say she wasn't? She wore a GPS ankle monitor at the same time as McCain, but what we don't know is the likelihood she is spilling her guts and is now a witness stating: "If I go down I will take everyone with me." Hillary also stated at one time, "if Trump is elected, we are all going to jail."
Hillary might have negotiated her situation and no longer has a GPS ankle monitor, but isn't stopping her and Obama from their latest campaigning to plead for votes this November in hopes their final days will be nullified. (IMO) it really doesn't matter, because it does not change the (new) DoJ or FBI and Military Intelligence from proceeding, except the attempt to "Impeach" and/or use the 25th Amendment to oust this president is still a "Clear and Present Danger" if the Communist Left take control of Congress.
Desperation is apparent as fake NYT editorials from the "Resistance" inside the White House are fueling discontent for President Trump. They are NOT about to throw their cards on the table … so beware.
I stated in another Bertrand Daily Report that a "Grand Jury is under way or about to begin" in reference to the FISA application and the FBI's role in how they began the illegal spy net on Carter Page et al, which DoJ Bruce Ohr and his wife Nellie Ohr (Fusion GPS) are the center piece of the investigation conspiracy along with FBI McCabe (to be charged soon). Well guess what?? We now know there are several Grand Jury(s) underway and for some time over the past year. That is why "Q" in multiple posts said, "Trust The Plan" "Trust Sessions."
President Trump is playing his cards close to his chest, along with elements of Military Intelligence and the NSA. "Q" again says, "We Have Everything" and "We Are in Control." However, by Trump "throwing Sessions under the bus" creates the illusion the "Deep State" is still in control which we now know, is NOT the case.
Trump is suspected by analysts to be providing "dis-information" to the Fakestream Media in order to calm the Left before the shit hits the fan on or about September 20th.
If YOU think that MCain died of cancer you should (at least) look at what Kasich accidently revealed to CNN. The "Deep State" know what's at stake for them and the cover-up must prevail in-order to win the midterm elections.
Therefore this IS THE TIME to get prepared. WWG1WGA
— Dave Bertrand
LINK

Thanks to: https://iamamalaysian.com
The Military Now Has Tooth Mics For Invisible, Hands-Free Radio Calls
Posted: 10 Sep 2018 09:00 PM PDT
Next time you pass someone on the street who appears to be talking to themselves, they may literally have voices inside their head…and be a highly trained soldier on a dangerous mission. The Pentagon has inked a roughly $10 million contract with a California company to provide secure communication gear that's essentially invisible.
Half Million Humans Slaughtered, $4 Trillion Wasted Since 9/11 and Al Qaeda is Stronger Than Ever
Posted: 10 Sep 2018 09:00 PM PDT
Every year on September 11, Americans remember the horrific attacks that were carried out in 2001, which have been used to shape United States foreign policy, and to act as a symbol for the "War on Terror." The attacks were attributed to 19 hijackers affiliated with the terrorist group Al Qaeda—a group that is arguably stronger than ever on the 17th anniversary of 9/11.
Some of the Mac App Store's biggest security apps found spying on users' browsing habits
Posted: 10 Sep 2018 09:00 PM PDT
A number of security apps for the Apple Mac, offered via Apple's curated Mac App Store, have been taken down after it was found that they were spying on users' web browsing habits.
Nuclear Power Plants At Risk Of Direct Hit By Hurricane Florence
Posted: 10 Sep 2018 09:00 PM PDT
According to the Nuclear Regulatory Commission (NRC), there are twelve operating nuclear power plants in the Carolinas that make electricity by the continuous splitting of uranium atoms (i.e., a nuclear reaction). These plants generally reside near a body of water—a river, lake, estuary or ocean—because they require a constant source of water for cooling purposes. Without cooling water, a nuclear reactor will overheat, leading to core damage, containment failure, and release of harmful radiation into the environment.
Ron Paul: Why the Heck Are We Siding With Al-Qaeda in Syria?
Posted: 10 Sep 2018 09:00 PM PDT
Last week, I urged the Secretary of State and National Security Advisor to stop protecting al-Qaeda in Syria by demanding that the Syrian government leave Idlib under al-Qaeda control. While it may seem hard to believe that the US government is helping al-Qaeda in Syria, it's not as strange as it may seem: our interventionist foreign policy increasingly requires Washington to partner up with "bad guys" in pursuit of its dangerous and aggressive foreign policy goals.
https://eraoflight.com/2018/09/09/david-wilcock-stunning-new-briefings-spy-satellites-down-deep-state-arrests-finally-imminent/
https://eraoflight.com/2018/09/10/how-physics-gives-structure-to-nature/
https://eraoflight.com/2018/09/10/meat-in-britains-restaurants-and-supermarkets-contains-unspecified-animal-dna/
https://ascensionenergies.com/2018/09/15/6-more-solar-observatories-closed-and-this-could-be-the-reason/
Did Hundreds of UFOs Just Portal into Our Solar System? – Examining the Possibilities of Q Anon's 'Sky Event'
Posted: 15 Sep 2018 08:18 AM PDT
Friday, September 14, 2018
Did Hundreds of UFOs Just Portal into Our Solar System? – Examining the Possibilities of Q Anon's 'Sky Event'
The title of this post alone may, if nothing else, throw some readers through a mental loop. If so, the topic of discussion may seem even more bizarre. But bear with it. This topic may be dense and to some, it may seem far-fetched. However, in truth, these subjects may have a significant impact upon our present and future lives.
Imagine, for a moment, if hundreds of spacecraft and giant, planet-size, cloaked spheres entered our solar system. What might the reaction be? Clearly, occurrences like this don't typically take place on a regular basis (at least not that we know of). Consequently, the images we are about to see may be particularly impacting for us.
Disclaimer
Before beginning, it's important to note that though all of what we are about to discuss is based upon scientific possibility, not everything stated here is verified fact. All information may only be relevant for our own personal speculation. Even still, if proven true, these disclosures could lead to several very significant changes on our planet and beyond. With that said, let's get things started.
To start the discussion, let's wind the clocks back to the year 2012.
Solar Tornadoes
Back in early 2012, scientists were busily observing our sun as it underwent its cycle of solar maximum. Naturally, numerous articles and commentaries were being published at the time on the subject of solar changes and various anomalies surrounding the solar cycle. Some of these publications came from official sources while others came from independent sources. In general, however, all of these publications piqued the curiosity of much of the American public.
One of these official sources—called Helioviewer—became particularly popular due to its ability to publish some of the most stunning close-ups of our sun from SOHO. Though many of these images were quite impressive, one of them appeared to reveal much more than mainstream astronomy might care to admit.
Do you remember seeing this image? Unfortunately, I was not able to find the original link it was published with. However, we do know the image originated from the SOHO telescopic array and came forward as official information at the time, though it appears the original link no longer functions.
At the time, the subject which astronomers referred to as solar tornadoes was a hot topic. These spiraling formations appeared to have been the result of the increasing energies of the sun during solar maximum. These anomalies were quite impressive, as each was actually several times larger than the Earth itself. However, these tornadoes actually shared the stage with another remarkable phenomenon.
Take another look at the image. What is the tornado connected to? By all appearances, there looks to be an invisible and yet perfectly defined spherical object connected to the tornado. If this object is in fact, real, it would easily dwarf the Earth as well. It looks to be the size of Neptune or even Jupiter in comparison to the sun.
If this image is real, what could it be? Let's set this mystery aside for a moment and consider what we know about our present situation on Earth.
Closed Observatories
The day of September 6th began with a very strange incident involving the FBI suddenly shutting down a solar observatory in Sunspot, New Mexico. News reports of this incident gave no explanation as to why the FBI suddenly showed up and closed this university-operated observatory down. Authorities gave no comment, and the citizens who live adjacent to Sunspot appeared to be largely unaware of the possible reasons behind the closure.
See also – Project 'Brilliant Pebbles' and the Exploded Planet Hypothesis – The Unclassified History of the Asteroid Belt
The strangest part of this story was that even the local police were ordered to exit the premises along with all observatory personnel—again with no explanation. If this does not seem strange, we should note the fact that this facility—called AURA or the Association of Universities for Research in Astronomy)—was not at all the only observatory to close suddenly around 9/11.
According to an online search, the live feeds to several solar observatories around the world all appear to have been cut on the exact same day—possibly only hours before or after the AURA Observatory in Sunspot. Below is an excerpt from a gaming forum in which a user posted evidence of these strange shutdowns of multiple solar observatories around the world.
http://forum.worldoftanks.com/index.php?%2Ftopic%2F586468-something-odd%2F
It might be understandable if one or two of these feeds was to go down periodically, seeing that regular maintenance to streaming hardware typically needs to take place. However, as things appear, the feeds from multiple countries all went down at nearly the same time (apparently within hours of one another) leaving many professional astronomers unable to take notice of possible changes within our sun.
Now going on for at least a day, we have little to no scientific data being recorded during what could be a significant geomagnetic storm. Under normal circumstances, there would be nothing of interest to hide with regard to a solar storm such as this. The storm was not that powerful and there did not appear to have been anything notable which an agency such as the FBI would care to hide. This may lead us to believe that something else might be taking place within or possibly around our sun.
Q Anon's "Sky Event"
For those who have kept up with the source, Q Anon, this subject might be somewhat familiar. However, for those who have not, we will give a brief review.
Q Anon came onto the public scene around October of 2017. At the time, this source was posting to the obscure website, 4Chan, and didn't seem to be very significant. It wasn't until Q began to post what appeared to be hinted predictions of major world events that more people began to take notice. Then when those predictions began to come true, much of the American public really started to catch on.
See also – MAINSTREAM DISCLOSURE: The Asteroid Belt Now Believed by Astronomers to be Remains of Several Planets (Or Possibly One)
Due to the tendency for the Q source to oppose the old establishment—i.e., corrupt American government and globalist elitists—the corporate media has done everything it can to smear and to squelch any interest the public has shown in Q Anon. However, many of these efforts have only backfired and have actually introduced mainstream audiences to this highly iconoclastic voice—a voice which appears to be a group of high-ranking, military-based patriots who are working tirelessly to oppose tyrannical globalists.
It is important to realize when reading Q posts, that not much of what this source says is stated in plain language. In fact, at times, much of these statements are so cryptic that they may not register as relevant at the time they are posted. However, in many cases, the immense significance of these statements is proven over time.
There was one term which Q repeated a number of times in early April and May of this year (2018). The post appeared to be very simple and yet full of implication. It simply read, "Sky Event."
Four instances of the mention of the sky event (including repeats)
As in many cases, no one knows for certain what this term means. As we can see, one other anonymous poster inquired about its meaning and included an image of the Marina Bay Sands Hotel in Singapore. By Q's lack of direct response, it seems that this was not the actual reference to the sky-event statement. (Usually, Q gives affirmation to posters who make such inquiries and guess correctly.)
So if this sky event was not relative to a presidential meeting in Singapore or any other known event, what could it be? Does the statement have one or more meanings? Is it code, or could it be a prediction of some future occurrence?
The Sun's Portal
We all know the scientific discipline of astronomy. Though somewhat interesting, mainstream astronomy has a tendency to be dull, unchanging, and predictable. However, within the alternative community, astronomy often takes on a whole new dimension of possibility.
According to numerous whistleblowers who are quite popular within these communities, the universe does not only consist of electromagnetic energy. The universe also is founded upon electro-plasmic energy, and this energy has become the new basis for much of the cutting-edge, holistic version of astrophysics.
In essence, stars are not merely balls of burning/fusing gases. They are electro-plasmic generators as well as sustained fields of what is referred to as torsion energy. We will not discuss torsion physics for the sake of time. For now, let's tackle this topic of electro-plasmic stars.
According to cutting-edge science, stars consist of a negatively charged core/black hole surrounded by a positively charge corona. These components interact with spacetime in a very interesting way. However, to keep the explanation simple, we will just say that the core and corona work together to create nuclear fusion on the surface.
In addition, this dynamic can actually behave as a hyper-dimensional gateway. According to whistleblower testimony as well as mainstream astronomic disclosures, high-energy connections between stars naturally exist and typically traverse great distances through space. This topic was covered by the website, the Daily Mail, among many others and is rather extensive in detail and implication. Let's examine.
Astronomers have exposed new proof that enhances the belief of interconnection between the planets and galaxies in the solar system.

Dr. Stephan Keller of the Research School of Astronomy and Astrophysics at Australian National University revealed the intricate details of the findings, that connects the entire Universe.

He said: 'By examining the positions of ancient groupings of stars, called globular clusters, we found that the clusters form a narrow plane around the Milky Way rather than being scattered across the sky.'

Cosmic beauty: The findings confirmed the filament that connects the Milky Way to the Universe

'Furthermore, the Milky Way's entourage of small satellites are seen to inhabit the same plane.

'What we have discovered is evidence for the cosmic thread that connects us to the vast expanse of the Universe.

'The filament of star clusters and small galaxies around the Milky Way is like the umbilical cord that fed our Galaxy during its youth.'

Dr. Keller's study enforces the view that the structure of the cosmos is made up of long filaments of galaxies and vast voids that spans millions of light years.
https://www.dailymail.co.uk/sciencetech/article-2044260/Better-connected-Huge-cosmic-filament-link-galaxy-rest-Universe.html
Though mainstream astronomy can leave much to be desired, for the most part, it appears to prove the above point rather well. Stars, planets, and entire galaxies are actually connected through these cosmic filaments which may be as old as each of these galaxies themselves.
Though mainstream science commonly assumes the universe is in a constant state of imbalanced enthalpy or decay (which is largely inaccurate according to more recent scientific discoveries), the reality of this energetic connectivity within our universe suggests otherwise. Not only does our universe show evidence of sustained and balanced function, it displays an intrinsic and ubiquitous potential for evolution throughout the cosmos.
See also – Disclosure – Corporate Media Claims Asteroid Could be an 'Alien Space Craft'; Astronomers Search for Signs of 'Alien Technology' – Links and Commentary
According to multiple whistleblowers, these high-energy connections can be used as gateways through which energy and possibly even spacecraft can travel through space. In fact, according to one whistleblower, covert off-planet space projects have developed a way to use these hyper-dimensional gateways to traverse vast distances of space in unbelievably short periods of time.
Secret Space Program whistleblower, Corey Goode, is one of several who claims to have served in an off-planet space program called Solar Warden. Not only was this program confirmed to exist by a number of other whistleblowers, but Goode has consistently demonstrated a considerable amount of knowledge in astronomy, classified science, intelligence operations, and even psychic reconnaissance.
During one of his terms of service in these covert projects, Goode claims to have served on a space vessel which traversed the solar system as a type of security detail. While on these missions, he recalls how he and his colleagues passed downtime by perusing the database of information available to operatives and learning about multiple subjects in classified science. One of these subjects was that of heliophysics.
In addition to this research, Corey claims that either Solar Warden vessels or other types of ships were able to use cosmic filaments as shortcut gateways to travel the galaxy. According to his testimony, the feat is possible, but the technology and ingenuity necessary to accomplished such a feat may only be achieved through adequately technological (and consciousness) development.
These claims have been remarkable to hear. Yet, we may also be interested to know that Goode was not the only public figure to speak on these matters of advanced technologies.
Type II Civilizations
Many of us might be familiar with the work of one famed astrophysicist, Dr. Nikolia Kardashev. Kardashev may be best known for his breakthrough experiments in attempting to seek out intelligent ET life through various cosmic signals from deep space. Though he was born ahead of his time, Kardashev blazed several significant trails through the arena of astrophysics.
Nikolia Kardashev was also known for his theories on ET civilizations. In short, he developed a scale—now known as the Kardashev scale—which may help us determine the level of possible technological development of a civilization.
The Kardashev scale
Notice the various levels of development which Kardashev believed a civilization could achieve. Upon seeing these possibilities, we might wonder just what capabilities a species could achieve if they reached the level of Type II. To elaborate, here is an excerpt from the website, Futurism.com.
The next step up – a 

Type II civilization

 – can harness the power of their entire star (not merely transforming starlight into energy, but controlling the star). Several methods for this have been proposed. The most popular of which is the 

hypothetical 'Dyson Sphere.'

 This device, if you want to call it that, would encompass every single inch of the star, gathering most (if not all) of its energy output and transferring it to a planet for later use. Alternatively, if fusion power (the mechanism that powers stars) had been mastered by the race, a reactor on a truly immense scale could be used to satisfy their needs. Nearby gas giants can be utilized for their hydrogen, slowly drained of life by an orbiting reactor.
https://futurism.com/the-kardashev-scale-type-i-ii-iii-iv-v-civilization/
The ability to use the entirety of the energetic output of a star could yield some rather amazing technological developments. As a species achieved this feat, they would no longer need to rely upon limited fuel sources such as petroleum deposits or nuclear fission/fusion. In short, their version of solar power would take on a whole new meaning and would be worlds more superior to our own version here on Earth.
If a species achieve a Type II status, they would no longer need to worry about solar imbalances, droughts, or severe weather. They could predict the output of a star and regulate its output in a way that is most healthy for the system and the inhabitants thereof.
See also – DISCLOSURE – Scientists Say the Dream of Unlimited Clean Energy is about to Come True – Videos and Analysis
They could develop space-travel technology that would put ours to shame. Such a civilization could make achievements that may seem unimaginable, but one of these possible developments stands out.
If a civilization could use all of the energy of a star, this would mean that in some way, they were able to control the effects of the energy of the star and how it impacted their civilization at any given time. Eventually, their developments might include the ability to shield entire ships from the harmful effects of a star—allowing them to fly into stars to study them.
Perhaps at some point, the civilization would develop a shielding technology (along with cloaking ability) that would cause their craft to be impervious to any harmful effects from stellar energy. Such technology might even allow them to use these stars as gateways.
Sun Cruisers
In early 2005, well-known author and independent researcher, Richard C. Hoagland, reported a number of highly intriguing incidents with what appeared to be planet-sized, spherical UFOs entering and exiting from our sun. These UFOs were so enormous and yet so fast in their movements, that they were barely perceivable by Earth-based telescopes. Even still, NASA instruments were able to detect them—creating quite an interesting puzzle for independent researchers to solve.
Below is an excerpt from an early DTM article written on this very subject. The article refers to a number of images taken by Earth-based telescopes and published by official sources. These images were later included in Hoagland's research.
[left]February 2, 2005…

Anyone who understands particular movement in space knows that this is not at all space dust. Particles in space move at a single vector. They don't turn or change direction at all unless something causes this directional change artificially (hens the law of inertia).

This is a very large object. Again, it looks to be the size of the sun itself, and not only that, it is moving at an extremely high rate of speed. It is also making intelligent course corrections as it moves. It's moving fast enough to streak the lens, and far away enough that its trail drastically reduces in size.

This is not debris, and it is not space dust. It is likely a craft of some kind, which, at times, seems to be as bright as the sun.

[Above image] The gas giant on the left is normal. We can tell that it's a planet because it's on the elliptic, but the streak toward the lower left is most unusual.

[Above image] You can see a spiral structure in the trail of this object, which, according to Richard C. Hoagland, is evidence of accelerated electrons excited in a high strength magnetic field. This is most likely one of these spheres moving at incredible speeds.

July 31, 2002…

[Above image] There is a Mars-sized object on the right, but Mars is actually on the left. So there is another planet-sized object causing yet another CCD overload.

[Above image] Here is a closeup of the above slide. There is Mars on the left, and on the right is the sun-cruiser.

This image [above] was taken the next day. We can still see Mars, as it is a planet, and has a predictable direction, and a slower rate of travel, but the spec on the right is completely gone. Planets don't vanish or take off in less than 24 hours. That other sphere was no planet.

In this image [above], the object on the far right may be a planet. The two we see in the middle and on the left are both below the elliptic and moving too quickly to be planets. (These are stills from the original animation.)

This [above] is a coronal mass ejection in progress, but the interesting part is what happened just before this CME took place. In the animation on the "Cyberspace Orbit" website, two spheres can be seen rapidly approaching the sun, and entering into it. The subsequent CME irrupts immediately afterward.
http://www.discerningthemystery.com/2016/03/sun-cruisers-with-david-wilcock-and.html
As we might recall, the UFOs—due to their tendency to linger around the sun—were dubbed sun cruisers. These apparent vessels were believed to have been controlled by highly advanced ETs with the ability to use stars as gateways for travel. However, these phenomena are still shrouded in mystery.
If these were actual planet-sized spherical ships, the mere sight of them may cause unwanted concerns for any developed civilization. This may be why the alleged ships appear to be cloaked and transparent. To add, if several metallic planet-sized ships arrived in a solar system uncloaked, they would create an unhealthy amount of shadowing and could block out the sun from civilizations that depended upon it. This is one of several reasons why cloaking technology would be useful for travelers visiting our solar system.
If the above images do look somewhat familiar, they should. These are quite reminiscent of our images of interest.
The Images
There have been many sightings over the years of strange objects in the sky—both around the Earth and around our sun. These sightings have ranged greatly in shape, formation, frequency of sighting, and duration of the appearance of these craft.
Each of the thousands of sightings that have been reported or even those that have been classified and then declassified by the CIA have contributed to the very strong possibility that we are not alone in this universe. In fact, in all likelihood, we are not even alone in this solar system, on this planet, or even in our own neighborhood. So when we see these images, it is important for us to have that healthy amount of skepticism, but to also have a flexible mind so that we are able to adapt whenever we find the truth to be different than we originally thought.
See also – NASA Tweets 'First Alien Comet Up Close': Another Soft Disclosure of Interstellar Spacecraft? – Links and Commentary
Now, let's examine these images.
The following images come from several Facebook posts from a user who preferred to remain mostly private at this time, so I will refrain from mentioning their name. They seem to be a generous individual who came across something extraordinary and was courteous enough to share their hobby with the world. We are grateful for the gesture.
(A)                                                                                   (B)
At first glance, some may not notice what exactly they are looking at. Is this simply a dirty lens viewing the night sky? No. By my understanding, these images were taken during the daytime with an iPhone 8, telescopic/lens adapter, and possibly a solar filter. The glowing object in the center is a somewhat distorted image of the sun. There are also objects surrounding the sun which are unknown.
(C)                                                         (D)                                                        (E)
We may look at these small, spotty objects and simply assume they are dust particles on the lens. However, dust is typically random in shape and arrangement. These small objects are not.
They appear to be actual objects distributed throughout three-dimensional space. As we may notice, the objects in the center image above (D) all appear to have the same vanishing point within the image, causing me to suspect that the image depicts a highly voluminous area, such as outer space.
(F)                                                                                         (G)
The image F and G appear to depict the same or similar objects as the others. There is no way for us to determine size relationships, as we do not know what we are actually looking at. Nor do we know the distance of these objects from the sun. However, from the above image on the left (F), we do see what appears to be a sort of corona or what could be compared to a solar bow-shock surrounding each object on the sun-facing side of each object.
If these objects were advanced ships of some kind, we might expect to see something very similar—large ships traveling by their own power while being buffeted by the blast of the solar winds.
In addition to these smaller objects, we see what appear to be enormous transparent spheres distributed in multiple locations throughout each image. If these do not represent smudges on a lens, this would make sense. These images appear to depict the familiar transparent spheres we have seen images of in past official astronomic photography.
Notice how in some of these images, the light of the sun actually shines brighter on the side of the spheres closest to the sun—just as we might expect to see on a physical, transparent, and slightly opaque spherical object.
What could these objects be?
Exploring the Possibilities
We can only speculate as to what might be taking place in our solar system at present. However, according to these images, it appears that something quite significant has just occurred. Unfortunately, we do not have the scientific evidence to validate what we see here. Yet, the reason we do not have this evidence is that many of the astronomic observatories that would have been gathering said evidence were conveniently shut down in less than 24 hours of one another.
These images show what appear to be not simply one, but many enormous, possible planet-sized spheres along with what looks to be dozens—if not hundreds of craft of some kind. All of these objects appear to be emanating from our sun (or from an original point near the sun). According to the linear trajectory of the apparent ships, they all appear to have gated in through the sun or to at least be moving away from the same central point of origin relative to the sun.
See also – Trump Orders Establishment of 'Space Force' as 6th Branch of Military; Program Has Existed Since Mid-1900s, Whistleblowers Claim
The original image of the solar tornado was similar to these in that it was correlated with a small solar ejection. If we imagine a planet-sized ship gating in from within the sun, it would make sense that as it left the solar surface it would have a plasma trail or possible plasma vortex attached to it similar to the way in which reported USOs (unidentified submerged objects) do as they emerge from beneath the water's surface before taking to flight.
It could be that the small geomagnetic storm we experienced on September 11 was the result of not simply one large UFO leaving the surface of the sun, but the possible result of hundreds of craft of multiple sizes gating into the solar system through our sun.
Of course, we must take into account the possibility that all of these images are mere flukes and could be lens flares or some other photographic hiccup caused by questionable iPhone hardware/software. There is a chance this could be the case. However, this does not seem to explain the numerous other connections we've discussed here.
Why did so many solar observatories close in such a short period of time preceding what was claimed to be a mere geomagnetic storm? Why do the official SOHO images look so similar to these images recently taken of the sun? There appears to be some connection between these two occurrences.
Meeting the Neighbors
According to extensive research, there appears to be a particular consensus on the subject of the possibilities of ET contact. Many sources within alternative communities believe that the majority of ETs within the cosmos are largely benevolent and desire to assist humanity in whatever way they are able. Though there are reported to be a number of exceptions, for the most part, this appears to be agreed upon by most alternative sources of information.
Many are familiar with the text of the Law of One and the way in which it has impacted the truth community. According to this text, any being we meet within the universe can have a variety of different focuses and intentions upon meeting them. They could either be benevolent (or focused on serving others), malevolent (or negatively focused on selfish intentions), or they could be neutral and take a position of what we might consider scientific curiosity (or the position of an observer).
Those who serve others typically define themselves in their generosity and their willingness to meet the needs of others. Those who are negative will typically behave like narcissists, sociopaths, or psychopaths depending upon the severity of their self-focus. These negative beings behave as though they are the center of the universe, and they consider anyone who does not acknowledge their assumed superiority to be evil.
According to my understanding, the beings who are neutral must be discipline in their intent to avoid becoming involved in any opposition between the positive polarity and the negative polarity.
Under normal circumstances, any ET we might meet out in space will be far more advanced than Earth humans. As Earthlings, we could consider ourselves to be at what is called 3rd density (or in some cases 4th). This means that with regard to spiritual maturity, we are old enough to cause trouble, but not mature enough to handle independent life in the galaxy. Consequently, we are stuck on one planet for the most part.
When we evolve to a point where we can behave responsibly and respectfully toward all other beings we might encounter in our galaxy/universe, we might be able to travel outside of our solar system (though according to whistleblower testimony, various covert projects have already developed the ability to do so). In fact, according to research, many benevolent ET groups are interested in helping to assist us in achieving that level of maturity.
The Law of One text refers to this benevolent group as the Confederation. This group is said to consist of many different species of ETs all of which have matured to a point of self-sufficiency and balance in the galaxy. After they achieve this maturity, those within this group travel to different planets where civilizations are about to transition into hihger consciousness. These benevolent ETs may either observe the process of development or, at times, they render aid to ensure a smooth transition of the civilization into a state of independence.
The task is typically hands-off for the most part, as too much interference can actually hinder those who are learning to be self-sufficient. According to multiple sources, this is why we do not see ETs walking the streets on the regular (or at least we believe we do not see ETs).
There are ETs which we might consider negative. Ironically, we do not actually need to worry about them coming to invade, necessarily. According to many sources, the negative ETs are already living here on Earth with us. These sources claim that these ETs are those behind the destruction of Earth's habitats, the degradation of human health, and the progressive imbalance upon the planet as a whole.
These negative ETs, with the help of psychopathic humans, have largely reduced the planet to desolation. However, thanks to humanity's process of natural and spiritual maturity (along with the assistance of multiple positive groups), this has not been allowed to occur.
Intentions
If there are hundreds of ET craft occupying our solar system at present, what could this mean? Why are they here?
These beings could intend to render aid when the act is most appropriate and beneficial for us. Alternatively, they may be here to simply witness the transition of humanity into a higher level of consciousness. According to multiple sources, this process of ascension is actually quite spectacular. In fact, in the case of present-day Earth humans, the transition we are said to be presently undergoing is completely unique in the universe. It has never happened before. Consequently, it is understandable that a large number of ET spectators would want to witness it.
See also – Is Something Otherworldly Going On in Outer Space? 4 Global Powers Hold Mysterious Rocket Launches within Days
I suppose there is a possibility that various negative ETs would want to take advantage of our transition or to perhaps stop it. However, considering the difficulties we appear to be having during this transition and yet the monumental levels of progress we are constantly achieving, I find it more likely that these negative beings are already on Earth and are throwing a few final tantrums before being completely defeated.
Full Circle
I have to say how bizarre it is to be able to write an article like this. To be honest, writing is not typically this easy for me. It takes time and quite a bit of mental and physical dedication. Mobility and lack of energy have been significant issues for me for several years now, as my friends will know. However, this post, in many ways, seems to have written itself.
The composition seemed to come to me automatically. The format, the subjects, sources, and even the images all seemed to simply pop into my head within in a matter of minutes. I stayed up until 3:00 am last night simply because the information was flowing so easily. Again this does not typically happen.
Even my dreams were out of the ordinary last night. I recall experiencing a conversation with someone who felt like family—possibly more than one person. I was consoling them and helping them to understand a difficulty they were experiencing. At the same time, I remember receiving some type of help or assistance from someone else. Though I can't remember too much detail about the interaction, I do remember the words of reassurance I heard as I woke up.
I heard a kind and gentle voice say, "Good luck," and as I opened my eyes, I realized that I had awakened at nearly the exact same time I would have, had I set my alarm. Also, I was in significantly less pain than I was the night before.
To be honest, I can't take full credit for writing in this way with such ease. I have to give credit where it is due, but in this case, I'm not sure where it is coming from. We could speculate, but I'd much rather evaluate the material for its informational content than go off on any tangents. I will say that the first time I wrote about the subject of sun cruisers, the experience was very similar.
There were numerous synchronizations and events that just seemed to work themselves out in order to help me finish the article. I experienced multiple numeric synchronizations including the numbers 9 and 1 as well as ascending numeric sequences both then and now.
There was also the fact that this particular post could very well be the 912th post for the Discerning the Mystery website (though technically the 913th), and this very article came to me and was completed for the most part on 9/12/18.
Screen-shot taken just before posting this article
During my process, the words of this post seemed to type themselves. The composition felt as though it already existed before I put much thought into it, and the way in which the subject seemed to assist in the overall disclosure process made the experience a truly joyful undertaking.
Closing
It's an honor to explore these possibilities with you, the audience. Even if none of these developments turn out to be accurate and are proven bogus, I hope that these recent events can help each of us realize that we have a mission to accomplish here on Earth. To add, we should keep in mind that even if a benevolent group of ETs comes to visit our system as witnesses or assistants, it is we—WE—who have the power and the duty to free ourselves.
No one is going to save us from our problems and we do not and have never needed them to. We have always had the power to change this planet for the better, I believe. It may only be now and in the coming moments, that we finally realize the fact.[/left]

Thanks to: http://www.discerningthemystery.com
—–
https://stillnessinthestorm.com/2018/07/big-bank-studies-predict-space-industry-in-the-trillions-but/
https://phibetaiota.net/2018/09/robert-steele-mormon-church-pedophilia-exposed/
As Chief Counsel for the Judicial Commission of Inquiry I heard compelling testimony on pedophilia among Mormon leaders, during the London Seating. That video is below the fold. I take the below headline very seriously. In my view, the Mormon "Church"  as well as all other faiths, are just as culpable as the Catholic Church. The time has come to make it clear to the public that pedophilia and murderous pedophilia are an elite practice across ALL of our institutions, virtually without exception.
Former Sugar Land bishop says Mormon Church policy allows children to be groomed by pedophiles
…a list of questions too graphic to post online or show on television got former bishop Sam Young so upset his reaction earned him excommunication from the Church of Jesus Christ of Latter-Day Saints. He was a member for 65 years.
"People should be sent to jail for subjecting our kids to this type of thing," Young said. "Any other church, they would fire the minister if they asked these questions."
RELATED:
Hundreds march to demand LDS Church end 'worthiness interviews' with children
Mormon statement on child abuse: Move along, folks; we don't have a problem
Phi Beta Iota: Catholic pedophiles are the best known violators of children, but it is vital that everyone understand that  the Mormon Church and other denominations including Protestant, all just as culpable.  This is a universal scourge.
See Especially:
See Also:
UPDATE 1:
NYT Editors: The Catholic Church's Unholy Stain UPDATE: Robert Steele Letter to Editor
Mongoose: Legal Exposure of Mormon Church Looming?
Berto Jongman: Mormon Leader Pedophilia — Implications for Mitt Romney?
UPDATE 2:
History, not Mystery: Joseph Smith was a Pedophile (as confirmed by even Mormon sources) . . .
Six Mormon Families Suing LDS Church For Covering Up Pedophilia
https://www.npr.org/2018/09/22/650636356/the-cajun-navy-heroes-or-hindrances-in-hurricanes
http://fromthetrenchesworldreport.com/the-cajun-navy-heroes-or-hindrances-in-hurricanes/233618
https://thefreethoughtproject.com/city-replaced-corrupt-cops-with-mimes-who-lowered-traffic-fatalities-far-better-than-tickets/
—
As Treasonous Bush-Clinton-Obama Pedo Cabal Dynasty Gets Exposed, Desperate Elite Steps Up War against Humanity
SOTT – by Joachim Hagopian, March 31, 2017
Every day the world seems to be spinning faster out of control. What appears to be unfolding is an epic battle between subversive forces within deep state America vying for dominance and control. Up till now the international crime cabal government led by the ruling elite has enjoyed unbroken, virtually unchallenged power and authority in Washington. The current ruling cabal easily stretches all the way back to the 1980 presidential election, when Ronald Reagan as a figurehead idol on a pedestal covertly secured the real globalist powerbroker into position – his Vice President George H. W. Bush.  
That year Reagan beat incumbent Jimmy Carter only because of the October Surprise, a top secret deal overseen by former CIA Director Bush negotiated with Iran's Khomeini to delay the release of the 52 American hostages in Tehran until after Reagan was elected and became president. Had Carter been able to free the hostages prior to his November election reducing their 444 day ordeal, he would have secured his second term in office. So it's only by treasonous subterfuge that the puppet occupying the White House changed that year.
This totally sinister pattern already had a precedent when a dozen years earlier Richard Nixon made a secret agreement with then South Vietnamese President Nguyen van Thieu to sabotage peace talks with North Vietnam that President Johnson had been negotiating, convincing Thieu to hold off from signing any peace treaty in 1968 on a broken promise of a better deal to come. This subversively treasonous ploy won Nixon the presidency, extending America's then longest running war another four plus years, killing 22,000 more American lives and over a million more Southeast Asians. But hey, what does it matter to the ruling elite that has only contempt for human life while deciding who becomes president every four or eight years? The planetary rulers control both political parties in America and regularly take turns selecting the Republican or the Democrat who comes to power as they see fit. Illegal secret deals determining who the White House puppet will be are just how the diabolical game is played. And the game's been rigged for many decades.
The globalists historically prefer selecting a president with the full card carrying elitist credentials, a member of multiple private inner clubs like the Council on Foreign Relations, the Trilateral Commission, the Skull and Bones Society, Committee of 300 and Freemasonry becomes the bona fide inductee into the satanic hall of shame – the New World Order's Illuminati. And the elite's George H. W. Bush had every credential covered as a lifetime secret society member possessing all of the above. The son of a US senator and confirmed financier to Hitler, it was a young George Bush as a CIA operative who'd worked closely with the anti-Castro-turned anti-Kennedy Bay of Pigs Cubans. It was also George Bush who was photographed in front of the Dallas bookstore depository on the very same day that JFK's brain got splattered on his slow moving, "sitting" target in November 1963.
And it was this same George Bush that the elite teamed up with a Hollywood B actor when Ronald Reagan was relegated to his final acting role as White House front man. Just two months into his presidency, Reagan was struck down by a deranged lone gunman (direct from the false flag playbook) John Hinckley, whose family just happened to be very close oil friends with the Bushes. Needless to say, everyone played dumb and true to Mockingbird collusion, the rabbit hole "coincidences" between the Bush-Hinckley family connections all rapidly vanished. Never mind the fact that HW's son Neil was scheduled to have dinner with the would-be assassin's brother the day after the shooting. Never mind that among John Hinckley's longer psychiatric stays during the 1970's was at St. Elizabeth's mental hospital, famous for CIA MK Ultra experimentation using drugs to program guinea pig assassins. Never mind that the Reagan-Bush Energy Department notified the Hinckley's Vanderbilt oil company on the very same day of the shooting that the family business owed the feds $2 million in penalties. But once the unspeakable deed was done, that stiff penalty suddenly vanished into thin air as well, just like all of Hinckley's psychiatric records and 22 FBI pages of the "lone" gunman's "associates and organizations." Bush ensured the truth behind the Reagan shooting was sealed CIA tight… a dry run rehearsal for George junior's poor imitation 20 years later with his own sloppily botched 9/11 coup cover-up.
The eerie parallel is striking between this suspicious Bush affair and the one two decades later when HW dined with bin Laden's brother on the same morning of 9/11, while the CIA-spawned and funded Osama sitting in an Afghan cave half a world away to take the full rap as Bush and Cheney's arranged mastermind patsy. In any event, the attempt on Ronnie's life left George senior to assume virtual control over the White House, wielding the real powerbehind US Empire exploits throughout the 1980's right into the 1990's.
This still alive but frail 92-year old Illuminati gangster who helped carry out the tragic American JFK coup so many decades ago, to this day enjoys the elevated stature of a "senior statesman," doing the honor of the coin toss at this year's Super Bowl. Bush is joined by two other aging NWO gangster gurus – Kissinger and Brzezinski, revered by dumb Americans, still pulling the strings from afar, overseeing yet another illegal deep state coup being currently waged against Donald Trump.
Having controlled deep state as the CIA director (1976-77), then CFR director (1977-79) leading up to his [vice] presidency (1981-1989), then as the first out of the closet New World Order president (1989 to 1993), and then even continuing behind the scenes under Bill Clinton since Bush senior had employed the youngest Arkansas governor as his cocaine dealer out of USA central in rural Mena, Arkansas throughout Bill's crime-filled dozen year run as state governor. During Bush's Iran-Contra era, Bill Clinton laundered over a billion dollars a year in CIA drug money through his little airport. Profits from the "war on drugs" catapulted the rise of both the Bush and Clinton crime families as they busily paid off and appointed enough court judges, federal and state attorneys, state police and FBI officials, in order to effectively keep at bay all their scandals of countless murders, serial rapes and child sex trafficking investigations while financing their lucrative, off-the-books, CIA black budget.
As a result, the Bushes and Clintons have permanently installed a corrupt international crime cabal-drug cartel operating out of Washington DC that seamlessly recycles its ruthless centralized power and influence from Republican to Democratic administrations under the same organized crime machine families for nearly four decades and still counting. Bush-Clinton-Obama appointed judges and the rogue forces have saturated deep state and are still firmly entrenched in both the judicial branch and all the US intelligence agencies operating within New World Order's political dynasty. The Bush-Clinton-Obama dynasty has faithfully followed the elite's marching orders, nearly destroying America as a sovereign nation, killing off its once vibrant middle class, crumbling its infrastructure, decimating its manufacturing and tax bases with offshore cheap labor outsourcing. Establishing a permanent wartime economy, within a few decades this same satanic worshipping dynasty has transformed the US from the world's largest creditor nation into world history's biggest debtor nation, currently drowning at $20 trillion in the red. The drained, near lifeless US national economy has been bled dry by a lethal war machine whose global mission is to destabilize and destroy any sovereign nation that exerts independence, one by one raping and pillaging turning them into failed states. The Empire of chaos and destruction possesses its trademark effect – King Midas in reverse.
With the stolen 2000 election and the Cheney-Bush Jr. neocons at the helm at the turn of the century, and their 9/11 their "new Pearl Harbor," they established a pretext for their endless war of terror, murdering over 4 million Muslims in the process while turning our constitutional republic into a totalitarian oligarchic police state and Third World banana republic. Incredibly all these years later in 2017, those same criminally destructive forces are still in power and are currently bent on destroying the Trump presidency from within, closing in for the kill to finish America off for good. From CIA Bush senior though CIA Manchurian Obama, the assigned NWO puppet destroyers of America have used their deep state gangsters to seize and expand their centralized authoritarian control over the span of a full half century. Bottom line, since the JFK assassination, the shadow government that Kennedy warned us about just months ahead of his murder, are the same traitors who never left Washington.
With last year's debacle of a political circus fully exposing America's corrupt rigged two party system, resulting in the surprising Trump victory and Hillary loss, the world ostensibly witnessed the defeat of globalism and the end of the crime family dynasty. Though Trump's New York City roots are steeped in family slumlord discrimination and later mentored and shaped by his longtime Mafioso consigliere, the ruthless red-baiting Roy Cohn, Trump's rise as real estate-gambling mogul generously profiteering from multiple shady deals with partners in organized crime, surviving four bankruptcies as the bailed out benefactor of Wall Street banksters, Donald Trump can hardly be called a self-made man, a maverick, or least of all an outsider.
And his womanizing exploits have always been on full display. Just three years before his pedophile buddy Jeffrey Epstein was investigated, in 2002 the Donad's gushing admirationtowards his child rapist friend runneth over:
"I've known Jeff for 15 years. Terrific guy. He's a lot of fun to be with. It is even said that he likes beautiful women as much as I do, and many of them are on the younger side. No doubt about it – Jeffrey enjoys his social life."
Clearly Trump knew his fellow billionaire had the eye for "the younger" ones on the underage "side" of the law. And with multiple past lawsuits accusing Trump of sexual assault or sexual harassment as well, who really knows if the Donald's past is equally tainted. Is he simply the elite's next chosen, equally compromised politician to occupy the highest office, just as manipulated and controllable to high roller blackmail as the rest of them? The satanically run system wouldn't have it any other way.
Our Current Battlefield Landscape
Speaking of Trump's convicted pedophile friend Jeffrey Epstein, Florida's US attorney Alexander Acosta at the time was in charge of Epstein's prosecution. Acosta's blatant mishandling of the case had him caving into the pit-bull attack of the Epstein defense team led by Lolita Express frequent flier Alan Dershowitz by handing the billionaire the sweetheart deal of a lifetime. Thirteen months of six days a week allowing Epstein to leave the local jailhouse to be able to work during the day while enabling Epstein to cop a guilty plea of soliciting prostitution from a minor and avoid being tried on federal charges in a federal court where normally any other offender would serve a ten year to life sentence was a grotesque travesty of justice.
But the Epstein case is not over yet. At the Epstein defense team's behest, attorney Acosta willfully withheld notifying the two underage victims of the plea bargained deal he'd agreed to until months after the fact. When the re-victimized girls finally learned that their rapist was basically awarded a get out of jail card, they filed a civil suit against him that's been stalled in court for nearly eight years. But it is now finally due to move to trial, forcing Epstein to be subjected to cross examination by the plaintiffs' attorneys. The basis of their civil suit is that Acosta denied them their civil right under the Victims Crime Act that compels prosecutors to inform victims of any plea bargained arrangements made between the prosecutor and defense. So Acosta was not forthrightly honest in legally complying with both the letter of the law nor his own legal and ethical obligation.
Last week Alexander Acosta as Trump's choice for Labor Department secretary underwent questioning at his senate confirmation hearing. Several Democratic senators did grill himover his incompetent mishandling of the Epstein case. In response, Acosta simply reiterated his feeble argument defending his decision to neither take the case to federal court nor push for a trial, stating it would risk Epstein going free, which is both unlikely and absurd. Merely rehashing his old weak rationalization sufficed to get him through the first committee vote. All the Republican and most Democratic senators gave Acosta a free pass, entrusting him to be in charge of our national labor force, directly overseeing both legal and illegal labor practices in America, including the forced labor of child sex slavery and human trafficking. Most of the committee was shamefully complicit to ignore the global epidemic and Acosta's disgraceful history regarding it. The Republicans all went easy on the nominee, assured that he will be our next Labor Secretary. This week Acosta's committee vote went strictly along partisan lines with the dozen Republicans approving and the eleven Democrats not, thus moving the nominee to the final full senate vote likely coming next week.
The dubious past ties that both Trump and Acosta share with the same infamous registered sex offender reflect poorly on both our president as well as his next labor secretary. Protecting the serial child rapist of which both Acosta and Trump have been guilty, and then as such a serious and salient current issue, those senators deeming it unworthy of serious questioning renders them also complicit in protecting pedophiles along with the horrors of modern day slavery.
At one point during the hearing, Acosta claimed that he would not bow to "inappropriate" political pressure, yet a decade earlier he did exactly that, completely bowing to the pressure from Epstein's attack dog defense team. For being remiss in challenging the former US attorney on his abominable judgment in the biggest legal case of his professional career, shame on those committee members who failed to meet their ethical responsibility to confront the nominee who is unfit for the job. Shame on Trump for selecting him, but mostly on Acosta for his gross misconduct that should have disqualified him.
With Washington's morally vacant swamp full of quicksand, President Trump has numerous enemies utilizing all their collective will and power to remove him from the White House despite his semi-legitimate election (electronic rigging occurred on both sides). If Trump was a pedophile like so many of his sworn enemies are, it would seem probable that by now hardcore evidence would have already been produced to incriminate and destroy him. But despite his checkered past, like other deep state demonized enemies Putin and Assad, in comparison Trump appears to be a saint next to the degenerate diabolical cabal poised and ready to move in for its final solution kill, not only against the standing US president but against humanity as well, victims of the genocidal, pedophilia-infested swamp determined to rid Trump before he rids it. After all, his signature campaign promise is to drain the booby-trapped swamp.
Or perhaps another even more plausible scenario is that Trump's been chosen and set up to be the presidential fall guy when the elite's meticulously calculated perfect storm of events erupts with the American Spring uprising about to spill blood and violence in the streets across America (the latest angry mob episode on a Southern California beach), co-timed with the demonically controlled West's launching of WWIII against manufactured enemies Russia, China, Iran, Syria and North Korea, triggered to blast off just as the elite's house of cards global economy is overdue for collapse. Trump may well have been handpicked by the planetary controllers once they realized Hillary's exposed crimes made her too damaged a liability. Thus, deep state's manufactured enemy – the demonized Donald Trump, along with Putin and Assad, is the target of the rulers' treasonously orchestrated insurrection taking place from within, now unfolding as sleight of hand, cloak and dagger theater, the stage has been set to propel America and the entire globe into apocalyptic upheaval and ultimate ruin.
The criminal Bush-Clinton-Obama forces in recent weeks are apparently growing more recklessly desperate in their raw aggression to push humanity off their doomsday cliff as a last ditch effort to save their own skins from ruin. This presentation will cover the more blatant breaking current events and significant developments that illustrate the elite's do-or-die desperation with the criminal enterprises from both the Clintons and Obama exploding on a near daily basis now.
Hillary's Crimes Unfolding…
New evidence shedding light on Hillary Clinton again emerges from Weiner's confiscated laptop, proving that Hillary and Weiner's former wife Huma Abedin knew that the pedophile husband was once again engaging in criminal behavior four full months before he was caught by New York police. Yet Hillary and Huma did nothing to protect the underage girl from being further victimized by Weiner's abusive sex crimes, which is a criminal statute violation in and of itself. At the time NYPD wanted to charge Hillary but the FBI and Justice Department pulled rank insisting that it was a federal case. It was even disclosed that the teenager was struggling with depression and suicidal thoughts. But when the girl expressed a desire to kill herself to Weiner, his only response was to send yet another picture of his wiener.
With this latest press release of damning information, NYPD decided to break with the FBI silence that has withheld evidence protecting Hillary for over a year now. The only concern expressed by Hillary at the time was if the word got out, it would damage her chance of winning the presidency. So she self-servingly recommended that Huma distance herself from Weiner and get a divorce. Of course that move would decisively free Huma up to both work and play together fulltime for the benefit of both Hillary's professional as well as her personal gratification. Only briefly in the agonizing throes of her lost election did Hillary cast her longtime aide and companion aside. But not only has post-election Huma at least temporarily reunited with her old boss, she also is reportedly working hard on reconciliation with her pervert hubby after the fourth time perv's been caught cheating on her. Much to Hillary's chagrin, current sources maintain that Weiner spends 80-90% of his time these days at the New York apartment they've shared with their child. How this all legally plays out against the Clintons as the Weiners try to save themselves from doing serious time remains to be seen.
Other PedoGate developments that keep resurfacing in the never-ending saga of Hillary's criminal cover-ups is her US Ambassador to Belgium Howard Gutman while she was his secretary of state boss. The heavy Obama fundraiser (a half million for his 2008 campaign) who was rewarded with an ambassadorship was caught red-handed in Brussels soliciting sex from young boys, and repeatedly caught until leaving his post "unblemished" in July 2013. Gutman's acting out got so bad that Hillary the sex crime enabler sent her state department fixer Patrick Kennedy to order the Inspector General to cease investigation, allowing Gutman to continue his sex crimes protected by diplomatic immunity. Eventually the IG became a whistleblower only to have Hillary sic the FBI on her for continual harassment, break-ins to destroy evidence and suppress another scandalous cover-up. Ultimately Kennedy finagled a deal with the FBI to look the other way to allow the ambassador to serve his full diplomatic tenure in Brussels. And as a result of Hillary's protective shield, Gutman has never been charged. In a number of other cases involving sexual misconduct by Hillary's diplomatic corps, her criminal protection of them flagrantly remains on record. So she's established a longstanding pattern of always protecting the pedophiles and letting the child victims suffer.
Of course this wasn't the first or last time the Clintons intervened to help allied criminals off the hook. Shortly after the January 2010 Haiti earthquake, the Clintons went into their best damage control mode, running to the rescue of convicted child kidnapper Laura Silsby when caught trying to traffic 33 Haitian girls out of the country. And now remarkably enough, the convicted child kidnapper is actually employed under her husband's name at the software company responsible for issuing Amber Alerts on suspected abducted children.
Then several days after Hillary lost her November election, journalist Monica Petersen was mysteriously found dead in Haiti after allegedly uncovering more incriminating evidence exposing the Clintons' child trafficking involvement, not to mention the $2 billion she and Bill ripped off from the forsaken Haitian earthquake victims. For the last dozen years the Clinton Foundation has been masquerading as a multibillion dollar charitable organization ostensibly committed to supplying global humanitarian relief plentifully donating to noble causes. But the record shows in 2015 only 4% of the money actually went to helping those in need and the rest illegally fed the greedy coffers of the Clinton family cartel that for decades has engaged in crime cabal operations, destroying millions of innocent victims' lives planet-wide.
The Clinton story provides a fitting analogy to the global pedophilia epidemic. An extremely common pattern pervades where known child predators are allowed to continue working careers set up to protect children against pedophile trafficking rings. Examples are Child Protective Services employees who actually sell children into sex trafficking networks. Or federal US attorneys whose job is to prosecute against child pornography and child trafficking instead of engaging in pedophilia while protecting the crime cabal from exposure and accountability. Or police sworn to investigate pedophile rings to protect children but are actually sexually abusing more child victims themselves. Or famous and powerful enough entertainers who become legends working for many years in children's charities, all the while raping and pimping child victims for other powerful pedophiles (as in UK's Jimmy Savile case). These global networks are allowed to flourish worldwide because these soulless sex offenders are rampantly in position to operate with total impunity within the very same demonic system set up to protect our most defenseless population. It's the most egregiously grotesque illustration of the predatory foxes guarding the henhouses of the world.
Another recurring Clinton connection that won't go away is their ongoing joint enterprises with Frank Giustra, the Canadian mining billionaire and founder of Lions GateEntertainment Corporation. Currently China virtually owns Hollywood, in recent years the richest man in China behind his Chinese conglomerate Dalian Wanda has bought up controlling interests in a number of entertainment corporations and studios, Lions Gateamong them. Fear of China's oppressive censorship as the world's economic powerhouse and largest creditor nation monopolizing both the film industry as well as the internet (over domain naming rights) is a sobering thought, considering how the mind of the global masses can be so easily programmed, conditioned and brainwashed by centralized control.
Though globalist Frank Giustra's Lions Gate has produced some excellent films, two extremely sick Lions Gate offerings are "Hostel" and "Hostel 2." Both showcase sadistic torture and ritualistic murder, the first involving male victims and the sequel gives equal time to female victimization. In the second Hostel the coed trio is abducted and in captivity one is decapitated, hung upside down and her blood is drained, an identical image of which has recently been recreated on a large multistory building mural in Brussels, the home of the EU and NATO headquarters. Also on display in the same city is another controversial mural, featuring an adult hand holding down a terrified child's head while the other hand grips a sharp knife heading towards the child's neck. The diabolical brainwash through Hollywood, popular music and art permeates our cities in Brussels, our own Washington DC, Kazakhstan's capital Astana, airports like Denver or the Georgia Guidestones where the Illuminati's Agenda 21 calling for human genocide and one world government is spelled out clearly for all to see.
Just to graphically expose what's been secretly going on now all over this planet, breeder babies are being brought into this world by either victimized child sex slaves, incest victims or Luciferian types as part of insulated demonic cults and secret societies. These babies born without birth certificates or public records are actually being thrown on satanic sacrificial altars, raped, cut up, eaten and burned alive by lowlifes in high places and low places alike, protected for centuries by elite rulers combined with public ignorance and denial. An eyewitness former Hollywood producer and insider Jon Robberson has described in horrid detail the ritualistic child sacrifice practice going on in Malibu. Thank God people like Jon as well as former Los Angeles FBI bureau chief Ted Gunderson and many others are courageously coming forth to expose the shocking evil. As we become aware, it's our ethical and moral duty to spread the word and take a stand against our hidden enemies.
Returning to elitist Clinton partner Frank Giustra, through his Radcliffe Foundation, he perhaps is the Clinton Foundation's biggest pay-to-play player. Starting over a decade ago Giustra and the Clintons began their working partnership that ended up selling off 20% of America's uranium deposits to Putin, giving away nukes' main ingredient to nuclear powered Russia. Talk about treasonous Russian collusion! And then Hillary the candidate and her minions have turned around to constantly use her platform to falsely blame Putin for everything gone wrong in her life, in America and entire world. In the last decade Hillary's hubris, duplicity, hypocrisy and pure evil done to this world can only be matched by her husband and Obama.
Their Clinton Giustra Enterprise Partnership also shielded both donors' identities and amounts they gave to the Clinton Foundation, a violation of Hillary's "transparency" as secretary of state. As part of the Clintons' pay-to-play foundation, Giustra was able to buy in for an initial $31 million as a Clinton Foundation gift in January 2008 in order for Bill to intercede to make a deal mining uranium in Kazakhstan. As a reward, a few months later Giustra donated another $100 million to the Clinton Foundation, earning himself a seat on the Clinton Foundation's board of directors. His Radcliffe Foundation owns a home for refugees in northern Greece called Elpida that maintained a near identical logo to the FBI's pedophilia symbol; that is, until the heat from Pizzagate suddenly induced Giustra's company to change its logo, just like Besta pizza.
Former child actor Brock Pierce as a young adult with two other partners formed an early video sharing site called Digital Entertainment Network, garnering a total investment of $72 million from Hollywood heavy hitters even prior to its 1999 opening or generating any profit. But the following year in 2000 the company began going bust after Pierce and his partners were accused of feeding underage boys in Hollywood with booze and drugs at parties and then raping their victims in a child sex ring. Their child sex network was prominently featured in the documentary "An Open Secret." Ultimately Pierce and company escaped to Spain to avoid legal ramifications.
A few years later Brock Pierce reemerged as an active Clinton Global Initiative member, speaking on its behalf and raising funds for the Clintons. With the dark cloud hanging over Pierce's not so distant past, combined recently with direct ties to the Clintons and their own child sex trafficking involvement (through pedophiles Jeffrey Epstein, Anthony Weiner as well as Podesta and Pizzagate), and the larger PedoGate epidemic in Hollywood, Washington DC and the world, criminal depravity appears to permeate and bind all these associations. The latest Brock Pierce reinvention is his position as chairman of the board of the Bitcoin Foundation that has had a number of members resigning in protest.
Another recent related entertainment link to pedophilia involves Late Night host Stephen Colbert, who apparently takes his Pizzagate-bashing orders directly from the Clinton camp. After all, he's been best buds with John Podesta for several years and is eternally grateful for the Podesta boys generously supporting his sister's failed bid for Congress in 2013. So the least the high profile entertainer can do at the behest of a Clinton Foundation rep is to feature Bill Clinton on a Colbert Report episode pontificating the glorious wonders of the world, compliments of his "charitable" Clinton Global Initiative. And then when such powerful close allies as the Podestas and Clintons get implicated in a DC child sex trafficking ring, the least Colbert can do is be the first celeb out of the gate to tear into anyone who even thinks Pizzagate might be worth further investigation, much less actually be real.
Obama's Latest Emerging Crimes
Turning to Hillary's other crime cabal partner, besides Bill – Barack Hussein Obama, in response to all the recent allegations of criminal activity committed by our former president, Attorney General Jeff Sessions just stated that he is open to appointing an independent special prosecutor to review and investigate the multiple scandals involving Obama's infamous Department of Justice, from Obama's confirmed IRS discrimination against conservative political opponents to former AG Eric Holder's mishandling and cover-up of the disastrous Fast and Furious gun running operation to a Mexican cartel, to AG Loretta Lynch's obstruction of justice in refusing to indict and prosecute Hillary and her pay-to-play foundation's blatantly criminal operations. And now there's Obama's indisputably illegal Trump surveillance. The list of forthcoming crimes seems endless.
Obama used foreign spy agencies in UK's intelligence services (through its GCHQ Intercepts) and likely Canada's as well to spy on Trump without either a warrant or the US intelligence community's knowledge. On March 4th Trump tweeted that Obama spied on him at his Trump Towers long before he was even elected or obtained his October FISA warrant. Last week Trump delivered his uncovered evidence to the congressional house intelligence committee after it concluded that there's no evidence that Trump ever colluded with Moscow to influence the election. In recent days the tables have finally begun to turn and now it's Obama who's on the defensive and run out of Washington. Despite the recent lies from mainstream press, past articles written by MSM rag reporters at the New York Times have even corroborated that Obama placed Trump, his family members and his surrogates under close unconstitutional surveillance. A CIA whistleblower even maintains that Trump was under "systematic illegal" surveillance over two years ago but Comey's FBI chose to sit on it.
An Obama official that served as undersecretary of defense for Russian affairs matter-of-factly let it slip out that last summer, again months prior to the October FISA warrant that made Trump surveillance technically legal, she was listening in on Trump and his surrogates' private conversations, all part of the Democratic Party strategy to catch Trump "fixing" the election with the demonized enemy Russia. So more evidence is forthcoming daily that it was the Obama-Clinton camp all along who was criminally interfering with the election, the very same charge that he, she, deep state and their MSM minions have falsely, hypocritically and nefariously been raking Trump over the coals for more than a year now.
Latest PedoGate Developments
On the final day prior to still being susceptibly libel for a defamation lawsuit regarding his publicity coverage on the Pizzagate scandal, InfoWars' "warrior" Alex Jones recently issued a formal apology to Comet Ping Pong's owner James Alefantis. This CYA move came to light on the very eve of the national PedoGate march on Washington to bring further attention to the seemingly unbreakable global pedophilia network. Jones blamed other "irresponsible websites" and a couple of now terminated InfoWars' employees for his mistake. Pretty pathetic to witness perhaps America's most prominent, outspoken activist who's been challenging government false narratives for over two decades suddenly groveling as an apologist for the pedophilia epidemic, no less on the day before the PedoGate march on the nation's capital.
Obviously this only goes to show that GQ Magazine's 49th most powerful person in DC – the owner of a pizza joint – can't possibly attribute his acknowledged power due to making really good pizza. And now seeing his power shut down and silence America's infamously loudest dissident voice from speaking out against the pedophilia empire confirms Alefantis' pecking order clout. As abundantly reported online, the pizza shop owner's power has everything to do with his inside connections with the Podestas, Hillary and Obama. His Instagram account, caught prior to escaping to private mode, more than suggests a far more dark and sinister reason how he and his establishment's been abusing his power in Washington.
On the heels of Alex Jones' apology comes another attack on Pizzagate investigation as "fake news" from – of all places – an on-again off-again Breitbart reporter named Lee Stranahan. This guy goes on a half hour diatribe ranting in circular argument denying the veracity of a Washington child sex trafficking ring connected to the Clintons and the Podestas. He claims that now famous tweet that founder Andrew Breitbart as Stranahan's former boss was taken totally out of context:
"How prog-guru John Podesta isn't household name as world class underage sex slave op cover-upperer defending unspeakable dregs escapes me."
… And that it had nothing to do with Podesta covering up a DC pedophilia network. Just over a year after Breitbart's tweet, the 43-year old suddenly turned up dead from an alleged heart attack that many believe was murder. The coroner in the case died of arsenic poisoningwithin hours of the release of Breitbart's suspicious autopsy results. But Stranahan says there's nothing here folks so just move on.
… Just like the Catholic Church scandal of priests for centuries raping youth around the world met by an official Vatican policy of spreading sex crimes to the next priestly assignment while continually covering up their criminality. And how that's all now just become yesterday's news, hardly heard from again after a near $4 billion payout in settlement suits as of 2015.
But while Stranahan denies and the declawed Jones apologizes, videographer DABOO777released his recent YouTube video (which Google-owned YouTube has begun banning him), disclosing that a map that shows the extensive underground tunnel system beneath Washington DC predominantly lies directly underneath properties owned by the usual [pedophile] suspects – the Clintons, James Alefantis and John Podesta. How conveniently coincidental. And most notably an ordnance has just gone into effect making it unlawful for anyone to examine or inquire into DC's tunnel system layout as an overt move to protect current real estate owners [and perps] from any further scrutiny. Cutting off public access to information and knowledge about the capital's subterranean world now declared legally off limits obviously demonstrates deep state's increasing secrecy and censorship surrounding its underworld activity. Crimes committed by Washington's elite running a child sex trafficking ring allegedly linked to the Clinton-Podesta-Alefantis nexus is further insulated and protected by this sudden newly enacted law, rendering the sleuths in pursuit of truth and justice now the criminals for trying to hold the DC child rapists accountable. Satanic sickos will stop at no limit to continue their evil ways.
Still another recent related news item coming out of Washington DC is the more than a dozen young girls gone missing within the first couple weeks in March, reopening the burning question are they just the latest Pizzagate victims? This news only underscores the alarming number of reported minors gone missing in DC just since the beginning of this year – 501 mostly Latino and black girls. And per capita, DC and surrounding vicinity of Virginia rack up more children who annually disappear than any other state in the union. Again, child sex trafficking is an out of control epidemic that must be stopped, and it appears nowhere is it more defiantly in our face than our nation's capital. Meanwhile, lame stream news just keeps pretending no child trafficking network even exists in Washington, ridiculing it as fake news and those acknowledging the truth as conspiracy nuts.
Last month actor Ashton Kutcher testified before the Senate Foreign Relations Committee touting his foundation for rescuing child trafficking victims around the globe after Homeland Security contacted him pleading his assistance in tracking down dark web perps, as if the feds' deep pocketed DARPA that came up with the internet long before Google don't have the technological capacity to track down the bad guys. The actor dramatically claimed that his hi-tech company Thorn, started by his now ex-wife Demi Moore and him contains the [likely AI] software logarithm that permits law enforcement to prioritize sex offender caseloads to track down traffickers. His company is funded by Google, Facebook, Twitter and Amazon, all the same companies that ban even talking about pedophilia. At one point during the congressional hearing, Ashton Kutcher blows a kiss to his favorite politician Senator John McCain, suggesting they're more than just a passing acquaintance. That's because Kutcher is a board member on the McCain's Foundation, a think tank with a stated objective of combating child sex trafficking.
Only McCain's organization is under current investigation for misallocating funds for providing zero donations toward anti-trafficking. More than one government insider has fingered McCain as a suspected pedophile, alleged to be on the pending FBI arrest list. Among Trump's most venomous enemies, John McCain may well be Trump's bullseye target for most wanted in his swamp draining operation. Additionally, several of McCain's key campaign staffers have been convicted of pedophilia and sexual misconduct and McCain himself has a long controversial history of corruption and treasonous aiding and abetting the enemy, caught yucking it up in photo-ops with known terrorist leaders after illegal visits to their headquarters.
Another notably revealing story making the rounds is a recent episode from Dr. Phil's showfeaturing a woman who calls herself Kendall. She disclosed that her parents sold her at birth to a rich and powerful owner who as a member of the elite for many years used her for pedophiles to sexually abuse as his sex slave. Her owner would hire makeup artists and furnish her with fashionable attire just to hide the reality that she was an orphaned sex slave. Constantly raped since birth before she could even speak, Kendall was regularly tortured as a forced participant in sadistic satanic rituals involving child sacrifice. She grew up thinking it was normal for children to be brutally assaulted for adult sexual gratification and describes herself being kept in a cage observing other kids in cages sold to highest bidders.
Kendall stated that similar to the film Hunger Games (another Lions Gate release), children are actually hunted down like animals for sport by the rich, then systematically caught and raped. As a woman currently in her late twenties, only three years ago Kendall managed to escape from her horrific life in chronic bondage. Her appearance on mainstream television serves an important function of bringing increasing levels of public awareness to the worldwide PedoGate phenomenon of child sexual slavery and global human trafficking.
The Multi-Front War – How Deep State Plans to Kill Trump, Independent Media, Free Speech, the Truth and Us
Fearing the wrath of angry masses catching onto their evildoing, the globalists are stepping up their attacks on humanity. The Atlantic has planted the seed as if it's already a done deal or soon to be, featuring an article entitled "Rewriting the Rules of Presidential Succession," invoking post-Trump continuity of government (COG) parameters. The "not-my-president" minions are openly calling for assassination, violent overthrow and impeachment as legitimately justified means within the COG protocol for promoting the unlawful removal of a sitting US president. And with the debt ceiling crisis as of mid-March allowed to remain unresolved this time around, by sinister design without a willing way for the feds to keep kicking the can down the road, the business of government will soon be shutting down in syncopated coordination with the planned American Spring insurrection. Another George Soros funded regime change operation that with impunity he's been executing for decades on every other continent has finally come home to roost, unfolding right here and right now on US soil. The countdown to chaos and implosion is upon us. And on the propaganda front centered on controlling the news, we're also witnessing an equally unprecedented parallel process of deep state ratcheting up its multi-tentacled war waged against us the people, against our First Amendment rights, and against the truth exposing the elitist perpetrators' crimes.
The CIA's cold war Operation Mockingbird designed to control mainstream media by spewing out fake news propaganda never left, even after the Senate Church investigation forced it out into the open and then CIA Director George Bush lied publicly decreeing its end in 1976. But it only submerged into the deep state swamp where it's subversively festered ever since. Today colluding with six oligarchs, the CIA still owns and controls MSM. But in response to the American public's growing distrust towards the media, deep state in its information and propaganda war is out to own and control both our mind and our population. Gallup poll results from a half year ago reported the distrust has spread to an all-time high of 2 out of 3 Americans not believing the mainstream press at all anymore.
So the CIA's deep pocket strategy has been to escalate its so called "anti-fake news" campaign, deploying hundreds if not thousands of paid shills to plant and disseminate disinformation to willfully discredit, smear, confuse and ultimately censor and eliminate the independent alternative news media as the last chance for the American people to access the truth about the egregious crime violations taking place. With the CIA's Vault 7 listening and watching both our every move as well as candidate turned President Trump's every move, deep state is deceitfully utilizing every weapon of mass destruction in its ungodly arsenal to subdue, imprison and destroy us.
The internet giants on social media have introduced the slippery slope of various thinly disguised censorship measures, whereby links and articles deemed as fake news by anyone who registers a complaint joined by a couple others, concluding that something on the internet rings either untrue or objectionable, can then be arbitrarily deleted and removed. Use of third party fact checkers like Snopes as "truth arbiters" is being implemented, in itself arguably a highly biased source of so called truth. In the electronic age online censorship is equivalent to burning books. We're being attacked on all fronts because New World Order autocrats, in reaction to losing their grip of power and control over the growing legions of awakened citizens, must destroy all their designated enemies that of course begin with Trump, Putin, Assad, and 90% of us people on this planet who refuse to either be owned or eugenically eliminated. We the "useless eating deplorables" are now in the fight of our lives, standing up for both truth and our freedom in an epic battle of the ages to take down the demonic Satan worshipping cabal once and for all.
A growing percentage of the population recognizes mainstream media as the actual purveyors of fake news, subsequently fast losing its dwindling readership and viewing audience due to far more honest and accurate news accounts from selected alt media sites. Similarly, because Trump is posing such a threat to new world disorder, deep state is escalating its assault on him, calling for his overthrow in a nationwide insurgency while targeting independent news sources for elimination. Using Google and Facebook as social media censors, deep state totalitarianism is ultimately achieved only when people's access to the truth is completely sealed and cut off, thereby enabling absolute control over the flow of [mis]information and news to the thoroughly brainwashed, kept in the dark, ignorant masses.
How Disinformation Shills Have Saturated the Internet: One Case Story
As a case in point, to undermine alternative news credibility, websites like "America's Last Line of Defense" have been springing up spewing out false stories and lies so that designated censors like Snopes can debunk it. It's a tag team enterprise ultimately designed to eliminate blacklisted independent media. This bogus site recently ran a series of totally fictional, sensationalized stories that inevitably got picked up by either other shills or a number of gullible online sites. A week ago "Last Line of Defense" began reporting that deceased onetime Hillary boyfriend and Clinton confidant Vince Foster's body was ordered to be exhumed by a federal judge in response to Congressman Trey Gowdy's request. The supposed explanation for this court decision came minutes after alleged evidence that a murdered journalist working on the case had a letter written on his behalf sent to his Washington Examiner editor. Allegedly Gowdy was able to quickly convince the judge to order Foster's exhumed body from his Fairfax, Virginia graveside. Despite Snopes' claim that it was meant to be "tongue-in-cheek" satire, the real agenda is to undermine the credibility of online alternative media, justifying censorship and elimination of fake news.
The biggest delivered lie from this story was the bogus announcement that the official cause of Foster's death was abruptly changed from suicide to homicide, based on two alleged bullet holes found in the back of his skull, making it virtually impossible for his 1993 death to be self-inflicted (not unlike reporter Gary Webb who unearthed H.W. Bush's Iran Contra scandal but later also paid for it with two bullet holes to the head "suicide"). And just to add fuel to the fake fire, once Foster's body was examined, the ambulance carrying his body was reportedly set ablaze to destroy all further evidence linking the Clintons to the crime. The hoax was further spun with reports that when Trump found out, he went directly to FBI headquarters and allegedly fired the supervisor in charge of the original investigation.
This deceptive game is played by occasionally interspersing actual news events in with embellished fake accounts. One such supposed "kernel of truth" was MSM's recent coverage of scandal-ridden cover-upper FBI Director James Comey suddenly dispatched for an impromptu meeting at the White House, of course immediately accompanied by online speculation over whether Trump fired Comey on the spot. Muddying the waters so the public doesn't know what to believe is also the name of the game.
By cherry-picking and "exposing" so called fake news stories amongst the numerous alt media sites, MSM desperately attempts to win back its lost credibility while opportunistically convincing an unsuspecting, now minority public that independent and social media need to be reined in with increasing censorship for the public's own good. This same deceptive message was conveniently spread in early December, fully exploiting what was yet another false flag after the Comet Ping Pong trigger-happy "lone gunman" showed up in order to smear the Pizzagate investigation and label its believers as tin foiled "conspiracy theorist" nuts. As mainstream media falls into non-relevant oblivion and out of business as lying, desperate propaganda whores and criminal accomplices, thoroughly exposed as the actual fake news, its panicking resolve to ban the real truth through planting fake news stories by way of its bogus alt news shill sites is skyrocketing now. The all-out war for our minds, bodies and souls is in full assault.
This Century's Biggest CIA Drug Bust in the Atlantic and its Potential Link to Obama
Another story that broke in recent weeks is the largest Atlantic Ocean drug bust since 1999. On February 16th, 2017 a 70 foot fishing vessel named Lady Michelle registered out of a small Caribbean island nation that's part of the British Commonwealth called St Vincent and Grenadine was busted attempting to transport a whopping 4.2 tons of cocaine worth $125 million. The Coast Guard and DEA working with local Caribbean authorities detected the suspicious boat located in a sea lane too deep for fishing and often used by drug smugglers. This much of the story is confirmed to be true, including the names of the captain and his three crewman all from Guyana.
But an article from Sorcha Faal at whatdoesitmean.com has taken the liberty to link the ship's name to Barack Obama's wife Michelle, concluding that the former president is now the criminal mastermind behind an international drug smuggling operation, that has forced him to subsequently flee to French Polynesia for safe refuge against extradition back to America. Meanwhile, MSM has announced that without his wife Michelle, Obama's vacationing "alone" for the next month at the posh Brando resort island located in Tahiti. A couple weeks ago the site explained that sources from the Kremlin's Foreign Intelligence Service provided the details to this part of the story, which the site admittedly has been known to spread disinformation propaganda. Thus, claiming that Obama has a new job as a drug dealing fugitive may well be just more sensationalized fake news on the heels of the already explosive incriminating revelations that Obama as president ordered illegal surveillance of Trump shared by virtually all the US intel agencies with a constant flow of leaks to MSM. Unscrupulous FBI Director Comey's been outed, recently caught lying [again] insisting that the Trump Tower was not surveilled despite the latest congressionally released testimony confirming that Trump in fact was.
A strange anomaly surfacing from the Caribbean drug arrests is the Argyle International Airport as a brand new $259 million international investment from Cuba, Taiwan and its biggest investor Venezuela as St Vincent's largest land development in history. The airport's construction had been nine long years in the making, and to great national fanfare, it had just been opened and begun operating only two days prior to the huge drug bust in international waters 70 nautical miles from Suriname. That timing in and of itself has to raise a degree of red flag suspicion, especially since the reported very first flight to land at the airport was a chartered private aircraft from Mexico while Lady Michelle was allegedly docked close by, awaiting its cargo pickup. A month prior to leaving the White House, Obama signed the US-Caribbean Strategic Engagement Act, alleged to essentially permit the CIA to lease both the Argyle airport and nearby fishing port for drug smuggling operations, a long established fact that the world's biggest drug dealer for many decades since the Vietnam War has been none other than America's CIA.
Another emphasized point connecting the dots between the historic drug bust and Obama is the Lady Michelle's captain, a Guyana national named Mohamed Nazin Hoseain. According to Russian intelligence, Hoseain is "an organizational member of the terrorist group the Muslim Brotherhood," which Trump is considering a designated terrorist group, joining the UK, Egypt, United Arab Emirates, Russia and Syria. Obama threw longtime US ally Egyptian dictator Mubarak under the bus in favor of the Muslim Brotherhood's Mohamed Morsi, now serving a life sentence in an Egyptian prison. Plus, aside from Obama's half-brother Malik's ties to the Muslim Brotherhood, Obama signed a secret directive identifying the organization as a "moderate" Islamist group rather than classifying it as radical. Additionally, Barack Hussein's been accused of allowing Muslim Brotherhood members to infiltrate a number of key positions throughout his administration.
An added piece of info is the Obamas happened to be vacationing in the geographic area with billionaire Richard Branson in the Virgin Islands just before the Caribbean bust went down in February. Around that same time in a related matter, a dozen TSA agents were arrested for smuggling 20 tons or $100 million worth of cocaine coming into US via Puerto Rico over the last 18 years under both Bush and Obama's watch. Upon learning of the TSA arrests, alleged Obama surrogates and possible accomplices allegedly attempted to contact the drug vessel captain but to no avail. Obama and his people then fled the Virgin Islands just days prior to the four arrested crewman taken into custody aboard the Lady Michelle and flown directly to the US Virgin Islands immediately after Obama's departure. Another coincidence?
At that point Barack and Michelle went their separate ways. Once back in DC, in a frantic 36-hour time lapse, Obama embarked on an unscheduled whirlwind journey conferring with important players within his powerful support system network. He first flew to New York City to meet with his lawyers and take in a Broadway play for fake news CNN, then onto meet with his multibillionaire globalist friend and ally Warren Buffet in Omaha to no doubt discuss Obama's mounting legal problems, from stealing millions from Fannie May and Freddie Mac in order to illegally bankroll his Obamacare, to his warrantless (till October) illegal spying on Trump and perhaps even his latest Caribbean headache, then onto Silicon Valley to meet with more strategic A-list intelligentsia, many of whom worked in his administration, likely soliciting their much needed support prior to flying on to Hawaii to say goodbye to his family before escaping on to Tahiti.
Obama's entire whirlwind tour across the globe was unplanned, but the stopover in Hawaii wasn't just a "hi-goodbye" to his family. An old Harvard law school buddy who also graduated with him in 1991 that Obama later appointed as federal judge just so happened to make a major ruling to block Trump's travel ban less than 48 hours after Obama breezed through town, right by the judge's home and courthouse. Very likely the two met. Obama moved from the White House taking up residence two miles from his former home with his closest advisor Valerie Jarrett moving in to the makeshift war room where operation dump Trump would vow to remove him from office by any and all means necessary.
But with all the public disclosures of Obama's recent legal improprieties piling up fast, his meeting with his legal defense team to his key powerful influential allies before rushing off to a location where he cannot be extradited, all suggest that perhaps he is a fugitive on the run, be it for drug running or otherwise. After his near lethal damage to America, millions of citizens are no doubt hoping that all his treasonous crimes against humanity are finally catching up to him. Same goes for Hillary, Bill and the Bushes.
What's Next?
And so it goes, the infamous diabolical cabal players who've been raping our children and planet for centuries are now running like cockroaches naked and exposed from the glaring spotlight. But in retaliation for their all too visible crimes against humanity, they are launching their long schemed, converging perfect storm – take out people's access to the truth while trying to take out their elected leader who's allegedly determined to take them out first, using their trusty stand-by – false flag terrorism last week in London to distract from the US-UK GCHQ Trump wiretap scandal. The next terrorism will most likely be on US soil, all designed to foment the national emergency and crisis needed to trigger emerging civil war violence on America's blood-stained streets, amidst global military showdowns against the manufactured enemies of the Eastern alliance, intended to ignite World War III, all coordinated and timed with their central banking system dominoes falling as the collapsing global economy is detonated to crash in a resultant mushroom cloud of apocalyptic destruction. With nine months still left in 2017, this war of the ages could even go nuclear as the deranged elite fight for their lives by snuffing out our entire planet we call home. While we have them panicking and on the run, now is our time to fight to take back our mother earth for the sacred, God given life we still cherish. For the sake of our children and our children's children, our time to act is now!
Joachim Hagopian is a West Point graduate and former US Army officer. He has written a manuscript based on his unique military experience entitled "Don't Let The Bastards Getcha Down." It examines and focuses on US international relations, leadership and national security issues. After the military, Joachim earned a master's degree in Clinical Psychology and worked as a licensed therapist in the mental health field with abused youth and adolescents for more than a quarter century. In recent years he has focused on his writing, becoming an alternative media journalist. His blog site is at http://empireexposed.blogspot.co.id/.
https://www.sott.net/article/346940-As-Treasonous-Bush-Clinton-Obama-Pedo-Cabal-Dynasty-Gets-Exposed-Desperate-Elite-Steps-Up-War-against-Humanity
—
—
—
—