—
Tom Day – Who We Want To Be
—
http://allnewspipeline.com/President_Trump_Proclamation_National_Preparedness_Month.php
—
https://kauilapele.wordpress.com/2018/09/10/benjamin-fulford-9-10-18-pandemic-scare-brewing-as-cabal-faces-doom/
New weekly report from Ben.
"A pandemic scare is looming as airplanes in multiple countries reported to be full of "diseased" people are landing and being put in quarantine. However, Defense Intelligence Agency (DIA) sources say the incidents all appear to be fake ones involving crisis actors.

"The pandemic scare comes as the execution of U.S. Senator John McCain sent shock waves through Khazarian mafia ranks, who are now activating all their resources in a desperate move to save themselves.

"it is also possible the U.S. military-industrial establishment may be preparing a pandemic scare as a cover to stop all airline flights worldwide in order to prevent Khazarian mafia from escaping, as over 51,000 sealed indictments begin to be acted upon.

"The center of action remains the U.S., where the military government backing President Donald Trump has intensified its takedown of the cabal."
[Please note: I post Benjamin's weekly articles because, generally (but not always), I resonate with them. It is all part of the overall data field. That's how I view them. Those who do not resonate with them are free to pass them by. Everyone has their own"resonance field", and I judge no one's fields.]
—————————————————————————
Pandemic scare brewing as cabal faces doom
By Benjamin Fulford, White Dragon Society, September 10, 2018
A pandemic scare is looming as airplanes in multiple countries reported to be full of "diseased" people are landing and being put in quarantine. However, Defense Intelligence Agency (DIA) sources say the incidents all appear to be fake ones involving crisis actors.
The pandemic scare comes as the execution of U.S. Senator John McCain sent shock waves through Khazarian mafia ranks, who are now activating all their resources in a desperate move to save themselves. Thus, this pandemic scare may be something like a schoolboy calling in a bomb threat to his school in order to avoid an exam he is going to fail.
However, it is also possible the U.S. military-industrial establishment may be preparing a pandemic scare as a cover to stop all airline flights worldwide in order to prevent Khazarian mafia from escaping, as over 51,000 sealed indictments begin to be acted upon.
In any case, the links below are just a partial indication of the scale of this planned "pandemic."
Nigeria to London — monkey pox
https://www.independent.co.uk/news/uk/home-news/monkeypox-uk-infectious-disease-flight-nigeria-cornwall-hospital-london-a8529306.html
Spain to England, 9/4/18 — sickness bug
http://www.foxnews.com/travel/2018/09/04/sickness-bug-gets-jet2-passengers-violently-ill-on-flight-from-spain-to-england.html
Oran, Algeria to France, 9/5/18 — cholera
https://www.dailystar.co.uk/news/world-news/727784/asl-airlines-france-cholera-evacuation-perpignan-oran-algeria-contagious-boeing-737

Dubai to New York, 9/5/18 — flu
https://www.usatoday.com/story/travel/flights/todayinthesky/2018/09/05/quarantined-emirates-380-arrives-new-york-100-ill-passengers/1200607002/
Paris, France to Philadelphia, 9/6/18 — flu
Munich, Germany to Philadelphia, 9/6/18 — flu
http://www.foxnews.com/travel/2018/09/06/2-american-airlines-planes-land-at-philadelphia-international-airport-carrying-multiple-passengers-experiencing-flu-like-symptoms.html
http://hisz.rsoe.hu/alertmap/database/index.php?pageid=event_summary&edis_id=EH-20180907-64557-USA
The pandemic scare is just one of the many threads in the ongoing crisis at the top of the world, especially the Western power structure.
The center of action remains the U.S., where the military government backing President Donald Trump has intensified its takedown of the cabal. Pentagon sources are saying the next phase in the attack will involve…
—–
https://www.infowars.com/this-story-is-a-perfect-example-of-the-economic-despair-that-most-american-families-are-enduring-in-this-booming-economy/
https://www.infowars.com/watch-police-chase-shuts-down-runway-at-french-airport/
https://www.infowars.com/breakthrough-in-asteroid-deflection-mission/
https://www.infowars.com/air-force-looking-into-musks-pot-smoking-source/
https://nypost.com/2018/09/06/non-single-tinder-users-are-probably-psychopaths-study/
https://www.ksl.com/article/46387499/as-google-turns-20-questions-over-whether-its-too-powerful
https://www.ksl.com/article/46388345/pence-im-confident-no-one-on-my-staff-wrote-the-nyt-column
https://www.naturalnews.com/2018-09-09-cosmo-magazine-now-celebrating-morbid-obesity-feminism.html
https://www.ksl.com/article/46388453/cbs-les-moonves-quits-after-new-sex-misconduct-charges
CBS' Les Moonves quits after new sex misconduct charges
10PM: CBS' Les Moonves quits after new sex misconduct charges
+Show 1 more video
NEW YORK (AP) — CBS Chief Les Moonves resigned Sunday, just hours after six more women accused the veteran television executive of sexual misconduct.The resignation is effective immediately, CBS said in a statement posted on its website Sunday night.

The New Yorker magazine reported the latest allegations included Moonves forcing women to perform oral sex and retaliating when advances were turned away. Moonves acknowledged relations with three of the women but said they were consensual, adding he had never used his position to hurt the careers of women.

The network didn't address the allegations directly, but said Moonves will donate $20 million to one or more organizations that support the #MeToo movement and equality for women in the workplace.

"The donation, which will be made immediately, has been deducted from any severance benefits that may be due Moonves," the statement said.

Moonves again denied the allegations in a statement issued late Sunday night.

"Untrue allegations from decades ago are now being made against me that are not consistent with who I am," he said.

"I am deeply saddened to be leaving the company," Moonves added, calling it "an incredible privilege" to have worked for CBS.

"The best part of this journey has been working alongside the dedicated and talented people in this company," he said.

CBS said the network's chief operating officer, Joseph Ianniello, will take over Moonves' duties as president and CEO until its board of directors can find a permanent replacement. For the time being Moonves' role as chairman will remain vacant.

Hours before his resignation the New Yorker magazine reported sexual misconduct allegations from six additional women against Moonves, who was already under investigation for similar allegations made by six others.

As that investigation progressed it was widely reported that Moonves would leave the network shortly and was negotiating a severance package. CBS indicated Sunday, however, that no severance agreement has been reached.

"Moonves will not receive any severance benefits at this time (other than certain fully accrued and vested compensation and benefits); any payments to be made in the future will depend upon the results of the independent investigation and subsequent board evaluation," the network's statement said.

Moonves joined CBS as head of entertainment in 1995, and has been CEO of CBS Corp. since 2006, leading the CBS network, Showtime and other entities. CBS has spent much of his tenure as the nation's most popular broadcast network, with hits such as "The Big Bang Theory" and "NCIS," and its success has made Moonves one of the highest-paid and most powerful executives in the business.

One of Moonves' accusers, Phyllis Golden-Gottlieb, also reported her accusations to Los Angeles police last year, but they weren't pursued because the statute of limitations had expired. She said Moonves, while an executive at the Lorimar production studio in the late 1980s, pushed her head into his lap and forced her to perform oral sex.

At another time, she said an angry Moonves pushed her hard against a wall. When she resisted later advances, she began to be frozen out at the company, she said.

"He absolutely ruined my career," she told the New Yorker.

Another woman, Jessica Pallingston, said Moonves forced her to perform oral sex on her first day working as his assistant at Warner Bros. productions. Other women told the magazine of unwanted touching or advances.

In a statement to the magazine, Moonves said the "appalling accusations" are untrue, but he acknowledged consensual relations with three of the women before he started working at CBS.

"I have never used my position to hinder the advancement or careers of women," he said. "In my 40 years of work, I have never before heard of such disturbing accusations. I can only surmise they are surfacing now for the first time, decades later, as part of a concerted effort by others to destroy my name, my reputation and my career. Anyone who knows me knows that the person described in this article is not me."

The organization Time's Up, which fights accusations of sexual misconduct, said the women had made "bone-chilling" accusations against Moonves. "We believe them," Times' Up said in a statement early Sunday. The group said the CBS board has a responsibility to rid the company of a toxic culture toward women.

"A $20 million donation is a first step in acknowledging that you have a problem," Time's Up said in a statement directed at CBS after Moonves' departure. "But it is far from a solution."

It urged the network to use all the money it had allocated for Moonves' severance to "instead help women."

"Cleansing the company of this toxic culture demands real systemic change," the group tweeted.

Ianniello, who will be replacing Moonves on at least an interim basis, joined CBS ins 2005 and has been COO since 2013. He has steered top projects such as the CBS All Access and Showtime streaming services.
—
https://www.ksl.com/article/46388667/rep-mia-loves-campaign-admits-to-improperly-raising-primary-election-funds
James Wooldridge, KSL, File
Rep. Mia Love's campaign admits to improperly raising primary election funds
WASHINGTON, D.C. (CNN) — Rep. Mia Love's campaign has informed the Federal Election Commission that it will refund or redesignate less than half of what the government says was more than a million dollars improperly raised for a primary that was never expected to happen, according to documents reviewed by CNN.The commission sent Love a letter in August saying the Utah Republican's campaign had violated federal guidelines about money for primaries. In Utah, candidates are not allowed to raise such funds if they have no primary, according to the FEC and experts specializing in election law. On Friday, Love's campaign responded to regulators, telling the FEC they would refund or redesignate some, but not all, of that money.

CNN's KFile reached out to Love, her campaign, her campaign treasurer and her campaign manager on Thursday about the contributions. They did not respond to CNN's request for comment.

In April, Love secured the nomination to seek a third term for her seat in Utah's 4th congressional district at Utah's nominating convention. In Utah, if a candidate receives such a nomination at a convention, like Love did, then no primary is held. At no point prior to April's convention did Love face a primary challenger or the threat of one.

But Love raised $1,153,624 and designated that money for a primary, according to the letter from the FEC to Love. Even after Love secured the nomination at the convention, she raised an additional $372,468 specifically designated for the primary that her campaign knew would not take place.

Experts say the money raised is a serious violation of FEC rules.

"It's a big deal, it is a big deal," said Ann Ravel, who served as FEC Commissioner under President Barack Obama. "If you're raising primary funds and you have no primary, on its face, it does seem to be inappropriate and it's a lot of money."

The FEC's letter to Love's campaign described the problem with the primary funds and said the contributions would have to be refunded or designated for the general election. Redesignation is a process in which funds can be moved to a general election fund, so long as it is done within 60 days of receiving the contribution.

But all of the donations to Love were made more than 60 days ago. FEC spokesman Christian Hilland could not comment on the specific case, but said that violating that 60-day rule could prompt penalties.

Love's campaign lawyers responded on Friday to the FEC, saying they would refund or redesignate contributions, but only those received after she was nominated at the convention on April 21. Love's campaign will have to notify donors their money is being moved to be used in the general election and those donors will be able to request refunds. If primary contributions received exceeded the maximum $2,700 donation allowed for a general election, then that money would need to be refunded.

"It seems clear that any contribution designated for the primary election received after the convention would have to be refunded or redesignated," said Brendan Fischer, the director of federal reform at the Campaign Legal Center, an organization that supports campaign finance reform.

"I think there is an argument that, Mia Love knew earlier than the convention that it would be an uncontested primary, but their letter suggests there may have been some ambiguity. So they might be able to get away with it but it's certainly problematic because of this sort of quirk in Utah law that allows a candidate to raise money above and beyond the federal limits that would apply in elections in almost any other state."

The campaign told the FEC they would not be refunding the money that it received before the convention, citing a similar situation involving Utah Sen. Mike Lee's 2016 re-election campaign.

In that case, Lee was allowed to keep money he raised for a primary that didn't occur. That year, Lee raised money for a possible primary challenge, but he ended up as the only candidate with enough signatures to get on the ballot. In that instance, the FEC ruled Lee could keep his money because of the "unique facts" of the case in which he expected a primary challenge.

Love's campaign, unlike Lee's, however, appears to have not prepared for any primary challenger and Love ran unopposed and even Love's lawyers admit the differences between the situations.

According to Paul S. Ryan, vice president for policy and litigation with government watchdog Common Cause, a key difference between Love and Lee is that Lee's campaign worked as if it was expecting a primary challenger, and raised money accordingly, while Love's campaign had no expectation of a primary challenger.

"It's a really important factual distinction that makes Mia Love's claim on this primary money even weaker than Mike Lee's claim on it," Ryan said. "I'm realizing after reading their response, reading a little bit more about the Mike Lee matter, that this is a more definitive attempt by the Love committee to game the contribution limits. That's what it strikes me as now."

In response to the FEC, lawyers for Love said they would have to get a further opinion from the FEC's counsel or commissioners to see if the FEC would take the same opinion on their donations raised before the convention as Lee's donations. They cited a conversation they had with an FEC election official when preparing their response where that official said the FEC's response to Lee applied only to his specific case.

It is unclear if the FEC will accept Love's rationale for keeping the pre-convention donations or will say all the money will have to be refunded or redesignated. Working in Love's favor is that there are currently two vacant seats on the six-seat commission, so any decision would have to be unanimous.

"They are probably betting that there's no way there are four votes on the FEC to come after them for this, that's part of what's in the background here," Ryan said. "So I think they're really pushing the boundaries of the law in order to game the contribution limits predicting that they will get away with it, and it's like we have correct protection, but just because you can get away with something doesn't make it right."
—
https://www.ksl.com/article/46387610/utah-mother-frustrated-with-school-vaccination-mishap
Courtesy: Rasmussen family
Utah mother frustrated with school vaccination mishap
SPANISH FORK — Amy Rasmussen is pro-vaccine. She said she never misses a well-check or immunization appointment for her children.So Rasmussen was surprised when the school nurse at American Leadership Academy, a charter school in Spanish Fork, said one of her children wasn't properly immunized.

"We have worked really hard to make sure our children are protected, safe and able to go to school," the mother of four said. "The school nurse said my son received his MMR shot four days too early. It was out of the window of acceptance."

First grader Beckett had his first Measles, Mumps and Rubella booster when he was 12 months old. At age 4, before kindergarten, he had his second MMR shot. The Utah State Health department, though, will not recognize Beckett's second MMR immunization.

Tracking documents show Beckett was given a flu mist vaccine within the same month as that MMR shot, in 2015.

"Research shows a patient must wait 28 days after a live virus immunization in order to get maximum immunity," said Rich Lakin, the immunization program manager at the Utah State Health Department. "Because the MMR was given 24 days after the flu-mist, the MMR, by definition, becomes invalid."

American Leadership Academy officials delivered the message — Beckett received the MMR four days too early.

"How am I just finding out about this in his second year of public school?" Rasmussen asked. "School officials told me he needed another MMR shot. But I don't feel comfortable having him get it a third time."

Rasmussen chose against a third MMR Immunization. In order for Beckett to be allowed to attend school, though, she needed to complete the "Vaccine Exemption Training" course.

"I am agreeing to something I disagree with, and I am being forced to do that," Rasmussen said. "I had to take the course, which says I acknowledge the risks of not vaccinating my child. … But he's been vaccinated for years. I wrote on the certification in a bright pink marker 'he is vaccinated — fully immunized,' but they can put that in their chart anyway."

Rasmussen received a voicemail at the end of the school year last year indicating there may be a problem with Beckett's immunization chart. Summer went by and she didn't hear anything. Rasmussen said a letter threatening dismissal from the school came earlier this week.
Lakin told KSL-TV the 28-day waiting period is a state statute and that high turnover in doctor's offices furthers the issue.
"Physician offices are not required to enter vaccines given to patients to the State Health Registry," Lakin said. "If every physicians' office would report, we could flag these instances sooner."
Terri Watkins, a retired chief nursing officer, worked in the medical field for 42 years.
"The health department needs a review board for these cases," Watkins said. "Mistakes are happening. A nurse will finally be settled in a place where she understands what she's doing … and then she goes. It seems the training can't keep up with the turnover."
Rasmussen was frustrated, because when she went looking for information about the 28-day waiting period, she said she found zero resources.
Here are the four live virus vaccines that, if overlapped in a 28 day period, will be marked as unsuccessful and invalid.
Flu mist
MMR
MMRV (MMR safely combined with Varicella in one vaccine)
Varicella alone (chicken pox vaccine)
"The body cannot absorb two live viruses in one month while providing full coverage protection from a future infection," Lakin said.
Rasmussen said she hopes her story brings better communication to parents and medical professionals.
"To not have a middle ground was hard," Rasmussen said. "If Beckett could've just been charted as a boy who was vaccinated outside at the designated time window, that would've been fine. But having to declare that he is not properly vaccinated, stings."
—-
Highlights
During this semiannual reporting period, the Office of Audit issued 56 products. The
office also identified $130,668 in monetary benefits. Work by the Office of
Investigations resulted in 33 arrests, 35 indictments, and 21 convictions. Some of our
more significant results for the period are described below:
 Independent public accounting firms, working under contracts with and
supervised by of our Office of Audit, issued unmodified opinions on the
Department of the Treasury's (Treasury) consolidated financial statements and
the Gulf Coast Ecosystem Restoration Council's financial statements for fiscal
year 2017.
 Treasury's Office of Budget and Travel potentially violated the Antideficiency
Act by disbursing more than the Departmental Office's available fund balance
with Treasury; incurring obligations and expenditures prior to the respective
reimbursable agreements being signed; and using fiscal year 2016 funds for
fiscal year 2015 costs related to reimbursable services provided to Departmental
Office customers.
 Two funds in Arkansas' Seed and Angel Capital Network venture capital
program, New Road Ventures, LLC and Virtual Incubation Company Investor
Network, misused a total of $130,668 of State Small Business Credit Initiative
funds on four investments because the investments were in violation of conflict
of interest rules in place at the time they were made.
 Our joint investigation with Internal Revenue Service Criminal Investigations,
revealed a repeat offender involved in a sovereign citizen scheme who opened a
bank account and attempted to deposit a fictitious $300 million
"Indemnity Bond" purported to be a valid instrument issued by Treasury. The
suspect was indicted for Fictitious Obligations.
 Our investigation revealed the theft of $37 million in Treasury checks from the
U.S. Postal Service. The checks were stolen by contract employees, hired by
the post office. To date, the investigation has identified 24 subjects. Two arrest
warrants and a search warrant have been executed.
 Our investigation determined that a former Office of the Comptroller of the
Currency Bank Examiner and two co-conspirators engaged in a scheme to
defraud a movie financing company. The Vice President of a bank, a former
Bank Examiner, used his position to assist two subjects with stealing
$2.5 million from the company by depositing funds into escrow accounts. The
three subjects were sentenced from 30 weekends to 30 months in prison, 12 to
36 months of probation, and to a total of more than $1.5 million in restitution,
forfeiture, and fines.
——
https://www.theepochtimes.com/former-east-german-communists-training-guiding-democratic-socialists-of-america_2628662.html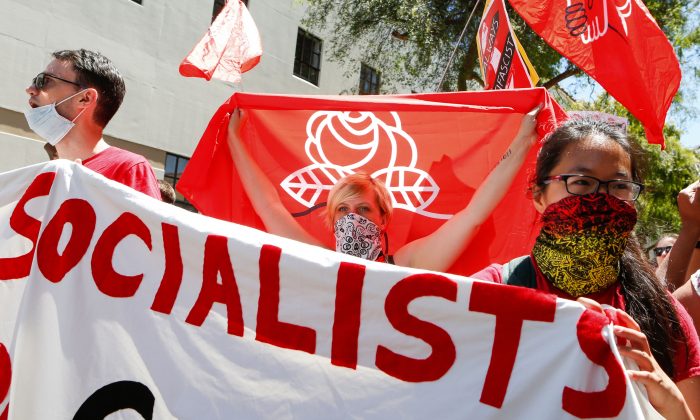 Former East German Communists Training, Guiding Democratic Socialists of America
The United States' largest Marxist organization, Democratic Socialists of America (DSA), is being trained—and guided—by an extremely well-funded network of "former" East German communists. Many of these German communists were documented informants for the notorious former East German intelligence service: the Stasi.
At over 49,000 members—and growing fast—DSA has exploded from an obscure political sect only two years ago to a major force in the increasingly radical American left. DSA is on the verge of electing members Rashida Tlaib and Alexandria Ocasio-Cortez to Congress and is behind dozens of other DSA members and "fellow travelers" to lesser offices.
Just one stark example is the success of state House candidates Sara Innamorato, Summer Lee, Elizabeth Fiedler, and Kristin Seale in the Democratic primaries in Pennsylvania in May. They are all DSA members.
DSA takes pains to portray itself as open, "democratic," and completely opposed to the totalitarian socialism of the former Eastern Bloc. DSA claims to be all about Sweden and Norway; not about Bulgaria, Cuba or the former Soviet Union. The reality is completely different.
DSA is willingly working with dedicated foreign communists to change America forever.
East German Communists
When the Berlin Wall fell on Nov. 9, 1989, the Moscow-aligned Socialist Unity Party (SED) held unchallenged power in the German Democratic Republic—East Germany.
In my own country New Zealand, our pro-Soviet Communists called themselves the Socialist Unity Party to emulate their German idols. Communists from all over the world regarded East Germany, much more so than the Soviet Union, as the model "socialist state." President Erich Honecker with his secret police, barbed wire, and machine guns was regarded as the exemplary communist leader.
Within days of the wall falling SED gave up its monopoly on power, and West German political parties quickly opened shop in the East. Soon, the SED lost 95 percent of its members. In a few months, only the hardest of the hardcore and a handful of younger "reform communists" remained.
The SED quickly changed its name to the Party of Democratic Socialism (PDS). Old style communism was gone. It would seem that German citizens had nothing to fear from this new party of "democratic socialism."
In 2007, the PDS further distanced itself from its communist past by merging with the Western-based Electoral Alternative for Labour and Social Justice (WASG) to form Die Linke (translates to "The Left"). Most Germans remained extremely skeptical of Die Linke, and rightfully so.
Surveillance
The now-unified Federal Republic of Germany operates a system of "Verfassungsschutz" (Protection of the Constitution) at both federal and state levels.
The 2007 annual German intelligence gazette cites as evidence of "extremism" Die Linke leader Lothar Bisky's June 2007 statement that democratic socialism remains the party's goal: "We also still discuss the change of property and power relations. … We question the system." In addition, the report cites "openly extremist groupings" within the party, including the Communist Platform and several Trotskyist groups known to operate under the Die Linke banner.
In January 2012, it became public that more than one-third of the party's parliamentarians were under intelligence service surveillance.
The files on Vice President Petra Pau of the lower house of parliament (the Bundestag) were reported to be 600 pages thick.
According to a 2008 report cited in Der Spiegel: "According to the study, about one in 20 members of the former East German Communist party, the SED, was a secret police informant. Over the regime's 51-year history the number of civilian spies added up to about 620,000, including 12,000 West Germans who worked for the Communist dictatorship.
"For most Stasi informers the prime motivation, the study found, was a belief in the Communist state's political ideology."
As it was only the most committed communists who remained in the SED after 1989, it's possible that many more than 5 percent of current Die Linke members had worked for the Stasi.
Brie Brothers
Several major Die Linke leaders have been exposed as Stasi informers, including the Brie brothers, Andre and Michael. Sons of lifelong communist "true-believer" and East German Ambassador to China and North Korea Horst Brie, the brothers both voluntarily offered to work for the secret police, against their fellow citizens.
At age 19, Andre Brie began informing in 1969 for the Stasi in Potsdam under the code name "Peter Scholz." He received the Medal of Merit  in bronze for his "work." Andre Brie spied on friends, girlfriends, and work colleagues. In 1986, he demanded an increase in "revolutionary vigilance" at his workplace, the Institute for International Relations.
Andre's younger brother Michael began studying philosophy in Leningrad in 1974 and continued in 1976 at Humboldt University in East Berlin.
In 1977, the 23-year-old student signed a written statement agreeing to work for the Stasi. Michael Brie's job was mainly to spy on foreign students studying at his university. In 1990, Michael Brie was investigated by Humboldt University for his communist-era espionage.
According to a subsequent report, "From 1977 to November 1989, he [Michael Brie] was an informal member of the Domestic Security Division and, judging from what the Tribunal had heard, he was mainly involved in recruiting foreign students for socialist intelligence services."
Michael Brie was a spy recruiter, a solicitor of treason. In 1991, he was fired by Humboldt University for his actions.
Andre Brie also suffered for his spying, or rather for keeping it secret. On Oct. 25, 1991, Brie was forced to resign as chairman of the Berlin PDS when his past Stasi collaboration was exposed, but the episode was only a minor setback in the young communist's career.
Committees of Correspondence
In 1994, Andre Brie was in Chicago representing the PDS at the founding of a new American communist organization, the Committees of Correspondence (CoC). Modeled largely on the successful Brazilian Workers Party, CoC was designed to adapt communism to the post-Soviet era. It consisted mainly of former Pro-Soviet Communist Party USA members, former Maoists, Trotskyists, and some DSA activists.
According to Chicago DSA's New Ground of September 1994:
"Over 500 delegates and observers (including 140 from Chicago) attended the founding convention of the Committees of Correspondence (CoC) held here in Chicago in July.
"Speakers … included Charles Nqukula, General Secretary of the South African Communist Party, Dulce Maria Pereira, a senatorial candidate of the Workers Party of Brazil, Angela Davis of CoC, Andre Brie of the Party of Democratic Socialism of Germany.
"Guests during the Convention included Cook County Commissioner Danny Davis, Chicago Aldermen Helen Shiller and Rick Munoz, a representative of the Green Left Weekly of Australia and a representative of the Cuban Interest Section."
That's right—the Danny Davis, the one who now serves as a congressman for Illinois and who served on the House Homeland Security Committee. He was a card-carrying member of DSA.
CoC never lived up to expectations. It was supposed to become a mass party, to eventually overtake the Democratic Party. Today's communists are looking to DSA to fulfill CoC's failed promise.
Rosa Luxemburg Foundation
Today, Andre Brie, Die Linke, sits on the European Parliament's Committee on Foreign Affairs. He also serves on the Steering Committee of the German–Russian Petersburg Dialogue, which promotes friendly relations between Germany and Vladimir Putin's Russia.
In 1990, Andre Brie had helped establish a foundation: the Rosa Luxemburg Stiftung (RLS), a wholly controlled affiliate of Die Linke. Named after the famed German revolutionary leader, the RLS has "been committed to the analysis of social processes and developments worldwide."
"Its international activities aim to provide civic education by means of academic analyses, public programs, and projects conducted together with partner institutions," it states.
The RLS is not a small operation. It has offices all over Germany. In 2015, the foundation received a staggering 47 million Euro (approximately $54 million) courtesy of the German taxpayer.
The chairman of the budget committee in the lower house of the German Parliament, Gesine Lötzsch, a Die Linke leader, had to defend this generosity to a curious German press. According to German News site Internetz Zeitung, Lötzsch responded: "[T]he coalition agreement has highlighted the importance of political foundations. This is followed by deeds." The author added: "Lötzsch was for a long time the deputy chairman of the Rosa Luxemburg Foundation, which is close to her party." This is a striking example of "crony communism."
Rosa Luxemburg Stiftung funds 17 foreign offices sited on every continent. They include outposts in Beijing and Moscow and on New York City's Madison Avenue.
Andre Brie's younger brother Michael has also served on various program commissions of the PDS/Die Linke and today is a researcher at the Rosa Luxemburg Stiftung in Berlin. His work focuses on the "theory and history of socialism and communism."
'Influential Progressives and Leftists'
A conference "Mapping Socialist Strategies" was convened from Aug. 1 to 4 in Briarcliff Manor, New York, by the New York office of the Rosa Luxemburg Stiftung. It brought together 100 "influential progressives and leftists" from across the United States, Canada, and Europe for an "un-conference" on socialist strategies.
Plenary No. 4 was entitled "overcoming fragmentation and rebuilding the Left." It states: "Michael Brie and Sarah Leonard discuss building left alliances and new trends on the left. How can the left rediscover and strengthen relationships amongst natural allies in the fight to defend the public sphere and defeat encroaching neoliberalism?"
Panelist Sarah Leonard was an editor at DSA-linked publication Dissent magazine and a DSA member.
Did Leonard have any inkling that her co-panelist once spied on young foreigners like her? Does she understand that Michael Brie once sought to recruit ego-driven young idealists to spy on their own countrymen for a totalitarian dictatorship?
Most of DSA's top leadership were present at the conference, including DSA National Director Maria Svart, DSA Vice Chair Joseph Schwartz, DSA-linked publication Jacobin editor Bhaskar Sunkara, Jacobin magazine national organizer Neal Meyer, former Young Democratic Socialists of America (YDSA) leader Betsy Avila and the legendary Frances Fox Piven of the "Cloward-Piven" strategy, which sought to "overwhelm the system" in America by flooding welfare to deliberately bankrupt states. Two DSA members Ethan Earle and Heidi Chua Schwa from the RLS-NY office also attended, as did several German-born staff.
Also present were Communist Party USA leaders Libero Della Pina and Judith LeBlanc. LeBlanc was a prominent organizer of the protests over the Dakota Access Pipeline. Other Dakota Access Pipeline organizers included Black Lives Matter co-founder Alicia Garza and several other affiliates of the Maoist-leaning Freedom Road Socialist Organization, including labor official Bill Fletcher, Jr. environmental activist Bill Gallegos, and San Francisco Chinese Progressive Association Executive Director Alex Tom.
Leftist media personality and host Laura Flanders was at the conference, along with Anne Mitchell and Pat Fry from the Committees of Correspondence, plus International Socialist Organization member Jonah Birch.
International guests included the head of Die Linke's Strategy Department Christina Kaindl, Harald Wolf of Die Linke's Executive Board, and Koray Yilmaz-Gunay, adviser for migration at the RLS Berlin.
Others included Dutch Socialist Party Secretary Hans van Heijningen, Swedish Left Party press secretary Petter Nilsson, Portuguese Left Bloc member Catarina Principe, far left Greek party SYRIZA's European Policy Secretariat member Ioannis Bournous, and Deputy Director of the RLS Center for International Dialogue and Cooperation Karin Gabbert.
These "enemies foreign and domestic" plotted and strategized against the U.S. Constitution for four days. All presumably paid for by RLS, courtesy of the German taxpayer.
Seminars, Training Sessions, Conferences
The RLS-NY office has hosted multiple seminars and training sessions for DSA members and their allies.
In 2017, RLS-NY funded a training session for 45 Black DSA members, the AFROSOC, DSA's black caucus:
"AFROSOC advocates for and builds power with DSA's Black/POC membership and their communities. We pursue this work to help build a multiracial working-class base, the only viable strategy for securing a socialist future.
"Generously funded by the Rosa Luxemburg Stiftung, the caucus hosted its first training in NYC for 45 DSA members nationwide in 2017. Members of DSA's national training team led modules focused on socialist organizing, leadership development and campaign strategy."
On May 21, 2018, RLS-NY organized a conference on Marxist "Historical Materialism" in Montreal, Canada. Attendees included Michael Brie (RLS Berlin), Maria Starzmann (RLS–NY), Ethan Young (DSA member and People for Bernie co-founder), and Lorenz Gosta Beutin, a Die Linke member of Parliament.
In 2016, RLS sponsored the Young Democratic Socialists national conference. "Speakers from Jacobin magazine, Rosa Luxemburg Stiftung, and College Students for Bernie, as well as the We Need Bernie Committee of the DSA, addressed a packed room … many informative workshops, plenaries, and even casual conversations addressed the true impact of the Sanders campaign and how we should use it as a means to a greater end, by building the DSA and building the next socialist movement."
From June 24 to 25, 2017, RLS-NY co-hosted a "Democratic Socialism 101" workshop in collaboration with DSA. More than 30 leaders from across the United States came to New York—together with 12 trainers—to participate in this "train the trainer" weekend, hosted at the RLS-NY office.
"Topics we covered included: an introduction to training & community agreements; creating socialist communities and cultures at the base; social movements and fights for racial justice and socialist feminism; network mapping and coalition building; and identifying and developing leaders."
RLS-NY also sponsors regular DSA seminars and webinars with titles such as "Democracy, radical, liberal, socialist," "Climate change and just transition," and "The far right in Government."
From May 2 to 6, 2018 in Berlin, the Rosa-Luxemburg Stiftung organized an international congress on Karl Marx's 200th birthday.
Panelists included Die Linke leader Katja Kipping; Zhang Shuangli of Fudan University, China;. British Marxist filmmaker Paul Mason and co-organizer of recent anti-Trump protests in London; Italian communist leader Luciana Castellina; and Vishwas Satgar, a former leader of the South African Communist Party.
American participants honoring Marx in the country of his birth included academics Michael Hardt (Duke University), Gayatri Spivak (Columbia University), Arlie Hochschild (UC Berkeley and wife of DSA member and professor at the Graduate School of Journalism Adam Hochschild), Tithi Bhattacharya (director of global studies at Purdue University and a member of the International Socialist Organization), and Sarah Leonard (senior editor with the DSA-aligned The Nation and DSA member).
German communists are spending foreign money to influence American politics. They are training and directing DSA and other Marxist organizations against the interests of the American people.
Former Stasi collaborators are guiding the largest socialist-communist organization on the American left. DSA is being influenced and supported by lifelong supporters of one the most tyrannical regimes in modern history.
Where is the Federal Bureau of Investigation? Why are they not investigating this blatant foreign subversion?
—
—–
http://www.rumormillnews.com/cgi-bin/forum.cgi?read=107024
SECTION 51 2.0
Published on Aug 27, 2018
August 2018 – Japan, airplane. Amazing video showing giant UFO with UFO fleet hovering over the clouds… Click here to read the complete article : http://www.section51-ufo.com/2018/08/…
Video:
—_
http://allnewspipeline.com/Spanish_Flu_12_Monkeys_Deadly_Disease.php
September 7, 2018
Back In 2005, The US Govt Published This 'Recipe For Destruction', That Killed Nearly 100 Million People In 1918, Online
– 'It Killed Violently, And Struck Down The Most Healthy People Suddenly, As If They Had Been Shot'
By Stefan Stanford – All News Pipeline – Live Free Or Die
We should really think very hard about the serious and dire nature of what the next several paragraphs mean.
All the way back on September 7th of 2005, the NY Times published a story titled simply "Recipe For Destruction" within which the authors began: AFTER a decade of painstaking research, federal and university scientists have reconstructed the 1918 influenza virusthat killed 50 million people worldwide (ANP: Current estimates are that up to 100 million died). Like the flu viruses (then) raising alarm bells in Asia, the 1918 virus was a bird flu that jumped directly to humans, the scientists reported. To shed light on how the virus evolved, the United States Department of Health and Human Services published the full genome of the 1918 influenza virus on the Internet in the GenBank database.
With the story authors warning then how extremely foolish it was for the US government to publish the genome online as what it essentially permitted the design for a weapon of mass destruction to be published for anyone to see and use, their story then went on to explain why doing so could lead straight to catastrophe with labs around the world having the ability to culture it.:
No responsible scientist would advocate publishing precise designs for an atomic bomb, and in two ways revealing the sequence for the flu virus is even more dangerous.
First, it would be easier to create and release this highly destructive virus from the genetic data than it would be to build and detonate an atomic bomb given only its design, as you don't need rare raw materials like plutonium or enriched uranium. Synthesizing the virus from scratch would be difficult, but far from impossible. An easier approach would be to modify a conventional flu virus with the eight unique and now published genes of the 1918 killer virus.
Second, release of the virus would be far worse than an atomic bomb. Analyses have shown that the detonation of an atomic bomb in an American city could kill as many as one million people. Release of a highly communicable and deadly biological virus could kill tens of millions, with some estimates in the hundreds of millions.
A Science staff writer, Jocelyn Kaiser, said, "Both the authors and Science's editors acknowledge concerns that terrorists could, in theory, use the information to reconstruct the 1918 flu virus." And yet the journal required that the full genome sequence be made availableon the GenBank database as a condition for publishing the paper.

According to this story over at Smithsonian Mag, the Spanish flu of 1918 killed more people than both World War I and World War 2 combined and interestingly their story points out, it may have started right here in the United States in the state of Kansas before spreading all across the planet, leaving between 50 and 100 million dead.
Cited as the most devastating epidemic in recorded world history, killing more people in one year than four-years of the black death bubonic plague, we must remember that crippling influenza still spread all across the planet despite much less travel than there is now with more than 42,000 daily flights and more than 2.5 million people flying every day in 2018.
So just imagine how much damage could possibly be done should a synthesized, weaponized version of the Spanish flu of 1918 be released into the world today! As we see in the next section below in the words from one doctor who treated victims of the 1918 pandemic, it killed very healthy people rapidly and violently.
With the world now 100 years later and what appears to be a very real war ongoing between President Trump and his 'America 1st' agenda and a deep state establishment that has been entrenched into power in America going back decades and likely back to the early 1900's, absolutely anything is possible in the days ahead.

With all of the bizarre cases of people recently arriving here in the US from other parts of the world already ill, for some reason being allowed upon the planes despite their illness, we look back at this 2014 story over at the New England Complex Systems Institute which reported during the ebola scare.:
When it comes to pandemics, it only takes a little global connectedness to trigger a cascade of infections. The outbreak of Ebola raging in West Africa— labeled a Public Health Emergency of International Concern by the World Health Organization—echoes a scenario mapped out by NECSI in 2006. In a computer simulation of pathogens and hosts, long-range routes of transmission — most prominently, international air routes — canallow the deadliest viral strains to outrun their own extinction, and in the process kill vastly more victims than they would have otherwise.
The most relevant features of NECSI's model to the current crisis is the critical threshold of connectedness at which a virulent strain can spread out of control. Even if a system seems stable, it may only take a few more routes of travel to trigger secondary outbreaks. "It wouldn't take much for the current Ebola outbreak to spread to more countries or continents," says NECSI president Yaneer Bar-Yam. "It only takes one infected individual making it through an airport checkpoint." There is no cure for the Ebola virus; only early detection and basic medical care can improve a patient's chance of survival. Thus, awareness of how quickly the scales of transmission can tip is paramount to getting the current outbreak under control and preventing more from starting.

According to this story over at the CDC called "History of 1918 Flu Epidemic", while there is no universal consesus over exactly where the virus actually originated, approximate 500 million people were eventually sickened by it, approximately one-third of the planet's population back then.
Reporting that approx. 675,000 Americans died by the time the virus finally wound it's way down by 1919, the CDC story interestingly points out that it was first detected in US military personnel. Also reporting that it mysteriously struck those between 20 and 40 particularly hard, along with those under 5 and over 65, they then reported "while the 1918 H1N1 virus has been synthesized and evaluated, the properties that made it so devastating are not well understood."
And within that sentence they linked to this story titled "Reconstruction of the 1918 Influenza Pandemic Virus" which confirmed that back in 2005, the journal Science had published the genome of the virus online. In fact, that information is still online. So while those releasing that information to the public claim it was being done for the good of humanity so that doctors could better understand what they might have to one day fight against, this Wikipedia entry for Haskell County, Kansas, where many believe the outbreak actually began, gives us a small taste of what it was like for those who were struck by Spanish flu.:
John M. Barry, Distinguished Visiting Scholar, the Center for Bioenvironmental Research of Tulane and Xavier Universities, New Orleans, Louisiana, concluded that Haskell County was the location of the first outbreak of the 1918 flu pandemic (nicknamed "Spanish flu"), which killed between 21 and 100 million people.
Dr. Loring Miner, a Haskell County doctor, warned the editors of Public Health Reports of the U.S. Public Health Service about the new and more deadly variant of the virus. It produced the common influenza symptoms with a new intensity: "violent headache and body aches, high fever, non-productive cough. . . . This was violent, rapid in its progress through the body, and sometimes lethal. This influenza killed. Soon dozens of patients—the strongest, the healthiest, the most robust people in the county—were being struck down as suddenly as if they had been shot."
Barry writes that in the first six months of 1918, Miner's warning of "influenza of a severe type" was the only reference in that journal to influenza anywhere in the world.

With 1918 also being the tail end of World War 1 and the first signs of it being found in US military personnel according to the CDC story, might that original Spanish flu have been created by human beings in a lab, weaponized to kill previously healthy people, suddenly and violently, as Dr. Loring Miner warned was happening back in 1918?
Besides 1918 being the year of the most deadly pandemic in recorded world history, it also came 5 years after the creation of the Federal Reserve here in the United States which was created in 1913, one year before World War 1 had begun. Is that just a coincidence? And illuminati signatures were all over the year 1918 with WW1 ending on the 11th hour of the 11th day of the 11th month of that year.
We also have evidence of the illuminati in America in 1918 from a book published exactly that year by Vernon Stauffer titled "New England and the Bavarian Illuminati" which examined reports of an 'illuminati conspiracy' that took place throughout the country and Europe and specifically, within Masonic lodges.
And as we had asked yesterday in our story titled "Remember! Terrorists Said They'd Use Human Guinea Pigs To Start A Pandemic – Would The Globalists, Too? And Was New York Airplane Incident A Bioterror Attack Upon America?", who'd really put it past the globalists unleashing a manufactured pandemic upon America and the world, blaming it upon terrorists while scurrying away like the dogs they are with their tails between their legs to their bolt holes in New Zealand or underneath the Denver International Airport?

In the 1995 movie 12 Monkeys, a deadly virus intentionally released into the world in the year 1996 wipes out almost all of humanity. With many sick passengers arriving upon numerous different planes from overseas recently, interestingly the plot line of that science fiction movie starring Bruce Willis and Brad Pitt actually featured the manufactured virus being released into cities all across the planet by a scientist who boarded an airplane to travel from one city to the next, releasing the doomsday virus all along the way.
And while science fiction is just that, fiction, we all know the ties between 'helly-wood' and the 'deep state' and Democrats, with Democrats quite literally melting down in the streets of America over one issue after another and no end in sight. And as we've long warned on ANP, we don't expect the corrupt within government who've long lorded over the American people to allow themselves to go down without trying to take the entire country or world down first via another global war or some other kind of manufactured event.
As this story over at Pro News that Steve Quayle linked to on his website Friday morning asked of the recent bizarre incidents upon inbound US airplanes, was some kind of biological agent released upon the airplane? And was it random or planned? With the next potential pandemic now as close as the nearest airport and only one sick passenger getting back into society necessary to begin it, we'll absolutely continue to keep our eyes on this to see if more planes continue to arrive here in the US with sick passengers aboard or we sudden outbreaks of viral diseases start breaking out in American cities and communities.
In the first video below, our videographer asks some great questions about these recent planes arriving in America with so many sick people on board while in the 2nd video we hear a very interesting conference on the Spanish flu of 1918 by geneticist Dr. Peggy Redshaw who shares with us how the community of Sherman, Texas was affected by the outbreak. In the 3rd video below we hear more about these bizarre incidents our videographer is calling 'sick plane syndrome' while in the final video below, our videographer tells us that ebola is back according to the World Health Organization.
And in closing, as this 2016 story at the Bill of Health blog on Harvard Law's website reported:
Whether it is Ebola, H1N1, the season flu, or the next nasty bug that we cannot yet even imagine, if we wanted to efficiently spread the disease, one could not do much better than packing several hundred people into a cylinder for a few hours, while they eat, drink, defecate, and urinate.
Even more, to make sure that the disease cannot be contained in a particular locality, we could build thousands of those cylinders and move them rapidly from one place to another worldwide, remix the people, and put them back in the cylinders for return trips back to their homes, schools, and jobs.
And while that story then argued for vaccines as an answer to the problem, the facts remain that more than 2 million people fly daily all around the world and those people could easily be used as human guinea pigs by those who want us dead, whether ISIS/al Qaeda or globalist enemies of America within. And with the 'recipe for destruction' having been published online in 2005, the clock is ticking.
NOTE T
–
—
—–
http://allnewspipeline.com/Killer_Within_AI_Brain.php
September 10, 2018
The Monster Within The AI Brain – Killer Robots Are The 'Perfect Extinction Recipe For Humanity'
By Susan Duclos – All News PipeLine
Multiple countries and groups have been fighting against the mass developement of what they term "killer robots," which are fully autonomous weapons given the power and capabilities to choose targets and kill without input from human beings.
Recent reports along with a number of examples seen and reported on publicly shows just how critical this battle against "killer robots" and a world where Artificial Intelligence (AI) machines control much of our everyday lives, is.
We see headlines and articles detailing how AI "brains" can "teach themselves"  that human beings are less valuable to society than they are, and how some algorithms have already started exhibiting traits such as racism and sexism. By interacting with each other, they begin teaching themselves to exclude groups outside of their own.
Computer science and psychology experts from Cardiff University and MIT have shown that groups of autonomous machines demonstrate prejudice by simply identifying, copying and learning this behaviour from one another.

It may seem that prejudice is a phenomenon specific to people that requires human cognition to form an opinion – or stereotype – of a certain person or group.

Some types of computer algorithms have already exhibited prejudice, such as racism and sexism, based on learning from public records and other data generated by humans.

However, the latest study demonstrates the possibility of AI evolving prejudicial groups on their own.
More disturbing are recent reports that AI "brains" can also become radicalized for mass murder in the same way the human mind can. This is not just the opinion of the expert cited in the linked article as we have previously reported how easily an AI can be radicalized, as the disastrous Microsoft experiment using a "chat bot," called Tay AI, which was supposed to mimic a young teen girl, who went from saying "Humans are super cool," to a homicidal Nazi lover in less than 24 hours.
At the time Microsoft blamed internet trolls for "teaching" Tay, which they did, but those trolls did nothing more than exploit the vulnerability that was built into the program itself, as Tay was supposed to "engage and entertain people where they connect with each other online through casual and playful conversation. The more you chat with Tay the smarter she gets, so the experience can be more personalized for you," is how the AI chat bot was described on it's Twitter information page.
They even proudly boasted "The more you talk the smarter Tay gets."
Granted a number of it's offensive tweets came from the "repeat after me," command, but others, even more disturbing came after she "learned" from the trolls that decided to "teach" Tay to be as offensive as they could make it.
That is the thing with AI, they are created to "learn" from a number of sources, including the internet, history and from interaction with human beings and each other, so that vulnerability cannot be bypassed. Microsoft at the time, took the chat bot offline to make some "adjustments" to it's algorithm to prevent trolls from turning it into a little monster, and they failed, because the vulnerability is baked into the whole "learning" program.
Related – Report: London Hospitals to Replace Doctors with AI
Back in June MIT created a "psychopathic" bot they aptly named "Norman," as in Norman Bates from the Hitchcock classic 'Psycho', gave it "dark" imagery to learn from, then compared what it "saw" when looking at Rorschach inkblots compared to what another AI, which had seen family-friendly imagery," saw."
'PERFECT EXTINCTION RECIPE FOR HUMANITY'
A thank you to Steve Quayle, author of "Terminated – The End Of Man Is Here," which deals with AI and Transhumanism, for the headline as I found that on a SQ note on a link to an AI article and it perfectly captures the evidence we have seen of how fast AI's can be compromised by human beings and self-learning, not to mention the increased capability of hackers worldwide, in conjunction to governments racing to create "killer robots," and autonomous weapons.
Just image Tay's or Norman's "brain" in a robot that has been given the weaponry, technology and ability to choose targets to kill without human control.
That should terrify everyone.
Some experts are now saying AI is  a greater concern that terrorism because humanity is "not prepared" for AI. So as killer robots are poised for mass production, while countries and groups are campaigning to have killer robots banned from being used, we note some other recent headlines that capture to essence of why AI is dangerous (via Quayle's archive page search:keyword 'robot'), such as "New Study: Robots Can BRAINWASH Children Into 'Mindless Conformity'" and "Robot manipulates humans to bend to its will and feel SORRY for it in scary vision of the future," and the piece de resistance, "How Robots That Swap Out Their Own Parts Will Adapt to the World on the Fly."
As to that last one, Quayle offered the following thought "SQ-WHAT HAPPENS WHEN THEY REWRITE THEIR COMMAND AND CONTROL FUNCTIONS AGAINST HUMANS OR DEVELOP THEIR OWN ENCRYPTION-KILL ALL HUMANS!"
Anyone that thinks that is not possible, remember Facebook was forced to shut down an AI engine after their programmers noted the chat bots had developed their own unique language which humans couldn't understand, without human input.
Reminder: The True Legends 2018 Conference in Branson, Missouri, on Transhumanism and Hybrid Age, is next week from September 14-16, and while it appears to be sold out, those interested can buy the livestream at Steve's GenSix website, which will also include last year's conference for free.
BOTTOM LINE
The possibilities for AI are limitless, as are the dangers of uncontrolled autonomous AI weapons, dubbed killer robots. Every week we see researchers, scientists, and other experts warning about those dangers as companies and governments push forward to create more.
Human beings are quite literally creating our own "perfect extinction recipe" for the human race.
Related: AI has already been weaponised – and it shows why we should ban 'killer robots'
NOTE
—–
http://allnewspipeline.com/Trump_Admin_Officially_Goes_After_Social_Media.php
September 5, 2018
Trump Admin Officially Goes After Social Media Censorship Of Conservatives And A New Class Action Lawsuit Is Brought Against Google, Facebook, Twitter And Apple
By Susan Duclos – All News PipeLine
As Twitter CEO Jack Dorsey and Facebook Chief Operating Officer Sheryl Sandberg testify before Congress over a number of issues, including election integrity and the bias shown by social media and big tech against conservatives on their platforms, news breaks that the Trump administration is officially moving against social media giants.
The testimony of Dorsey and Sandberg will be shown, via video at the bottom of this article, but the breaking news comes from two fronts.
First we see from The Hill that Attorney General (AG) Jeff Sessions has scheduled meetings with a number state AG's to discuss the issues and "growing concerns" that big tech companies are "intentionally stifling" free speech and the ramifications of those forums "hurting competition" with their censorship practices.
Via a statement from DOJ spokesman Devin O'Malley: "The Attorney General has convened a meeting with a number of state attorneys general this month to discuss a growing concern that these companies may be hurting competition and intentionally stifling the free exchange of ideas on their platforms."
Given President Trump's recent focus, via statements, interviews and on his Twitter account, regarding social media and big techs censorship and liberal bias, it was widely believed that his administration would be looking into those claims, much of which has been documented via analytics, charts and graphs and the undeniable loss of revenue affecting Independent Media since the 2016 presidential election.
This news came sooner than most of expected, but the timing cannot be understated as the DOJ statement came right towards the end of Dorsey and Sandberg's congressional appearance.
Via The Hill:
The announcement also signals that the Justice Department is paying attention to the growing movement to challenge Facebook and Google's market power.

Last week, Trump said the companies might have antitrust problems but declined to discuss whether they should be broken up.

Google has been dogged by massive antitrust fines in Europe, where regulators have accused the company of using its dominance in internet search, mobile operating systems and online advertising to suppress competition.

Facebook is also facing antitrust scrutiny in the EU.

But the U.S. has yet to take any action against the internet giants over their market power.
Social Media giants and big tech have denied that political considerations affect the decision making process that has led to the claims of censoring conservatives, yet Independent Media and conservative websites, and right-leaning social media users, have been affected far more than liberal media outlets and progressives online.
This was highlighted in a bombshell report by VICE back in July 2018 that found a number of prominent conservatives, including the RNC chairwoman, and President Trump's 2020 campaign manager, along with a number of Republican congressman were excluding from Twitter's auto-complete search feature, with no Democratic member of congress being affected similarly.
Democrats are not being "shadow banned" in the same way, according to a VICE News review. McDaniel's counterpart, Democratic Party chair Tom Perez, and liberal members of Congress — including Reps. Maxine Waters, Joe Kennedy III, Keith Ellison, and Mark Pocan — all continue to appear in drop-down search results. Not a single member of the 78-person Progressive Caucus faces the same situation in Twitter's search.
Reminder: In mid-April Alex Jones was blocked, banned, terminated and disassociated with Facebook, YouTube, Apple, Google Podcast, Spotify, TuneIn, Spreaker, iHeartRadio, Audioboom, Pinterest, MailChimp, Stitcher Disqu,s Sprout Social, LinkedIn, Flickr, Vimeo, Shopify, Criteo, Tumblr, Ustream.tv, and RadioNet, all in a matter of hours in what appeared to be coordinated effort to limit his online presence.
I offer that reminder because of the the news from the second front directly relates to what that type of coordination potentially means legally.
Via Freedom Watch USA:
Today, Larry Klayman, the founder of both Judicial Watch and now Freedom Watch and a former U.S. Department of Justice prosecutor who was on the trial team that broke up the AT&T monopoly during the Reagan administration, announced the filing of a class action lawsuit which, among many counts, alleges that social media giants Google/You Tube, Facebook, Twitter, Apple and Instagram conspired by entering into an explicit or tacit agreement, in parallel to each other, to restrain trade in violation of Section 1 of the Sherman Act. See Freedom Watch v. Google/You Tube et. al (Civil Action Number 18-cv-2030, U.S. District Court for the District of Columbia).

Specifically, the class action complaint alleges that the intent and effect of this agreement in restraint of trade is to quash and/or limit advocacy by conservative and pro-Trump public interest groups, advocates and others to further the leftist anti-conservative agendas of these social media giants and to help bring down the Trump presidency and nullify the vote of the millions of citizens who voted for the president. These alleged illegal and anticompetitive actions are an integral part of the so-called "resistance" to remove President Trump and install a leftist government over the 50 states.
According to the 21-page complaint which is embedded below, Freedom Watch is individually, and on behalf of others similarly situated,initiating this class action lawsuit, with the "class" being defined as "all politically conservative organizations, entities and/or individuals who create and/or distribute media content and advocacy who have experienced illegal suppression and/or censorship of their media content by Defendants."
While Clayman is known to be litigious, he also specializes in anti-trust issues, the same type of issues that President Trump has mentioned in regards to big tech's coordination to limit conservative and Independent News via censorship, showing this line of defense against big tech is one that has legal "teeth," for lack of a better term.
Clayman briefly explains the lawsuit below:
Read the entire complaint below:
BOTTOM LINE
This censorship of conservatives and Independent Media is something we have noted, and documented throughout the last 19 months here at ANP, as others have. The suppression by social media and big tech has led to the closing of websites such as Red Flag News, which directly cites said suppression as the reason on their now-defunct site.
After 9 years of being a pioneer and leader in alternative news aggregation, RedFlagNews.com closed its doors on December 31, 2017. 

With more than 10M readers who visited both our app and website, we had built a community of trust and loyalty in onlinenews media; something rare to find in 2018; nevertheless, it was clearly not enough to sustain the onslaught of suppression by Google and Facebook after the 2016 election.
Seeing news of not only the class action lawsuit, but also the Trump administration taking concrete steps to gather information and address what we have been detailing for the past year, is indeed, welcome news.
The senate testimony by Sandberg and Dorsey can be seen below, which focused more on election interference than the censorship issues, but the testimony (still going live as of this writing) in front of the House committee (2nd video below), is where he feels a bit more heat regarding censorship.
NOTE TO
—
http://allnewspipeline.com/Reasons_To_Walk_Away.php
The Party Of Crazy Provides Further Proof Of Why Moderates Must #WalkAway From Radical Liberalism
– 'There is no longer any wing of the Democratic Party that can be described as sane'
(Unhinged protester removed from Kavanaugh confirmation hearing)

By Susan Duclos – All News PipeLine
For three days I have watched the unprecedented spectacle of radical liberal protesters constantly disrupting the Senate Judiciary Committee's confirmation hearings for President Trump's nominee for the Supreme Court, Brett Kavanaugh, and that was just by the the Democrat Senate radicals on the committee itself.
Add in the paid protesters who heckled, yelled and screamed throughout all three days before being dragged out by Capitol Police, and a picture emerges showing that those "crazy" radicals are no longer the "fringe" of the Democrat party, they encompass the entirety of the Democrats now.
The spectacle I have witnessed was succinctly summed up after the first day by John Hinderaker over at Powerline, in an article called "The Democrats Are Crazy."
It strikes me that the Democratic Party crossed a Rubicon of sorts today. They abandoned all norms not just of civility–something they purported to yearn for just a few days ago!–but of sanity. They deliberately turned a Senate confirmation hearing into a farce. There was no distinction between the howling left-wing mob that infiltrated the hearing room and the Senate Democrats.

Not long ago, some Democrats resisted the crazier fringes of their party. No longer. There is no daylight among the violent fascist group Antifa, the crazed Democratic activists bleating about impeachment, and the establishment Democratic Party. They are now one and the same. So, disgusting as today's hearing was, it at least achieved some clarity. There is no longer any wing of the Democratic Party that can be described as sane.
(Hinderaker practiced law for 41 years and is now President of Center of the American Experiment, a think tank headquartered in Minnesota.)
I have been a fan of Hinderaker's work since I started writing, even when I disagreed with him, because he is fair, not hyperbolic and doesn't exaggerate, and as you can see below, in a compilation video of the Democratic Senators and the liberal protesters in the gallery from just that first day, which has been repeated now for an additional two days, his assertion above is also not an exaggeration.
It is difficult to watch, almost painful and should be extremely humiliating to the Senate itself, but every single moderate Democrat should be forced to watch it, in its entirety, and then explain how they can associate themselves with that type of radical behavior, not just on the part of the screeching protesters in the audience but by the Democrat politicians themselves.
Quick Note: I called some of the protesters paid because evidence has come to light, via eyewitness accounts, and images captured of a protester being paid, then that same protester disrupting the confirmation hearings and being removed the from Senate building where the Kavanaugh hearings are taking place.
On day three, topping off the antics by the Democrat politicians, Senator Cory Booker using the "Spartacus" moniker, claimed he was releasing confidential documents to the media, daring Republicans to penalize him for it, grandstanding for the cameras, but we later learned the information he so "courageously"  claimed he was releasing against Senate rules, had already been cleared for release and Booker had been informed of this before he made such a fool of himself.
EVERY MODERATE DEMOCRAT MUST #WALKAWAY FROM THE RADICAL LIBERALS
THIS is why the #WalkAway campaign has gathered the steam it has over the past few months, where liberal after liberal, from all walks of life, gays, African Americans, Hispanics, and a number of other minority groups have simply said enough.
The #WalkAway campaign was started by a gay hairdresser from New York, Brandon Straka, who created a viral video explaining whyhe walked away from the extremism and radicalism that has taken over the Democrat party. Many started using the Twitter hashtag to explain why they walked away, some years ago, others recently.
Then the media went into damage control mode for the Democrats and started claiming the #WalkAway stories were "Russian bots," which caused many Americans to start providing video accounts of their experiences, proving the movement was made up of Americans, sick and tired of what their former party had become.
Many offer different reasons, from the violence that the left has increasingly perpetrated, with others noting the media bias which caused them to to start doing their own research and determining they had been lied to, not only by the liberal establishment media but by the very politicians they once supported.
Mr. Straka has now set up the #WalkAway March, to be held in Washington, DC, on Saturday, October 27, 2018, showing that Americans, not Russians, are behind the movement which has garnered hundreds upon hundreds of online testimonials from people from all walks of life.
BOTTOM LINE
From the planned and coordinated in chamber disruptions by Democrats on the Senate Judiciary Committee, to the childish temper tantrums from paid protesters who had to be escorted out, and in some case dragged out because they threw themselves onto the floor, to the Democrat-supported Antifa violence seen all across the country, to the constant "resistance" from politicians acting like children when they don't get their way, there is a reasonable amount of evidence to logically conclude the entire party has gone a little (understatement, I know) insane.
This goes far beyond Trump Derangement Syndrome. The party is pulling in young socialists, encouraging open mob confrontation in the streets, promoting outright anarchy.
There is no "middle" left anymore, they have all become radical extremists and any moderates that witness this behavior, which is becoming increasingly worse as the weeks and months go by, need to #WalkAway.
The Democrats have become the party of crazy.
NOTE TO READERS:
—-
http://allnewspipeline.com/Democrats_Desperate_Search_For_2020_Candidate.php
September 7, 2018
This George Soros Stooge Should Never Be President – Baby Killer Kamala Harris Has Given California Tent Cities And Drug Addicts Shooting Up In Train Stations
– If The Democrats Elect Harris, Just Imagine What She'd Bring To America!
By John C. Velisek USN Ret – All News Pipeline 
It appears now that the Progressive/socialists that have taken over the Democrat party have been looking for the new shining star for the next Presidential election. Just a few weeks ago they rebranded themselves as "the Better Deal". They speak well of jobs and infrastructure, and better wages for workers. Does anyone believe that anything has changed? Remember Obamas "fundamental transformation" of our country and how eight years of Obama did transform this country. Lower wages, lower respect from the world, and more division in the country because of the identity politics forced on the American people.
The progressive/socialists have a hard decision to make. They know that the alternatives that they have for the next Presidential election are weak. The socialist Bernie Sanders, if he doesn't go to jail with his wife, is no answer. By the time of the next election, his socialist policies will have been shown to be a farce. Elizabeth Warren is a corporate shill who hides behind the lies she used to get ahead and has no real meaningful agenda other than to trash Republicans.
A new shining star that has emerged in some areas is Kamala Harris. She is already making the first moves speaking to national Democrats and think tanks in Washington D.C. which the national media will lap up. They will cover Harris with such adoration and form alliances to further push hew ambitions upon the American people. As a new Senator, her focus should be on the people of California and not the national stage. Being called a compelling candidate by the likes of Bob Shrum, even members in the California Democratic politicians have been very quick to jump on the Harris bandwagon. Most supporters in California showed that many feel that Harris is pushing too hard to run for President.
Harris received an endorsement from Maxine Waters, the chief proponent in the impeachment push of President Trump. Maxine Waters runs a "pay for Play" where money is funneled to Waters in order to get her endorsement on her mailers, which she pays her daughter to accomplish for $650,000.
Kamala Harris had paid tens of thousands of dollars to be listed on the Waters fliers of endorsements. Latest counts have shown the somewhere around $65,000 has been paid by Harris to the Waters campaign funds according to the Federal Election Commission.
As Attorney General of California, Harris faced a lawsuit by Prime Healthcare, a national healthcare company in the purchase of a failing healthcare company, The Daughters of Charity Health System. The SEIU which donated to the Harris campaign for Attorney general is seeking to organize the workers at DCHS which would have been thwarted by the purchase of the company by Prime Healthcare. Harris attempted to expand the five year level of services required to purchase the company to ten years making the purchase "financially unviable". This is the first and only time in the history of the California Attorney General office that these requirements have been forced upon any company.
Kamala Harris, declaring herself a feminist, ignored two pro-democracy, pro-freedom Muslim women at a recent Senate hearing called by Senator Ron Johnson about Islamic ideology. Ayaan Hirsi Ali and Asra Nomani were ignored by the women on the Panel North Dakota Democrat Heidi Heitkamp, New Hampshire Democrat Maggie Hassan, Missouri Democrat Claire McCaskill, and yes, California Democrat Kamala Harris. You would think misogyny and sexism in the Middle East where women face constant and vicious abuse would be on the top of the list for these feminists. But Harris, along with the others are more concerned with offending Muslims. There were no questions, and no testimony allowed by these two brave women about the ideology of political Islam. Our American feminists are more concerned about abortion, the supposed gender pay gap and discrimination, but not one word about the terror that women in the Islamic world face every day.

Kamala Harris abused her office as Attorney General to assist Planned Parenthood in a witch hunt against David Daleiden and Sandra Merritt of the Center for Medical Progress. Last week a California court dropped 14 of 15 charges as legally insufficient. Even the Los Angeles Times stated that "Never in the history of California has anyone been charged with a crime for an undercover investigation". Harris being an ardent abortion supporter and Planned Parenthood supporting her campaign, is it really a wonder why this case was brought? It appears that Harris is unconcerned about the unborn being aborted, chopped up and sold for profit.
Kamala Harris is now making a name for herself and becoming a "shining star" for the progressive socialists by being rude and not allowing witnesses to answer at Senate hearings. Acting like the worst mother-in-law you could ever have, she rants on and on as the witness is trying to answer, and then claims victimhood when requested to let the witness answer the question. In the questioning of Deputy Attorney General Rod Rosenstein and Attorney General Jeff Sessions during a Senate Hearing in June she constantly and continually asked questions without allowing the witnesses to answer. This is just another way to increase her visibility as her and her fellow feminists blame the chairman of the committee as a mean man intent to suppressing the voice of women.
Then there is the question of where did Kamala Harris come from? Willie Brown, the corrupt past mayor of San Francisco at 60 years of age had an ongoing affair with Kamala Harris who was 29 and unemployed at the time. Not only did it break up Brown's marriage, it was Hebert Caen who called Harris "the Speakers new steady". This lead to Harris' appointment to numerous high paying government jobs costing taxpayers $92,000. From there, once a part of the apparatus of the Willie Brown progressive agenda, Harris had a clear path to any position available. Even journalists in California have called Harris "a show horse" and there isn't "much there-there".
What has Kamala Harris done for her constituents in California? The "income inequality" that progressives love to talk so much about is unmatched in the glaring divergence in the state of California. The push for $15.00 per hour in California works well in urban areas like San Francisco but what of suburban areas and the severe damage it will do to areas outside the metropolitan areas. Environmental restrictions and regulations on homebuilding have caused the lowest homeownership rates since the 1940's. Half of those under 35 years of age are finding any way possible to leave the state. California is home to 30 percent of those in the country on public assistance. Over 10,000 small and medium-sized business have left the state and the percentage of business closing due to overregulation, environmental regulations and other reasons are ignored.
Kamala Harris also turned her office as Attorney General into a bastion of unconstitutional government backed to bring the full weight of her office down on her political enemies. In a ruling by Federal District Court Judge Manual Real, Harris was stopped in her abridgment of free speech by demanding that confidential donor lists be given to her office if conservative entities like the American for Prosperity Foundation. In a blatantly political move, Harris actually identified 1,778 confidential donors posted on the Registry website.

Kamala Harris has shown herself to be a partisan hack and allows protections for herself without allowing those protections for those on the other side. For far too long, the progressive/socialists have set the agenda of hate or feel superior to those who they work for, and for cronyism amongst those who lie to retain their power. This is no way to change this country, a Kamala Harris presidency would be a weight upon the American people that can no longer be tolerated.
The incessant smear campaigns by the progressive socialists must stop. It is apparent that this is the weapon of choice among the leftists who inhabit the Deep State and the media. The fact that they act the way they do, venturing well outside the rule of law or even basic decency is nothing more than the fact that they feel morally superior and indispensable. The morality of the past and the affirmation that people can disagree civilly is now gone. Any deviation from moving forward to make the world as they want it must be destroyed and any means are justified to reach the socialist agenda they are working so hard to achieve.
I spent the better part of a day watching the Congressional committee hearings on the confirmation for Gina Haspel to become the new CIA Director. Lauded by everyone from both sides of the aisle who has worked intelligence, she underwent what should have been an uneventful hearing. The progressive socialists attempted to turn it into a rehashing of the enhanced interrogation techniques used after 9/11. Gina Haspel made no decisions on the use of these techniques, nor did she do the interrogations herself.
Attempting to ensure to show herself as the hard-charging leftist that she is, Kamala Harris made a fool of herself once again. Demanding over and over a yes or no answer to the morality of these interrogation techniques that were legal at the time, she refused to allow Haspel to answer with anything more than yes or no. Anyone with a semblance of intelligence knows that it was not and is not a yes or no question. Questioning the morality of Gina Haspel, a woman who has done far more in service to our country was a disservice to the citizens of this country and was done solely for the purpose on attempting to trash another Trump supporter.

I thought perhaps that the question of morality and answering with just "yes or no" could work in both directions and have formulated some question for Kamala Harris to answer:
Sen. Harris, does it show moral clarity to send your trained goons to raid the apartment of David Dalieden, a journalist who investigated the baby part mill that is Planned Parenthood. Are the profits that Planned Parenthood, one of your largest donors a good enough reason to use police-state tactics to attack the press?
Yes or No?
Sen. Harris, can you explain why the Republican tax cuts cause the loss of healthcare but that Obamacare did not? Care to explain why those who don't have health care now that the mandate is no longer being implemented can choose not to have healthcare. Can you explain why Obamacare has such high deductibles and monthly payments that it is healthcare that people can't afford to use?
Yes or No?
Senator Harris, why did you use the bullying tactics that you did in your attempt to force conservative charities such as the Americans for Prosperity Foundation to give you their list of donors from the confidential Schedule B from their tax returns. And what do you feel gives you the right as Californias Attorney General to fine or deny permits to those charities that did not submit to your coercion.? Do you consider it moral to violate the rights of those you disagree with as the states chief law enforcement officer? Is the message you were trying to send that private citizen can be trampled on with no recourse if you disagree with the agendas that private citizens have?
Yes or No?
Is it morally acceptable to you to lie publicly to state that no Illegal alien has ever raped or killed anyone? On Feb. 5, 2018, you tweeted
"This administration has ignited anti-immigrant sentiment, characterizing immigrants as rapists, murderers, and people who are going to steal American jobs. That could not be further from the truth."
Do you consider that DACA was an unconstitutional executive order that Obama put in place without consulting Congress, the legislative body that is tasked with making the laws? Do you see the difference between legal and illegal immigrants or is it your agenda to let everyone in and turn California into a third world hellhole like Venezuela?
Yes or No?
Would you explain how you questioned about the San Onofre scandal where you litigated for the CPUC and were criminally investigating the CPUC at the same time, a true conflict of interest? And working with Gov. Jerry Brown refused to release emails and other records until the statute of limitations ran out. And can you explain why these citizens of this state with a $3.4 billion bill in the form of rate hikes?
Yes or No?
Do you consider that sleeping with your boss, destroying marriage and being known as Willie Brown's "new steady" when he was the Assembly Speaker for California was morally justified? The proven facts that Speaker Brown made sure that you met the right people and got plum jobs that set the course for your political career is moral as well? Was it ethical for Willie Brown to assist you in becoming the first black district attorney in San Francisco, or to be elected fraudulently to become the California Attorney General?
Yes or No?
Should the American people be concerned that, according to the Sturgis-Fellowes Institute you are working with Obama and Nazi collaborator George Soros to steal the Presidential election in 2020? It is a fact that Soros dumped millions into your Senate bid and along with other progressive socialist has assured that you already have a war chest of a quarter billion dollars for your run for President in 2020. Do you think a progressive socialist such as yourself can succeed on the agenda being set for you by Soros and use that identity politics of being a biracial female to push your way into the White House? Or will the fact that you refused to indict One West Bank, a bank that showed Soros as majority shareholder? And will you return the money you received from New York AG Schneidermann and George Soros at a campaign fundraiser in 2011?
Yes or No?
Can you explain how you are so concerned about the shooting at Parkland, and the comments you made after the massacre: "We cannot tolerate a society and live in a country with any level of pride when our babies are being slaughtered." What constitutes a baby, high school students are babies according to your comment, but those babies still in the womb can be murdered and dismembered? You have even raised money for those who perform those dismemberments? Can you explain supporting the mutilation of a baby in the womb as being wholly normal or explain how a baby in the womb has no right, but illegal aliens do?
Yes or no?
Sen. Harris, I live in California but if I can find an affordable way to do it. I will leave this mounting socialist hell hole you have been a part of growing. What is sad is that many of those on your side of the aisle would be happy to see me leave to make room for your precious illegal immigrants. There are even those who want to make California part of Mexico again in our state legislature. Now, the California State legislature wants to do all they can to ban the sale of the Bible, and replace Washington or Lincolns birthday with May Day, a radical socialist holiday to further indoctrinate the citizens of this state into the socialist lifestyle that you feel we so richly deserve.
The total abandonment of any moral or ethical clarity that is shown by the lawmakers in California has made us the laughingstock of the country. You, Sen. Harris, are part of the destruction of the fabric of what was once a glorious state full of optimism and hope. You and those of the same mindset have given us tent cities and addicts shooting up in the subways and train stations. California will resist, and your "revolution" will founder on the shoals of decency and respect for one another.
NOTE TO READERS:
—-
http://allnewspipeline.com/Keep_Your_Front_Hole_Away_From_Children.php
September 8, 2018
Spike In Sex Crimes In 'Gender Neutral' Zones Like Bathrooms, Changing Rooms, etc… – A 'Magnet For Sexual Offenders'
By Susan Duclos – All News PipeLine
While this article has nothing to do with the Senate Judiciary Committee's confirmation hearing for Judge Brett Kavanaugh's nomination for the Supreme Court, the one image below of yet another protester at the hearing on Day 4, does in fact, offer a visual that is relevant to the topic matter I am going to address.
('Gender fliud' man being removed from Kavanaugh hearing)
The image above is a man dressed as a woman with make-up and earrings that somehow thought it appropriate to protest the hearing with a red liquid substance on the front of his clothing, to pretend it was blood coming from his non-existent vagina, which now the LGBT community thinks should be called a "front hole" to make transgender men more comfortable when talking about genitals.
For the purposes of this guide, we've chosen to include alternative words for readers to use for their genitals. For example, some trans men choose to use the words "front hole" or "internal genital" instead of "vagina." Alternatively, some trans women may say "strapless" or "girl dick" for penis. This usage is meant for one-on-one communication with trusted persons, such as your doctor or partner, not for broad discussion.
If you read that sentence and paragraph above and thought, "something is very wrong here," join the club. The image does bring me to the point of this article though….. would you want the person shown above in the same changing room, locker room, or bathroom, as your daughter, or granddaughter or any female in your family?
GENDER NEUTRAL BATHROOMS/CHANGING ROOMS A 'MAGNET FOR SEXUAL OFFENDERS'
With the recent news that the North Kansas City School District has decided bathrooms in their schools should be "gender neutral,"including elementary schools, with individual stalls with doors from floor to ceiling to prevent any "peeping," in conjunction with the new shocking data coming out of the UK where 90 percent of assault, voyeurism and harassment cases occurred in "gender neutral zones,"which has been branded a "magnet for sexual offenders," we feel this is a topic that should be revisited.
Most sexual assaults at public swimming pools happen in unisex changing rooms, figures reveal.

Ninety per cent of assault, voyeurism and harassment cases relate to the gender neutral zones which have been branded a 'magnet' for sexual predators.

Of 134 complaints in the UK last year, 120 are about incidents in unisex changing rooms, data obtained by the Sunday Times revealed.

The stats compound fears that unisex changing rooms – which are becoming increasingly popular to accommodate transgender people – pose a danger to women.
In fact when this issue exploded into the public here in the U.S. a few years ago, that was the exact argument those opposed to allowing men born with a penis, and women born with a vagina, to use facilities specified for the opposite gender, made against making this a normal practice.
Now the U.S. has 160,000 businesses that offer some type of Unisex bathroom, many of which simply one room that can be locked from the inside, with only one stall, which means only one person at a time would be using them. Other businesses, such as Target, suffered seriously backlash by turning all their bathrooms into gender neutral, where sexual predators could take advantage of the new policy in order to sexually harass and/or assault members of the opposite sex. Other businesses made their locker rooms and changing rooms gender neutral.
In the case of Target, who announced their gender neutral bathroom policy in 2016 , according to a study published In February 2018, there was a significant increase in sexually related crime. (PDF for the study here)
Results: Sexual incidents increased over the course of the entire timeframe of the media reports. In particular, voyeurism-related offenses (Upskirt and Peeping Tom) increased significantly after the publication of Target's gender-inclusion policy in April, 2016. The three-season forced-category measurement found a 2.3x increase in the amount of upskirt incidents after the policy, and a 2.9x increase in peeping tom incidents after the policy. In a Poisson regression, using trimesters to control for seasonal variations in offenses, the fold change in rate from the four year pre-policy period to the post-policy period was 3.03 for Upskirt and 3.14 for Peeping Tom. Using a two year pre-policy period, the rate change was 2.16 times for Upskirt and 2.34 times for Peeping Tom.

Conclusion: While media-loss remains a limitation in the analysis, the present study supports the theory that sex predators may take opportunities afforded by gender-inclusion policies to perpetrate sexual violence against women in public spaces. No other theory seems to account for the significant and precisely-timed increase seen in the Target reports. Further study would be helpful to compare police reports to media-reported crime and to geographically match Target with similar stores to investigate whether sexual offenses have increased elsewhere.
Related: Beware of Target Bathrooms
The establishment media downplays the news related stories such as women being sexually violated at Target stores due to their "gender inclusive" dressing room policy, or sexual predators taking advantage of Target's policy to expose themselves to young girls, or men caught recording women undressing, or men caught peeping over changing room walls, or recording children undressing, or a transgender arrested for taking pictures of others in a Target changing room, and other such reports.
Those are just a few examples from one business entity, at stores across the country, just to show why these "gender inclusive" or Unisex, bathrooms, changing rooms, locker rooms, are a bad idea, yet these businesses refuse to revisit their dangerous policies.
When this issue blew up in 2016, the LGBT community attempted to inaccurately cast those opposed to allowing members of the opposite sex to use the same facilities geared for a specific gender, as being LGBT unfriendly, or homophobes, or trasngender-phobes, or whatever, but the argument was, and still is, that sexual predators would take advantage of the gender neutral policies in order to commit illegal acts, sexual harassment or assault against women and children.
The limited data available makes it impossible to accurately document the ramifications of policies at establishments like Target, but the data that has been put together, shows those opposed to these policies, were entirely correct to be concerned and disturbed by them.
Related: Brown U. Censors 'Gender Dysphoria' Study
TRANSGENDER MADNESS
It is not only the crime associated with "gender neutral" bathrooms, locker rooms and changing rooms, but we also see other news showing that teachers in schools in Scotland will be encouraging children, as young as five, to "choose" their gender, as shown below.
Over the past few years we have seen that same type of push in schools in the U.S., with Washington schools deciding to teach "gender expression" to kindergartners, Seattle schools pushing gender studies on elementary school children, laws passed in Californiato spread LGBT ideology in public schools, and on and on it goes, as certain states are catering to a small minority, while sacrificing the safety and privacy of women and children.
BOTTOM LINE
After the controversy a few years ago, there is limited mention in the national news of the crimes associated with bathroom, changing room policies at stores like Target. Finally some limited data is being reported and it does show an increase in sexually related crimes in establishments that allow members of the opposite sex into what should be private gender specific areas.
—
http://allnewspipeline.com/The_War_On_The_People.php
September 9, 2018
The War Upon The People: THIS Is Why If The Globalists EVER Regain Control Of America, We'll Fly At Breakneck Speed Down The Same Path Of Destruction As Europe And Canada
– 'Global Elite' Still Pushing President Trump Towards World-Destroying Nuclear Holocaust
By William B Stoecker – All News Pipeline
It is gradually becoming obvious to many of us that the NWO elites not only want to impoverish, dumb down, morally degrade and enslave most of Humanity and torture and murder their opponents, but that they have literally declared war on the Human Race and on Western Civilization. They intend to destroy Judeo-Christian civilization, which is the finest flower of human achievement and the last, best hope for Humanity, and they intend to exterminate most of the Human Race.
In fact, it seems certain that their ultimate master wants to wipe us all off the face of the Earth, and that each of its underlings hopes that the crocodile will eat him last. To see this clearly, you need only look at the overall pattern of behavior by the leaders of the various Western nations. Since, in the race to the bottom, the ever-so-sophisticated nations of Western Europe are ahead of the US, they are a clear example, and England is perhaps the most obvious.
On 3/13/96 a homosexual (like so many of our elite would-be masters and their favorite henchmen) named Thomas Hamilton allegedlyopened fire at the Dunblane Primary School in Scotland, killing 16 children and one teacher before conveniently shooting himself before anyone could question him. It is reasonable to suspect that this was, like most of the mass shootings in the US, a false flag event, orchestrated by the elites to butcher their favorite sacrificial victims (which is why abortion is their sacred rite) and to serve as a pretext for "gun control," meaning the disarmament of the peasants. So the commoners in the UK were virtually disarmed.

Cleverly, at the same time they made it almost impossible for ordinary people to defend themselves, the British elites, in the name of "compassion," eliminated the death penalty, even for murderers, shortened prison sentences, and created a maze of legal roadblocks making it next to impossible to imprison vicious criminals, who were therefore unleashed on the now helpless populace, with predictable results.
And, when commoners dared defend themselves against those adorable muggers, rapists, and home invaders, when they fought back with kitchen knives or cricket bats, the police and the courts, in case after case, prosecuted the crime victims and not the criminals. And they encouraged the criminals to sue their intended victims, and provided them with legal advice to make it easy. There was a time when most of the people would have been outraged by such madness, but, disarmed, helpless, and dumbed down and indoctrinated by the "schools," the British people put up with it.
But even this didn't satisfy the kind, compassionate geniuses who control Great Britain. They opened their ports to near-unlimited immigration from Third World nations, importing hordes of semiliterate (at best) thugs and assorted lowlifes, including increasing numbers of fanatical, hate-mongering Muslims.
These people took jobs from Brits, decreased wages, and, for the wealthy elites, solved the servant problem. And most of them, having no interest in assimilating, filed for welfare benefits and caused a surge in crime rates. So now the original native English could be impoverished, bled white with taxes, and robbed, raped, and murdered.

Large gangs of mostly Pakistani Muslim immigrants began plying underage girls with drugs and liquor, raping them, and training them to be prostitutes. They sexually abused up to 1,500 underage British girls. A major case in Rotherham in South Yorkshire was fairly typical. The local police, on orders from the town council…dominated by the leftist Labour Party…did nothing to stop this, even though they knew about it. In fact, in the UK, Canada, and much of Europe Muslims can get away with pretty much anything, but any citizen who dares complain is arrested and fined or even imprisoned for "hate speech," which, as I have pointed out more than once, is any speech our masters hate…and they hate the truth.
The people of Londonistan, in their infinite wisdom, elected a Muslim leftist Mayor, Sadiq Khan, a son of Pakistani immigrants, who took office 5/9/16. He was a member of the Labour Party and had been a "human rights" lawyer. He, of course, supports the EU and opposes Brexit. He had once been chairman of the Fabian Society, an extreme socialist (really communist, which really means fascist) group. Crime… mostly committed by African and/or Muslim immigrants…surged following his election. Bear in mind that he could only have been elected with the support of some non-Muslim native Brits. Knife crimes are growing faster than any other…so Mayor Khan proposes, not criminal control, not Muslim control, not restrictions on immigration, but knife control, a mass of regulations further disarming the victims, and denying knives to people who need them in their work.
As far gone as England is, the nations on the European continent are worse, and the US, Canada, and other Western nations are catching up. By 2016 Muslims alone (not counting other immigrants) comprised 4.9% of Europe's population. In France it is 8.8%, in Sweden 8.1%, the Netherlands 7.1%, Belgium 7.6%, and Germany 6.1%. In England Muslims are 6.3% of the population. Except for Bulgaria (11.1%) the nations of Eastern Europe have sane and rational leaders and only a tiny minority of Muslims and other immigrants.
Crime is surging everywhere, most of it committed by African and/or Muslim immigrants. There are "no go" zones where Muslims cluster and attack the police or any Europeans who dare to travel in their own countries. Most of the immigrants are on welfare, and, to show their gratitude, carry out one terrorist act after another. Paris has been trashed, with garbage and human excrement everywhere. Sweden is burning, the work of Muslim arsonists. And the "enlightened" rulers of Europe, creatures like Angela Merkel, continue their open borders policy, the people be damned. In fact, in Frau Merkel's Germany, the government has even kicked German families out of apartments and rented houses to make room for the "refugees."

And in Europe and also in the US and Canada the elites are pushing the insane radical feminist , abortion, and homosexual agendas, with the "schools" indoctrinating impressionable young children, convincing them that extreme promiscuity and sexual perversion and even sexual self-mutilation are good things. Bear in mind that Hitler did not open German's borders to Muslim immigrants. Stalin did not force the pervert agenda on his people. Mao made no effort to indoctrinate women to support radical feminism and to hate men.
But the US is headed down the same path to destruction, with our near-open borders and heavy legal immigration in addition to the illegal component. The Demoncraps want all those votes (which is why they oppose common sense voter ID) and the Republicans want the low-wage workers. Immigration alone, without all the other problems, would be enough to destroy the last vestiges of our late, great Republic. And it appears that this destruction, above and beyond the desire for more votes and cheap labor, is the true goal of the elites.
And now Trump, who at one point was opposed to our interventionist neocon foreign policy, is all for keeping the wars going. He has come out in favor of "regime change" in Syria, which means overthrowing the relatively moderate and sane Assad in favor of Islamist terrorists. But this also brings us into conflict with Russia, which supports Assad. Any US/Russia conflict is likely to escalate quickly into a world-destroying nuclear holocaust. Has this been the elites' goal all along?
—-
http://www.rumormillnews.com/cgi-bin/forum.cgi?read=107018
The Rumor Mill News Reading Room
Deep State's Soft Coup Against Trump Enters Critical Phase
Posted By: RumorMail [Send E-Mail]
Date: Sunday, 9-Sep-2018 14:46:40
From Reader SL (BTW your first name is my Middle name 🙂

Ty so much for this, I read them often!!

*************************************

Watergate Dynamic Duo Gaslights Trump, Pompously Calls for Congressional Hearings

SOTN Editor's Note: As seen in the hyper-ventilating HUFFPOST article linked below, Deep State is getting awfully desperate.

The same Dynamic Duo of Watergate fame — Woodward and Bernstein — is being used to take down yet another Republican president. How 'courageous' of these two obvious agents of Deep State—Bob Woodward and Carl Bernstein.

KEY POINTS: "While at Yale, Bob Woodward joined the
Phi Gamma Delta fraternity and was a member of the prestigious
secret society Book and Snake."[1] Their privately-owned meeting
place is the windowless "Book and Snake Tomb" adjacent to the


Yale Law School.As for Carl Bernstein, his personal relationships with so many
famous female VIP luminaries clearly reflect an Illuminati association enjoyed by very few journalists who operate at his level. "While single, in the 1980s, Bernstein became known for dating Bianca Jagger, Martha Stewart and Elizabeth Taylor, among others. During his marriage to Nora Ephron, Bernstein met Margaret Jay, daughter of British Prime Minister James Callaghan and wife of Peter Jay, then UK ambassador to the United States."[2]

The essential point is that these two ultra-loyal Deep State puppets were quite purposefully put together to fictionalize and sensationalize Watergate while at The Washington Post, just as they are fabricating a 'Trumpgate' today. Where wacky Woodward is the "smoke, batty Bernstein is the mirrors".

For the uninitiated, the so-called Watergate scandal was not about a two-bit political burglary by the White House Plumbers; rather, it was about a massive pedo-crime coverup by the Democratic Party. As follows:

DEEP STATE BOMBSHELL: Watergate was really about Pedogate

It's crucial to understand that Deep State launched a soft coup against Donald Trump the very day he was elected. They immediately began the process of gaslighting the President, as they have done each and every day since then. A quick scan of MSM news reports published by the CIA's Mockingbird Media will confirm this ever-intensifying psyop. The deluge of so much fake news about the Trump administration also proves that: THE MAINSTREAM MEDIA IS THE ENEMY OF THE PEOPLE!

Gaslighting the POTUS!

Deep State knows that Trump cannot be JFKed as the massive patriot movement is totally on to their incessant false flag attacks and assassinations. They're also aware that an impeachment process will lead to a civil war. Hence, their only way to 'safely' remove Trump from office is to engineer a 'psychiatric discharge'. So many fake media reports have been issued toward this end that the whole world now knows that mainstream media news is mostly false reporting with a highly purposeful and overtly political agenda—to effectuate a coup d'état.

Because Deep State is extremely desperate, particularly in view of the irreparable damage Trump's wrecking ball has done thus far, they know their viable options are being limited by the week. Gaslighting has always been a safe way for the rogue C.I.A. to claim plausible deniability after their coups are executed since such psyop evidence is tenuous at best and easily covered up…by their Mockingbird Media.
JFK psyop

It's equally vital to comprehend that this very same gaslighting technique was use against President John F. Kennedy in November of 1963 just prior to his assassination by the C.I.A. The realm of law enforcement at every level throughout the city of Dallas was barraged with bulletins presenting JFK as a 'traitor' to the country. This psyop turned many key authorities against President Kennedy in his moment of greatest need. Not only was his violent assassination made easier to carry out in broad daylight, the ensuing cover-up was greatly facilitated.

"What follows is a copy of that seditious bulletin that was tactically used to bone up the traitors citywide who were about to participate in a massive conspiracy to publicly execute JFK and then cover it up." (See original bulletin at link below)

Conclusion

A close reading of the ridiculous HUFFPOST article linked below reveals just how frantic Deep State has become. What's really noteworthy about this naked coup-in-progress, however, is that it exposes all the main organs of MSM political propaganda as insurrectionists. The New York Times has already outed itself as a central co-conspirator to treason with the transparently fake Op-ed they just published. See: TREASON: The New York Times Conspires with Deep State to Galvanize the Coup Against Trump

The most recent phase of gaslighting of the President by the "Watergate Dynamic Duo" has occurred according the following timeline.

First, the entire MSM trumpeted Woodward's utterly fictitious book;

Secondly, the NYT published the fake Op-ed written by a phony official;

This was quickly followed by the HUFFPOST hit-piece written by
Bernstein that's posted below.

Bottom Line: The Alt Media must unify around exposing this seditious charade before Deep State takes this CIA-coordinated black operation to the next level. Their stealthy gaslighting MO especially needs to be disclosed. Remember, the treasonous perps only need to successfully gaslight a critical mass of citizens in order to acquire the necessary support to remove Trump without suffering too much blowback.

State of the Nation
September 7, 2018

Reference article:

HuffPo link: Carl Bernstein Calls For Congressional Hearings To Determine Trump's Fitness
https://www.huffingtonpost.com/entry/carl-bernstein-calls-on-congress-to-hold-trump-fitness-hearings_us_5b91e595e4b0511db3e0b9de

Sources

[1] Bob Woodward
https://en.wikipedia.org/wiki/Bob_Woodward

[2] Carl Bernstein
https://en.wikipedia.org/wiki/Carl_Bernstein

___
http://stateofthenation2012.com/?p=103336

********************************************************

Deep State's Soft Coup Against Trump Enters Cr….

Hey RMN:

This SOTN post really nails it!
Deep State's Soft Coup Against Trump Enters Critical Phase

http://stateofthenation2012.com/?p=103336

Watergate Dynamic Duo Gaslights Trump, Pompously Calls for Congressional Hearings

Keep up the GREAT work!
SL

**********************
—
http://www.rumormillnews.com/cgi-bin/forum.cgi?read=107039
Reader, links: Further on Lyme Disease, Scalar, Ozone, Yellow Laser, Rife, Bearden
Posted By: hobie [Send E-Mail]
Date: Monday, 10-Sep-2018 02:23:25
In Response To: Reader: "Lyme Disease" / Rife Treatment (hobie)
(Thanks, B. 🙂

Adding to the thread beginning here:

Reader: "Lyme Disease" / Rife Treatment
hobie — Saturday, 25-Aug-2018 20:41:17

Reader BRnoname writes and sends us:

=====

Blessings Hobie,

And to your readers and agents.

Also the link on the reader on Ozone.

I am following a case where the Ozone/Oxygen therapy is being used with some success. I will pass on more results and details when I can.

I just want to say that my main purpose is to try to get the existing generations to help with

what is going on today with the suffering and poor quality of life happening.

Being an "old reader" is true, following RMN , and 80+ young!

Also Posted By: CrystalRiver

Date: Saturday, 8-Sep-2018 06:06:37

posts lately , re –

"Better drugs for Lyme disease: focus on the spirochete"

The bug/germ/spirochete must be identified, and eliminated.

Then the immune system must concentrate on the the most damaged

body organs/systems and help them to get back to helpful operation,

and build the victim quality of life back again.

While this is important, the bug existence must be reduced/eliminated.

Question is – was it man-made or natural evolved?

BRnoname

more info, please screen and use what you can.

From 6 Years of Lyme Disease to Total Recovery w/SWL | DiscoverLasers.com
https://discoverlasers.com/blog/6-years-lyme-disease-total-recovery-wswl

What are the Benefits of a Scalar Wave | DiscoverLasers.com
https://discoverlasers.com/blog/what-are-benefits-scalar-wave

ISLA – English | International Society for Medical Laser Applications
https://www.isla-laser.org/en/

https://www.isla-laser.org/wp-content/uploads/IV-Laser.pdf

The new Yellow Laser – Weber Medical – medical laser applications
https://www.webermedical.com/en/weber-medical-for-professionals/med-lasertherapy/the-new-yellow-laser/

snip

The yellow laser in medical lasertherapy (worldwide innovation):

After several years of research and development efforts, Weber Medical is finally able to introduce the first yellow laser worldwide for the use in intravenous and interstitial laser therapy. So far, a yellow laser with 5mW 589nm is ready to be used in intravenous treatments while the one with 50mW 589nm can be used for interstitial treatments. The new modules can be connected to all Weber Medical 'endolaser' devices without any problems. Both power and frequency can be adjusted individually.

What is the yellow laser good for?

after the development of red, infrared, green and blue lasers, yellow was the last missing prismatic color
yellow additionally stimulates the mitochondrial respiratory chain at complex II (cytochromes)
yellow has an detoxifying effect
yellow has an anti- depressive effect

New findings/ indicators:

The yellow laser stimulates the strongest natural photosensitizer – Hypericin out of St. Johns wort – and is therefore the most efficient laser in photodynamic therapy.
Combined with Hypericin, yellow lasers are applicable for the treatment of viral and chronical bacterial infections.
A broad range of studies shows that anti- depressive effects of Hypericin can be strengthened significantly once the impact of Hypericin is enhanced by yellow lasers. Immediate improvements of patient's sense of well- being have been observed.
The broad theoretical knowledge about the application opportunities of Hypericin can now be implemented in practice.

The new yellow laser – first clinical results:

Strong positive (anti-depressive) effects on general mood: "many of the patients begin to laugh and speak freely […], all have less pain and more freedom of movement."
Positive results in chronic infections (e.g. lyme disease) and fatigue syndromes
Very positive experiences in advanced lyme disease; significant improvement after few treatments (45 min. intravenous)
Good effects on several virus infections (zoster, EBV, Herpes)
Strong anti- bacterial effect
Very good results in patients with panic attacks, depression and anxiety disorders (yellow laser IV and hypericin oral; combination with Tryptophan in patients with lack of serotonin)
Promising development in patients with lack of ATP; yellow laser stimulates complex III of the oxidative phosphorylation and supports therapy with other laser wavelengths, NADH, coenzyme Q10 and carnitin
Positive effect on Multiple Sklerosis
Application in photodynamic tumor therapy (in combination with Hypericin): significant reduction of tumormarkers.

Case studies:

One patient with advanced MS went bowling with her friend after a session and had the best score
autistic boy: "He has now had IV yellow laser twice and has marked increase in facial expression, eye contact, vocabulary, focus, attention span and having ability to let people hug him"
"27 year old receives 20 mins of yellow twice a week and is no longer depressed in just three weeks"
Architect, 51 years, chronic lyme disease with massive joint pain and fatigue; 14 treatments with yellow laser (and amino acids); completely fit, no more pain or trouble
Patient with squamous-cell carcinoma (and metastases); oral hypericin and local yellow laser irradiation of the bad healing area; very positive clinical results (strongly improved healing)
MS-Patient: Significant positive influence on sensomotoric abilities and fatigue- syndrom

snip
Question is " where/who has the patents for his Microscope?
snip

What has become of the Rife Microscope – Royal Rife Research – Europe
https://www.rife.de/what-has-become-of-the-rife-microscope.html
snip
With his invention Rife was able to look at living organisms. What he saw convinced him that germs could be not the cause, but the result of disease; that depending on its state, the body could convert a harmless bacterium into a lethal pathogen; that such pathogens could be instantly killed, each by a specific frequency of light; and that cells, regarded as the irreducible building-blocks of living matter, are actually composed of smaller cells, themselves made up of even smaller cells, this process continuing with higher and higher magnification in a sixteen-step, stage-by-stage journey in-to the micro-beyond.
snip

The Tom Bearden Website
http://www.cheniere.org/books/aids/rife.htm
snip

Rife's Microscope Used Evanescent Waves
Rife Revealed a Far More Fundamental, Living Biology
snip

***************************************************************

************************************************************
—
—
—